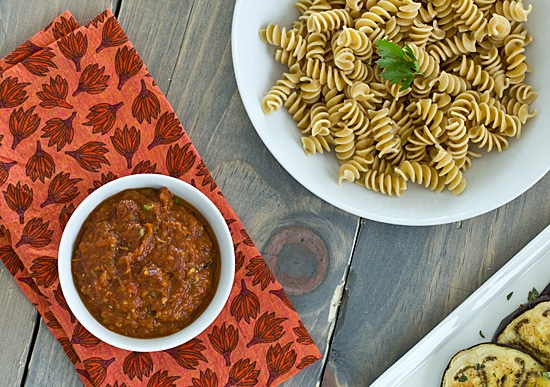 Pasta puttanesca usually isn't vegetarian, but my version is! The secret to this Roasted Vegetarian Puttanesca Sauce recipe is roasting the tomatoes.
Store-bought vs Homemade
I'm not a lazy cook, but I'm also not opposed to a few shortcuts now and then. One shortcut that I use a lot is jarred pasta sauce. Because it's easy! And if you buy the right brand, it tastes good too. Or, at least, good enough. (Sometimes good enough is good enough, you know? Especially after a long work day.) Making my own pasta sauce seemed like such a chore, I never bothered attempting it.
Well, I'm now fully aboard the homemade pasta sauce train. Homemade pasta sauce! What took me so long?! And the best part is, it's really not as time-consuming as I thought it would be. Because I'm a big fan of roasting veggies, I decided to use roasted tomatoes as the base for vegetarian puttanesca sauce rather than making it on the stove. Not only does this make the sauce more flavorful, it also reduces the hands-on time for the recipe. Sure, opening a jar of sauce and heating it up in a saucepan is still quicker, but this sauce is worth the (short) wait.
About the Recipe
You can use the roasted tomatoes as a base for just about any kind of pasta sauce—roast the tomatoes with the garlic, olive oil, vinegar, and salt and then once they're roasted and pureed, stir in any additional ingredients. I've used this recipe to make a simple basil tomato sauce, but puttanesca is my favorite by far. It's rare to find a vegetarian puttanesca sauce (most versions contain anchovies), so making it myself is kind of my only option. The olives almost lend a meatiness to the sauce—it's substantive and hearty rather than weak and thin like many jarred sauces.
So I am finally convinced. Store-bought sauces are good, but nothing beats a homemade pasta sauce.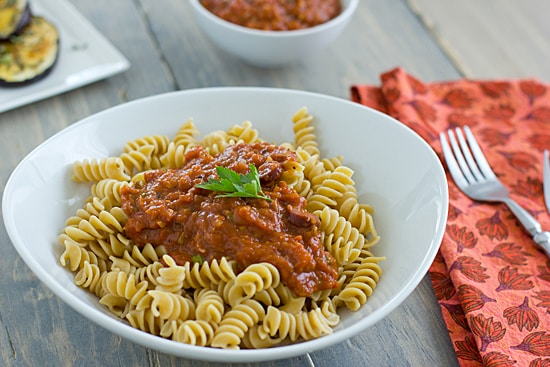 Ingredients
cooking spray or olive oil mister

2

lbs

Roma tomatoes

cut into large chunks

6

cloves

garlic

peeled

¼

cup

olive oil

divided

2

tbsp

balsamic vinegar

salt

to taste

2

tbsp

chopped fresh basil

2

tsp

chopped fresh oregano

½

cup

sliced kalamata olives

2

tbsp

chopped capers

pinch

of red pepper

optional

pinch

of brown sugar

also optional
Instructions
Preheat oven to 375°F. Spray a rimmed baking sheet with cooking spray or olive oil.

In a large bowl, toss together tomatoes, garlic, 2 tablespoons of olive oil, vinegar, and salt. Transfer contents of bowl to baking sheet and roast for 30 minutes, stirring every 10 minutes, or until tomatoes are softened and just beginning to caramelize. Allow to cool slightly.

Once tomatoes and garlic have cooled a little, transfer them to food processor. Add remaining olive oil and process until smooth. (For a chunkier sauce, pulse until sauce reaches desired consistency or skip the food processor and mash with a fork.) Stir in remaining ingredients and additional salt if needed. Serve over pasta.