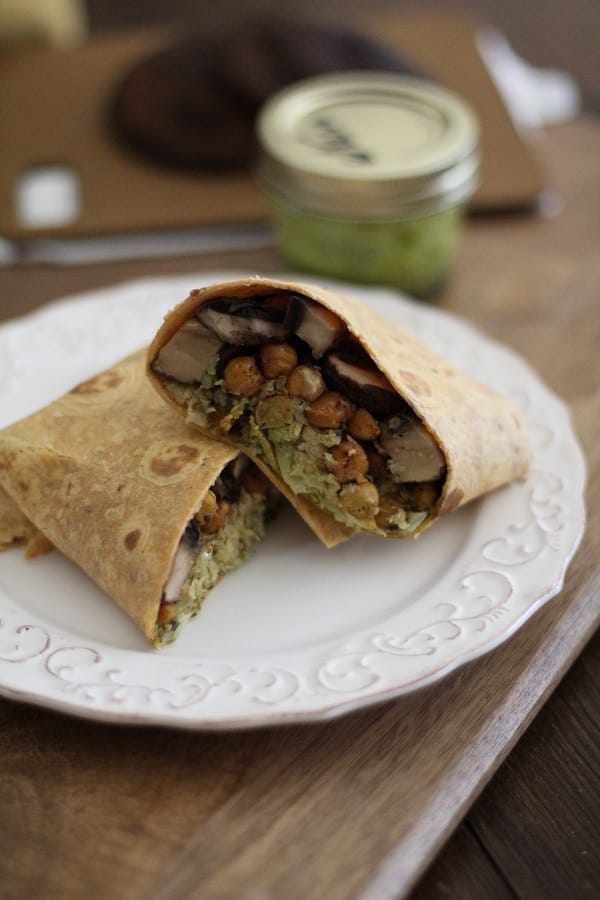 If there exists a burrito that makes me want to hand out high-fives like Halloween candy, it's this burrito right here. And that's saying a lot considering I am in no way, shape or form, a high-fiver. Roasted portabella mushrooms? Shazam! Roasted chickpeas? INCREDIBLE! Cauliflower Rice? Bangarang! Chimichurri sauce? Whoooaaa nelly!
When it comes to veggie burritos, I love using hearty roasted vegetables to make the meal filling and satisfying. Making burritos meatless isn't as difficult--the key is in the flavor! Roasting vegetables with spices flavor-blasts them and gives them great texture to sink your teeth into. Adding fun and tasty sauces or spreads, like guacamole, homemade salsa, or chimichurri sauce will surely throw your taste buds for a loopty loop.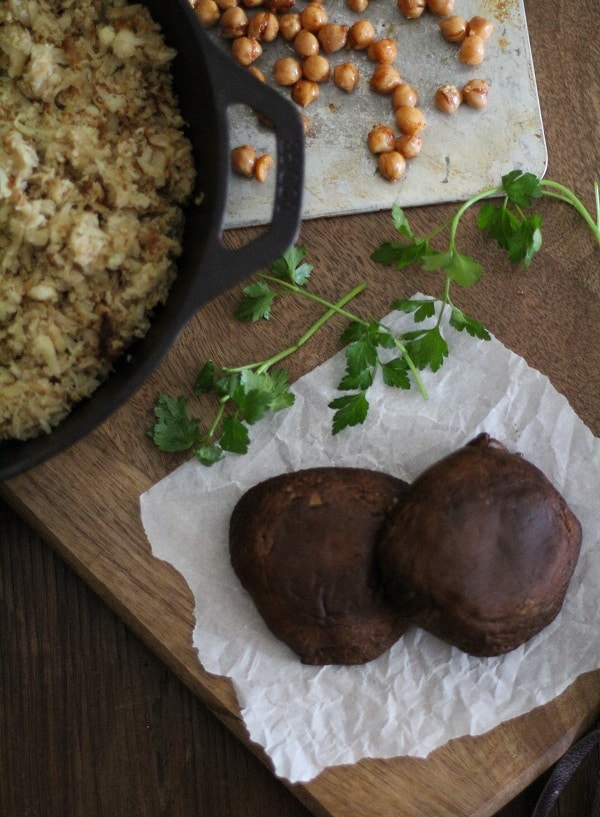 What, pray tell, is chimichurri sauce? It's an Argentinean parsley-based sauce typically used as a marinade or topper for meat.  It includes lemon or lime juice, vinegar, oil, garlic, onion, and sometimes cilantro. I like to drizzle chimichurri on vegetables, and even use it as salad dressing. It's packed with zesty, tangy flavor--perfect for a veggie burrito!
And then there's the cauliflower rice. Holy canoli! Confession: I eat far more cauliflower rice than regular rice. If you read Kiersten's tutorial on How to Make Cauliflower Rice, you remember it's easy as 1-2-3 to prepare, and it tastes amazing (in spite of the fact that it's not reaaaaaally comparable to rice)! You can replace the cauliflower rice with regular, or leave this a veggie-dense swaddle of joy.
People pleasers beware: your family and friends will request these time and again! High-fives all around!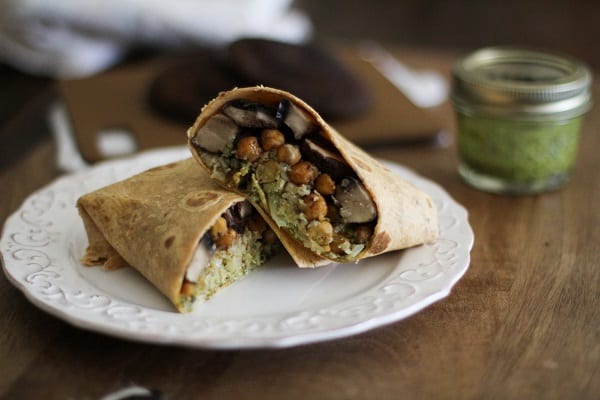 Ingredients
1

14-ounce can chickpeas, drained and rinsed

3

tablespoons

+ 2 teaspoons olive oil

divided

1

teaspoon

chili powder

2

teaspoons

ground cumin

divided

¾

teaspoon

kosher salt + additional to taste

divided

4

medium-sized portabella mushrooms

stems removed

1 ½

tablespoons

balsamic vinegar

1

cup

chopped yellow onion

5

cloves

garlic

minced

1

large head cauliflower

¼

cup

chopped cilantro leaves

optional

4-6

medium tortillas

heated according to package directions

Chimichurri sauce

see recipe below, cheese, avocado, tomatoes, sour cream and other toppings
Instructions
Preheat the oven to 400ºF.

Spread chickpeas over a parchment-lined baking sheet. Drizzle with 2 teaspoons of olive oil, and sprinkle with chili powder, ½ teaspoon of cumin, and ¼ teaspoon of salt. Mix everything together using your hands. Set aside.

In a small bowl, whisk together 1 tablespoon of oil, vinegar, ½ teaspoon of cumin, and ½ teaspoon of salt. Brush each mushroom cap with the oil/vinegar mixture and place them cap-side down on a second parchment-lined baking sheet.

Place both the chickpeas and mushrooms in the oven. Roast for 10 minutes then stir the chickpeas and flip the mushrooms. Roast an additional 10 minutes, or until there are juices seeping out of the mushrooms and the chickpeas are browned and crispy. Set aside.

While the chickpeas and mushrooms are cooking, start the cauliflower rice. Wash the cauliflower and remove the stems. Chop the head into quarters and grate each quarter using a box grater into a large bowl. You can also use a food processor and pulse the cauliflower in batches until rice-size grains are formed.

In a large skillet, heat oil over medium heat and add the onion. Sauté until fragrant and beginning to turn translucent, 5 to 8 minutes. Add the garlic and sauté another 3 minutes. Stir in the cauliflower and 1 teaspoon of cumin. Allow the cauliflower to cook, stirring often, until it cooks down and turns golden-brown, about 10 minutes. Season with salt to taste and stir in cilantro, if using.

Slice the mushrooms into strips. To assemble the burritos, add desired amount of portabella mushroom, chickpeas, cauliflower rice, chimichurri sauce, and other toppings to each tortilla.

Roll the burritos

and serve.
Notes
Feel free to use cooked brown rice instead of cauliflower rice to save a little time. The yield on this recipe will vary depending on whether you use additional toppings in your burritos.
Nutrition
Calories:
270
kcal
Carbohydrates:
33
g
Protein:
8
g
Fat:
14
g
Saturated Fat:
2
g
Polyunsaturated Fat:
2
g
Monounsaturated Fat:
9
g
Trans Fat:
1
g
Sodium:
707
mg
Potassium:
895
mg
Fiber:
6
g
Sugar:
9
g
Vitamin A:
230
IU
Vitamin C:
74
mg
Calcium:
96
mg
Iron:
3
mg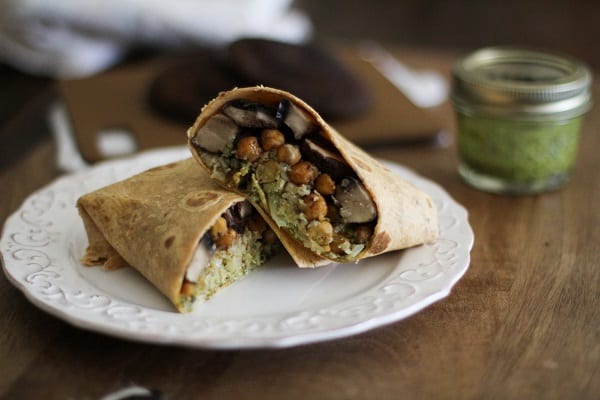 Ingredients
For the Chimichurri Sauce
2

cups

loosely packed fresh Italian parsley leaves

5

cloves

garlic

minced

3

tablespoons

yellow onion

chopped

2

tablespoons

lime juice

1

tablespoon

white wine vinegar

½

cup

olive oil

¼

teaspoon

kosher salt

⅛

teaspoon

ground black pepper
Instructions
Add all ingredients for the sauce to a small blender or food processor. Blend until thick, smooth, and creamy. (If you prefer, you can leave the sauce somewhat chunky.)
Nutrition
Calories:
261
kcal
Carbohydrates:
5
g
Protein:
1
g
Fat:
27
g
Saturated Fat:
4
g
Polyunsaturated Fat:
3
g
Monounsaturated Fat:
20
g
Sodium:
164
mg
Potassium:
204
mg
Fiber:
1
g
Sugar:
1
g
Vitamin A:
2532
IU
Vitamin C:
44
mg
Calcium:
52
mg
Iron:
2
mg