Let's be clear: cauliflower does not magically turn into rice when you grate it, so don't expect this to taste like rice. It's more about function. So if you're not a big fan of cauliflower to begin with, you probably won't be a fan of cauliflower rice. To make enough for two big servings, start with one large cauliflower.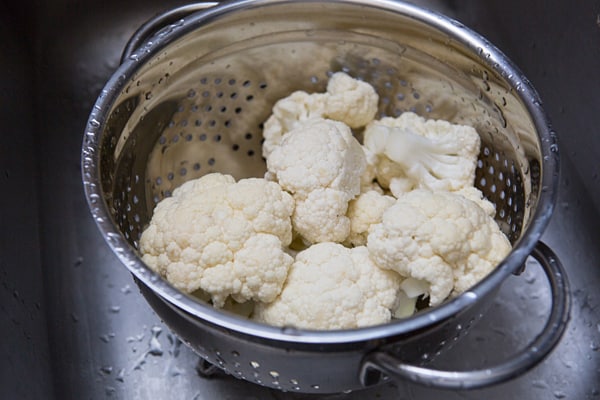 Pull off the leaves and break the cauliflower into large florets, then rinse them well. Leave them in a colander to let all the moisture drain off or pat them dry with a paper towel. If you plan on steaming your cauliflower rice, it's not super important that the florets are dry, but if you're going to sautée, dry it well.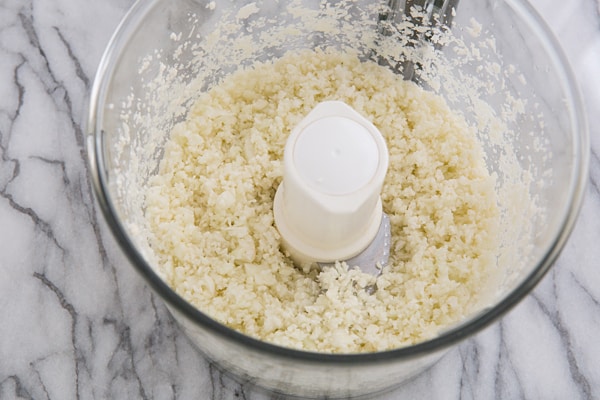 At this point, you have two options: you can grate your cauliflower florets or you can process them in a food processor. Obviously, the food processor is the easier choice. Break the florets into smaller pieces, then put half of them in the large bowl of a food processor and pulse until finely chopped, then dump the rice out and pulse the remaining florets.
If you don't have a food processor or you want to make sure your grains are uniform in size, using a box grater (on the side with the larger grates) works well too.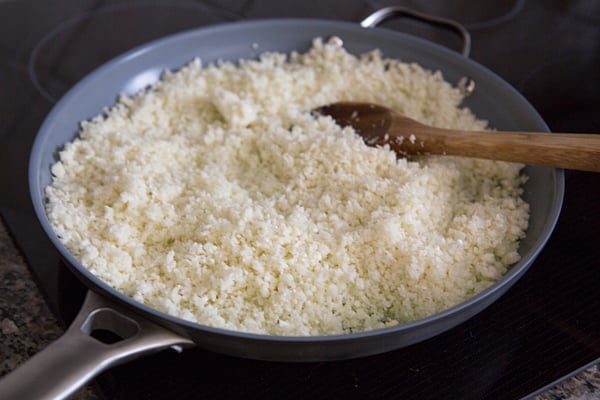 Now it's time to cook your cauliflower rice! (You can eat it raw too.) Heat a large skillet over medium-high heat and swirl around about a tablespoon of oil to coat the bottom (grapeseed oil and olive oil work well). Once the oil has heated, add the rice and cook it for about 5 minutes, or until it's softened and just beginning to turn golden brown. Season with salt and pepper to taste.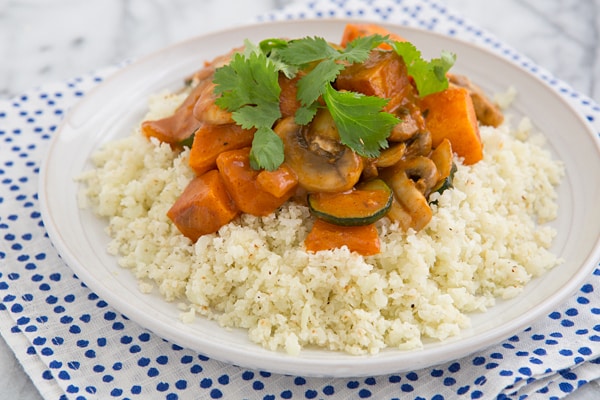 Depending on the plans you have for your cauliflower rice, you can add some chopped onion or minced garlic to the oil before adding the cauliflower, or stir in chopped herbs or fresh lime juice after the rice is done cooking. If you prefer to steam your cauliflower rice, you can heat about 2 tablespoons of water or veggie broth in your skillet, add the cauliflower, then cover until tender, about 2 minutes. If there's still liquid in the pan, take off the lid and let it cook off before serving. This saves you a few calories because you're not using oil, but I think the sautéed method is best--the cauliflower flavor mellows a bit and it becomes almost nutty, kind of like brown rice.
Cauliflower doesn't work as a substitute for rice in every recipe, but it will work as a substitution in any recipe that calls for serving over a bed of rice. It's also a perfect replacement for couscous. Half a batch of it cooked in grapeseed oil (pictured above, with red curry vegetables) is only about 40 calories more than a paltry half-cup serving of cooked white rice. That's a giant plate of rice for 165 calories!
More Creative Ideas for Cauliflower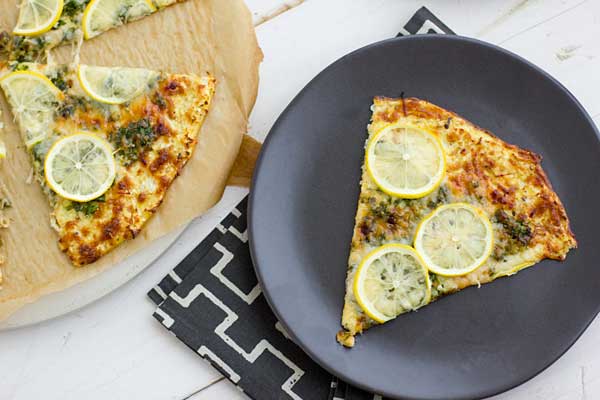 Cauliflower isn't just for rice! You can make cauliflower into a pizza crust, use it instead of chicken in Buffalo wings, and even make it into a creamy alfredo sauce. We've got a round-up of 20 secret-ingredient cauliflower recipes with lots of additional ideas.