You know the old saying... if life gives you cauliflower, make pizza crust.
What, that's not a saying?! Well, I propose right here and now that it should be.
We all know cauliflower is a pretty great vegetable, sure. But do you know just how versatile it is? Did you know you can take a head of the stuff and make, yes, a pizza crust? Or a lightened-up version of mashed potatoes? How about hummus? Rice?! Popcorn! Buffalo wings!!
This incredible cruciferous vegetable isn't only low in carbohydrates (perfect for those eating lower-carb diets); it's utterly packed with nutrients. So the fact that you can transform it into a myriad of other things—usually as as substitute for something that would have been far more calorie-dense—it's a very good thing.
Here are 20 brilliant cauliflower recipes from around the web that touch upon the infinite possibilities for this one remarkable vegetable.
Buffalo Cauliflower Bites
Description: Spicy cauliflower "wings" dipped in cool ranch sauce? Yes, please. McKel at Nutrition Stripped shares this recipe for game day or any day.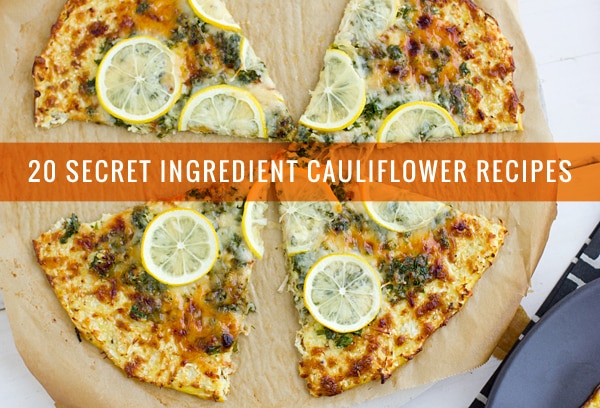 Cauliflower Pizza Crust
Description: Cauliflower pizza crust? Yep! Your Lighter Side came up with this inventive pizza crust that took the Internet by storm. That's actually not bread at all—it's cauliflower, cheese, eggs, and seasonings. And it's absolutely delicious.
Cauliflower Crust Garlic "Breadsticks"
Description: More cauliflower masquerading as bread! Is there anything it can't do?! An Edible Mosaic brings us all the crispy, cheesy goodness.
Smoked Paprika Popcorn Cauliflower
Description: It might not truly resemble popcorn, but cauliflower "popcorn" is definitely oh-so poppable. This version from Busy in Brooklyn is spiked with smoked paprika for an addictive—yet healthy—snack.
Cauliflower "Shrimp" Cocktail
Description: Score one for sheer creativity! Cauliflower stands in for shrimp in this "Poor-Man's Cocktail" from Noble Pig.
Roasted Cauliflower Hummus
Description: Chickpeas, schmickpeas. Roasted cauliflower stands in for the popular legume in this creative lighter hummus.
Roasted Garlic Cauliflower Cheddar Dip
Description: This cheesy, garlicky spread has a little secret—hidden cauliflower! Gina from Henry Happened roasts the cauliflower and garlic, then blends it with cheese and Greek yogurt for an appetizer that only seems decadent.
Cauliflower Rice
Description: Looks like actual rice, doesn't it? Well, it's not! Those grains you see are actually 100% cauliflower. Cauliflower rice isn't only delicious, it's really kind of life-changing.
Cauliflower Rice Burrito Bowls
Description: The perfect use for cauliflower rice? Burrito bowls! Chickpeas, pico de gallo, fresh corn and guacamole complete this delicious picture from The Roasted Root.
Cauliflower Tabbouleh
Description: Okay, we've grasped the sheer brilliance of cauliflower "rice." Here, The Healthy Maven takes it up a notch: cauliflower as a stand in for bulgur in a gorgeous tabbouleh.
Creamy Cauliflower Sauce
Description: Lindsay of Pinch of Yum, author of The Creamy Cauliflower Sauce Cookbook, created this brilliant take on Alfredo sauce—made with cauliflower, garlic, a little butter, and not a speck of cream. Our pasta will never be the same.
Trimmed Down Cheddar and Chive Duchess Potatoes
Description: Cauliflower makes the perfect stand-in for high-carb potatoes—these lightened-up potatoes are proof positive.
Sour Cream & Cheddar Mashed Cauliflower
Description: Sour cream and cheddar flavor this creative (and scrumptious!) mashed potato stand-in from All Day I Dream About Food.
Baked Cauli-Tots
Description: Here's another example of how delicious and versatile cauliflower can be in place of potatoes. Cupcakes and Kale Chips brings us these crispy baked-not-fried Cauliflower Tots. Yum!
Roasted Cauliflower Steaks with Meyer Lemon Relish
Description: Thick slices of cauliflower, seasoned, roasted, and decorated with a tangy citrus relish. Hallelujah! Brooklyn Supper's got the cauliflower steak thing covered.
Cauliflower Mac & Cheese
Description: An entire head of cauliflower, steamed and pureed, goes into this secret-ingredient lighter macaroni and cheese from The Lemon Bowl. That means we can have three helpings, right?
Cauliflower Hummus Burgers
Description: Not just a cauliflower veggie burger, but a cauliflower veggie burger with the flavors of hummus, and then topped with a minty tzatziki sauce! Dreamy.
Pulled Cauliflower BBQ Sandwiches
Description: Beard & Bonnet provides proof positive that you truly can do anything with cauliflower. In this case, it swims in a tangy barbecue sauce and joins caramelized onions for a seriously scrumptious sky-high sandwich.
Bloomin' Indian Spiced Whole Roasted Cauliflower
Description: Yep—a bloomin' cauliflower. How flippin' brilliant is that? Find this gorgeous, pluckable specimen over at An Edible Mosaic.
Vegetarian Firecracker Cauliflower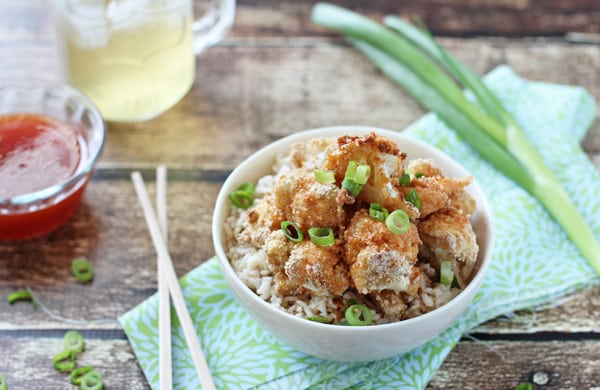 Description: This vegetarian spin on firecracker take-out features crunchy baked cauliflower in place of chicken or shrimp. Serve over rice and drizzle with a sweet and spicy homemade chili sauce for a dish that rivals any restaurant.