We're knee-deep in winter with no end in sight--even that pesky Punxsawtawny Phil saw his shadow earlier this month, predicting six more weeks of the stuff. Whatever, groundhog!
Ahh, that's okay. We've got enough comfort food to get us through. And that's what this week's meatless meal plan is all about--comfort. Yes, we've got a splurge here and there (um, hi mac and cheese), but for the most part, these cozy winter-friendly meals aren't completely enemies of the waistline. What they will combat, though, are those darned winter blues.
(Hey, spring! Just get here already!)
Here's this week's menu:
Monday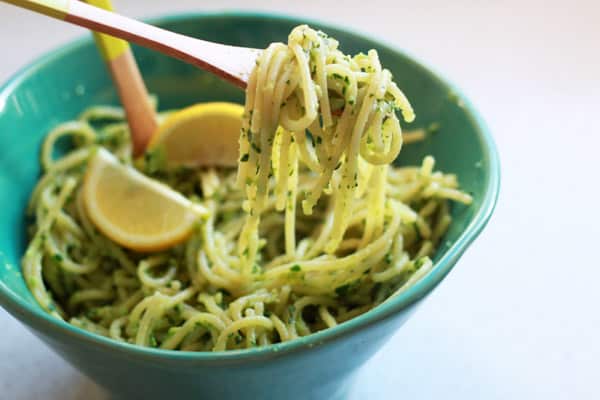 Creamy Avocado & Rocket (Arugula) Pasta from Amuse Your Bouche // This zingy, creamy vegan pasta comes together in a flash and tastes like a million. Serve with a side salad of mixed baby greens with a simple homemade vinaigrette, and Monday just got that much merrier.
Tuesday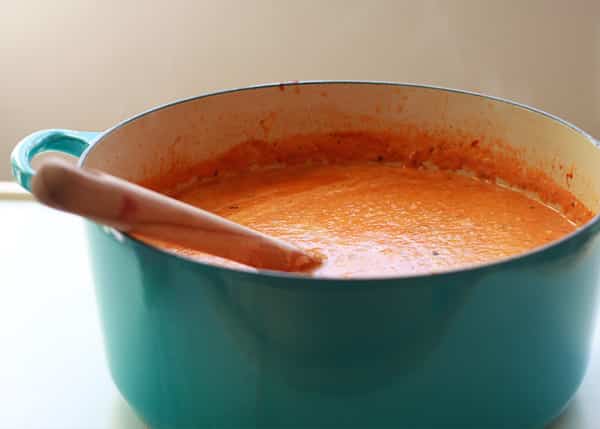 Tomato Basil Soup from Heather Christo // Served with grilled cheese sandwiches--for the sake of meal planning, we'll say plain ol' bread/butter/cheddar, but if you want to fancy it up, these would be incredible alongside. This soup is the perfect recipe for getting the most out of fresh tomatoes this time of year--you give 'em a good roast, first, which helps eke every last bit of flavor out of often flavorless winter tomatoes. Heather does call for chicken broth in her recipe, but all you need to do is make a simple swap for vegetable broth and you're good to go.
Wednesday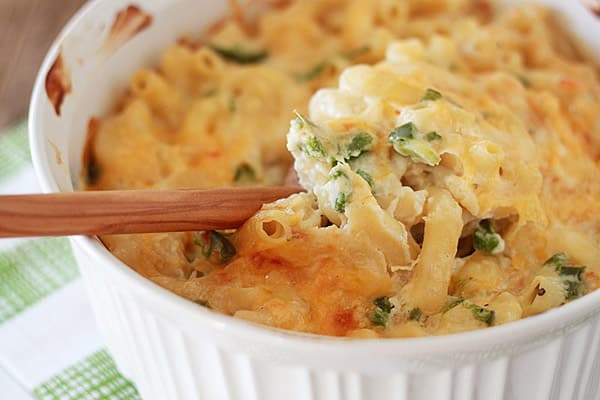 Jalapeno Mac & Cheese from Kitchen Treaty // A little cheesy pasta to help push through the hump-day slump. Creamy, ooey-gooey, and full of peppery goodness. Serve with a salad--and maybe an icy mug or two of beer to help tame the heat.
Thursday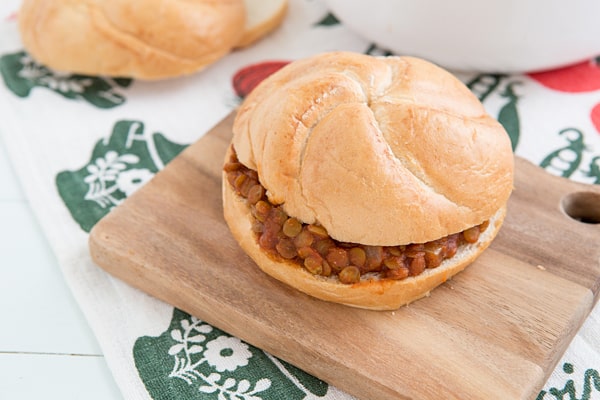 Sloppy Lentil Sandwiches from Oh My Veggies // This meatless version of the popular childhood favorite, Sloppy Joes, makes the original pale in comparison. Seriously, Kiersten's recipe is gooooo-ood. Most of the preparation is hands-off, leaving you time for helping with homework, packing lunches, or the myriad other things that make up weeknight mayhem. Plus, they make an excellent take-to-work lunch the next day. Again, serve alongside a salad for an easy, well-rounded meal.
Friday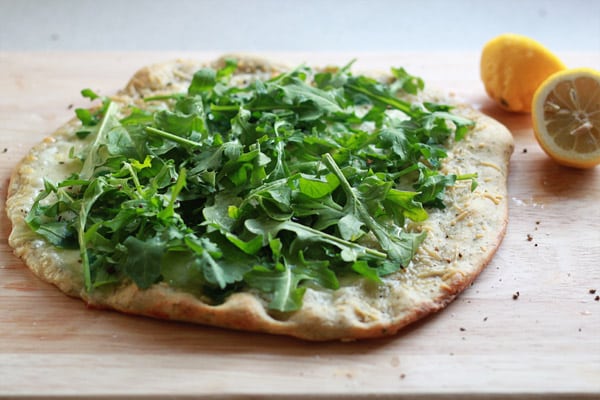 Lemon Arugula Pizza from Two Peas and Their Pod // This fresh, simple thin-crust pizza ends the week on a high note. Maria's marvelous recipe calls for a homemade thin crust, but if you're short on time, a store-bought crust will work (and to keep things as simple as possible, I've accounted for a store-bought crust in our meal plan). Oh, and hey--here's one where I'm not going to suggest a side salad, because the salad is part of the pizza!
Tips for This Week's Plan
As I've mentioned, most of the meals this week would benefit from a nice, simple side salad, so I've added a bag of mixed baby greens and a bottle of your favorite salad dressing to the meal plan.
The tomato basil soup recipe makes a huge batch, so you may want to halve the recipe, or plan for lots of tomato soup lunches the remainder of the week.
The lemon arugula pizza calls for Parmesan cheese, which does often contain animal rennet. BelGioioso and Organic Valley make a vegetarian version; Whole Foods carries vegetarian Parmesan as well. If in doubt, you may opt to leave it off--the pizza will still be delicious without it!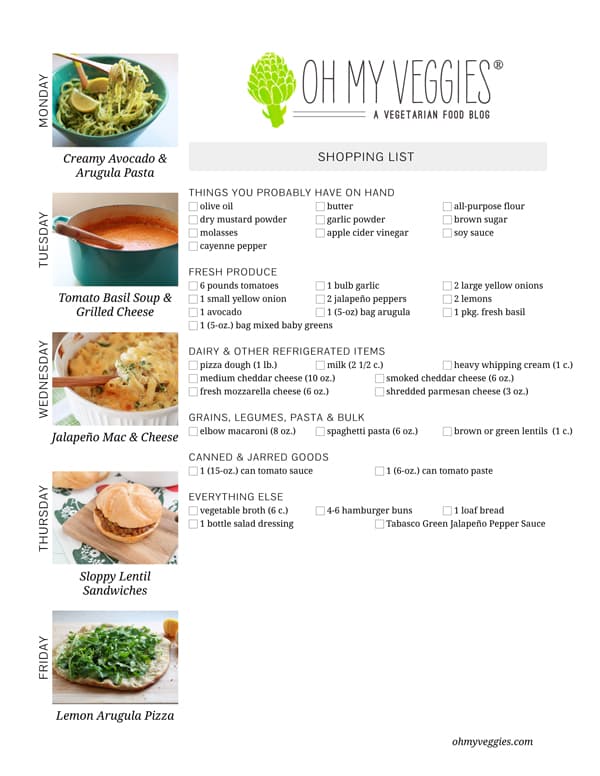 Click here for a printable version of this week's meatless meal plan and shopping list, then click on the links above to print out each recipe. Now you're set for the week!