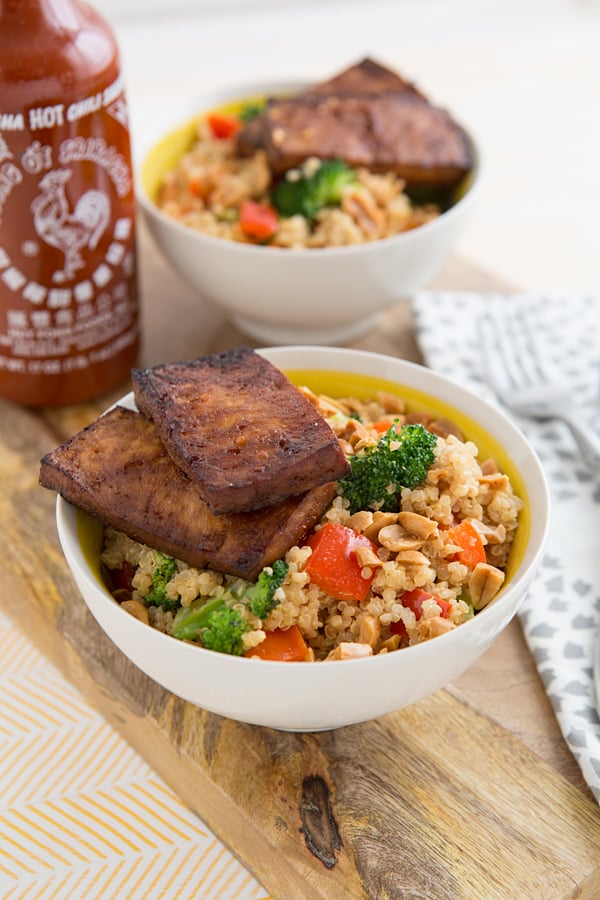 Packaged baked tofu is the vegetarian equivalent of rotisserie chicken. You can buy it and do about a gazillion different things with it. Yes, a gazillion. I've counted. Throw a slab of it on a bun and top it with slaw, cube it and put it in salad, add it to a veggie stir fry, eat it as-is--it's so versatile! Back in the day, before this whole food blogging thing, I used to always keep a package or two in the fridge for quick dinners when I didn't feel like cooking.
I had the idea to do this Peanutty Quinoa Bowl recipe with store-bought baked tofu, but then I forgot to buy it. It actually wasn't my fault--Whole Foods keeps moving things around and the baked tofu wasn't where it used to be and when it wasn't in its usual place, I was totally thrown off and forgot about it. Oops! Driving all the way back to Whole Foods for a package of tofu seemed silly, so I thought, hey, I'll make my own baked tofu!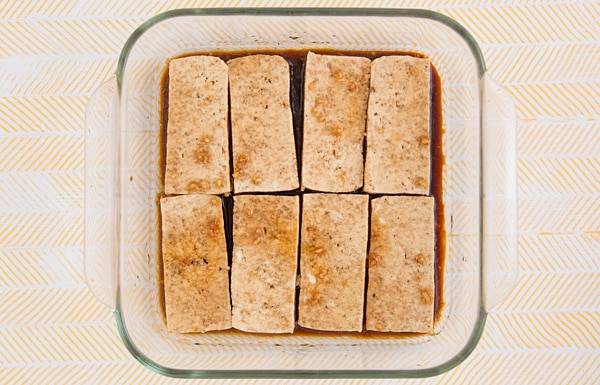 This recipe is similar to my Baked Barbecue Tofu, but the whole barbecue sauce thing can be a little bit limiting. Do you want barbecue sauce in your stir fry or salad? Maybe not. If you're still skeptical about tofu, try it baked--really, I think you'll change your mind. It's marinated so it's flavorful, not bland. Using a tofu press helps the tofu absorb as much of the marinade as possible. Baking it makes it chewy, not mushy. Barbecue tofu is awesome, but this baked tofu recipe has a savory Asian-inspired flavor that makes it work in a variety of dishes--stir fries, salads, and especially Peanutty Quinoa Bowls.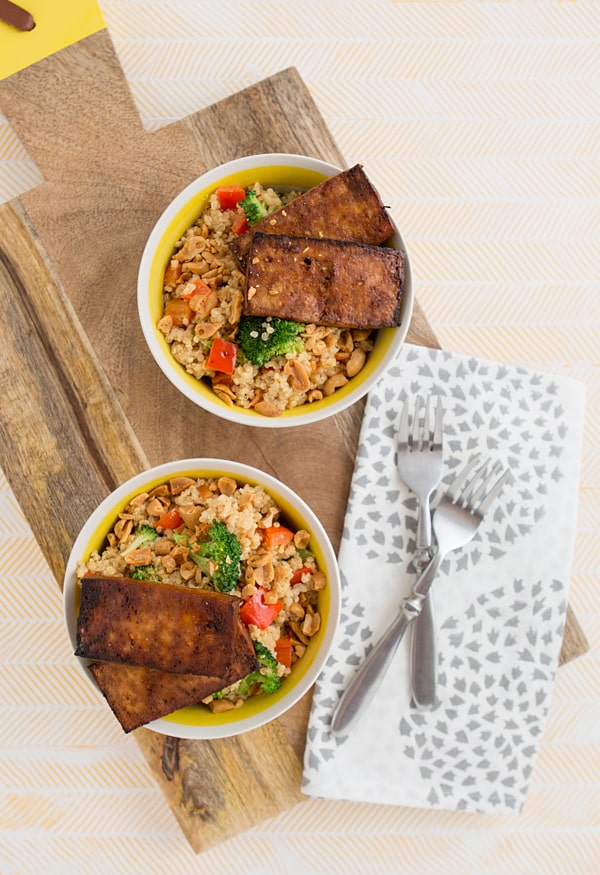 Peanutty Quinoa Bowls? Yes! These are so easy. You toss some quinoa and some veggies with peanut sauce and serve it with a few slices of baked tofu (either homemade or store-bought). You can do this! This recipe makes two servings; if you're not sharing, throw the second bowl in the fridge and eat it tomorrow.
Recipe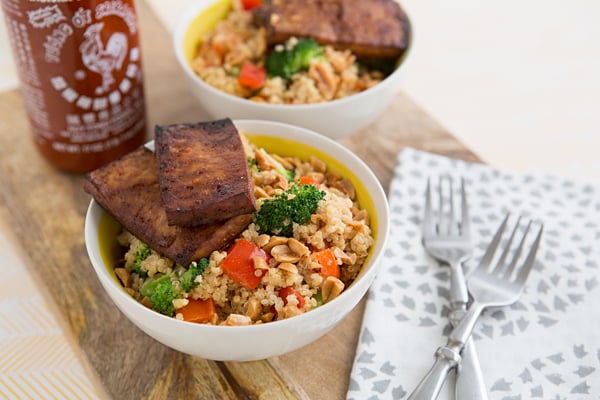 Ingredients
For the Quinoa Bowls
½

cup

quinoa

1

tsp

olive oil

1

small red bell pepper

seeded and diced

1

small broccoli crown

broken into florets

2

tbsp

peanut butter

1

tbsp

fresh lime juice

1

tbsp

water

1

tsp

tamari

or soy sauce

½

tsp

brown sugar or coconut sugar

½

tsp

freshly grated ginger

Salt and pepper to taste

2

tbsp

chopped roasted peanuts
Instructions
For the Baked Tofu
Preheat oven to 400ºF. Spray a baking sheet with oil or cooking spray or line it with parchment paper.

Whisk together the tamari, maple syrup, olive oil, garlic, and pepper in a small baking dish.

Place the tofu in the dish and let it marinate for about 30 minutes, flipping the tofu over after about 15 minutes. The tofu should soak up almost all of the marinade.

Place the tofu on the baking sheet and bake for about 40 minutes, or until edges are dark and tofu is chewy, turning tofu over halfway through cooking time. Set aside.
For the Quinoa Bowls
Cook the quinoa in water or vegetable broth according to package directions.

While the quinoa is cooking, heat the olive oil in a medium skillet over medium-high heat. Add the red pepper and cook for about 3 minutes, until softened. Transfer to a large bowl. Add the broccoli to the skillet with 2 tablespoons of water. Cover and steam for about 2 minutes, or until the broccoli is tender. Transfer the broccoli to the bowl with the pepper.

Toss the cooked quinoa with the veggies, and set aside.

Whisk the peanut butter, lime juice, water, tamari, sugar, and ginger in a small bowl. Toss with the quinoa and veggies. Season with salt and pepper, to taste. Divide the quinoa into 2 bowls, then top each with the slices of tofu and a tablespoon of chopped peanuts.
Nutrition
Calories:
720
kcal
Carbohydrates:
84
g
Protein:
38
g
Fat:
30
g
Saturated Fat:
5
g
Polyunsaturated Fat:
9
g
Monounsaturated Fat:
14
g
Sodium:
324
mg
Potassium:
2027
mg
Fiber:
16
g
Sugar:
33
g
Vitamin A:
3774
IU
Vitamin C:
351
mg
Calcium:
285
mg
Iron:
8
mg
Craving more veg-friendly recipes?
Shop our collection of vegetarian and vegan cookbooks, including our new Vegan Thanksgiving and Vegan Christmas cookbooks!