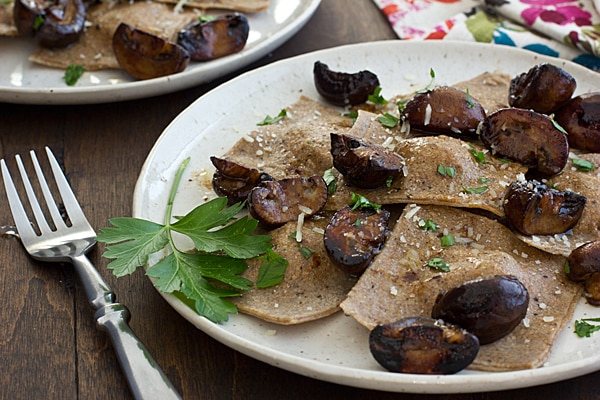 When I first started blogging, I was a little bit shy when it came to telling people about it. Now that my blog (and everything related to it) is my job, I'm a little more bold and I feel okay telling people that I'm a food blogger when they ask what I do. Usually people find that interesting and want to learn more, but then there was the time I got this response:
"Well, what makes you an expert?"
Ouch!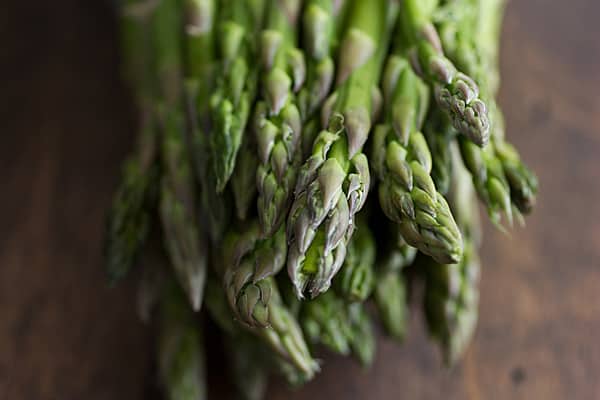 I didn't know what to say, so I responded with, "Um, nothing?" Because really, it's true. I'm not an expert. I don't claim to be! And I hope no one thinks I am! I haven't had any special training, I've just always loved to cook. I blog to share ideas and tips that I've learned along the way through my own experiences in the kitchen. But am I an expert? No!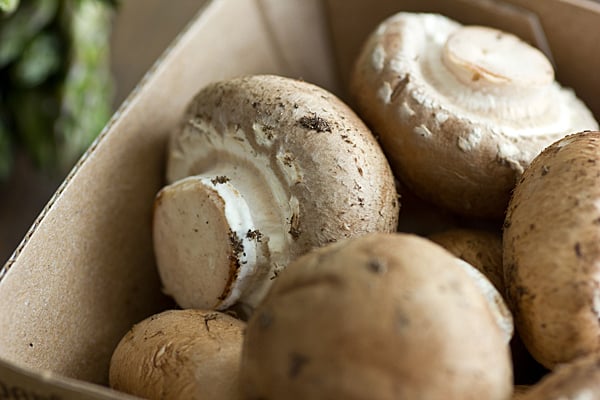 Case in point: this asparagus ravioli. I had made ravioli before using the wonton wrapper shortcut--instead of using regular pasta, you put the filling in wonton wrappers. Having never made traditional ravioli before, I assumed that it was done the same way--with squares of pasta. I didn't even bother to read up on how you're supposed to do it. I was just that confident! Well, you know what happens when you assume, right?
YOU MAKE WONKY RAVIOLI!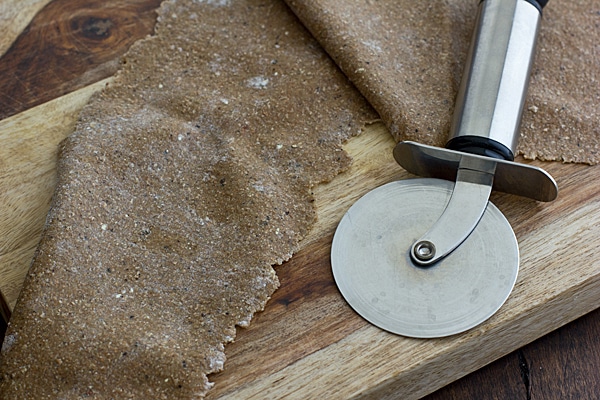 When I was making the whole-wheat fettuccine with my KitchenAid stand mixer pasta attachments, I made some extra sheets to use for ravioli. Then I used a pizza cutter to cut them into squares. (Okay, these totally aren't squares. Fine! What do you expect from someone who failed geometry twice?)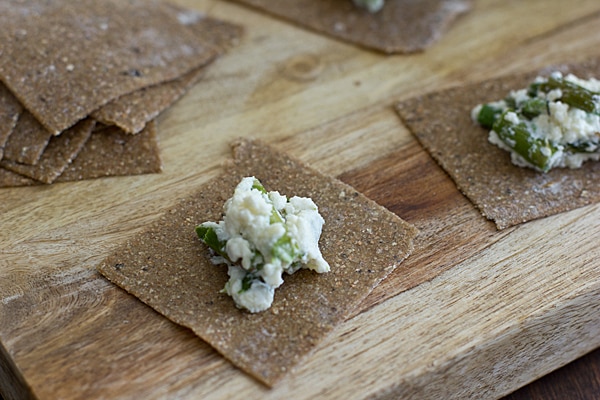 I put the filling on one pasta square, brushed the edges with water, and smashed another square onto the top. And the top square never quite matched up with the bottom, but I figured that was okay.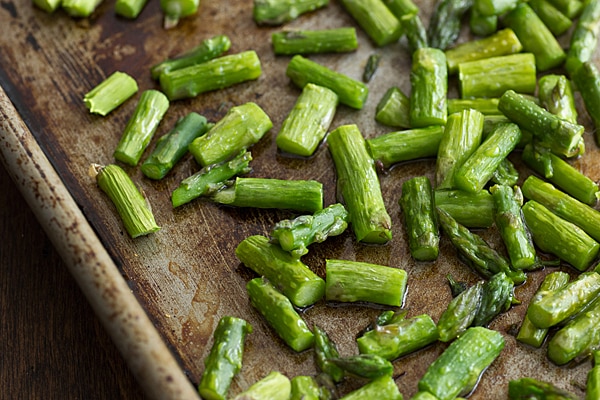 I kind of knew my asparagus ravioli didn't look so hot, but with the roasted asparagus filling and flavorful seared mushrooms on top, I quickly overlooked their appearance and patted myself on the back for creating something so tasty.
Then a few days later, after having the recipe written and the photos taken, I saw some homemade ravioli on FoodGawker. And it was perfect. They were squares! Not rhombuses! They used a real pasta cutter! Not a pizza cutter! I was feeling pretty crappy about myself and then I clicked through to the recipe and felt even worse.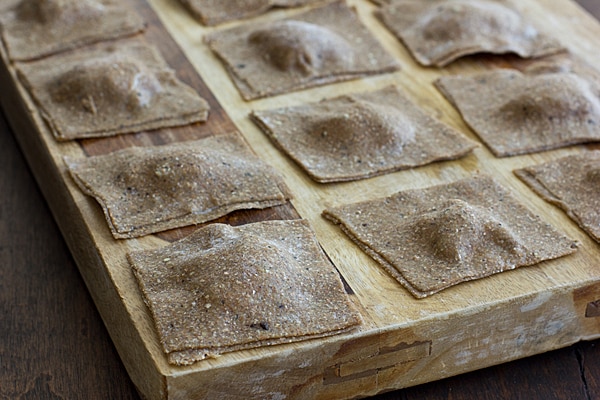 I totally screwed up my ravioli, guys. You're supposed to put the filling on the sheet of pasta, put another sheet on top of it, and then cut it.
See? Not an expert.
But then I reminded myself that it tasted good. Delicious, in fact. And as another food blogger recently said to me, if it works out in the end, does it really matter if you did it right? No!
Or at least that's what I'll tell myself from now on.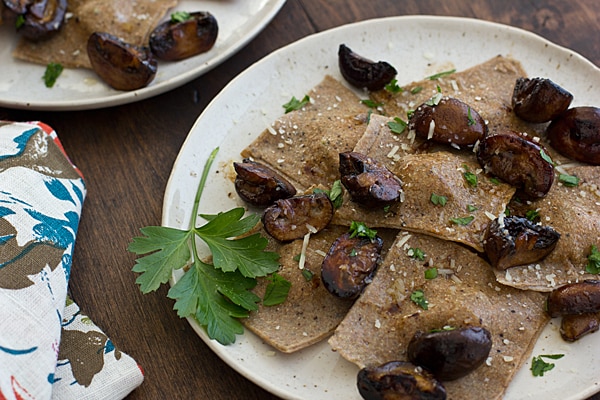 Ingredients
12-16

asparagus ravioli

cooked (see recipe below)

1

tbsp.

olive oil

8

oz.

cremini mushrooms

trimmed and halved

2

tbsp.

red wine

1

tbsp.

butter

salt + pepper to taste

Parmesan cheese + chopped parsley for serving
Instructions
Heat oil in a medium skillet over high heat. Add mushrooms; cook 6-7 minutes, stirring often, until mushrooms are deep brown in color. Carefully pour in red wine and cook until completely evaporated, about 2-3 minutes. Add butter and cook until melted. Remove from heat and season with salt and pepper.

Pour mushrooms and butter over ravioli. Sprinkle with parmesan cheese and parsley before serving.
Nutrition
Calories:
1806
kcal
Carbohydrates:
216
g
Protein:
78
g
Fat:
68
g
Saturated Fat:
21
g
Polyunsaturated Fat:
1
g
Monounsaturated Fat:
5
g
Cholesterol:
276
mg
Sodium:
3162
mg
Potassium:
537
mg
Fiber:
15
g
Sugar:
13
g
Vitamin A:
12
IU
Calcium:
132
mg
Iron:
54
mg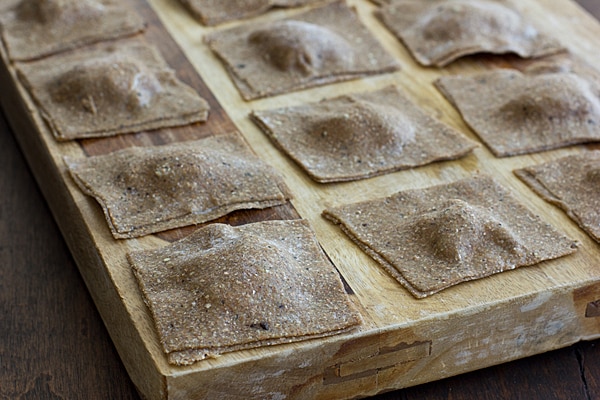 Ingredients
1

lb.

asparagus

trimmed and cut into small pieces

1

tbsp.

olive oil

salt + pepper to taste

¾

c.

low-fat ricotta cheese

¼

c.

Parmesan cheese

1 ¼

lbs.

pasta dough

rolled into 6 equal-sized sheets
Instructions
Preheat oven to 400 degrees.

Toss asparagus with olive oil, salt, and pepper on a rimmed baking sheet. Roast for about 10 minutes, or until softened and just beginning to brown, stirring halfway through cooking time. Remove from oven and cool slightly.

Transfer asparagus to large bowl. Add ricotta, parmesan, and salt; stir until well-combined.

Place one sheet of pasta onto a well-floured surface; brush with water. Drop filling onto the pasta by the teaspoonful, about 1 inch apart. Take a second sheet of pasta and place it on top of the first, carefully pressing to seal around filling. Use pasta cutter, knife, or pizza cutter to cut individual ravioli. Press along edges to make sure they are sealed. (For a visual tutorial, see

this article

on Allrecipes.com.)

Bring a large pot of salted water to a boil. Drop in ravioli, about 6 at a time, and cook for 3-4 minutes, or until they float to the top of the pot. Drain in a colander.
Nutrition
Calories:
1645
kcal
Carbohydrates:
152
g
Protein:
43
g
Fat:
96
g
Saturated Fat:
33
g
Polyunsaturated Fat:
10
g
Monounsaturated Fat:
44
g
Cholesterol:
48
mg
Sodium:
1749
mg
Potassium:
871
mg
Fiber:
12
g
Sugar:
5
g
Vitamin A:
2289
IU
Vitamin C:
13
mg
Calcium:
700
mg
Iron:
13
mg
I received the Pasta Sheet Roller and Pasta Cutter Attachments from KitchenAid for the purpose of writing this post.