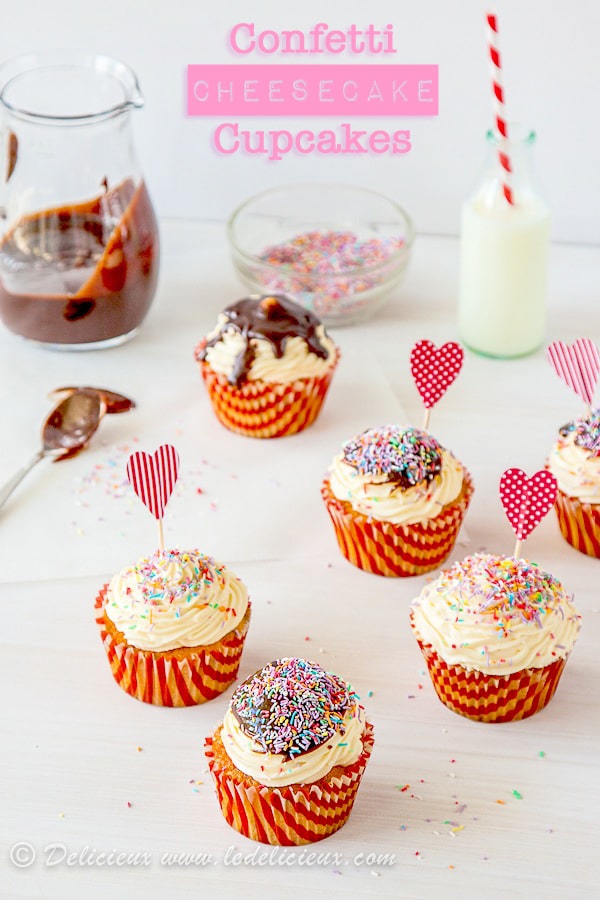 My husband, like most men, is a big kid. I don't mean this in a derogatory way, in fact it's one of the things I love about him. He loves playing on his Xbox, playing with Lego and, like any child, he adores sprinkles, especially sprinkled over the top of vanilla ice cream.  So, the other day when he asked if I would make some cheesecake cupcakes again, I decided to surprise him by making sprinkles, or Confetti Cheesecake Cupcakes instead of the Cookies and Cream Cheesecake Cupcakes I'd made previously.
Needless to say my surprise of Confetti Cheesecake Cupcakes went over a treat. And honestly, what adult and child wouldn't love these? What's not to love when two dessert favourites come together in cupcake form? In fact if you count the beloved children's birthday favourite of fairy bread, well, it's really 3 desserts in one - fairy bread, cupcakes, and cheesecake! After all who doesn't love fairy bread?
While the chocolate fudge sauce on top of the cheesecake frosting might be gilding the lily, I say gild away!  But then I'm a totally hopelessly addicted chocoholic. You can of course skip the fudge sauce, which might be the safest option if you are making these for a children's birthday party - I can just imagine fudge smeared hands leaving little fingerprints everywhere - but as far I'm concerned the fudge sauce is necessary for this totally indulgent treat.
This recipe will make 12 cupcakes, but can be doubled if needed, as can the cheesecake frosting. And as for the fudge sauce, any left overs are wonderful drizzled over a scoop of ice cream!
So tell me, was fairy bread your favourite thing at birthday parties when you were a child? What was your favourite childhood birthday dessert?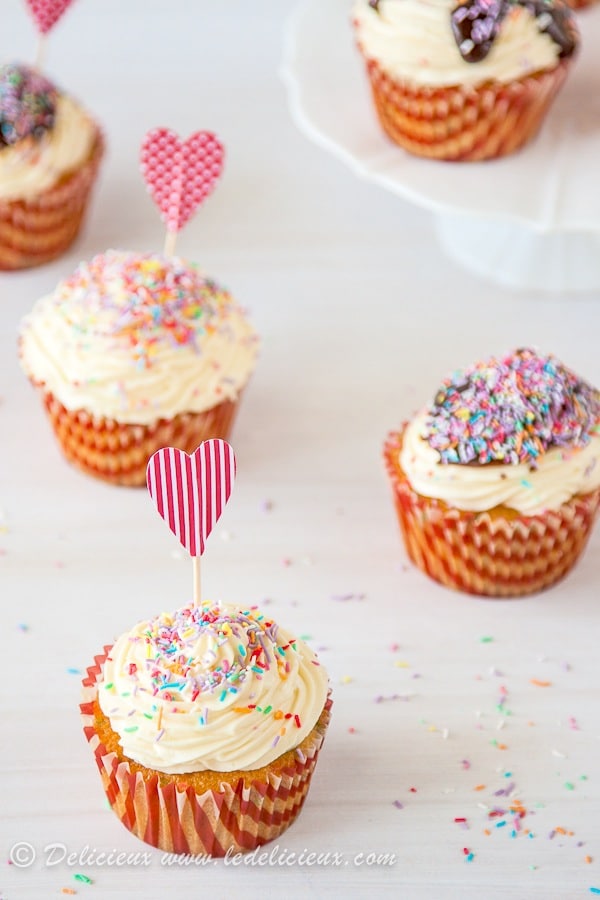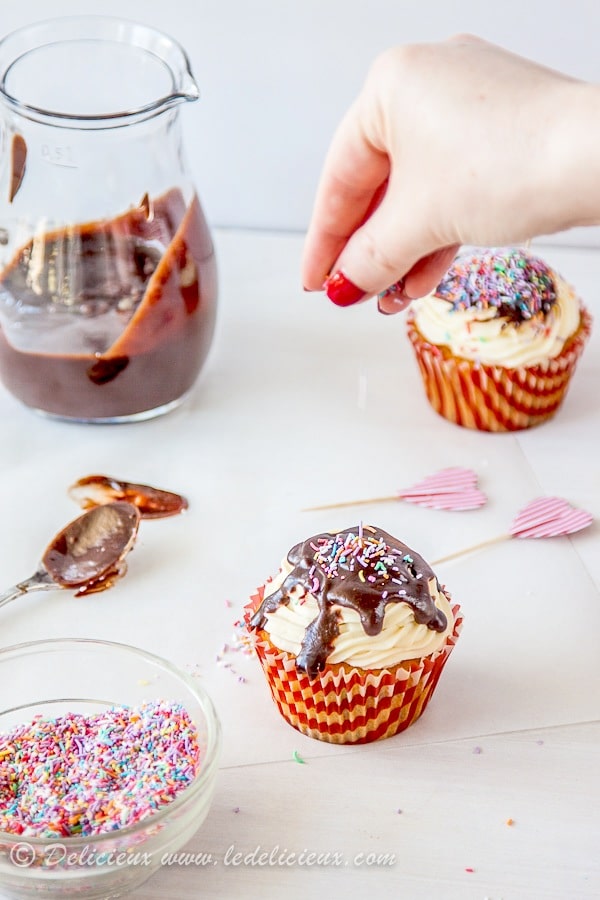 Recipe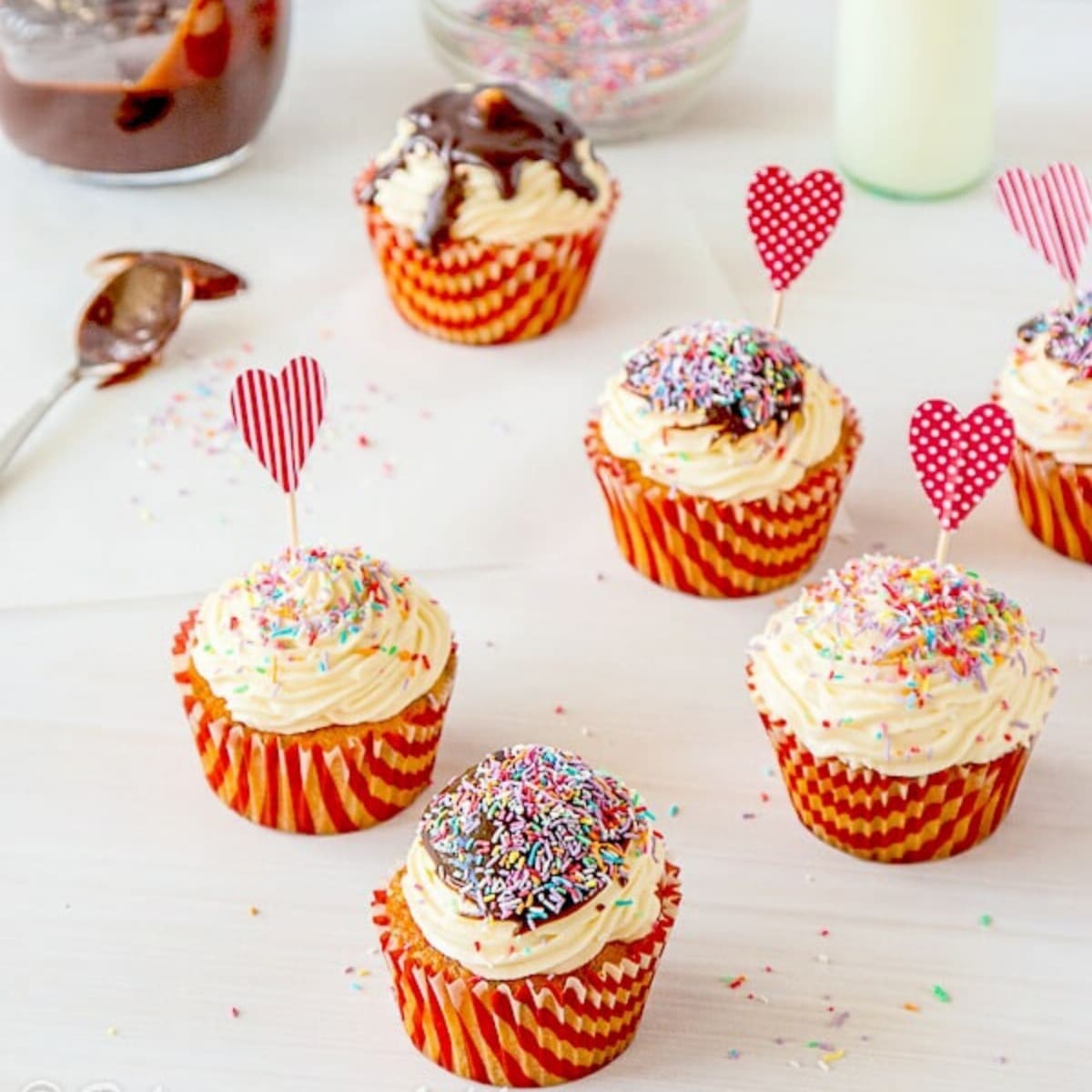 Ingredients
110

g

of butter

softened

200

g

of caster sugar

1

teaspoon

of vanilla extract

2

eggs

185

g

of plain flour

sifted, all purpose

1

teaspoons

¼ of baking powder

sifted

165

ml

of milk

⅓

cup

of sprinkles

CHEESECAKE FROSTING:

1 ¼

cups

whipping cream

½

cup

sugar

125

g

cream cheese

slightly softened

1

tsp

of vanilla extract

CHOCOLATE FUDGE SAUCE:

125

ml

cream

cup

¼ firmly packed brown sugar

1

tbs

honey

15

g

butter

100

g

70% cocoa chocolate

chopped

DECORATION:

1

tbs

of sprinkles
Instructions
Preheat oven to 160 celsius (325 Fahrenheit) and line a 12 hole muffin pan with cupcake liners.

Place the butter and sugar in the bowl of an electric mixer fitted with a paddle attachment and beat until light and creamy. Gradually add the eggs and beat well between each addition. Sift the flower and baking powder together and set aside. In a small jug combine the milk and vanilla extract. Switch the mixer to it's slowest speed and gradually add the flour and milk mixtures, alternating between each. Finally add the sprinkles and mix until just combined.

Divide the mixture between the 12 cupcake liners and bake for 15 to 17 minutes, or until golden and they spring back in the middle. Leave in the pan for a couple of minutes to cool before removing the cupcakes and leaving to cool completely.

Before making the frosting place the bowl of your electric mixer and whisk in the refrigerator and remove the cream cheese from the fridge and leave for 30 to 45 minutes. Remove the bowl and whisk from the fridge and place the cream and whisk attachment whilst gradually adding half the sugar. Whisk until soft peaks form. Switch off the mixer and cut the cream cheese into small cubes and add to the cream. Turn the mixer on again and gradually add the rest of the sugar until stiff peaks form and the cream cheese is combined. Place in the refrigerator while you make the chocolate fudge sauce.

To make the fudge sauce combine the cream, brown sugar, honey and butter in a saucepan over a medium heat. Bring to a boil and reduce to low and simmer for 5 minutes. Remove from the heat and add the chocolate and whisk until smooth.

Fit a piping bag with a star shaped tip and fill with the cheesecake frosting. Pipe onto the cooled cupcakes before drizzling with the chocolate fudge sauce and topping with sprinkles. Refrigerate until ready to serve.
Notes
Cupcakes can be stored in the refrigerator for 3 to 4 days.
Nutrition
Calories:
452
kcal
Carbohydrates:
50
g
Protein:
6
g
Fat:
27
g
Saturated Fat:
16
g
Cholesterol:
110
mg
Sodium:
140
mg
Potassium:
246
mg
Fiber:
3
g
Sugar:
32
g
Vitamin A:
980
IU
Vitamin C:
0.2
mg
Calcium:
82
mg
Iron:
2.1
mg
Craving more veg-friendly recipes?
Shop our collection of vegetarian and vegan cookbooks, including our new Vegan Thanksgiving and Vegan Christmas cookbooks!