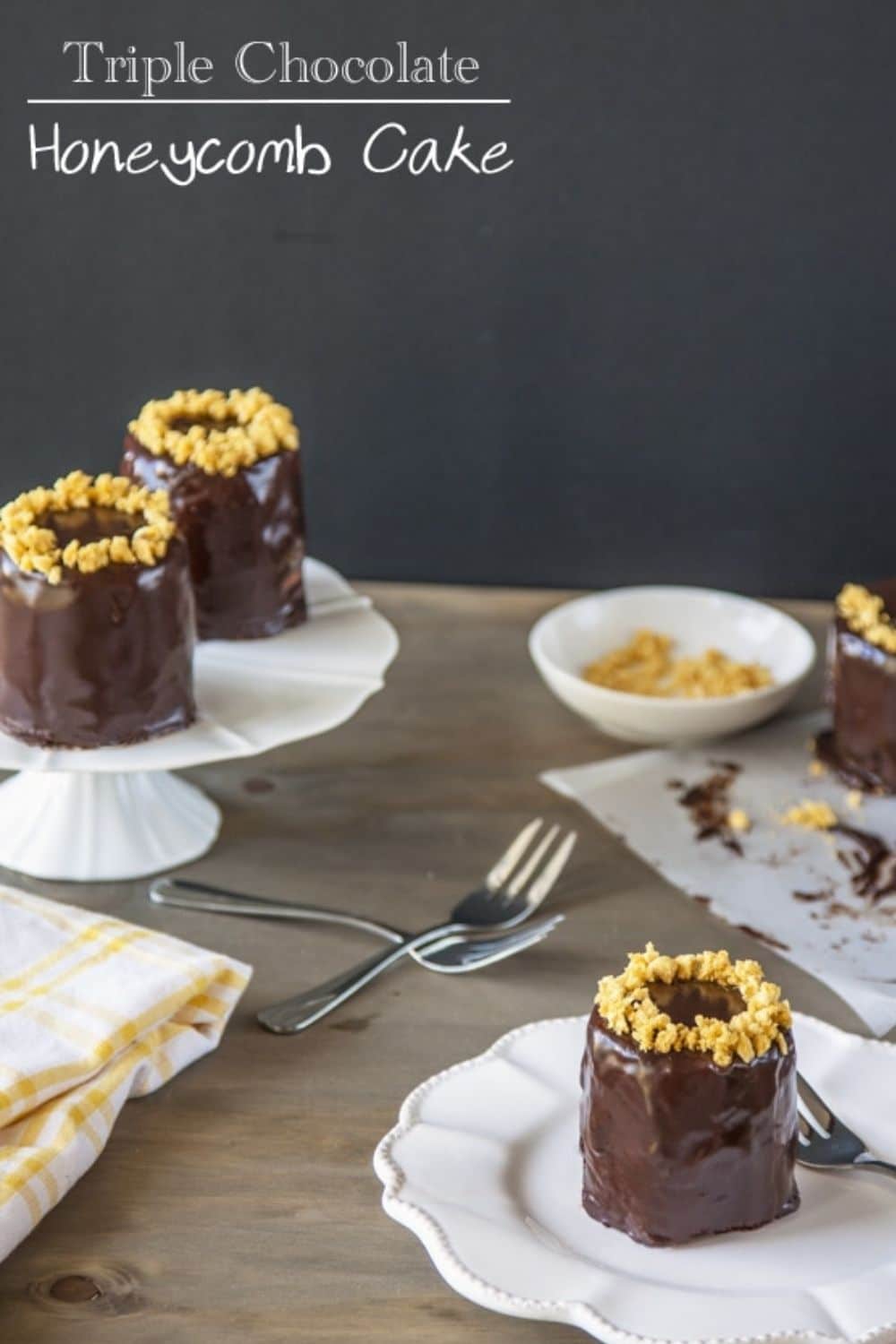 Welcome to this month's Sweet Adventures Blog Hop!
As far as I'm concerned no high tea is complete without a decadent chocolate dessert. And as soon as I saw the beautiful Triple Chocolate Honeycomb Cake on the cover with [amazon_link id="1849751439" target="_blank" ]Tea With Bea: Recipes from Bea's of Bloomsbury[/amazon_link] I was in love. In fact, this book, and the cake was what inspired this months Sweet Adventures High Tea theme because, honestly, I wanted an excuse to make this cake. Not that I ever need an excuse to make chocolate cake though.
In my opinion, High Tea calls for mini desserts, such as cupcakes, scones and mini tarts, so the cake had to be minified and made into sweet decadent little individual treats. After all the only thing better than a slice of cake is having a whole cake to yourself ;).
So this Triple Chocolate Honeycomb Cake starts with a deliciously light fine crumbed chocolate cake that contains both chocolate and cocoa. Layers of cake are then sandwiched together with a velvety smooth chocolate mousse like Chocolate Italian Buttercream. Finally, it's all then smothered in a Chocolate Ganache and topped off with a golden halo of crunchy honeycomb crumbs.
This gorgeous cake is decadent, delicious and dreamy. And for a triple chocolate cake it has a surprisingly light texture thanks to the soft crumbly cake and soft and luscious Italian Buttercream.
So tell me, what dessert do you think is essential at a good high tea? And do you like champagne with your high tea?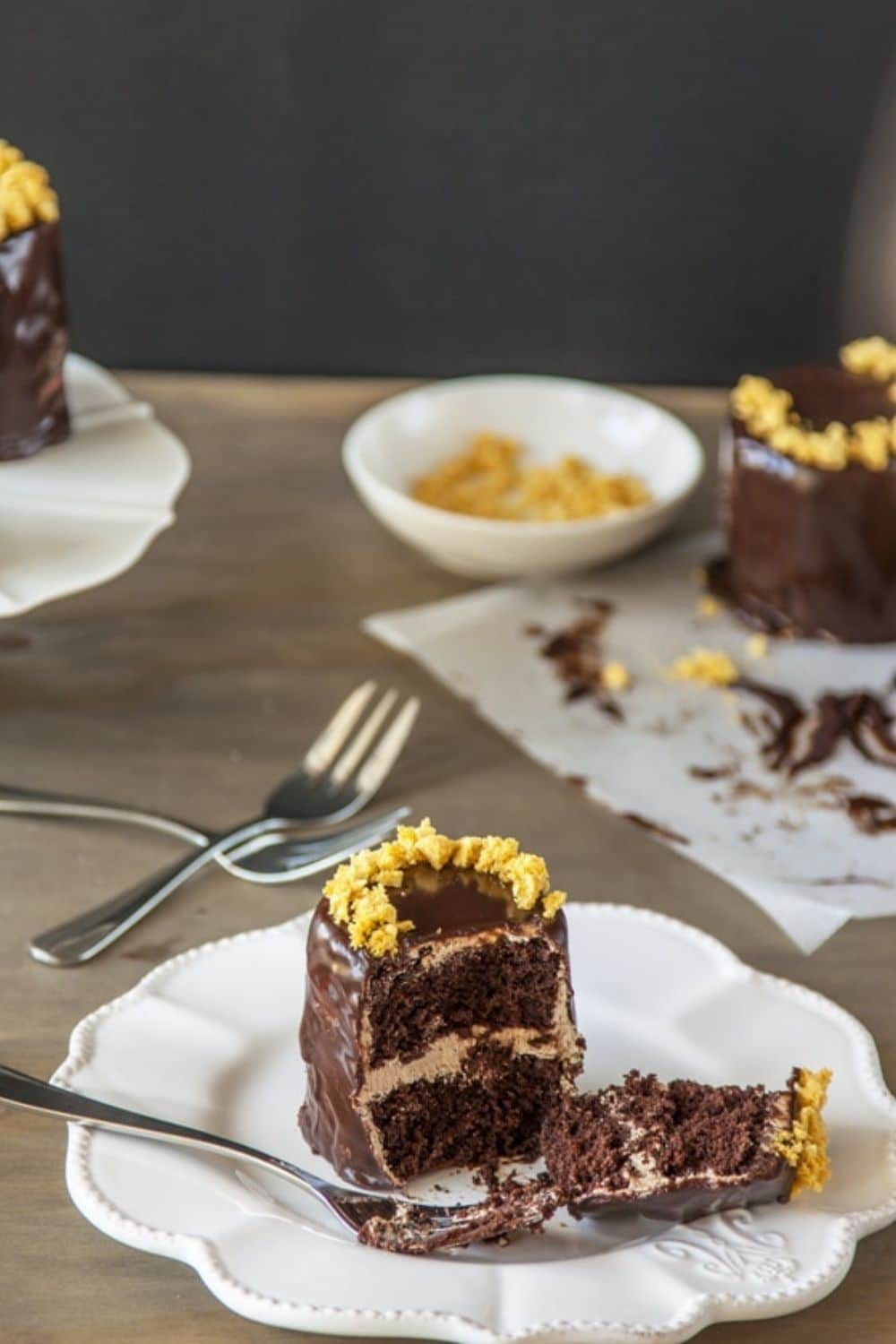 Recipe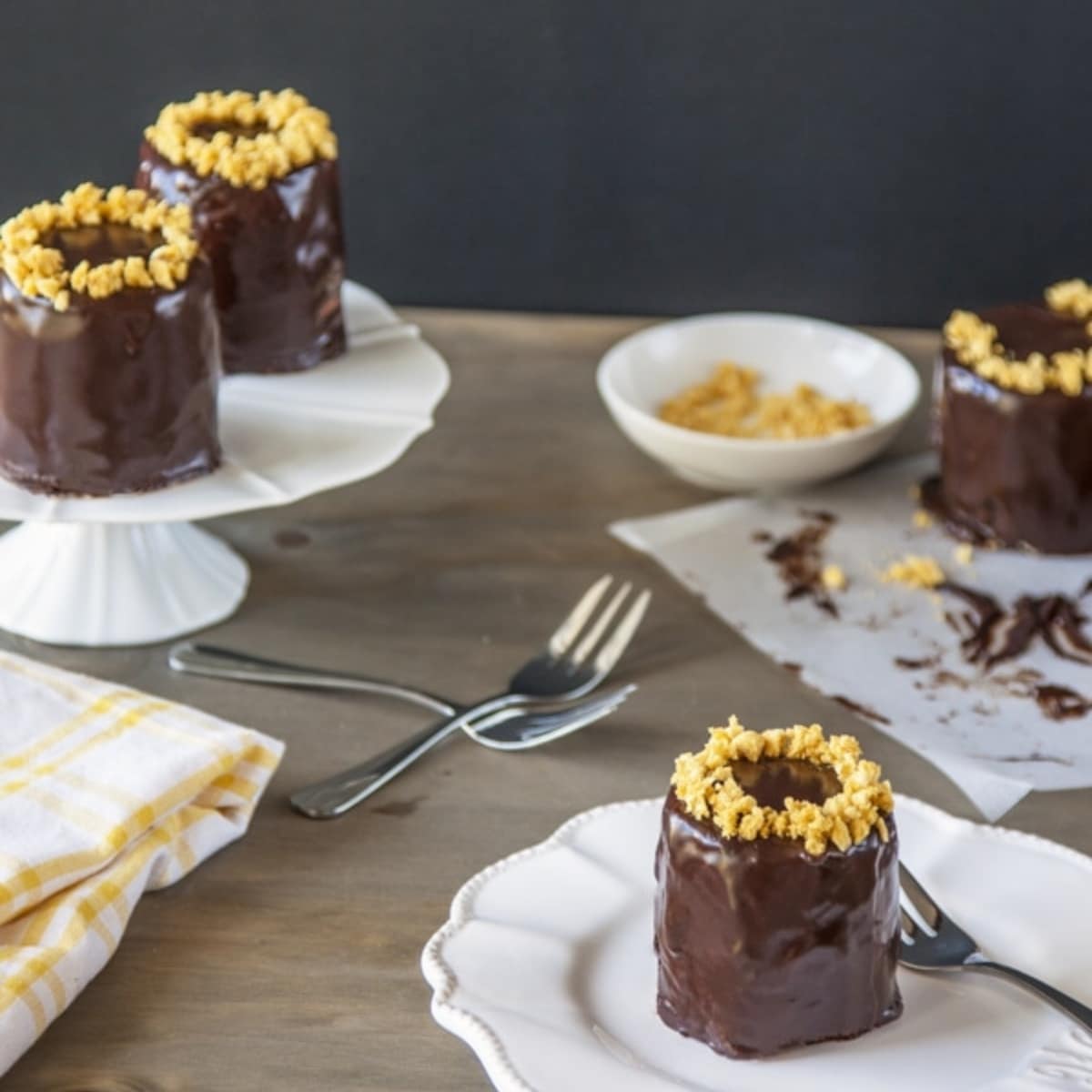 Ingredients
CHOCOLATE BUTTERMILK CAKE

110

g

of 70% cocoa chocolate

chopped into pea sized pieces

35

g

of Dutch process cocoa

90

g

of unsalted butter

2

eggs

80

g

of caster sugar

70

g

of brown sugar

90

g

of plain flour

all purpose

¼

tsp

of baking soda

pinch of salt

125

ml

of buttermilk

CHOCOLATE ITALIAN BUTTERCREAM

180

g

of caster sugar

2

tsp

of golden syrup

50

ml

water

3

egg whites

300

g

of unsalted butter

at room temperature, and cut into cubes

60

g

of 70% cocoa chocolate cut into pea sized pieces

CHOCOLATE GANACHE

125

ml

whipping cream

1 ½

tbs

of golden syrup

175

g

of 70% cocoa chocolate

cut into pea sized pieces

½

tsp

of vanilla extract

40

g

of unsalted butter

cut into cubes

DECORATION

honeycomb
Instructions
Begin by making the cake. Preheat the oven to 170 degrees celsius (340 Fahrenheit) and line a 30cm x 20cm lamington (sheet) pan with baking paper.

Place the chocolate and cocoa in a heat proof bowl and set aside. Place the butter in a small saucepan over a medium-high heat until melted. Pour into the chocolate and cocoa mixture and stir until smooth. Set aside.

In a separate bowl whisk together the eggs and sugar until the sugar is dissolved. Pour into the chocolate mixture and stir until well combined.

Sift the flour, baking soda and salt into a separate bowl. Sift again.

Add one third of the flour mixture to the chocolate mixture and mix until well combined. Add half the buttermilk and mix until combined. Add another third of the flour mixture, mixing until combined, before adding the remaining buttermilk and flour. When the mixture is thoroughly combined pour into the prepared lamington pan.

Bake for 15 to 17 minutes of until the cake springs bake when pressed. Remove from the oven and let cool in the pan for 10 minutes before removing and allowing to cool on a wire rack.

Next make the Italian buttercream. Place the sugar, golden syrup and water in a saucepan and mix until well combined. Use a pastry brush to dislodge any stray grains of sugar before placing over a high heat. Bring to a rapid boil and add a sugar thermometer. Cook until the mixture reaches 120 celsius (248 Fahrenheit) and remove from the heat.

Place the egg whites in the bowl of an electric mixer and whisk to soft peaks. With the mixer running, slowly pour the sugar syrup into the bowl, being careful not to touch the whisk, and continue whisking until the mixture cools slightly. Add the butter, one third at a time, and whip until fully incorporated. Then add the cooled melted chocolate and whisk until well combined.

To make the ganache place chocolate in a heat proof bowl and place the cream and golden syrup in a saucepan and bring to a boil. Pour the cream over the chocolate and set aside for 1 minute.

Using a small balloon whisk placed in the middle of the bowl use small motions to stir and combine the chocolate and cream. At first it will look like nothing is happening, but soon you will see a thick mass of glossy chocolate mixture form. Slowly circle the whisk outwards, incorporating more cream and continue until you have a smooth glossy mixture. Add the butter and vanilla extract and stir to combine.

Assemble the cakes by using a 7cm cookie cutter and cutting 10 circles from the cake to make 5 cakes. Using a spatula and spread the bottom of each cake with a thick layer of buttercream. Top with another round of cake. Spread a thin layer of buttercream all over the cake with a spatula and smooth as much as you can. Refrigerate the cakes for 1 hour.

By this point the chocolate ganache will have thickened. Place the mixture in a microwave safe jug and microwave for 10 seconds at a time until the mixture is glossy and the consistency of water. Pour the mixture over the top of the first cake and use a spatula to gently smooth over the top, which will force the mixture down the sides of the cake. Add additional ganache to ensure the cake is completely coated. Cover the remaining cakes, ensuring that the ganache remains the consistency of water and microwaving to melt as necessary.

Decorate each cake with honeycomb just before serving.
Notes
This recipe will make more buttercream than needed. Remaining buttercream can be frozen. Use any left over cake scraps to make a delicious trifle.....or keep them as a cooks treat 😉
Nutrition
Calories:
1253
kcal
Carbohydrates:
127
g
Protein:
20
g
Fat:
90
g
Saturated Fat:
56
g
Cholesterol:
287
mg
Sodium:
786
mg
Potassium:
1133
mg
Fiber:
21
g
Sugar:
76
g
Vitamin A:
2655
IU
Calcium:
170
mg
Iron:
10.1
mg
Craving more veg-friendly recipes?
Shop our collection of vegetarian and vegan cookbooks, including our new Vegan Thanksgiving and Vegan Christmas cookbooks!