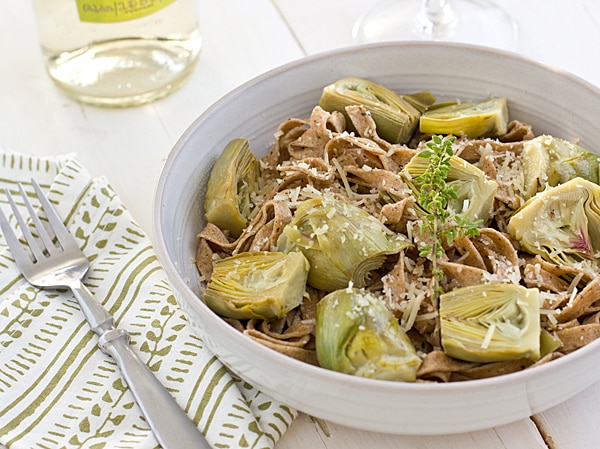 When it comes to cooking, we all have foods that we are comfortable with and that we return to again and again. And then there are those foods that we are not so comfortable with. Maybe we've made them once and that was all we needed to know that it wasn't going to happen again. Or maybe we're so intimidated by the work involved that we never even try making it in the first place.
Homemade pasta is one of those foods that I've never been very comfortable making. I felt intimidated by the process and put off by the amount of time I thought was involved. But earlier this year, I decided I was going to make a real effort to expand my horizons in the kitchen and now it's time to tackle pasta. And that's why this is Pasta Week! Each of my posts this week will show you a different kind of homemade pasta. They may not be perfect, but they're delicious and gosh darnit, I made them myself. And if I can do it, you can do it.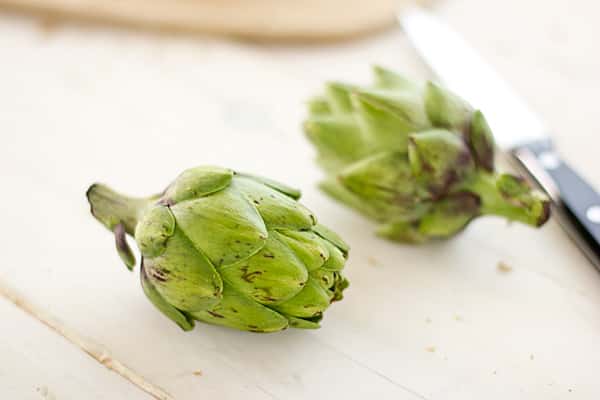 When it comes to a pasta like fettuccine, while you can certainly roll it out yourself and cut it by hand, using a pasta maker is the easiest way to go. I have a KitchenAid Stand Mixer (my wedding gift to myself--yes, I bought myself a wedding gift, why not?!) and one of the many, many things I love about it is that it has a wide array of attachments. Attachments such as… pasta rollers and cutters! Yes! If you have a KitchenAid Stand Mixer, you can use it to make homemade pasta!
I know a lot of people eat whole wheat pasta for health reasons while pining away for the traditional kind made with regular flour, but I actually prefer the whole wheat variety--I like the texture and earthy flavor. The whole wheat pasta sold at the store doesn't usually come in fun flavors though, so I mixed in some freshly cracked black pepper. The wonderful thing about a pasta like this Whole Wheat Black Pepper Fettuccine is that it's so flavorful, you don't need to load on heavy sauces or piles of cheese.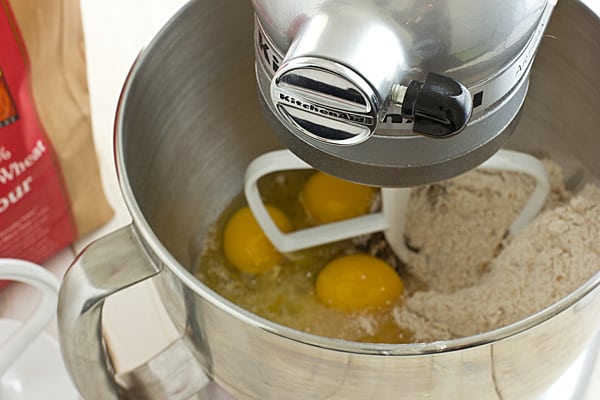 The pasta starts by combining whole wheat flour, cracked black pepper, salt, eggs, and water in your mixer. This step is traditionally done by hand by making a well with the dry ingredients on a floured surface and putting the wet ingredients into the well, then working them together. But doing it in the mixer is far easier. You'll use the paddle attachment first and then the dough hook.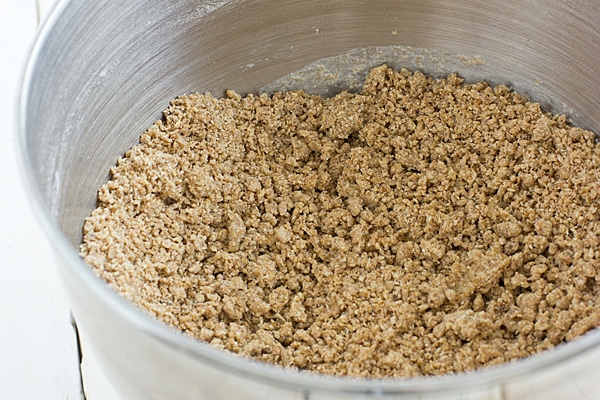 Once your dough is ready, you'll turn it out onto a floured surface to knead it. This was my first minor freak-out while making pasta--I worried that maybe whole wheat flour was too fussy to work with and that I should have started with all-purpose flour. The dough seemed so dry and crumbly!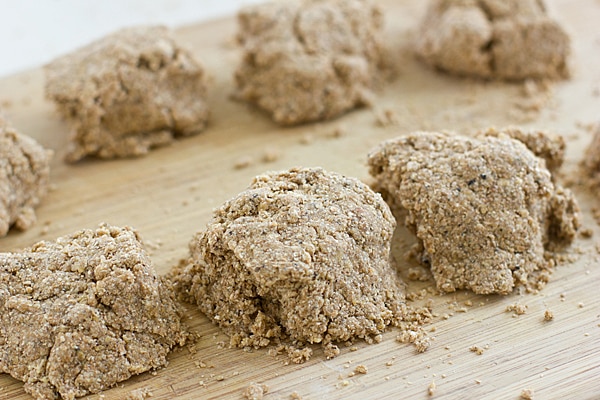 After that, I divided the dough into 8 equal-sized lumps and then I kneaded each dough lump (yes, dough lumps!) into a long, flat portion that could be fed into the pasta roller.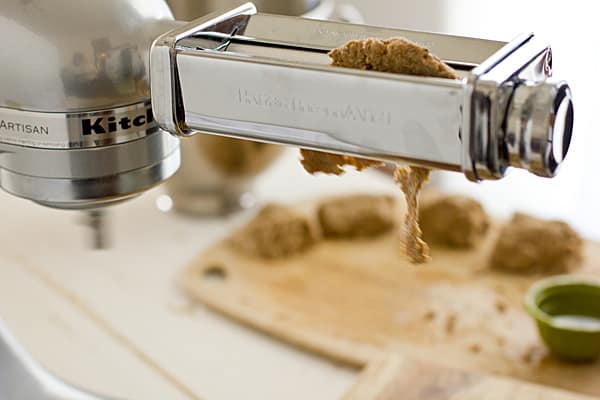 My second minor freak-out was at this point. When I fed the dough into the roller, it came out in crumbles. Later I realized two things: first, I needed to incorporate a little more water into the dough. So if you're making pasta and it's crumbly, don't be afraid to do that! And second, the first few runs through the roller always end up falling apart. I suspect this might not happen with dough made from all-purpose flour.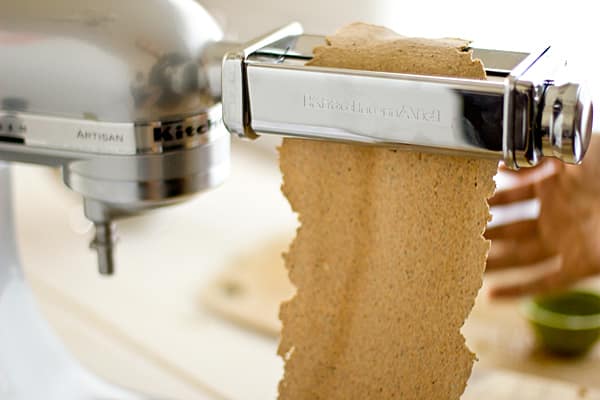 But see? Each time you put the dough through the roller, it looks better and better. You feed these pasta sheets through again and again until they're the width of the roller. Once they've done that, you keep feeding them through until they've reached the thinness needed for the particular type of pasta you're making.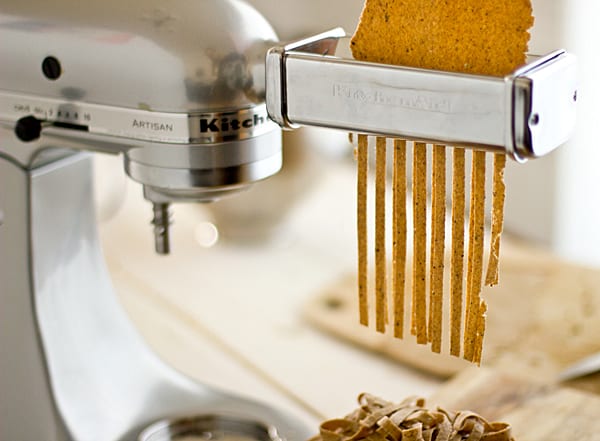 When all of your sheets are done, you'll replace the roller attachment with the cutting attachment and cut your fettuccine. Look guys, I made pasta! I did it!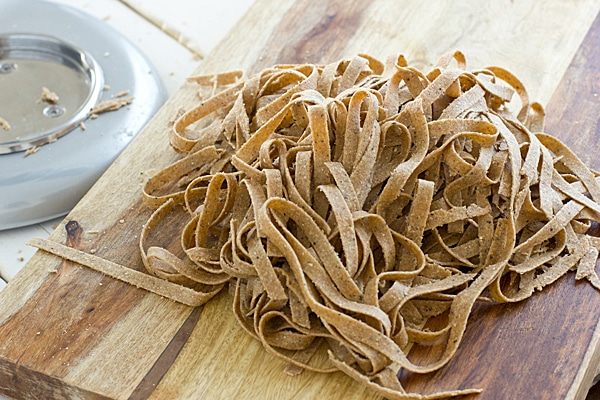 Pasta! Me! I made that! (Okay, and my husband helped too. It's hard to take photos and make pasta at the same time.)
After you've made your pasta, toss it in a little flour to keep it from sticking together. Cook it in boiling water for about 2 minutes when you're ready to eat.
Now, let's be real, this is definitely not the kind of thing you're gonna want to do after a long day at the office. It does happen to be a great weekend project though. Homemade pasta can be frozen or dried for later use. So you can make a big batch of it on a Sunday afternoon, freeze it, and eat it whenever you want.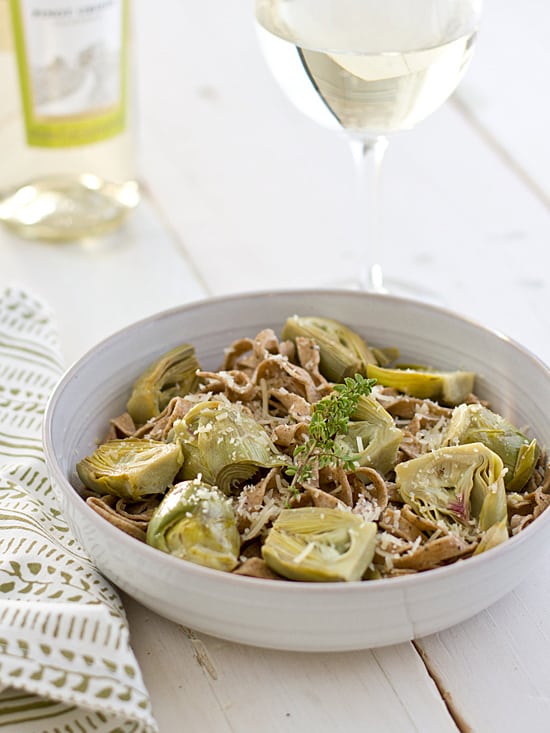 Is it worth it? Totally. Chris and I both agreed that this was the best pasta we ever tasted. It's also fun. I love any project where you get that, "Holy heck, I made this myself!" high. And making homemade pasta is definitely one of those projects.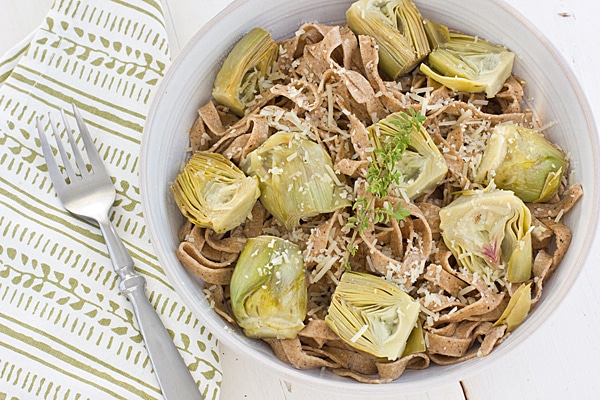 Ingredients
juice from 1 lemon

10

baby artichokes

1

tbsp.

olive oil

2

cloves

garlic

minced

½

c.

white wine

2

sprigs of thyme

salt to taste

2

c.

whole wheat black pepper fettuccine

cooked (see recipe below)

shredded Parmesan cheese
Instructions
Fill a large saucepan with water and bring to boil.

Add lemon juice to a large bowl of water. Remove leaves from artichokes until you reach the tender, pale leaves in the center. Trim stem and ½ inch from top of artichokes; halve lengthwise and place in bowl of lemon juice and water.

Remove artichokes from bowl and blanch in boiling water for 3-4 minutes, or until easily pierced with knife. Drain.

Heat olive oil in a large skillet over medium-high heat. Add garlic and cook about 30 seconds, until fragrant but not browned, stirring constantly. Add artichokes and cook 3 minutes, stirring occasionally. Add wine and thyme; increase heat to high and simmer for about 6 minutes, until liquid has reduced by half. Remove thyme and add pasta to skillet; toss to coat. Remove from heat and add salt to taste. Sprinkle with parmesan cheese before serving.
Nutrition
Calories:
1217
kcal
Carbohydrates:
217
g
Protein:
49
g
Fat:
18
g
Saturated Fat:
4
g
Polyunsaturated Fat:
4
g
Monounsaturated Fat:
8
g
Trans Fat:
1
g
Cholesterol:
199
mg
Sodium:
585
mg
Potassium:
637
mg
Fiber:
31
g
Sugar:
13
g
Vitamin A:
3990
IU
Vitamin C:
11
mg
Calcium:
246
mg
Iron:
12
mg
Craving more veg-friendly recipes?
Shop our collection of vegetarian and vegan cookbooks, including our new Vegan Thanksgiving and Vegan Christmas cookbooks!
I received the Pasta Sheet Roller and Pasta Cutter Attachments from KitchenAid for the purpose of writing this post.