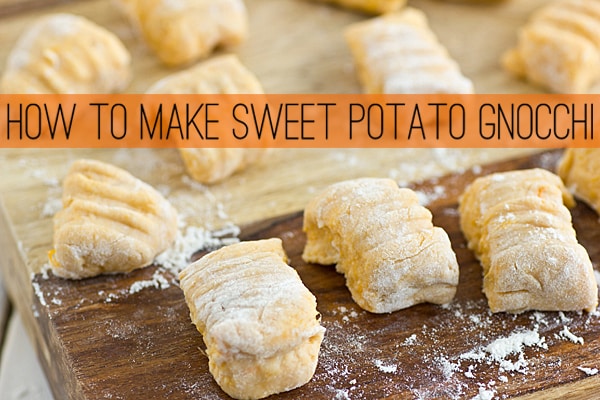 Pasta Week continues! Yesterday I showed you how I made whole wheat fettuccine with my KitchenAid Stand Mixer. Today I'm going to show you how to make sweet potato gnocchi. And for gnocchi, you don't need any special equipment--only a fork and a knife! This is a pasta I've made before and while it does take a little time, it's pretty doable.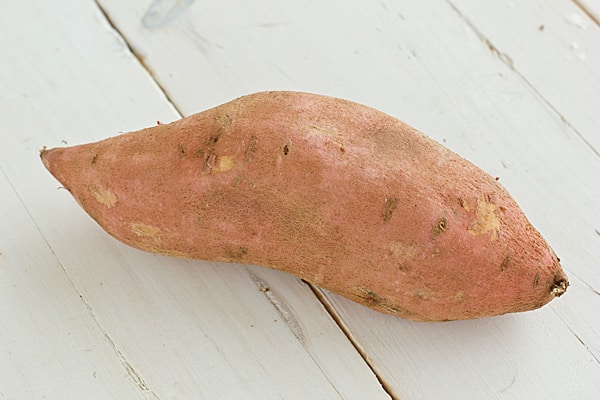 Most sweet potato gnocchi calls for potatoes that are steamed, boiled, or microwaved. I bake my sweet potatoes instead. Why? Because baking the potato brings out its natural sweetness, so you can cut down on the sugar.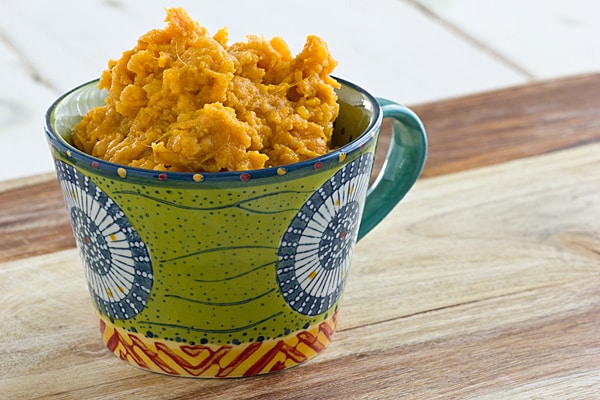 Your main goal with gnocchi should be to add as little flour as possible. To help you achieve this, you need to let both the ricotta cheese and the mashed sweet potato sit in a fine mesh sieve for a bit--about two hours is good. This will allow some of the moisture to drain off.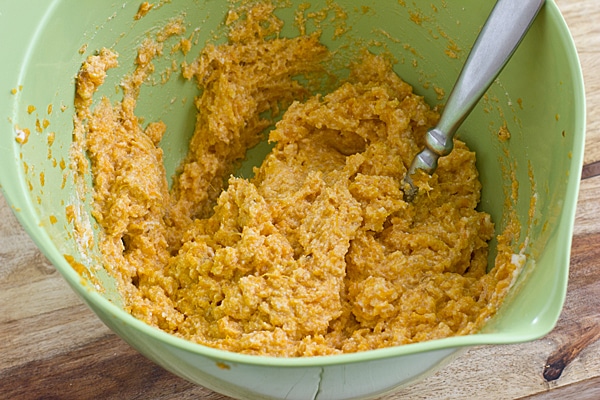 Combine the sweet potato and ricotta in a medium bowl.
Add parmesan cheese, brown sugar (just a pinch!), and salt. Stir that all together.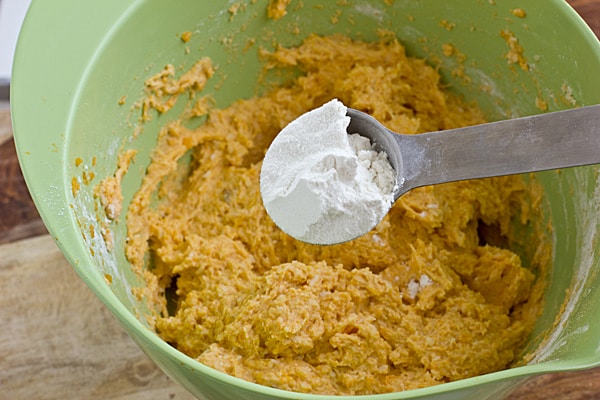 Now you stir in the flour. Add it 2 tablespoons at a time. Remember, the less flour you add, the better! You want a dough that can be worked with, but if it's a little bit sticky, that's okay.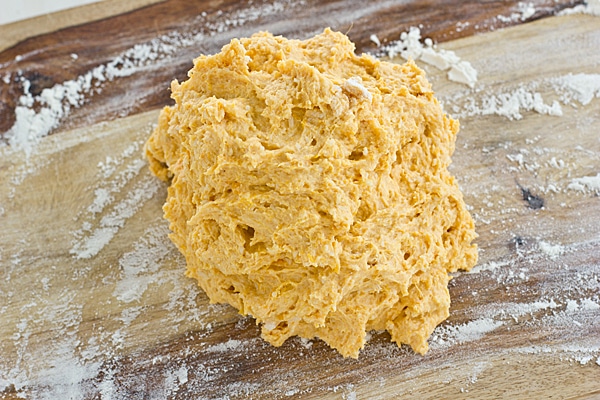 Turn out the dough onto a floured surface. I roll it around in the flour a little bit so it's easier to work with--like I said, it's going to be a little sticky.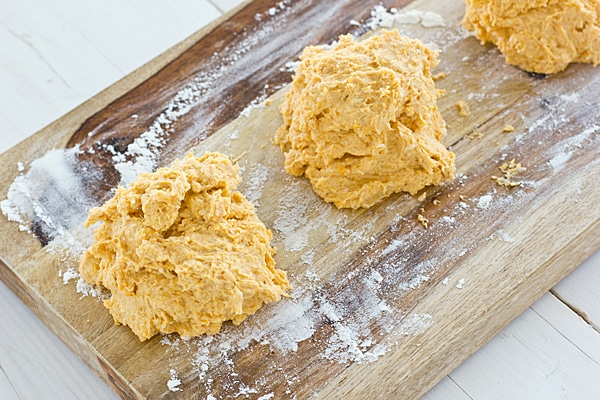 Now divide the dough into 3 equal pieces. Roll them in a little more flour if they're sticky.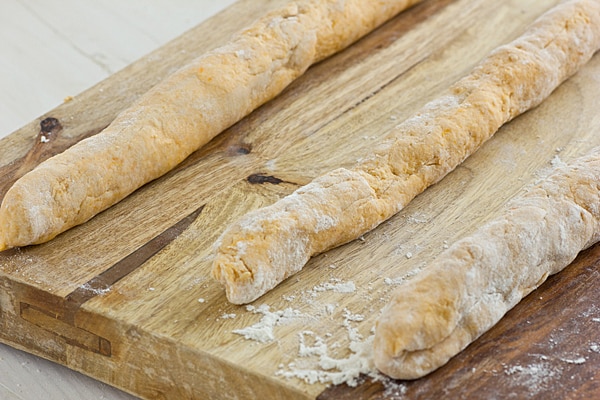 Shape each piece into a rope by rolling and stretching with the palms of your hands. When you finish, it should be about 20-inches long. Again, you can roll the dough in flour so it doesn't stick. I tend not to worry about the flour on the outside of the dough; my main goal is to not incorporate too much into the dough.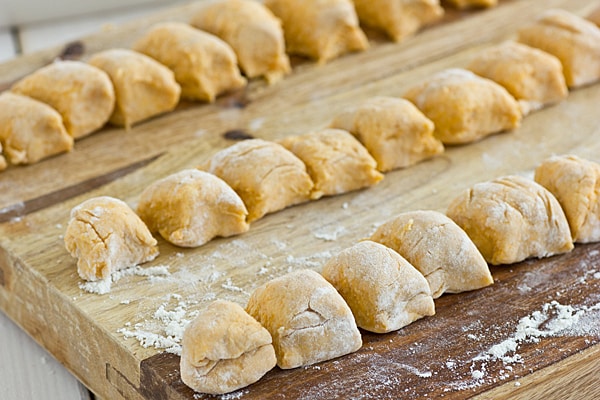 Now use a knife to cut your dough into 1-inch pieces. You can be done at this point, or you can add an extra step…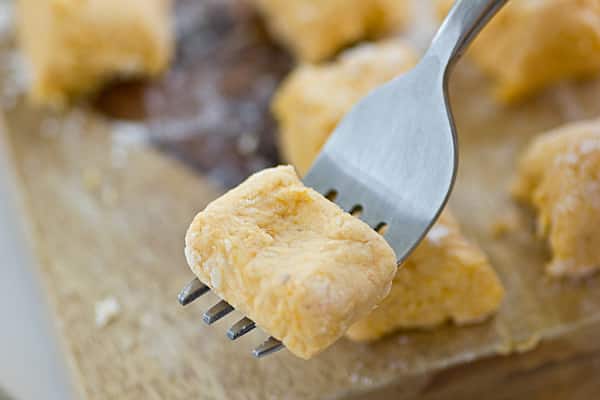 …by rolling each gnocchi on a fork. Put a little flour on your thumb and press gently into the center of the gnocchi, rocking it back and forth. Shaping the gnocchi like this is a pain, but it helps sauce stick.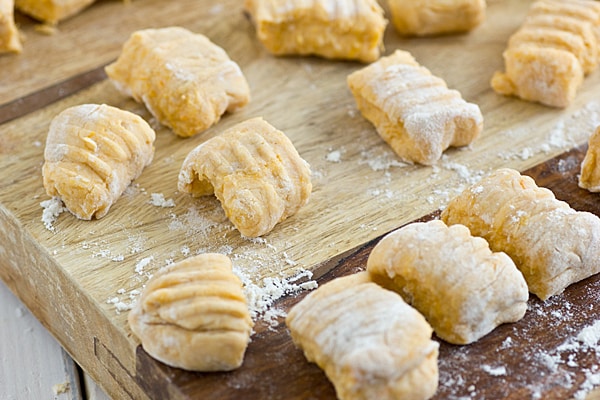 Set aside your finished gnocchi on a floured surface.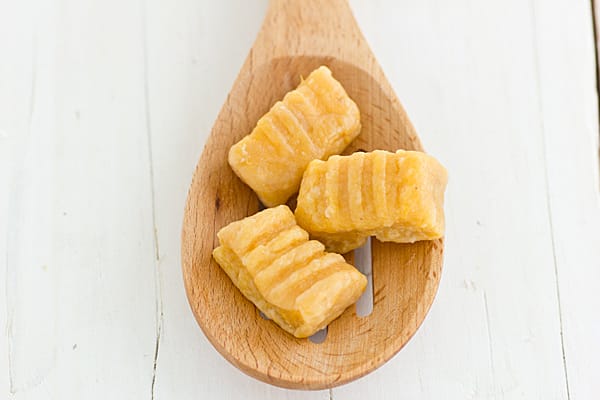 Boil the gnocchi in a pot of salted water a handful or two at a time. When the gnocchi is finished, it will float to the top of the pot--this takes 3-5 minutes. Remove the gnocchi with a slotted spoon. Drain well.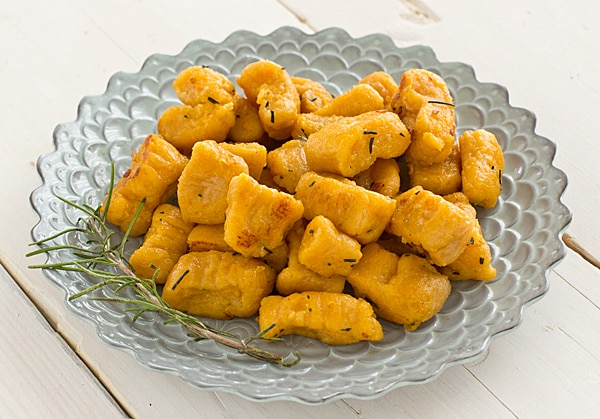 When all the gnocchi is done boiling, saute it in a little butter or oil. I like adding fresh herbs too--rosemary or sage are both fantastic with sweet potato gnocchi. Cook until the gnocchi is nicely browned.
Want a printable version of this recipe? No problem! Here it is:
Recipe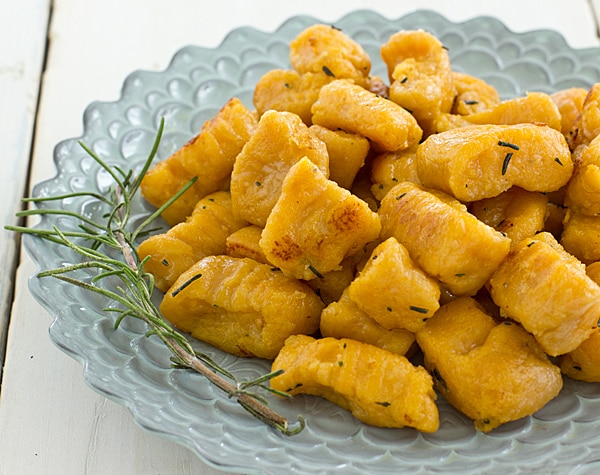 Ingredients
1 ½

c.

mashed roasted sweet potato

drained in fine mesh sieve for about 2 hours

6

oz.

ricotta cheese

drained in fine mesh sieve for about 2 hours

½

c.

shredded parmesan cheese

1

tsp.

salt

about 1 ¼ cups all-purpose flour + more for rolling and shaping gnocchi
Instructions
Combine sweet potato and ricotta in a large bowl. Add parmesan cheese, salt, and brown sugar. Stir until well-combined. Fold in flour, 2 tablespoons at a time, until a dough is formed. Try to incorporate as little flour as possible--the dough should be slightly sticky, but not so sticky that you can't work with it.

Turn dough out onto a floured surface. Divide into 3 pieces. Using your palms, roll and stretch each piece into a 20-inch rope. Add more flour as needed.

Use a knife to cut each rope into 20 one-inch pieces. If you like, you can shape gnocchi using the tines of a fork; place gnocchi on fork and gently press the center with your thumb, rocking back and forth.

Boil finished gnocchi one or two handfuls at a time in a large pot of salted water for 3-5 minutes, until tender. Remove with a slotted spoon and place on a baking sheet to cool.

Saute gnocchi in a tablespoon of butter or olive oil over medium-high heat until heated through and starting to brown, about 6 minutes. You can also add minced fresh herbs (like sage or rosemary), garlic or caramelized onions.
Notes
To bake sweet potato, pierce a 1 pound sweet potato with a fork and bake for 60-90 minutes at 400 degrees, until tender and beginning to caramelize. Cool slightly, then remove skin and mash with a potato masher or ricer.
Nutrition
Calories:
177
kcal
Carbohydrates:
13
g
Protein:
11
g
Fat:
9
g
Saturated Fat:
6
g
Polyunsaturated Fat:
1
g
Monounsaturated Fat:
3
g
Cholesterol:
28
mg
Sodium:
691
mg
Potassium:
247
mg
Fiber:
2
g
Sugar:
3
g
Vitamin A:
8671
IU
Vitamin C:
1
mg
Calcium:
310
mg
Iron:
1
mg
Craving more veg-friendly recipes?
Shop our collection of vegetarian and vegan cookbooks, including our new Vegan Thanksgiving and Vegan Christmas cookbooks!