The taste of summer will come rushing in with the first bite of this Pineapple Poke Cake. Vegan-friendly and cruelty-free, this cake is super moist and bursting with pineapple flavor. Top it off with some vegan whipped cream for the perfect finish to a perfect cake.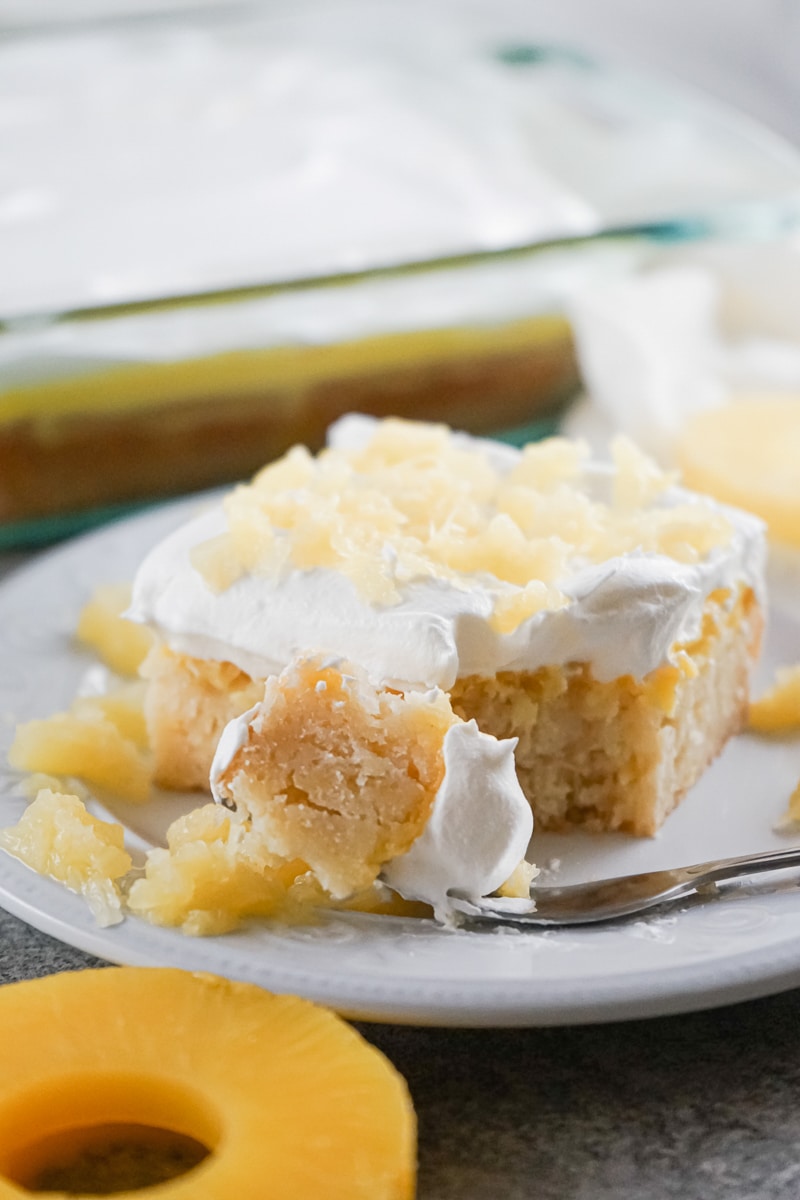 Jump to:
I have always loved a good poke cake. They take little effort, but come out tasting like a complicated recipe. I love the multiple layers a poke cake comes with. It feels like you get three desserts in one recipe. You get multiple flavors from my Homemade Birthday Cake Ice Cream, Vegan Tahini Cookies, and Peppermint Chocolatte.
It's even better when you skip the store-bought cake mix and make your own. For this recipe, I started with my Vegan Vanilla Cake recipe and then slightly adapted it from there. What resulted was this delicious Pineapple Poke Cake that's perfect for all year round. I promise that whether you're making this for a potluck or just the family's dessert after dinner, it's going to become a favorite.
While you're here, be sure to grab our FREE 5-Day Meatless Meal Plan. It's packed with tasty recipes to make vegetarian cooking easy and delicious!
How to Make Pineapple Poke Cake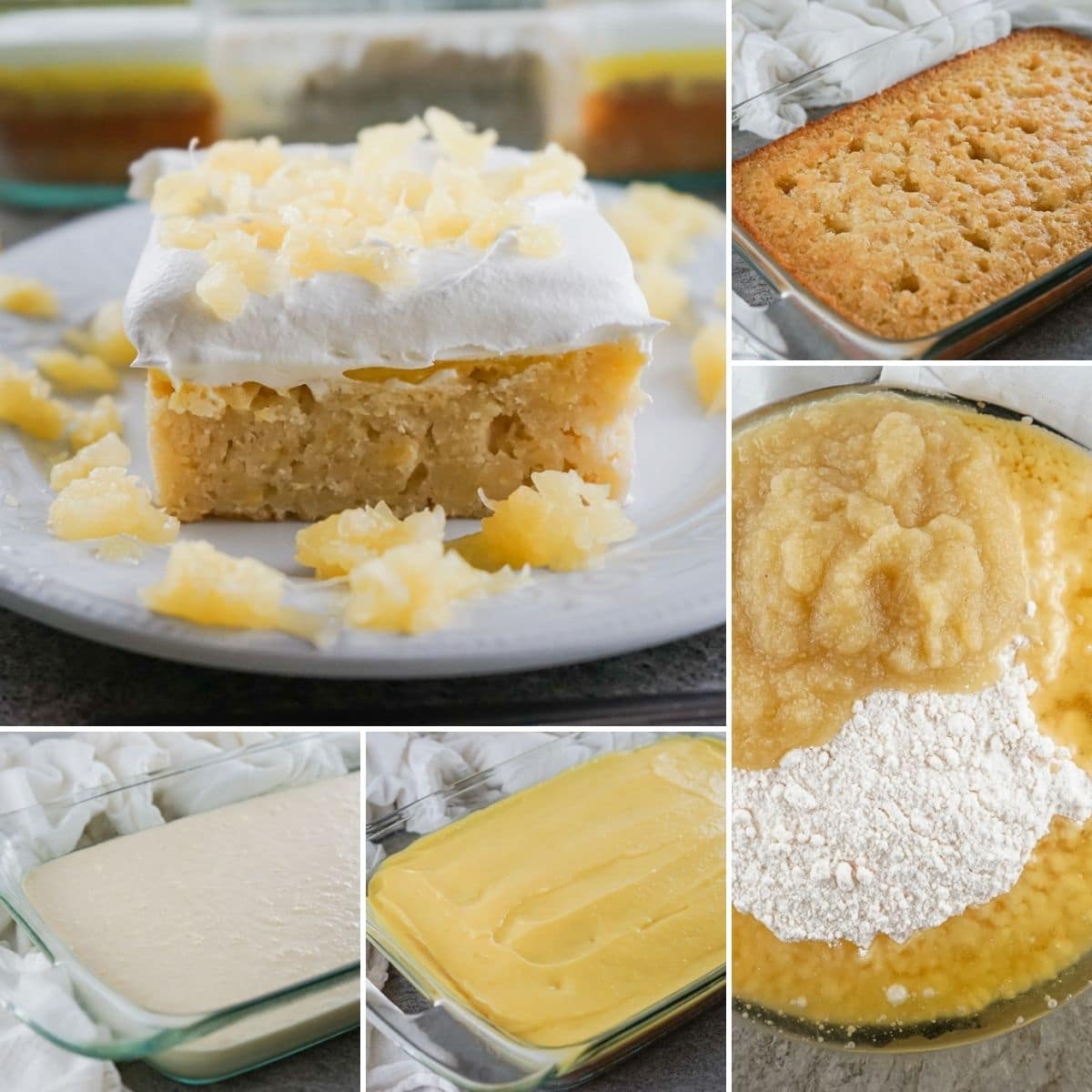 Prep - Preheat the oven to 350°F and coat your pan in nonstick spray.
Make the cake batter - In a large bowl, cream together the butter and sugar. In another bowl, combine the dry ingredients and mix well. Excluding the pineapple extract, whipped cream, and pudding, combine the rest of the ingredients in a bowl.
Bake - Pour the batter into the prepared pan and bake for 35 minutes.
Add pudding - Prepare the pudding and mix in the pineapple extract. Pour it over the cake and chill for 1 hour.
Add the whipped cream - Once cool, spread the whipped cream evenly over the top, garnish with more pineapple if desired, and serve! Enjoy!
Tips and Variations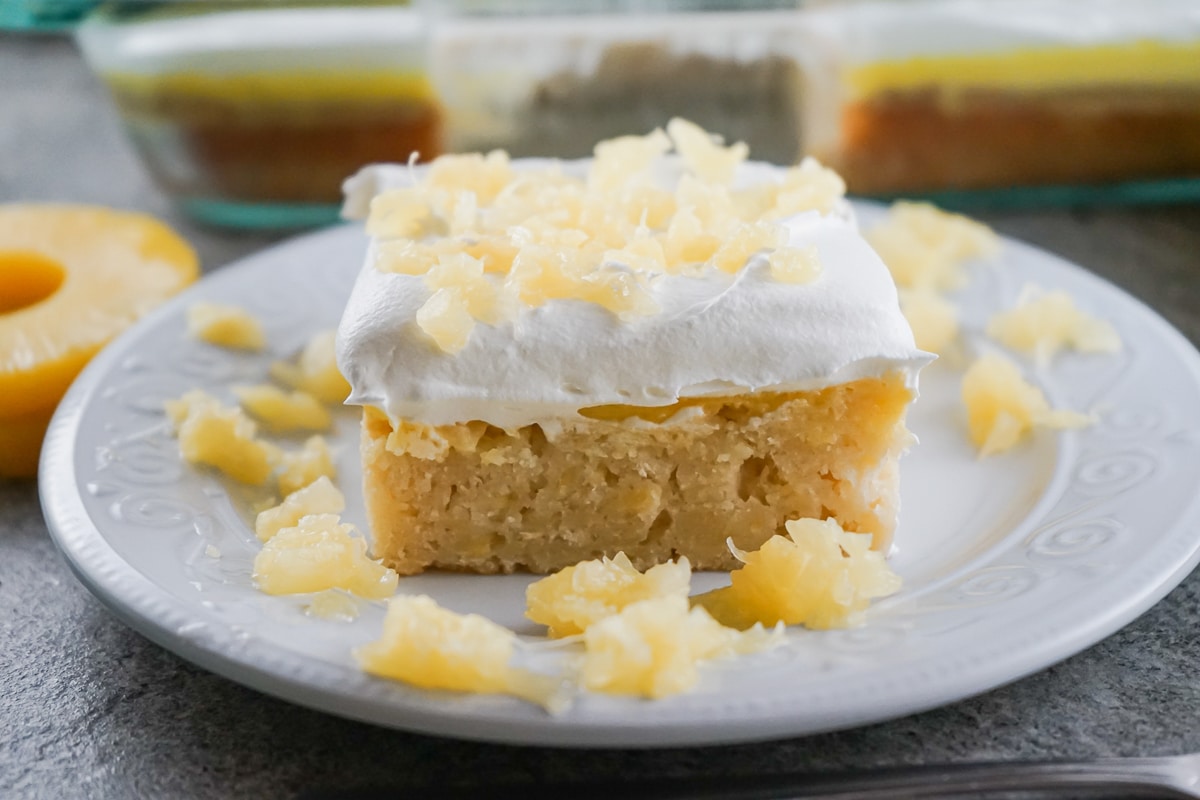 Storage - Store in the fridge, covered, for up to one week. Store in the freezer in an airtight container, for up to 2 months. 
Reheating - I do not suggest forcibly reheating this poke cake recipe. This will cause the whipped cream to melt. If you freeze it without the whipped cream, you should be able to reheat it using the microwave or oven. However, it's important to point out that this cake is supposed to be served chilled, not warm. 
Make your own pudding - Instead of going for the store-bought pudding, you can always make your own at home. I've made my own in the past and I definitely wasn't disappointed. 
Use a store-bought cake mix - If you're pressed for time, vegan cake mixes are easily found at most grocery stores. Scoop one of those up and use it in place of the cake portion of the recipe.
Make your own vegan whipped cream - Chill a can of coconut milk and scrape the thick white substance that forms at the top. Add some vanilla and powdered sugar to the bowl and whip it until it's thickened. It's delicious!
Use different fruits - If you like the sound of a poke cake, but not with pineapple, try using your favorite fruit instead. Peaches, bananas, blackberries, apples, etc. 
Pineapple Poke Cake FAQs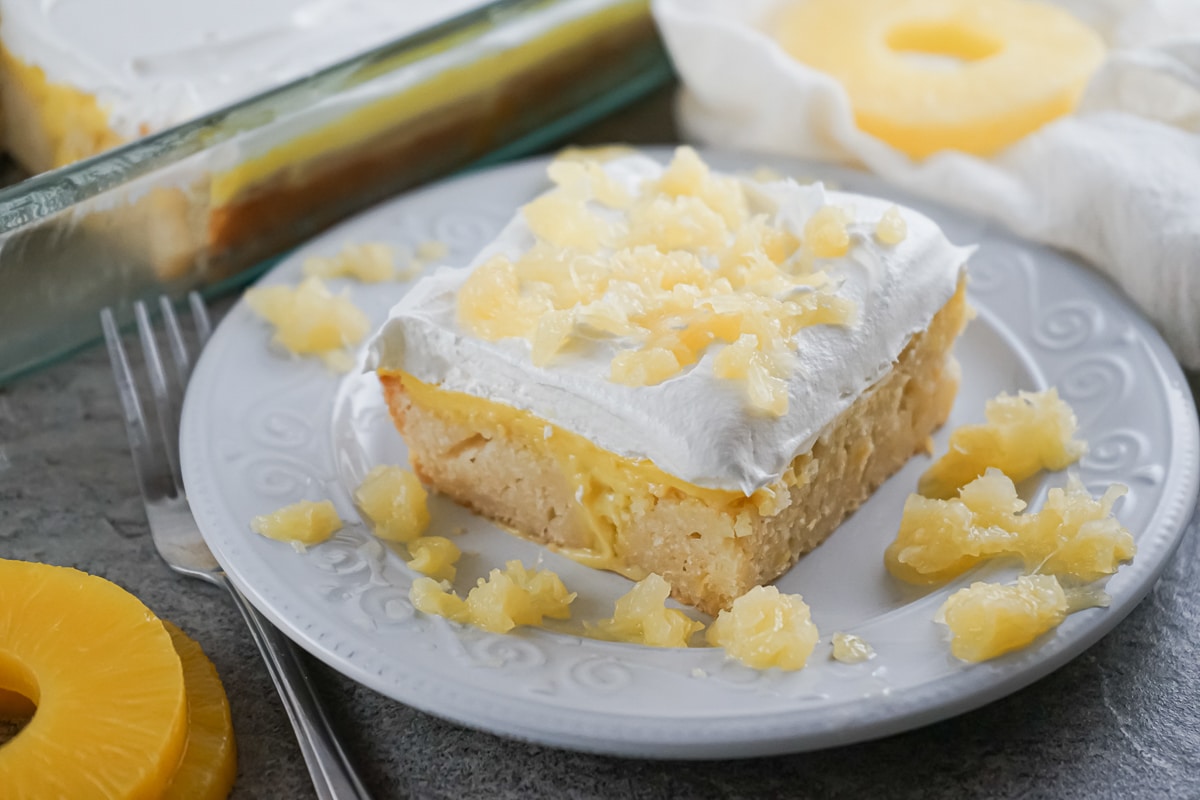 What Do You Use to Poke Holes in a Cake?
I normally take the end of a wooden spoon to make my holes. I've seen others use other utensils with a round handle. You can even use a straw, your finger, or whatever you can find.
As long as the holes are made, it doesn't really matter what shape they are or what made the holes. You won't end up seeing them anyways, once the pudding and whipped cream have been added.
How Do I Make My Cake Super Moist?
Ensuring you don't overcook the cake is an important step in keeping your pineapple poke cake moist. Involving butter and oil is another way to ensure your cake remains moist through the baking process.
Lastly, be sure that you don't skip the step where you cream the sugar and vegan butter. This is an important step for allowing your cake to be as moist as possible. 
If you decided to give this Pineapple Poke Cake a try, please let me know in the comments below or on social media!
Other Vegan Cake Recipes You Might Like:
And don't forget to grab a copy of my free vegan cheat sheet too! It's packed with my favorite easy substitutions to help you make just about any recipe vegan!
Recipe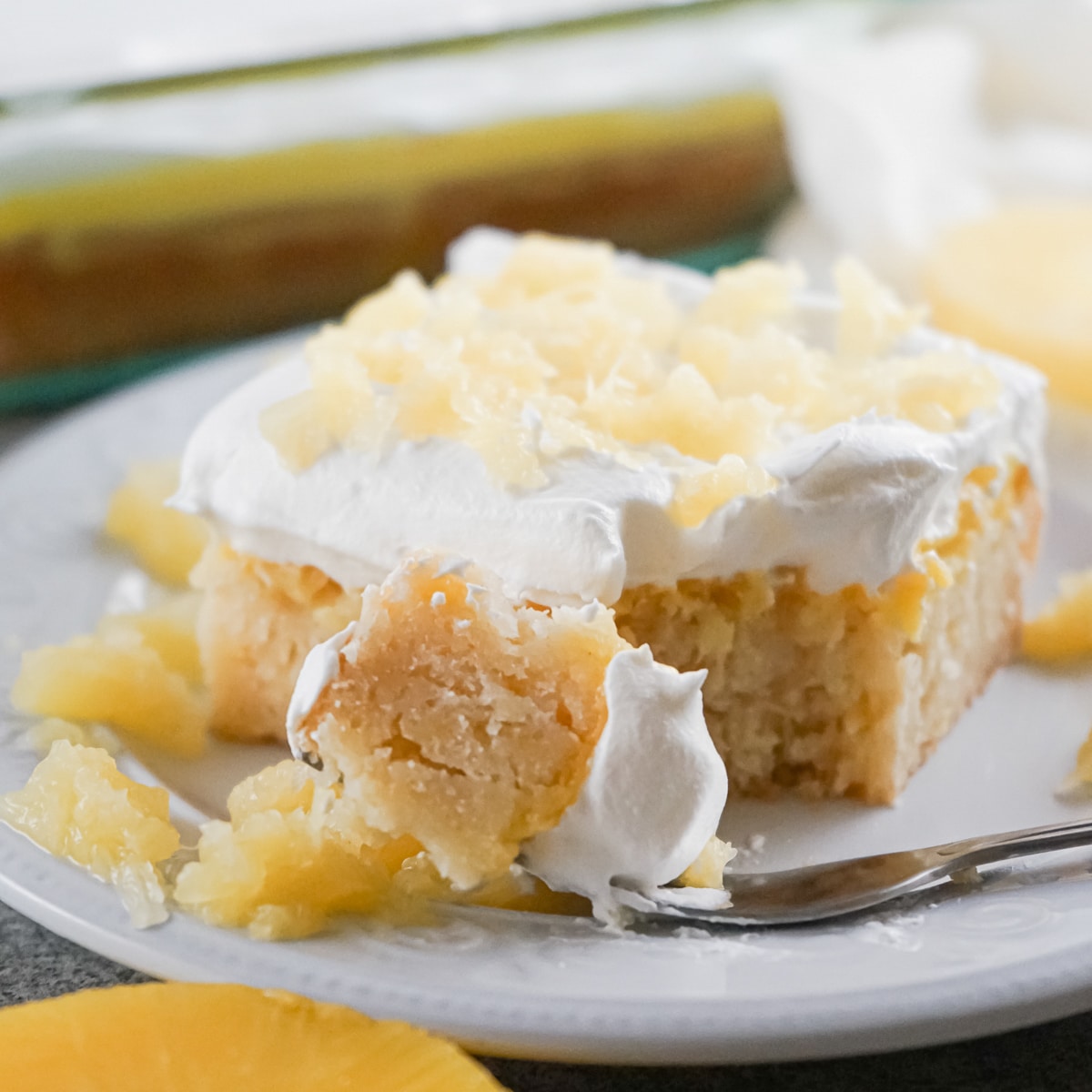 Instructions
Preheat the oven to 350°F and spray a 9x13 cake pan with nonstick spray.

In a large bowl, cream together the butter and sugar.

In a separate bowl, combine the baking soda, salt, and flour. Mix well.

Add the milk, pineapple juice, apple cider vinegar, vanilla, and flour mixture to the bowl with the creamed butter and sugar. Mix well.

Pour into the prepared pan and bake for 35 minutes or until a knife comes out clean.

While the cake is baking, prepare the vanilla pudding per the box's instructions.

Stir the pineapple extract into the pudding and mix well.

Poke holes in the cake using the end of a wooden spoon. Pour the pudding over the top of the cake and spread evenly.

Place in the fridge to chill for about an hour.

Place the whipped cream evenly over the top of the cake and top with a sprinkle of crushed pineapple if desired. Enjoy!
Nutrition
Calories:
232
kcal
Carbohydrates:
39
g
Protein:
3
g
Fat:
7
g
Saturated Fat:
4
g
Cholesterol:
22
mg
Sodium:
317
mg
Potassium:
89
mg
Fiber:
1
g
Sugar:
22
g
Vitamin A:
199
IU
Vitamin C:
2
mg
Calcium:
60
mg
Iron:
1
mg
Craving more veg-friendly recipes?
Shop our collection of vegetarian and vegan cookbooks, including our new Vegan Thanksgiving and Vegan Christmas cookbooks!