This decadent Vegan Birthday Cake is perfect for any special occasion. Made with ingredients you can find in your pantry, this dessert is super simple. Finish off your cake with a homemade vegan buttercream frosting, and you have one perfect treat!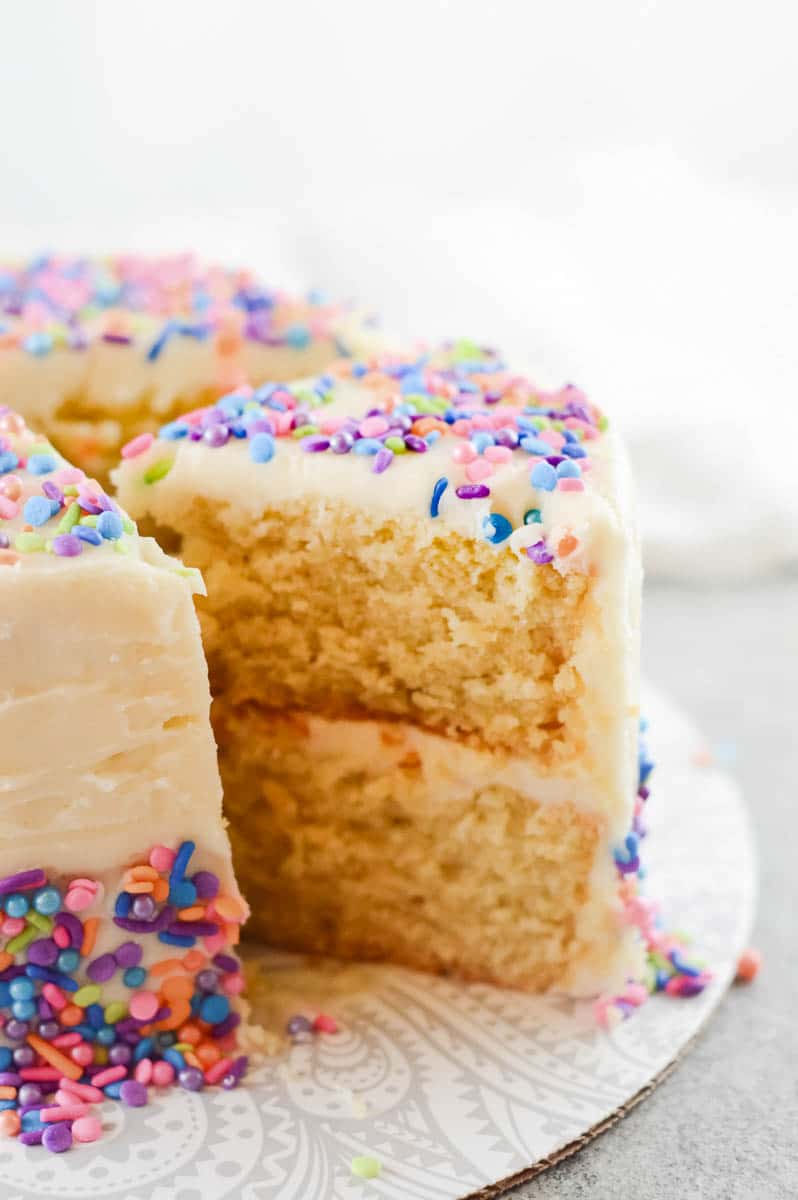 Jump to:
I am a lover of all things cake and vegan desserts in general. There's just something about that perfectly soft center paired with that super sweet vegan buttercream frosting that hits the spot.
One of my favorite vegan cakes is this vegan carrot cake with dairy-free cream cheese frosting. But don't ask me to tell you my favorite cake of all time. That's an impossible question that I would never be able to answer!
I enjoy whipping up one of these Vegan Birthday Cakes for all kinds of parties. They're especially nice for girl's night, a family gathering... or just because you want cake.
It's also super easy to customize this cake to fit any event or occasion. You can make the frosting whatever color you need and decorate the cake itself with any fun topping you can think of.
It's nice to have one go to, basic vegan cake recipe that you can use as a blank slate!
This Vegan Birthday Cake recipe is...
Vegan
Vegetarian
Low-sugar
Versatile
If you love vegan baking, make sure you grab a copy of my free vegan baking cheat sheet while you're here. It's packed with all my favorite plant-based substitutions to help you vegan-ize any recipe!
How to Make Vegan Birthday Cake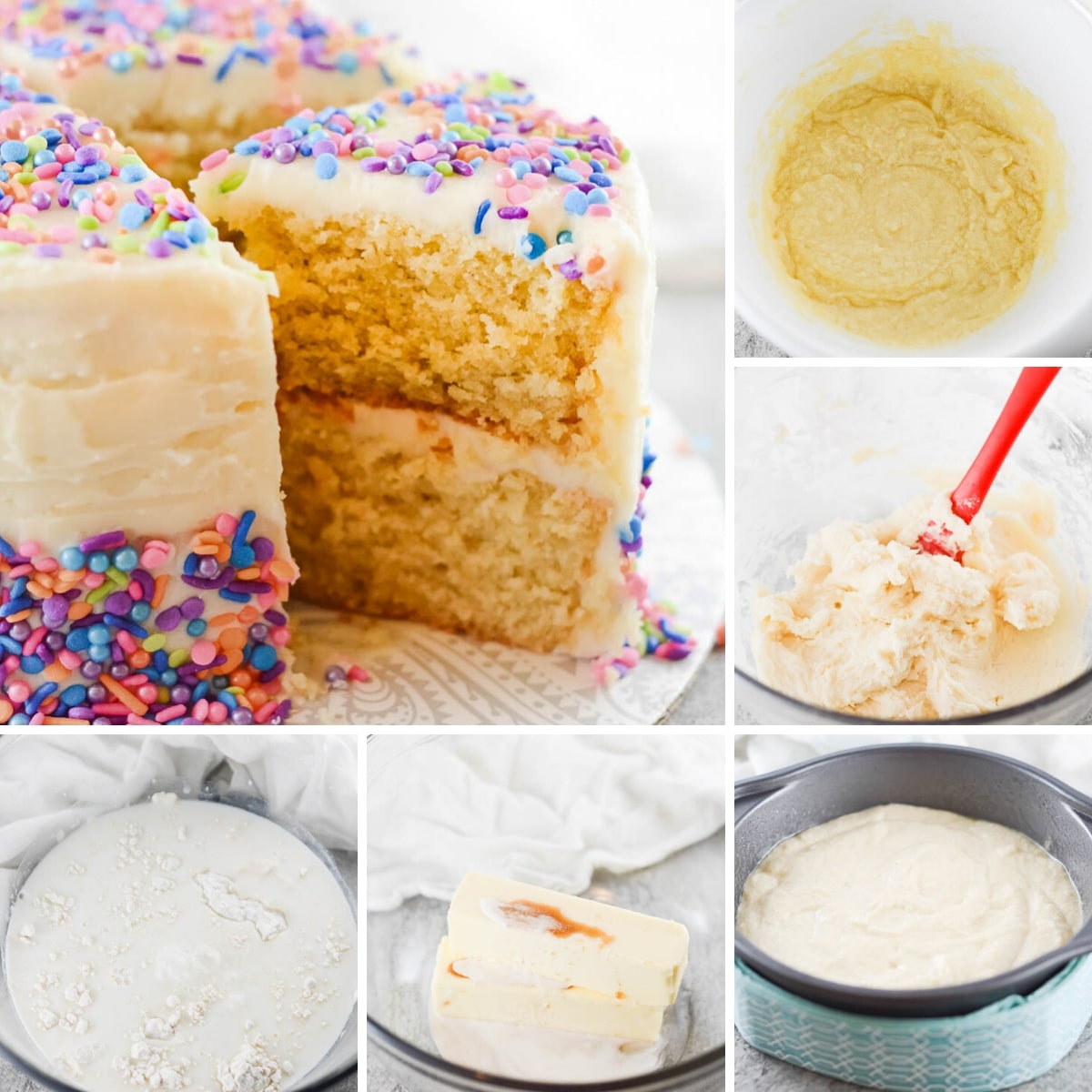 Preheat the oven and grease two cake pans.
In a large bowl, cream butter and sugar. Add in the applesauce and vanilla and mix well again.
In a separate large bowl, mix together the dry ingredients.
Using a hand mixer, thoroughly mix the wet and dry ingredients together.
Equally divide the batter between the two pans. Place on a baking sheet and bake for 40 minutes or until a butter knife comes out clean.
While the cake is cooling, make the frosting.
Frost the cake. Add sprinkles on the top and up the sides if desired.
Slice, serve, and enjoy!
Full directions on how to make Vegan Birthday Cake are in the printable recipe card below.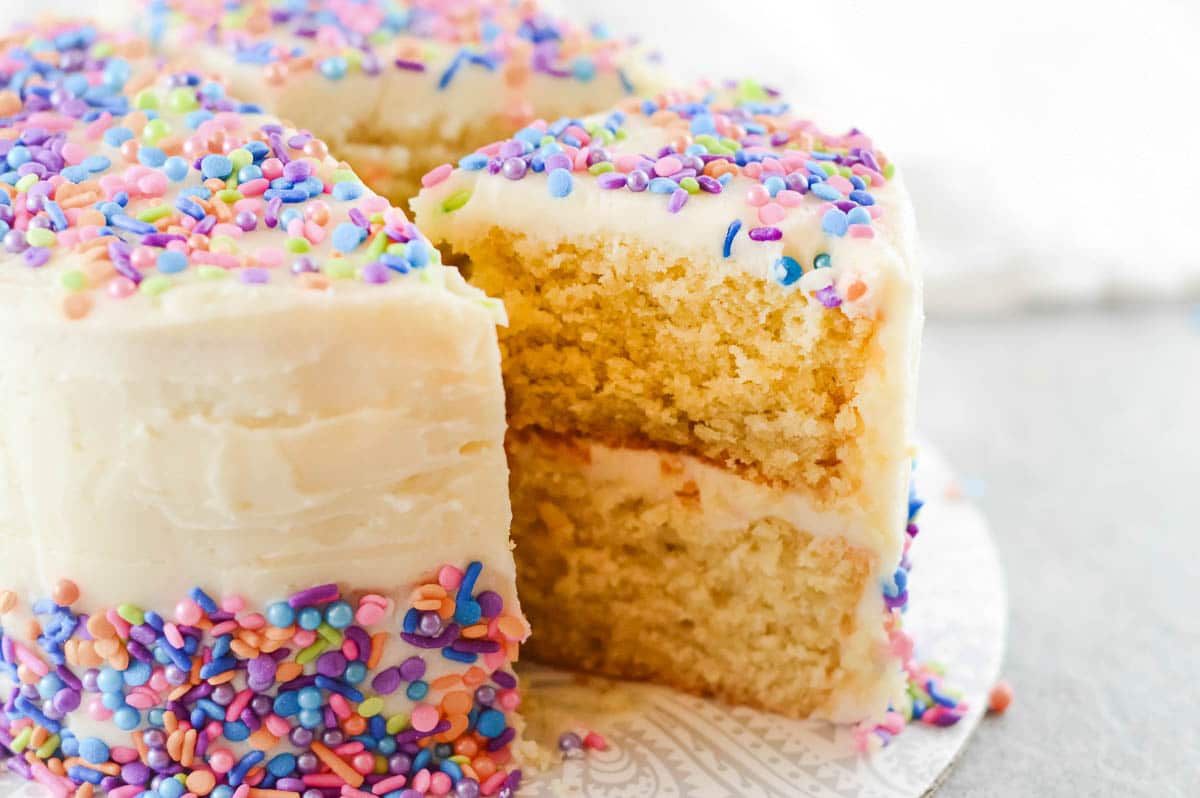 Tips & Tricks for Vegan Birthday Cake
Storage
Leave the cake on the cake board and cover it in plastic wrap to store in either the fridge or freezer. In the fridge, your cake will last 2 weeks. In the freezer, it will last 3 months.
If you're not storing your cake in the fridge or freezer, store it in a cake keeper in a cool, dry place.
Reheating
Do not reheat the cake once it's been cooled. Simply let the cake come to room temperature on its own. If the cake is reheated, the frosting will melt and make a mess - trust me.
Use a Frosting Smoother
If you want to get your frosting to spread more evenly, invest in a frosting smoother. It's a little tool you use to get the icing smooth and even. These frosting smoothers are usually $10 or les - and worth every penny when it comes to frosting a cake!
Variations to Vegan Birthday Cake
Use Different Colored Frostings
It's super easy to make the frosting a different color. Simply pick a gel food coloring and add a tiny bit to your frosting. Mix the gel into the frosting, and keep adding more a bit at a time until you reach your desired color. 
Mix up the Toppings
Instead of regular multi-colored sprinkles, you can mix things up with sprinkles or candies that match the birthday theme!
Or skip the sprinkled entirely and top the vegan birthday cake with fresh fruit or crushed nuts.
Add a Jam Layer
I used the vegan buttercream frosting in between cake layers. But for a fruity spin, you could use strawberry jam or other fruit preserves.
Vegan Birthday Cake FAQs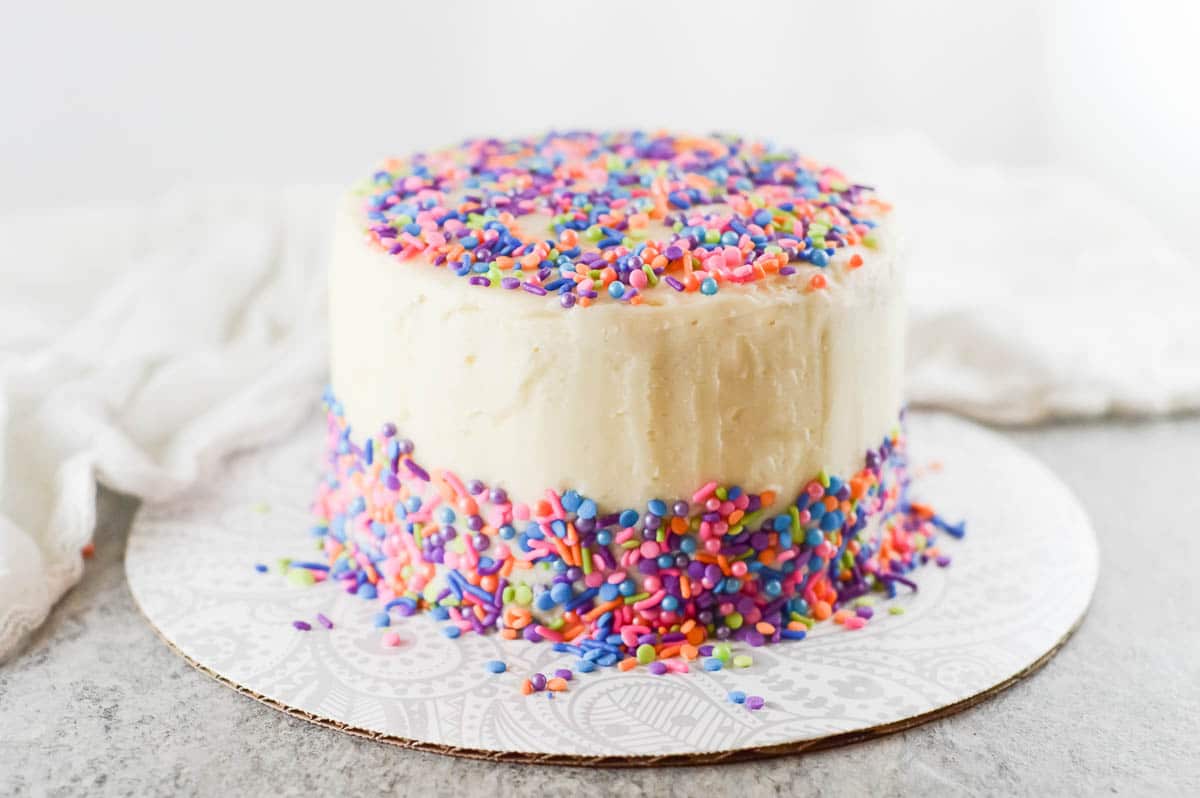 Why is my vegan cake rubbery?
If your vegan cake is rubbery, it could be one of two things.
One - you undermixed the ingredients, causing them to not set up right when cooking.
Two - you used ingredients that were too cold. Strangely enough, the outcome of your recipe can even be affected by the temperature of your ingredients during mixing.
Be sure to use room temperature ingredients and mix them well. Use a hand mixer if necessary.
How do I apply the sprinkles?
The easiest way to apply the sprinkles is by simply putting some in your hand and press them up the sides. Yes, sprinkles will pretty much get everywhere, but that's part of the fun. Be sure to put the sprinkles on right after you frost the cake - before the frosting dries - or they won't stick. (If you're looking for vegan sprinkles, check these out!)
Let me know in the comments below if you loved this Vegan Birthday Cake as much as we did!
More Vegan Cake Recipes
And if you love this vegan birthday cake, be sure to check out these other vegan cake recipes:
And don't forget to grab a copy of my free vegan cheat sheet too! It's packed with my favorite easy substitutions to help you make just about any recipe vegan!
Recipe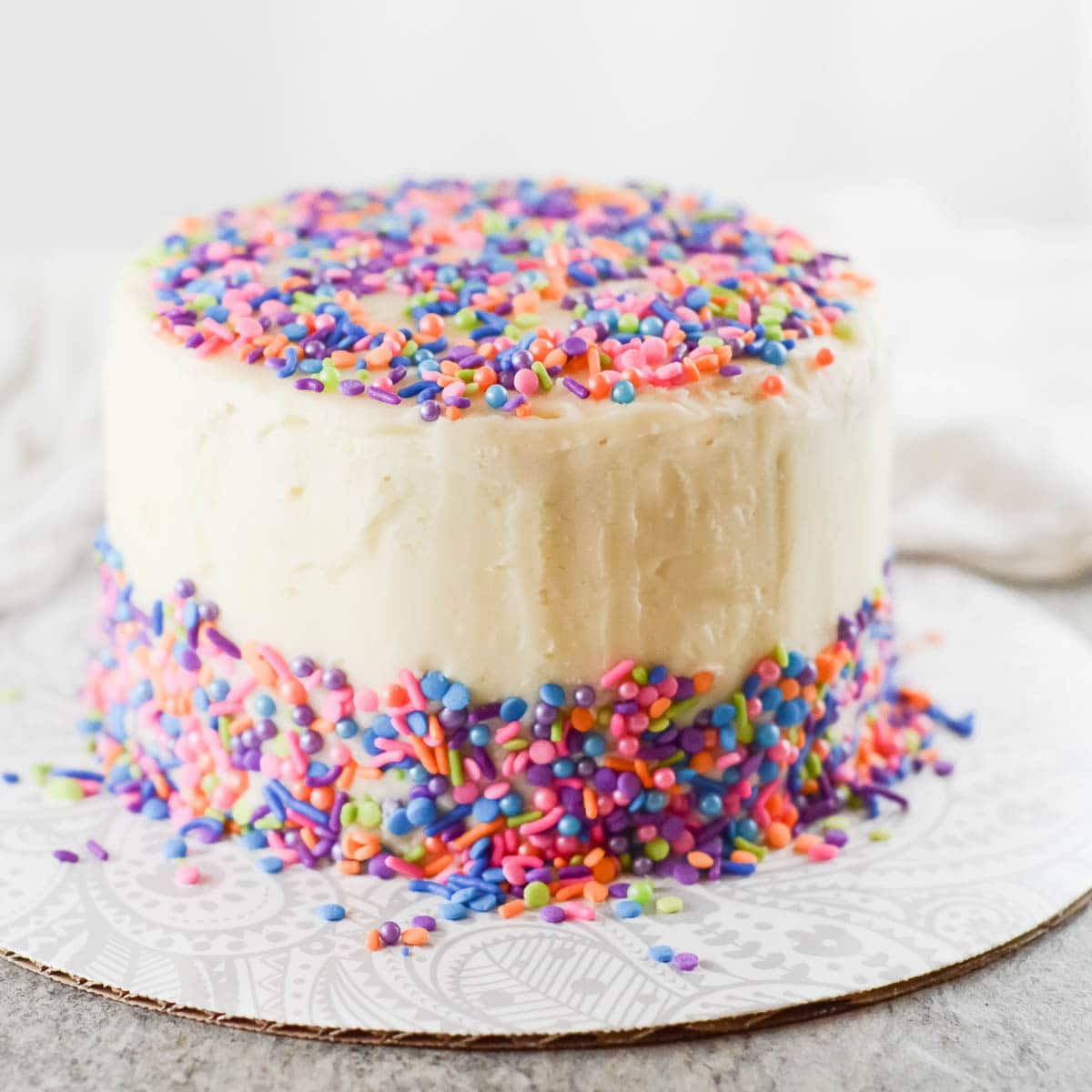 Ingredients
Vegan Buttercream Frosting
Instructions
Vegan Cake
Preheat the oven to 350°F and grease two 6-inch round cake pans.

In a large bowl, cream together the sugar and butter. Add the applesauce and vanilla, and mix well.

In a large bowl, combine the flour, baking soda, and salt. Mix well.

Add in the milk and vinegar. Mix well again.

Add the wet ingredients to the dry ingredients and use a hand mixer to combine them.

Soak two baking strips in water for a minute or two, then shake free of excess water and place around the cake pans. Place pans on a baking sheet, then divide the batter evenly between the two pans.

Spread batter evenly and bake for about 40 minutes or until a toothpick comes out clean.

Set the cakes aside to cool and make the frosting.
Vegan Buttercream Frosting
In a large bowl, use a hand mixer to cream together the butter, vanilla, and milk. Add the powdered sugar in a cup at a time and mix it thoroughly into the batter.

Hand mix the frosting after adding the last cup of powdered sugar.
Assembly
Once the cakes are completely cool, remove the first one from the pan, set it on a cake board, and put a thick layer of frosting on the top.

Place the second cake on top of the first cake, then frost the entire cake. Use a frosting smoother for the best-looking frosting job.

Using your hand, press the sprinkles of your choosing up around the edge of the cake starting at the bottom.

Slice, serve, and enjoy!
Nutrition
Calories:
939
kcal
Carbohydrates:
124
g
Protein:
4
g
Fat:
48
g
Saturated Fat:
11
g
Sodium:
751
mg
Potassium:
63
mg
Fiber:
1
g
Sugar:
97
g
Vitamin A:
1079
IU
Vitamin C:
1
mg
Calcium:
55
mg
Iron:
2
mg
Craving more veg-friendly recipes?
Shop our collection of vegetarian and vegan cookbooks, including our new Vegan Thanksgiving and Vegan Christmas cookbooks!