If you're into quick dump recipes, you're going to love this classic Pineapple Sunshine Cake. It's a quick and easy recipe with a basic cake mix fancied up with crushed pineapple and whipped cream. As the cherry on top, you can actually add, well, cherries! 
Jump to:
The most dangerous recipe is a dessert that's super easy to make with few ingredients. That's this Pineapple Sunshine Cake. I often have the ingredients on hand for this cake. Not on purpose, they're just ingredients I need a lot, so I always stay stocked up on them just in case. Well, let me tell you, that's dangerous because this cake is so good. With it being quick, there's no excuse holding me back from making it.
This cake is considered a dump cake, which is one of my favorite types. That means you use a vegan or vegetarian friendly boxed cake mix. No extra ingredients and it cuts way down on the time of making the cake. This is why I make poke cakes so often, like Triple Chocolate Poke Cake, Oreo Poke Cake, Lemon-Lime Poke Cake, etc. This is because all poke cakes can be made using a boxed mix. I sometimes like to switch it up and make my own cake instead of using a box, but it's so nice having the option depending on the time I have.
While you're here, be sure to grab our FREE 5-Day Meatless Meal Plan. It's packed with tasty recipes to make vegetarian cooking easy and delicious!
How to Make Pineapple Sunshine Cake from Scratch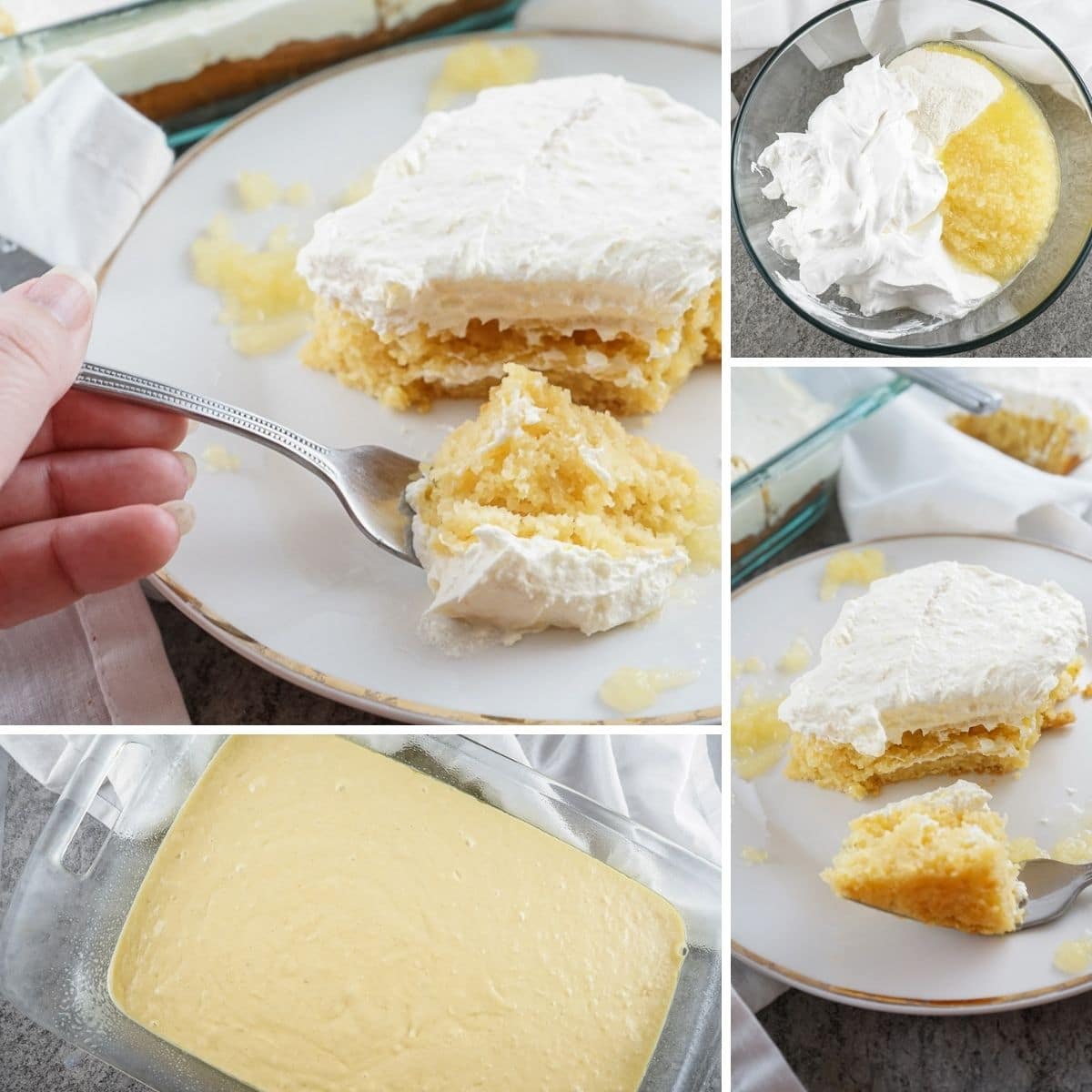 Prep - Spray a cake pan with nonstick spray and preheat the oven to 350°F.
Make the batter - In a large bowl, combine all the ingredients except the whipped topping, pudding, and half of the pineapple. 
Bake - Bake the cake for 30 minutes or until cooked through. Remove from the oven and allow to cool completely. 
Make the frosting - Fold together the cool whip, pudding mix, and half of the pineapple. Spread over the cooled cake. Serve and enjoy!
Tips and Variations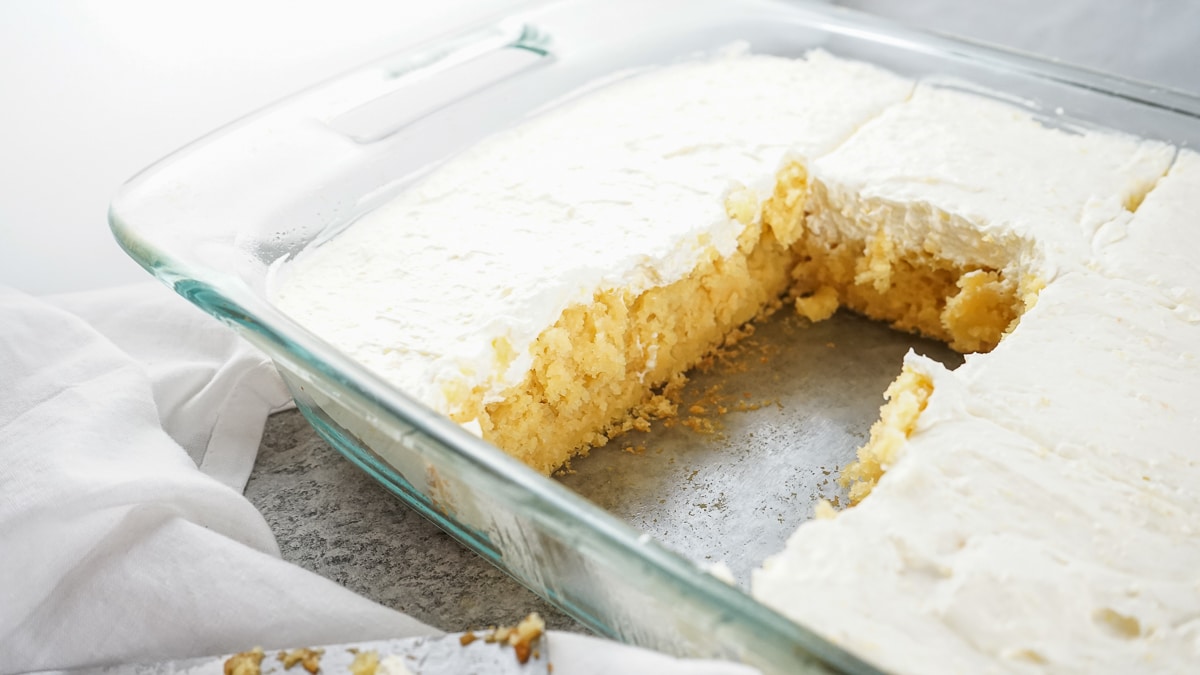 Storage - Store covered in the fridge for up to 4 days. Store in an airtight container, in the freezer, for up to 2 months. 
Reheating - Do not forcibly reheat this cake if you have stored it with the frosting on it. The frosting will melt and disappear if you do so. Instead, let it come to an edible temperature by sitting out and thawing. If you would like to forcibly reheat, store the cake unfrosted and add the frosting when you're ready to serve. 
Add cherries - If you want to add a pop of color, you can add some maraschino cherries to the top of the cake. Besure to remove the stems beforehand. 
Add coconut - Coconut is a delicious addition to this pineapple dump cake. Add about ½ a cup to the batter before cooking, or half a cup to the frosting, if desired. 
Use eggs instead of applesauce - If you don't mind using eggs, you can use 4 eggs in place of the unsweetened applesauce. This will make the cake rise a bit more, but it won't be vegan.
Use homemade cake - A pineapple sunshine cake is notoriously known for being a quick dump cake, which means a cake mix is used. However, feel free to use your own homemade cake mix, then add the pineapple, and continue as directed.
Pineapple Sunshine Cake FAQs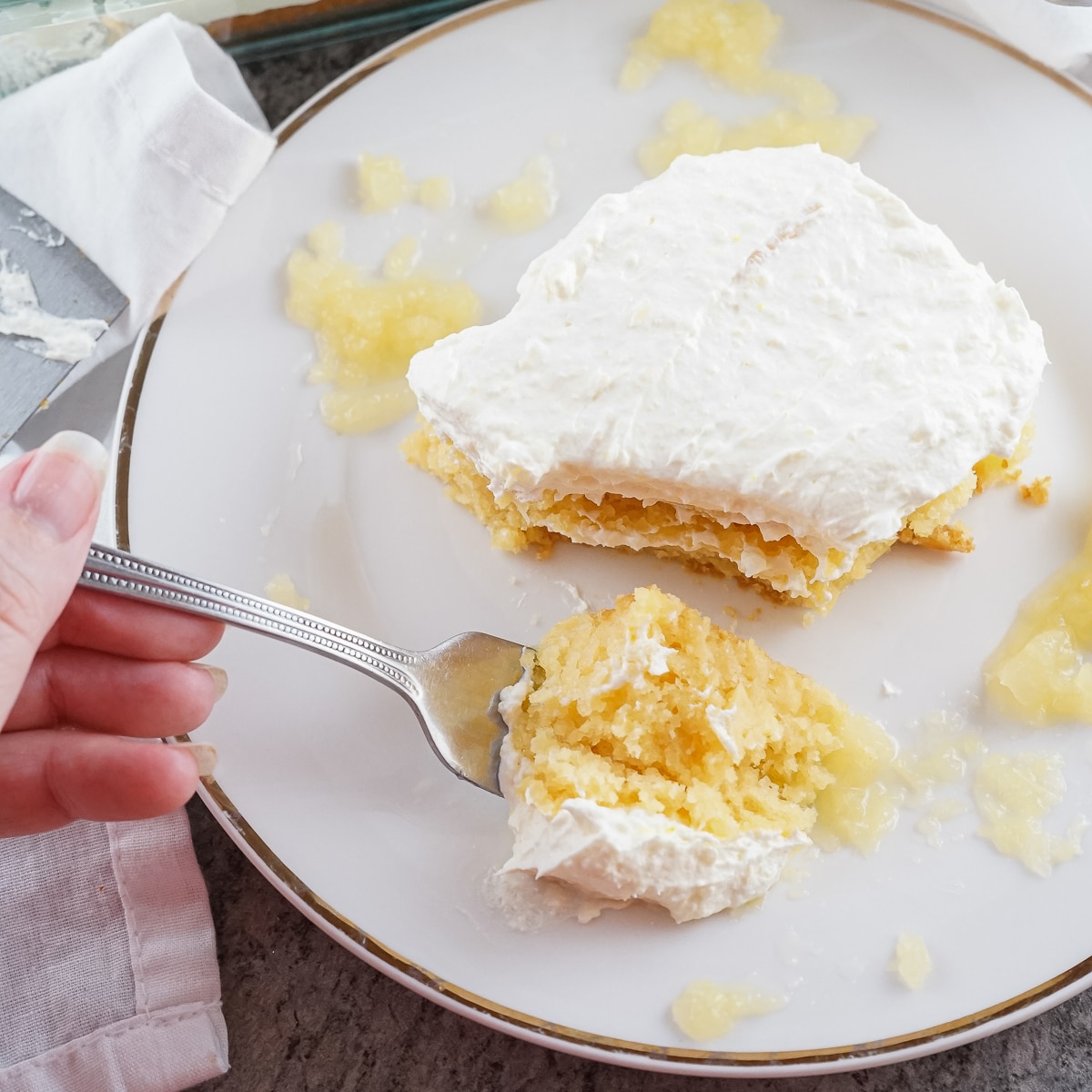 What's the History of Sunshine Cake?
Sunshine cake seems to have quite the history, and it had a variety of flavors. Sunshine cake technically originated from the 1800's and used lots of eggs. It was similar to an angel food cake. However, over the years, it has adjusted a bit and become more like a yellow cake with a light and whipped topping, usually including pineapple.
It seems that, as time went on, the cake took on two faces and the more popular one is the quick dump cake. Since angel food cake used so many eggs, and so did the sunshine cake, the egg whites would be used for the angel food cake, and the yolks would be used for the sunshine cake. This must have been how the cake got adjusted over the years.
Sunshine Cake with Mandarin Oranges?
With this cake, it's pretty easy to switch up the fruit if you prefer to swap it out or just go halfsies. You'll want to use canned fruit and crush up the larger chunks so it cooks more fluidly into this cake recipe. You can swap out half of the pineapple for mandarin oranges you've crushed, along with the juice to match. You can also do this with other canned fruits such as pears, cherries, etc.
If you decided to give this Pineapple Sunshine Cake a try, please let me know in the comments below or on social media!
Other Cake Recipes You Might Like:
While you're here, be sure to grab our FREE 5-Day Meatless Meal Plan. It's packed with tasty recipes to make vegetarian cooking easy and delicious!
Recipe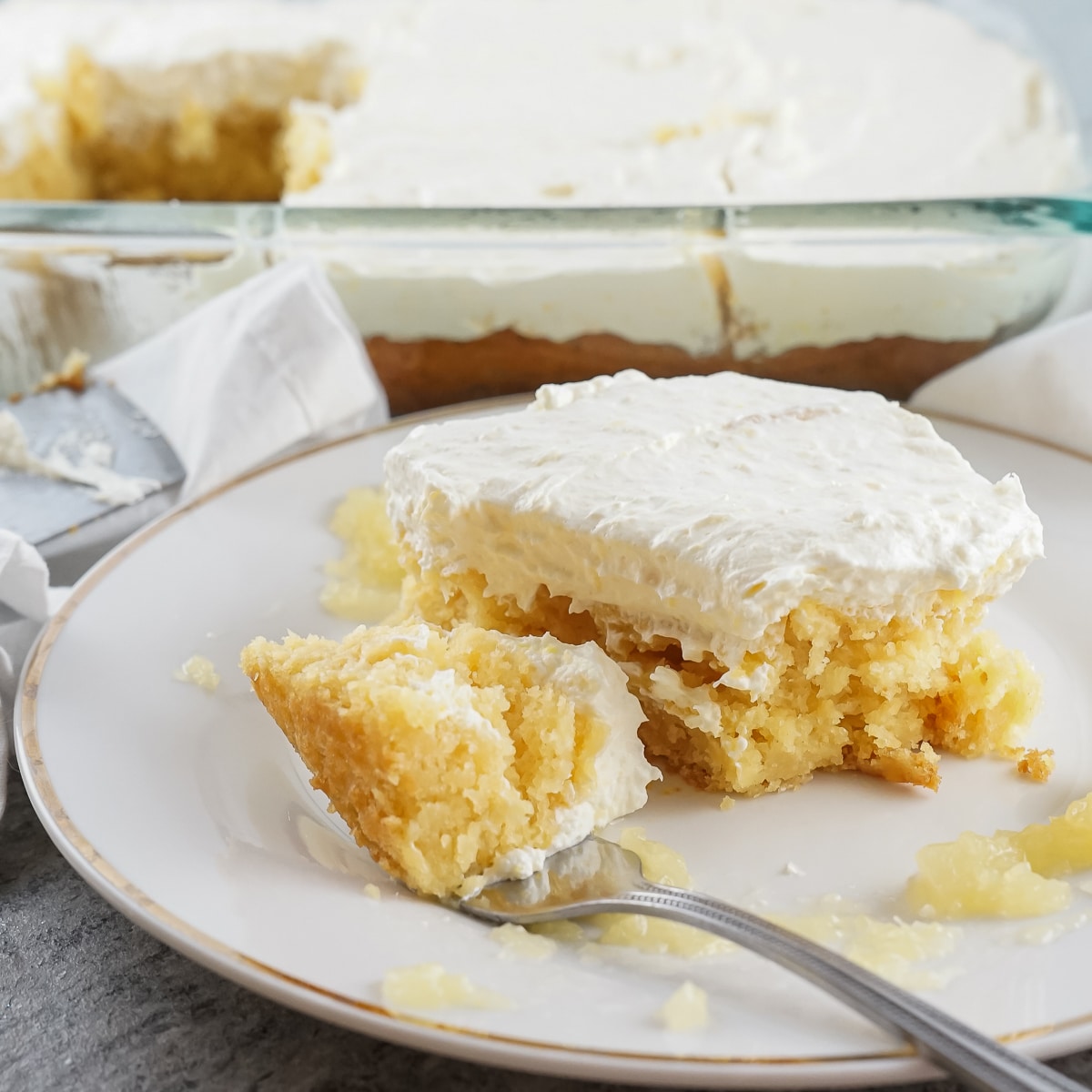 Ingredients
1

yellow cake mix

1

5.1 oz box

vanilla instant pudding

2

cups

unsweetened apple sauce

2

cups

crushed pineapple

with juice

1

cup

almond milk

8

oz

whipped cream

⅓

cup

oil
Instructions
Preheat the oven to 350°F and spray a 13x9 cake pan with nonstick spray.

In a large bowl, use a hand mixer to beat together the cake mix, milk, applesauce, oil, and half of the pineapple.

Pour into the prepared cake pan and bake for 30 minutes or until a toothpick comes out clean when inserted in the center of the cake.

Allow the cake to cool completely before frosting.

In a medium bowl, combine the vanilla pudding (unprepared, just the powder), whipped topping, and the rest of the pineapple. Don't overmix.

Apply evenly to the top of the cake. Slice and enjoy!
Nutrition
Calories:
3620
kcal
Carbohydrates:
474
g
Protein:
37
g
Fat:
196
g
Saturated Fat:
51
g
Cholesterol:
172
mg
Sodium:
3928
mg
Potassium:
2707
mg
Fiber:
23
g
Sugar:
298
g
Vitamin A:
1932
IU
Vitamin C:
49
mg
Calcium:
1272
mg
Iron:
22
mg
Craving more veg-friendly recipes?
Shop our collection of vegetarian and vegan cookbooks, including our new Vegan Thanksgiving and Vegan Christmas cookbooks!