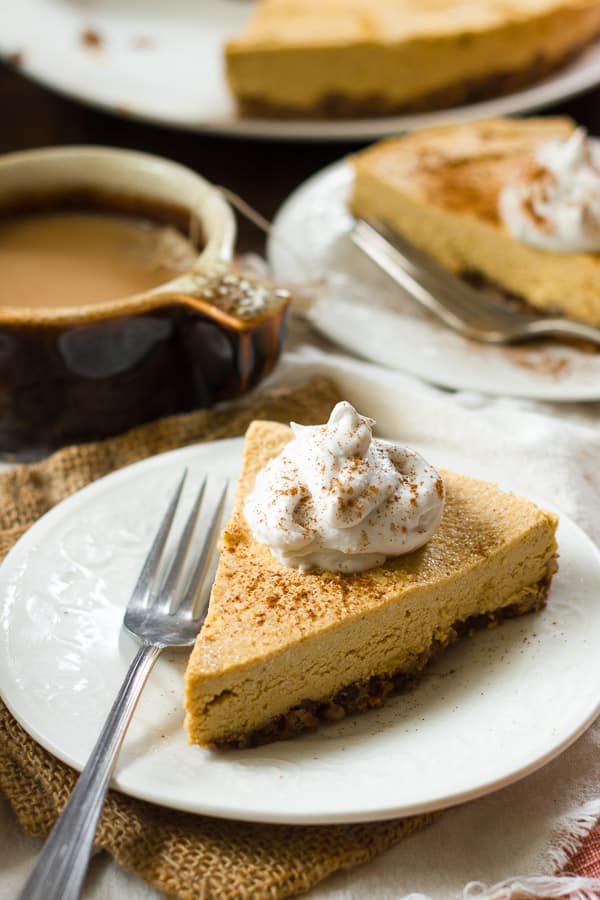 At some point along my journey of veganizing everything, I became the designated dessert provider among my friends and family. It gives me a place to pass of all of my dessert experiments, and I can always count on an unbiased opinion, especially since I'm usually feeding vegan and non-vegans alike. If the non-vegans gobble it up as readily as the vegans, I know I've got a hit.
Vegan cheesecake is a sure-fire hit. It's never failed me yet, and oftentimes not only do non-vegans love it, they don't even realize they're eating vegan.
Blended up raw cashews are the key to creating a creamy, delicious dairy-free cheesecake. I've discovered one other secret over the years though, and this one is extra awesome: when it comes to vegan cheesecake, no-bake is the way to go. It not only makes life easier, but you end up with a richer, creamier cheesecake base. My theory is that baking dries out the cashew blend just a bit. With a no-bake vegan cheesecake, all you've got to do is incorporate a bit of coconut oil into the mixture and chill, so you're actually adding some moisture, instead of taking it away. The coconut oil solidifies in the fridge, and when mixed up with the rest of your ingredients, you end up with something smooth and luscious and just the right consistency for cheesecake.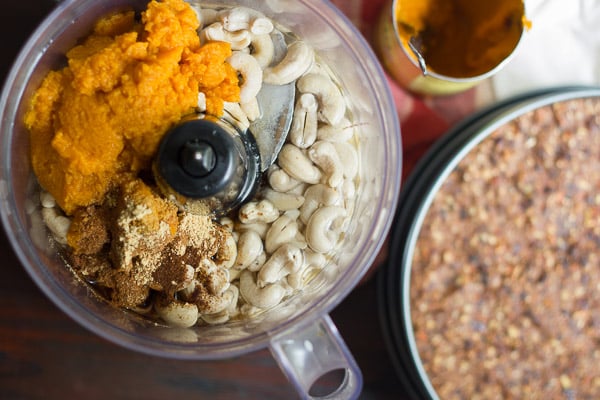 Since we're all gearing up for Thanksgiving, I made this particular cheesecake a vegan pumpkin cheesecake, which is easy once you've got the no-bake cashew cheesecake basics down – just add some pumpkin and spices. The no-bake thing kind of comes in handy here too, since Thanksgiving is a day when oven space tends to be at a premium. I made a simple nut crust out of pecans and dates, so the dessert is in-fact completely no-bake, and is suitable for any gluten-free loved ones you might be feeding as well. If you have a favorite crust recipe or prefer to go the premade route, feel free to do that.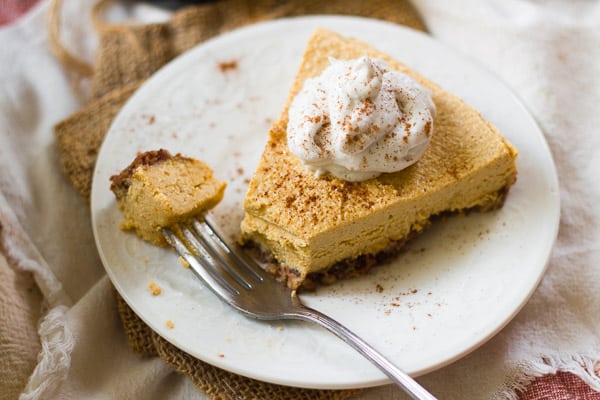 Ingredients
For the pecan-date crust:
1 ½

cups

pitted dates

coarsely chopped and soaked in hot water for 10 minutes

1 ½

cups

chopped pecans

1

teaspoon

ground cinnamon

1

teaspoon

powdered ginger

Pinch

of salt
For the vegan pumpkin cheesecake filling:
2

cups

raw cashews

soaked in water 4 to 8 hours and drained

1

cup

pumpkin puree

⅔

cup

melted coconut oil

⅓

cup

maple syrup

2

teaspoons

vanilla extract

2

teaspoons

ground cinnamon

1

teaspoon

ground ginger

½

teaspoon

ground nutmeg

¼

teaspoon

ground cloves

¼

teaspoon

salt
Instructions
Lightly oil the bottom of a 9-inch springform pan.

Make the pecan-date crust first by placing all ingredients into the bowl of a food processor fitted with an S-blade. Pulse until the pecans and dates are finely chopped. Press the mixture very firmly into the bottom of a the pan.

Make the vegan pumpkin cheesecake filling by placing all ingredients into the food processor bowl, then blend until smooth, stopping to scrape down sides of bowl as needed.

Pour the pumpkin cheesecake filling mixture over the crust and smooth out the top with a rubber scraper. Place the pan into the refrigerator and chill until set, about 4 hours, or freeze for about 1 hour.

Slice and divide onto plates. Top each slice with a dollop of coconut whipped cream and a sprinkle of cinnamon. Serve.
Notes
You can substitute a premade crust or your favorite homemade crust for the pecan-date crust if you'd like.
Prep time does not include soak time for the cashews.