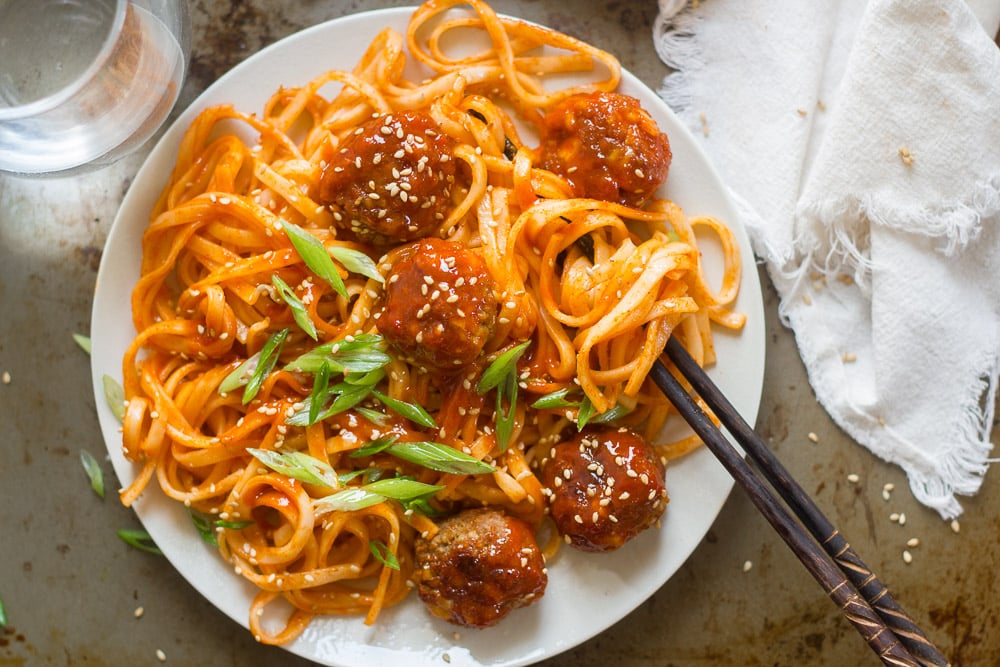 When I was growing up, spaghetti and meatballs were my ultimate comfort food. Things changed when I got older. For one thing, I went vegetarian. For another thing, I developed a taste for spicier food. When I discovered Korean food in my twenties, that immediately became my new ultimate comfort food.
So as you can imagine, when I came across this recipe for spicy Korean noodles and meatballs, my mind was just about blown. Of course, the original is not vegetarian, but that's never stopped me before. I took to the kitchen and created my own version of spicy Korean noodles.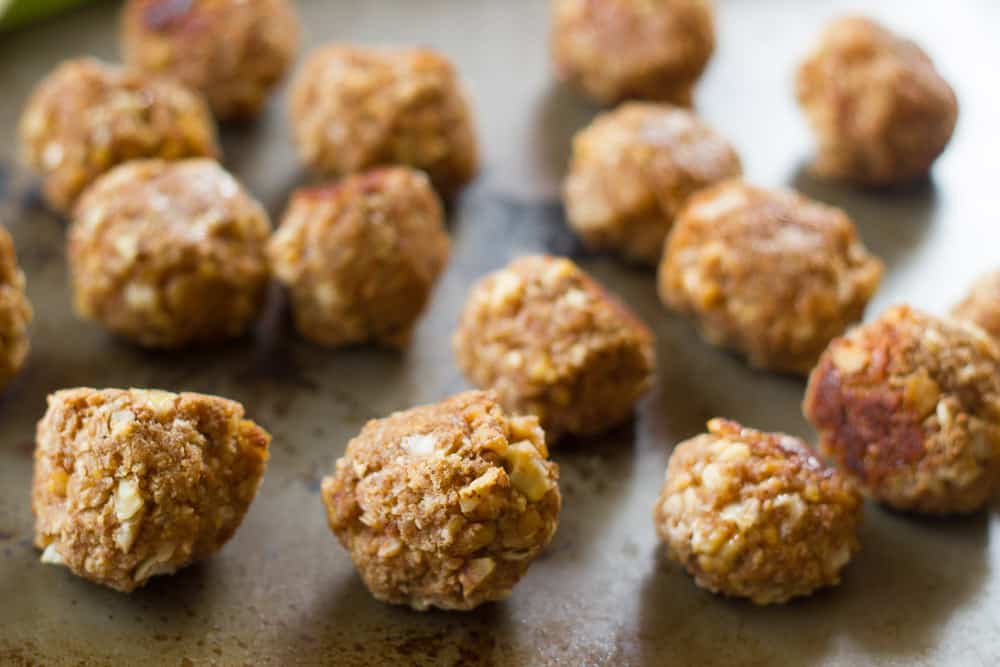 I'm all about veggie meatballs, and I've managed to make them out of all kinds of ingredients before. Tempeh. Beans. Quinoa. Usually, if you can make a veggie burger out of something, you can turn it into a meatball. Because I generally find that tofu works well with Asian flavors, I opted to make my meatballs out of tofu this time around, adapting this old recipe. If you're dubious about tofu meatballs, don't be! I was a little skeptical myself before trying them out, but this is one of those instances in which tofu really does take on the flavors of what it's cooked with. I seasoned these tofu balls up with some ginger, garlic, soy sauce and liquid smoke, and also added walnuts for texture. They were the perfect accompaniment for these spicy noodles.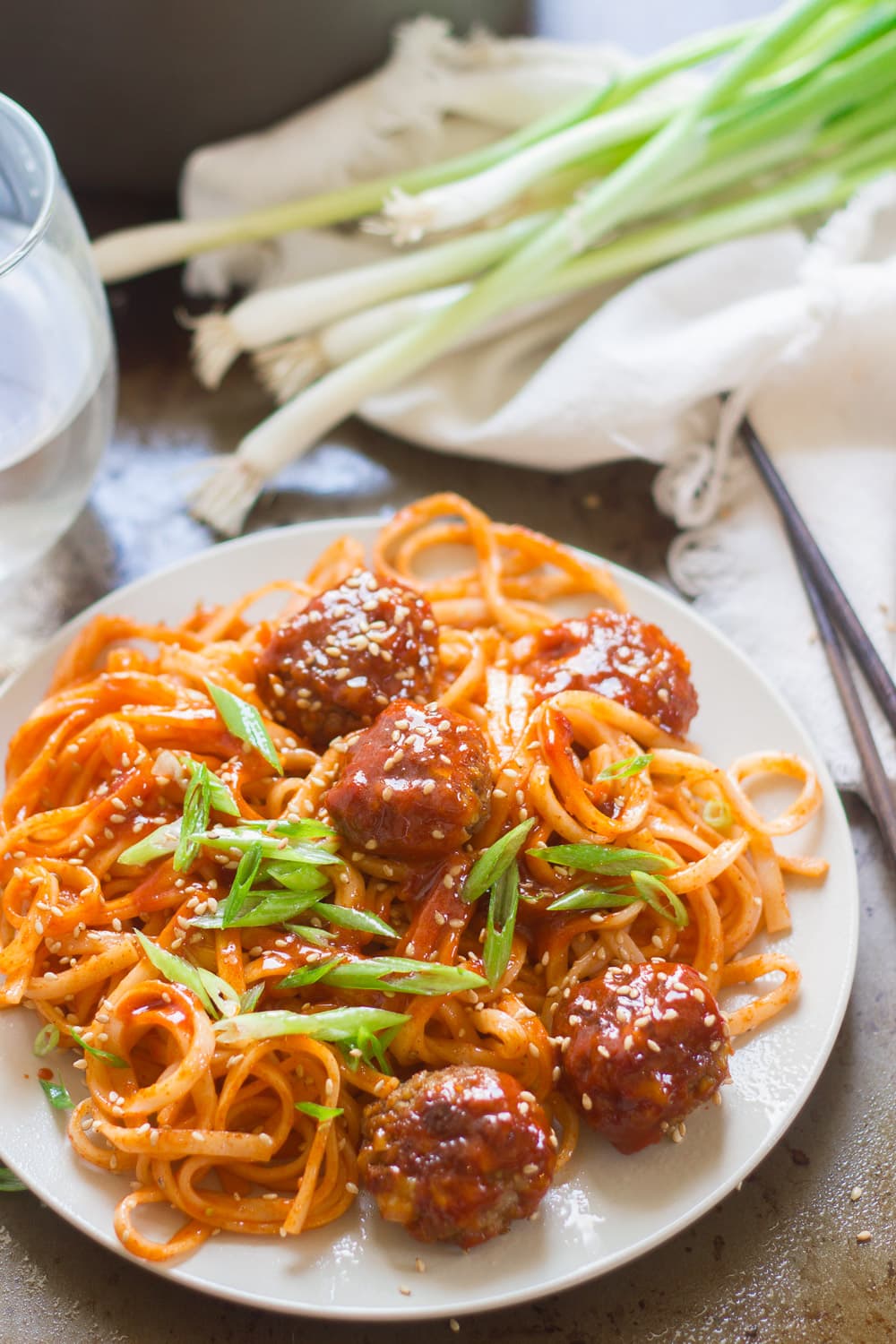 These are spicy Korean noodles, so you'll need some gochujang for the sauce here. If gochujang is new to you, check out this ingredient spotlight post we did on it. You may need to head for Amazon or the Asian market, but if you're a fan of spicy food it will be well worth the effort.
Recipe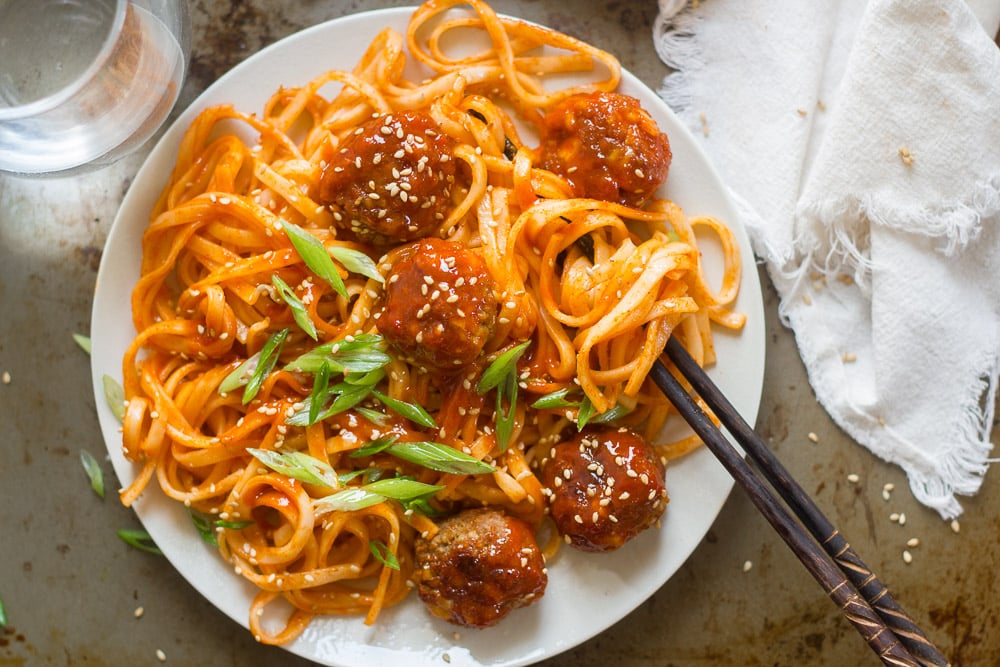 Ingredients
For serving:
3

scallions

chopped

Toasted sesame seeds
Instructions
Preheat the oven to 375°F and lightly oil or spray a baking sheet.

Start by making the tofu meatballs. Place the tofu, panko breadcrumbs, walnuts, onion, garlic, ginger, milk, soy sauce, vinegar, liquid smoke, flaxseed, and black pepper into the bowl of a food processor fitted with an S-blade. Pulse until the ingredients are finely chopped and well-mixed, being careful not to overdo it.

Roll the mixture into 1 to 1 ½ inch balls (you should get about 20) and arrange them on the prepared baking sheet. Lightly spray or brush the balls with a thin coat of oil.

Place the baking sheet into the oven and bake for 30 minutes, until lightly browned, turning the meatballs about halfway through baking.

While the meatballs bake, bring a large pot of water to a boil and cook the noodles according to package directions until al dente. When the noodles are done cooking, drain them into a colander, reserving ½ cup of the cooking water.

Pour the reserved water into a medium bowl and whisk in the gochujang, maple syrup or agave, sesame oil, and garlic.

When the meatballs are done cooking, add them to the pot with the noodles, then pour the sauce over everything. Mix well until the noodles and meatballs are coated in the sauce.

Divide the noodles and meatballs onto plates and sprinkle with scallions and sesame seeds. Serve.
Notes
* If you're not sure how much gochujang to use, start with less, then taste-test the sauce and add a tablespoon at a time. The dish will be on the spicy side even with lesser amounts. If you want a much milder version, you can cut the gochujang with some ketchup.
Adapted from The New York Times Cooking.
Nutrition
Calories:
574
kcal
Carbohydrates:
81
g
Protein:
23
g
Fat:
20
g
Saturated Fat:
2
g
Polyunsaturated Fat:
12
g
Monounsaturated Fat:
3
g
Sodium:
1592
mg
Potassium:
477
mg
Fiber:
8
g
Sugar:
19
g
Vitamin A:
213
IU
Vitamin C:
10
mg
Calcium:
136
mg
Iron:
4
mg
Craving more veg-friendly recipes?
Shop our collection of vegetarian and vegan cookbooks, including our new Vegan Thanksgiving and Vegan Christmas cookbooks!