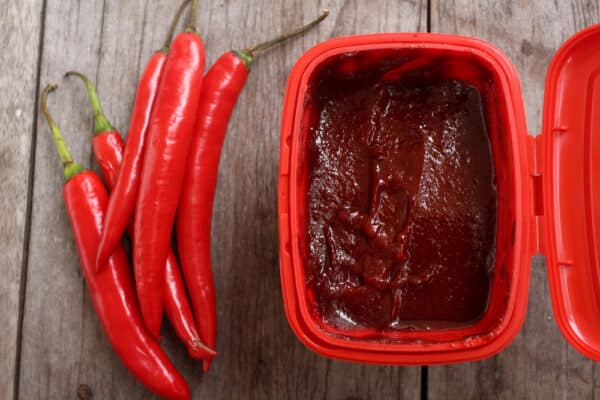 There are two camps out there when it comes to spicy foods - you either run away screaming when someone mentions even a hint of heat or you crave it with the fury of a thousand suns. I lean more towards the latter side of the spectrum, but with the stipulation that adding spice for the sake of activating the capsaicin receptors on my tongue to the point of maximal discomfort just because is just not my thing; if it doesn't add to or enhance the flavor of a dish, it's just not worth the pain! My go-to for adding heat to a dish used to be a drizzle of sriracha on everything (and I mean EVERYTHING), but lately I've been turning to gochujang, or Korean fermented hot pepper paste for all of my hot sauce needs.
What is it?
It's easiest to think of gochujang as the Korean version of sriracha, although it is so much more than that! It is made from a combination of red chili peppers, glutinous rice, fermented soybeans, and salt. Traditionally, it is used in Korean cuisine both as a condiment for adding flavor to more bland dishes and as a staple ingredient in dishes that bring the heat. It is also frequently mixed into other Korean condiments, such as chogochujang (gochujang + vinegar + sugar + sesame seeds) and ssamjang (gochujang + onions + spicy seasonings).
What does it taste like?
Basically, it's a mix of umami, sweetness, spice and just an all around hit of BOLD flavor. In my opinion, it has a lot more flavor complexity going on than sriracha does, which is why I tend to favor it when spicing up my meals!
How do you store it?
Unopened jars of gochujang can be stored at room temperature, but once opened it should be stored in the fridge.
How do you eat it?
Ummm, on everything? I have stirred it into soups and stews, used it to make stir fry sauces, mixed it into scrambled eggs, added it to pizza sauce for some funky spiced up flavor, and whisked it into salad dressing. Suffice it to say, I'm pretty sure there is no wrong way to eat it.
Gochujang Recipes
Crispy Kung Pao Tofu and Vegetable Stir Fry from Eats Well With Others
Gochujang Sweet Potato with Cilantro and Sesame from Vegan Miam
Miso Kimchi Deviled Eggs from I Will Not Eat Oysters
Korean-Mexican Grilled Corn from Hapa Nom Nom
Vegan Korean Bibimbap from Crazy Vegan Kitchen
Cheese Pizza with Spicy Roasted Carrot and Red Onion Sauce from Eats Well With Others
Kimchi Stew with Tofu and Shiitakes from Connoisseurus Veg
Spicy Stir-Fried Zucchini from The Kitchn
Sweet and Spicy Gochujang Caramel Corn from Kimchi Chick
Savory Gochujang Butternut Squash Pancakes from Go Stuff Yourself
Gochujang photo via Shutterstock