Indian might just be the ideal cuisine for vegetarians looking to branch out. While many restaurants only provide one or two vegetarian options, most Indian restaurants feature a huge variety of meatless fare, thanks to vegetarianism figuring heavily into the cuisine. Awesome, right?! No need to head out to a restaurant for delicious Indian-inspired fare, though - these 20 Meatless Indian Meals can be made right at home!
Tandoori Cauliflower with Indian-Spiced Quinoa
A head of cauliflower, smothered in a spicy yogurt marinade and baked. Plenty delicious in and of itself, but the hearty quinoa completes the scene.
Manchurian Chickpea Bowls
Even though this dish is inspired by Northeastern Chinese cuisine, its Indian influence seems apparent. Taste Space presents roasted cauliflower swimming in a spicy tomato sauce.
Potato Chickpea Masala Rava Dosas
How about a dosa delicious? We couldn't resist. We also can't resist these spicy potato-and-chickpea-filled Indian pancakes from Cafe Johnsonia.
Tikka Masala Tofu and Vegetables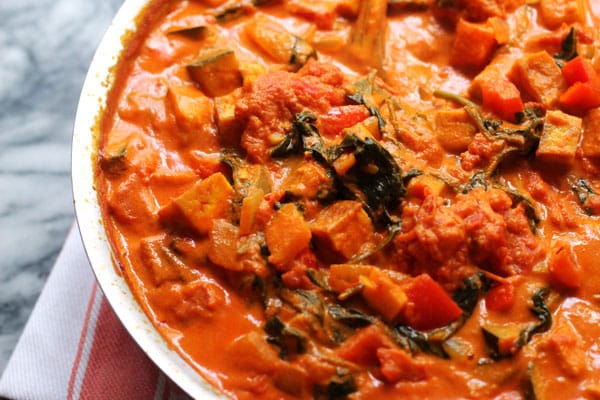 This version of tikka masala is heavy on the veggies and light on the cream, with all the same rich flavors of its high-fat counterpart. It's made with crispy baked tofu instead of paneer or meat and is full of zucchini, bell pepper and spinach—so you're sure to get something nutritious in every bite.
Navratan Korma
Packed full of veggies, crunchy cashews and sweet golden raisins, then made rich and creamy with coconut milk (or cream). We can't get enough of this comforting vegetable korma from The Fig Tree.
Dal Makhani
Also known as Butter Lentils, this dish from An Edible Mosaic is indeed a rich and creamy lentil and bean number that's sure to warm up the chilliest of nights. With all those warming spices, this one could not be more comforting if it tried.
Mulligatawny Soup
This thick, spicy soup from Connoisseurus Veg is sure to be the cure for whatever ails you - such as an extreme hankering for Indian soup. We love the addition of yellow split peas and the bold scoop of chili paste.
Curried Red Lentil & Quinoa Bowls with Cilantro-Mint Chutney
Refreshing mint chutney is the perfect counterpoint to warm-spiced red lentils and satiating quinoa. We love how easy this one is to put together - great for busy weeknights.
Saag Paneer
Crumb brings us golden-sauteed paneer cheese, tossed with creamy spinach and served atop a bed of brown rice. More, please!
Chana Dal and Yellow Pepper Soup
Split chickpeas ("chana" means chickpeas; "dal" means split) give a bit of bite to this comforting soup from The View From Great Island. A dollop of luscious lemon cream takes it over the top.
Chana Masala Stuffed Sweet Potatoes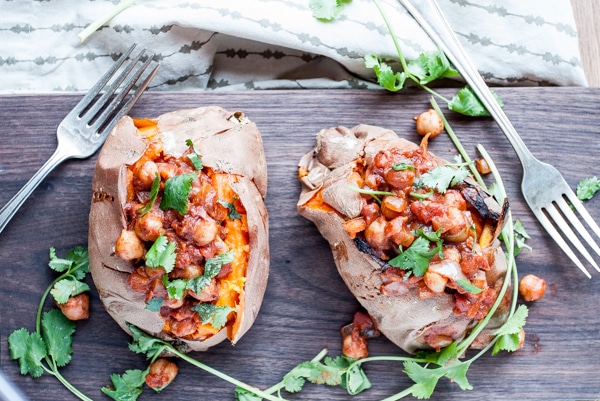 Usually chana masala is served over rice or with a side of naan, however, adding this traditional spicy chickpea dish to a roasted sweet potato is hands down my favorite way to enjoy it.
Tofu Tikka Masala
Crispy golden tofu swimming in a rich, creamy sauce, then served up with a scoop of colorful quinoa. Straight-up deliciousness from Food, Pleasure and Health.
Indian Butter Cauliflower
No butter in this recipe from Vegan Insanity - just deliciousness. Tandoori-seasoned cauliflower smothered in a rich coconut curry sauce? We're in.
Balti Tofu and Chickpeas
Chickpeas and tofu join up with ginger, cardamom and coconut milk in this protein-rich affair from Ricki Heller. Just, yum!
Tofu Vindaloo
Vindaloo is all about the spices, and this tantalizing tofu version is no exception. Bring on the heat!
Bhaingan Bharta
This Indian eggplant curry from The Roasted Root showcases the hearty veggie in a scrumptiously spicy blaze of glory.
Pav Bhaji
A variety of veggies simmer together with spices to create this comforting Indian stew from Paaka Shaale. What could be better? When it's served with warm ladi pav bread buns, of course.
Dum Aloo
A Brown Table brings us colorful baby potatoes, seared until golden and tender and then served up in a tangy tomato cream sauce. Yes, please!
Slow-Cooker Indian-Spiced Chickpeas & Potatoes
Just a few minutes at the start of the day, and dinner's ready when you get home! These spicy chickpeas and potatoes are the perfect weeknight meal; even better when served with up with warm naan.
Spinach and Onion Pakora with Green Chutney
The View From Great Island brings us tender vegetable fritters, fried until crisp and served up with cilantro and mint green chutney. Irresistible!