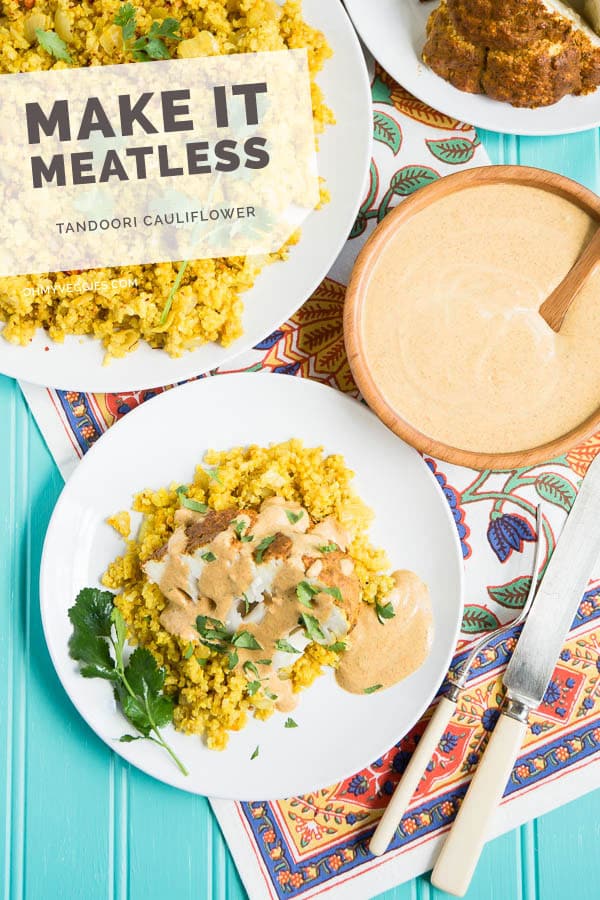 Photos by Lindsey Johnson
A few months ago, Kiersten and I were discussing all of the various shapes and forms that cauliflower takes on -- usually replacing some sort of meat-stuff. Cauliflower burgers, wings, even steaks! And I remember joking, "I should totally take a whole cauliflower and make a cauliflower 'Cornish game hen!'" And Kiersten said something like, "Actually, you really SHOULD do that!" And then I seriously toyed with the idea for awhile, but that was it. Whole roasted cauliflower was put on the back burner. So to speak.
Well, today, it has happened. Finally. Today, we have a whole roasted cauliflower. My life is complete.
This Tandoori Cauliflower with Indian-Spiced Quinoa was inspired by the popular Indian dish Tandoori chicken, specifically the version found on the fantastic food blog Simply Recipes.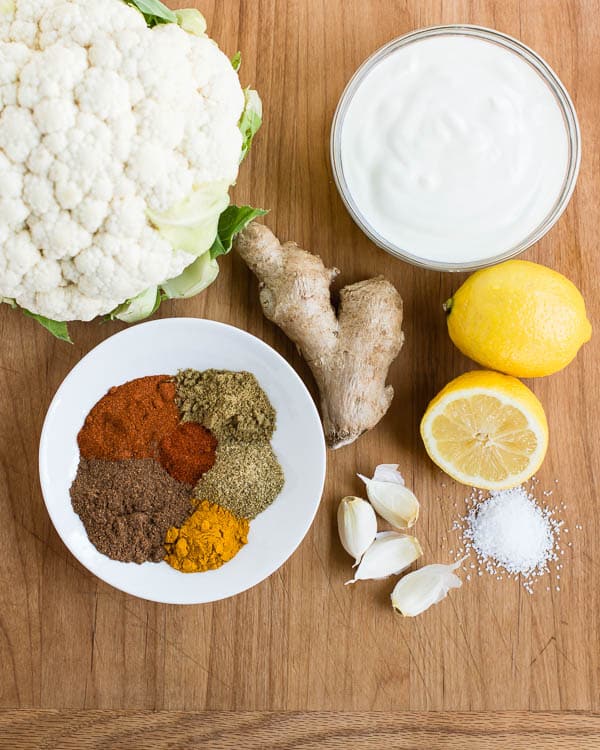 In Tandoori chicken's traditional form, the meat is marinated in a mixture of yogurt and spices and cooked in a clay oven called a "tandoor." It's often served with an aromatic spiced rice and/or a yogurt-based dipping sauce.
Alas, I have no clay oven at my disposal, so rubbing the head of cauliflower with a the spicy yogurt marinade and roasting it in my plain old oven had to do. For the side, I chose quinoa instead of rice. I love the idea of using protein-rich quinoa in this recipe to make it a full, satisfying meal. And while yeah, the cauliflower is fun, healthy, delicious, and even slightly whimsical, the Indian-spiced quinoa is what really makes this one for me. I adore it.
One thing my carnivorous husband and I both loved about the whole-roasted Tandoori cauliflower was that when it's baked whole and then cut into wedges for serving, it stays firm -- yet still tender. No mushy cauliflower here.
The list of ingredients is long, I know -- but please don't be intimidated! Most of the ingredients are spices you probably already have in your cupboard. And if you need to buy any, be sure to check out the bulk section at your local well-stocked grocery store. You'll no doubt save gobs of money that way.
Recipe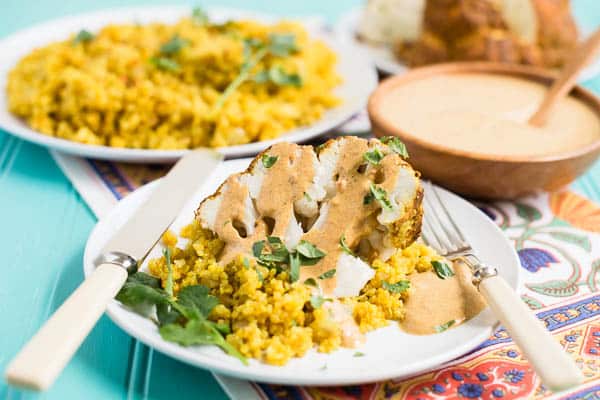 Ingredients
For the Tandoori cauliflower:
For the Indian-spiced quinoa:
For the yogurt sauce:
½

cup

leftover yogurt marinade

½

cup

plain yogurt

1

tablespoon

freshly squeezed lemon juice
Optional garnish:
Handful of cilantro

chopped
Instructions
Preheat oven to 400ºF. Rub the center of a baking sheet with oil (where you will set the cauliflower).

Remove the green leaves from the cauliflower and cut off the bottom of the stem so that it has a flat base. Rinse well and dry. Set the cauliflower on the baking sheet.

Add yogurt to a small bowl and whisk in the spices, lemon juice, ginger, garlic, and salt. Brush ½ cup of the yogurt marinade over the head of cauliflower, completely covering all except the flat bottom.

Bake for 30-40 minutes, or until easily pierced with a fork. Remove from the oven and let sit for 10 minutes to cool.

Meanwhile, make the Indian-spiced quinoa. Rinse quinoa well under cool water to remove the natural soapy-tasting residue. Add to a medium saucepan along with the water, cinnamon stick, cardamom, and cloves. (Note: For easier retrieval later on, tie the cardamom and cloves into a cheesecloth pouch before adding.) Bring to a boil over medium-high heat, then reduce to a simmer and cover. Simmer for 15-20 minutes until tender and fluffy. Remove from heat and let the quinoa sit, covered, for 5 minutes. Remove the spices.

In a large saute pan, melt the coconut oil over medium heat. Add the onion, mustard seeds, and red pepper flakes. Cook, stirring occasionally, until onion has softened, about 6-7 minutes. Add the garlic and cumin and cook, stirring, for another minute. Add the quinoa and sprinkle the turmeric over the top. Stir until all of the ingredients are combined and quinoa is heated through, then season with salt to taste and remove from heat.

To make the yogurt sauce, stir the ½ cup yogurt and 1 tablespoon lemon juice into the remaining yogurt marinade. Chill until ready to serve.

To serve, cut the cauliflower into four or six wedges. Place a scoop of Indian-spiced quinoa on a plate and top with a wedge of cauliflower. Drizzle with yogurt sauce or serve the sauce alongside. Sprinkle chopped cilantro over the top, if using.
Nutrition
Calories:
476
kcal
Carbohydrates:
62
g
Protein:
17
g
Fat:
20
g
Saturated Fat:
12
g
Polyunsaturated Fat:
3
g
Monounsaturated Fat:
3
g
Cholesterol:
12
mg
Sodium:
687
mg
Potassium:
1125
mg
Fiber:
11
g
Sugar:
9
g
Vitamin A:
1120
IU
Vitamin C:
79
mg
Calcium:
227
mg
Iron:
5
mg
Craving more veg-friendly recipes?
Shop our collection of vegetarian and vegan cookbooks, including our new Vegan Thanksgiving and Vegan Christmas cookbooks!