Miso glazed eggplant is a wonderful example of the delicious simplicity of Japanese food. Soft creamy roasted eggplant topped is topped with a sweet, salty umami-laden miso glaze. It's easy, delicious and packed with flavour!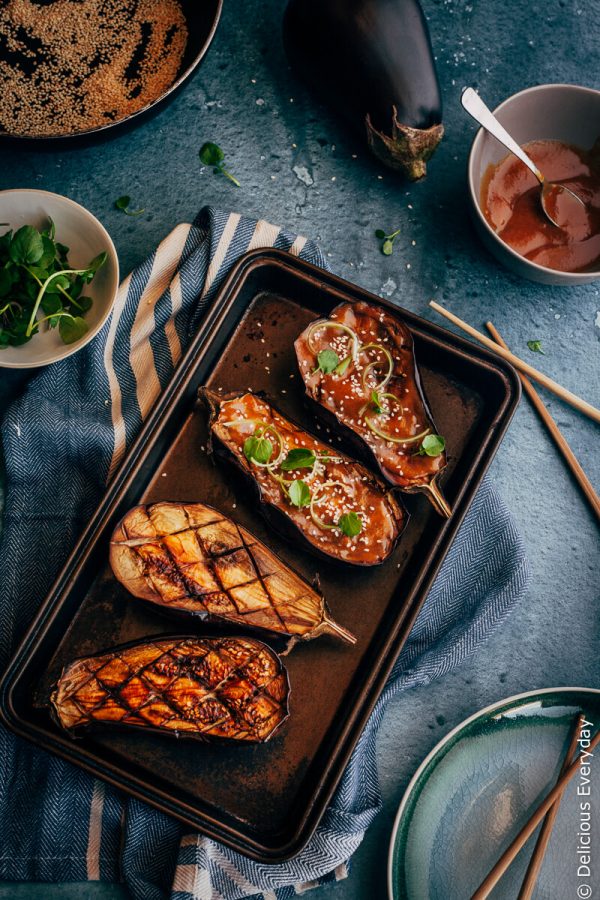 Eggplant is polarising. Just as many people love as those that loathe it.
I was one of those people who loathed it. Hated it even!
When I was younger I found its slimy, squishy, seediness horrible. If it was ever in a dish I was eating, I'd eat around it. I know I'm not alone!
And that nasty horrible leathery grilled eggplant you used to be able to buy from delis in your supermarket was even worse. Being vegetarian in the 90's it was often included in store-bought sandwiches and in salads. Ick!
Now I know my first experiences with eggplant were bad experiences because when it is cooked well it is a beautiful thing.
Miso glazed eggplant (nasu dengaku), is something I first came across at my favourite Japanese restaurant. And every time we visit I can't help but order it as miso is one of my favorite things.
There's something so irresistible about the soft and slightly caramelized roasted eggplant, topped with its sweet, salty, umami-laden miso topping.
So, I'm hoping, that if you are an eggplant loather, I can perhaps convert you too- to the dark side!
While you're here, be sure to grab our FREE 5-Day Meatless Meal Plan. It's packed with tasty recipes to make vegetarian cooking easy and delicious!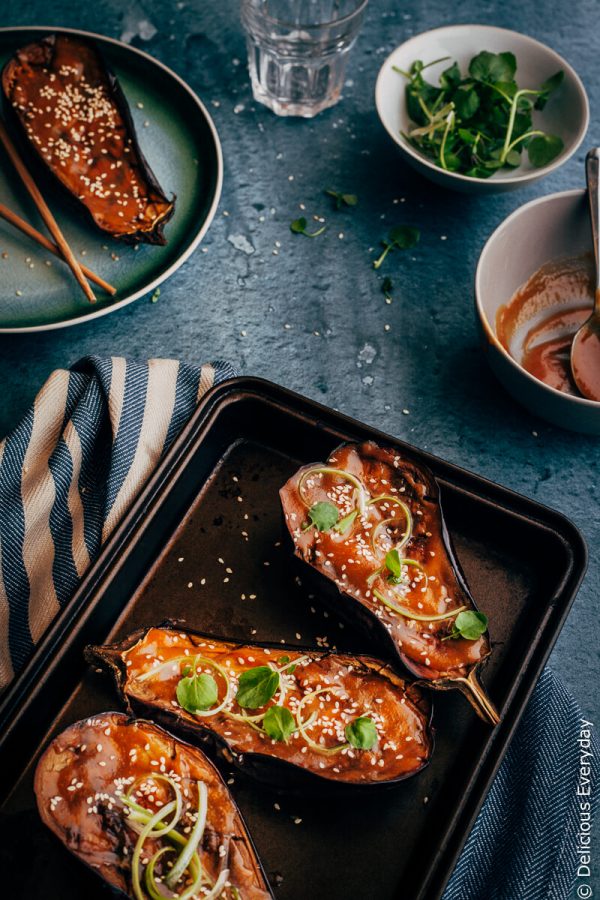 I have a couple of tips for roasting your eggplants to get best results.
Brush the eggplants with oil. Don't skip this! The oil protects the cut surface of the eggplant from getting too dry.
Bake with a layer of baking paper on top. This also prevents the top of the eggplant drying out, it also prevents it from browning too much.
Score the flesh in a cross-hatch pattern. This helps the eggplant cook more evenly, and also gives the miso topping little valleys to seep into and spread its deliciousness.
There are countless ways you can serve your delicious miso glazed eggplant. Steamed rice is a great accompaniment (to help soak up the flavors) and salad makes a nice, lighter option.
And if this recipes does convert you into an eggplant lover, you'll want to check out these Tahini Eggplant Skewers and this Baby Eggplant Curry for more delicious ways to prepare it!
While you're here, be sure to grab our FREE 5-Day Meatless Meal Plan. It's packed with tasty recipes to make vegetarian cooking easy and delicious!
Recipe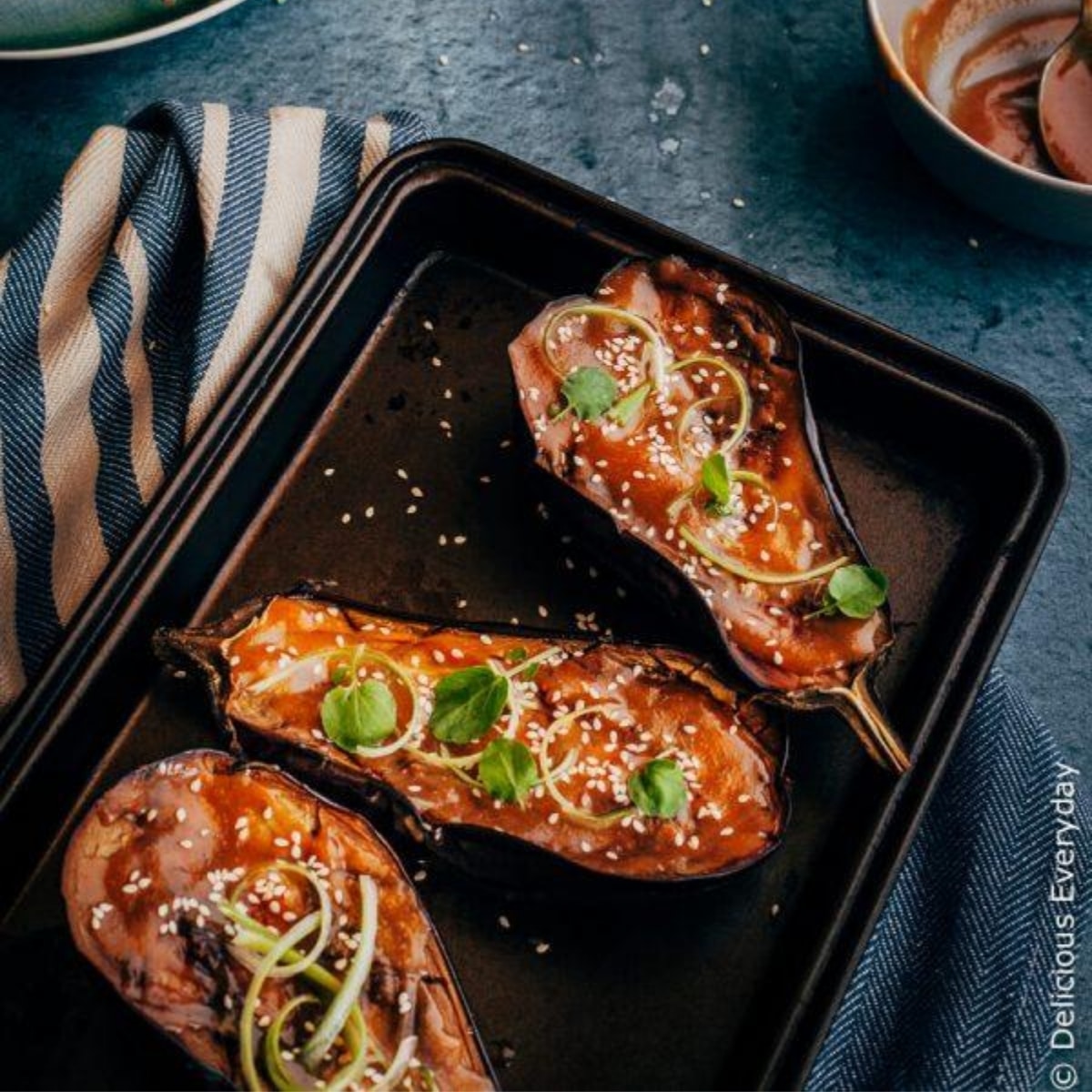 Ingredients
2

small to medium eggplants

1

tsp

olive oil

2

tbsp

Shiro miso

1

tbsp

mirin

1

tbsp

honey

use brown rice syrup if vegan

1

tsp

toasted sesame oil

1

tsp

rice wine vinegar

1

tsp

toasted sesame seeds

for sprinkling
Instructions
Preheat your oven to 180 degrees celsius (350 Fahrenheiand line a roasting tray with baking paper.

Cut the eggplants in half and carefully score diagonal lines across the flesh. Brush the cut side of each eggplant, both top and bottom and place in the roasting try. Top with another sheet of baking paper and bake until the flesh is tender and a fork is easily able to pierce through. Around 15 to 20 minutes. Don't skip on oiling the eggplant, otherwise, you won't end up with a silky soft flesh.

While the eggplant is baking make the miso topping and the salad. To make the miso topping mix the miso paste, mirin, honey, toasted sesame oil and rice wine vinegar in a bowl. I like to use a sauce whisk for this to remove any lumps.

When the eggplant is cooked remove the top layer of baking paper and spoon or dollop the miso on top. Return to the oven and bake for another 5 minutes. Sprinkle the salad with the toasted sesame seeds.
Notes
I recommend serving this with rice and a salad.
Nutrition
Calories:
118
kcal
Carbohydrates:
22
g
Protein:
3
g
Fat:
3
g
Saturated Fat:
1
g
Sodium:
354
mg
Potassium:
542
mg
Fiber:
7
g
Sugar:
14
g
Vitamin A:
53
IU
Vitamin C:
5
mg
Calcium:
30
mg
Iron:
1
mg
Craving more veg-friendly recipes?
Shop our collection of vegetarian and vegan cookbooks, including our new Vegan Thanksgiving and Vegan Christmas cookbooks!