I just love entertaining during the holiday season. And as a self-proclaimed foodie, I also love pairing my creations with amazing wine.
Unfortunately, I've found that most wine dinners are focused on the meat eaters. So today, I want to share a menu for a fantastic vegetarian wine dinner.
I have created a new dish for the main course, and paired it with some of my old favorites for a full vegetarian wine pairing experience!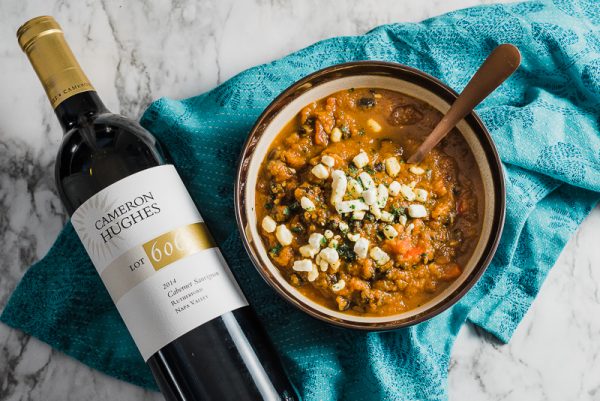 Thank you Cameron Hughes for sponsoring this post. Capture the celebratory spirit of the holidays, and toast to the season with Cameron Hughes wine!
About the Wine
First things first - let's start with the wine. I absolutely adore Cameron Hughes Wine, and was so excited when I had the opportunity to partner with them on this post.
I knew right away that I wanted to use their wines to create a special vegetarian wine dinner. You see, this particular winemaker has a special place in my heart.
My husband and I discovered Cameron Hughes back when we were just dating- nearly eight years ago! We were in a tasting room in Napa, which is one of our favorite places to visit, and one of the staff mentioned it to us.
They have an incredibly unique approach. Essentially, they are wine negociants and their mission is simple: buy the best possible wine, at the best possible price.
They buy the wines in various states of readiness - sometimes still in the barrel, sometimes bottled and ready to go. They buy these really premium wines from really premium wineries at fantastic prices, and in exchange they keep the name of the specific winery a secret!
Obviously those high-end wineries don't want people to know that you can buy their $100 bottle of Cabernet from Cameron Hughes for just $30!
The wines are typically identified with "lot numbers". It results in some amazing prices on really high quality wines.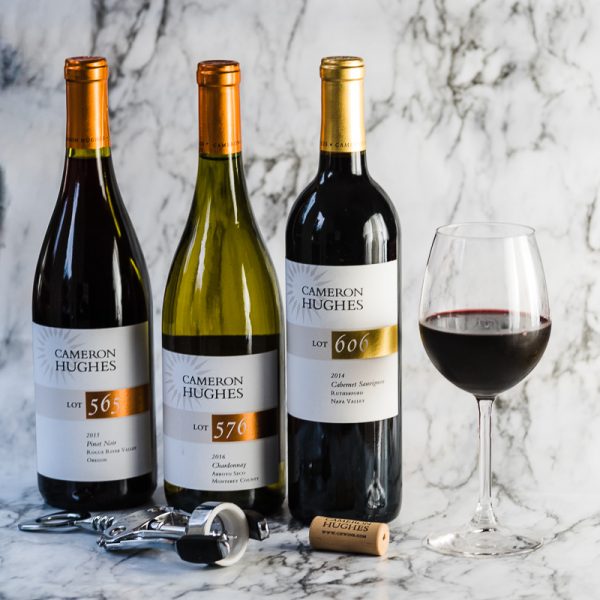 We went back home after that Napa trip and ordered our first case, and have been loyal customers ever since.
In fact, all of the wine for our wedding came from Cameron Hughes. (And we drank a lot of wine that night!) They offer really cool sampler cases, with a pre-selected assortment of wines, so you can try a bunch of different lots at one time.
For months leading up to our wedding, we would order a sampler case to try the different lots.
When we found a wine that we especially loved, we would order a case and ship it to my parent's house to be stored for the wedding. We filled up all their guest closets with cases of wine!
On our wedding morning, we loaded up a U-Haul and took it all to the wedding venue. Seriously - I couldn't make this up if I tried.
The best part of these wines is the incredible value. Great wine doesn't have to be expensive!
Most of the wines we buy from Cameron Hughes are under $20. Some of the best Cabernets are still under $30! In most cases, I end up paying less than I would for wine at the grocery store, but it is so much better quality.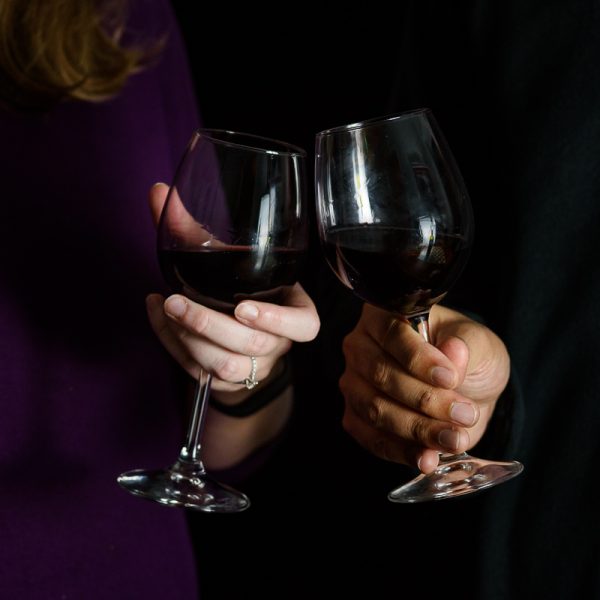 So Cameron Hughes has a special place in my heart. And I'm still a regular customer. So join me in a toast to the holiday season, as we host this vegetarian wine dinner! Great food, great wine, great company. Can you think of anything better?
Vegetarian Wine Dinner Menu
So what are we eating with all of this amazing wine? This Fall menu is the perfect blueprint for a vegetarian wine dinner.
Appetizer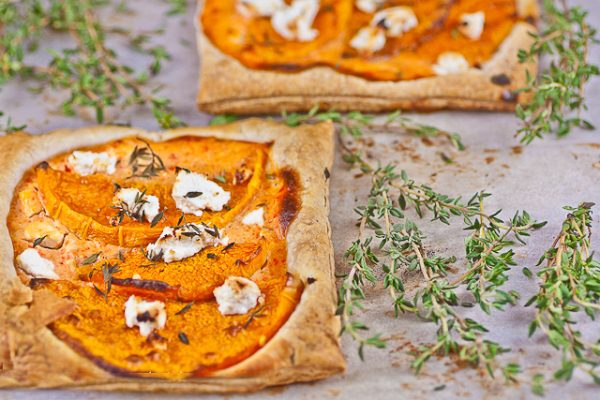 Kick off the celebration with these tasty Spiced Pumpkin and Feta Tarts. I love serving these at dinner parties, because they look so impressive, but are actually very easy to make.
They are just perfect for a Fall celebration! The pumpkin is just a little bit sweet, the feta is a little bit savory, and the harissa gives it a little bit of spice!
I recommend pairing this with the phenomenal Cameron Hughes Lot 576 2016 Arroyo Seco Chardonnay. It's really hard to beat a California Chardonnay, and the Arroyo Seco Chardonnay is Cam's all time best-selling wine. It's a creamy Chardonnay, with citrus and vanilla flavors.
The original winery sells this Chardonnay for over $20, but Cameron Hughes currently has it for just $14. Crazy!
Main Dish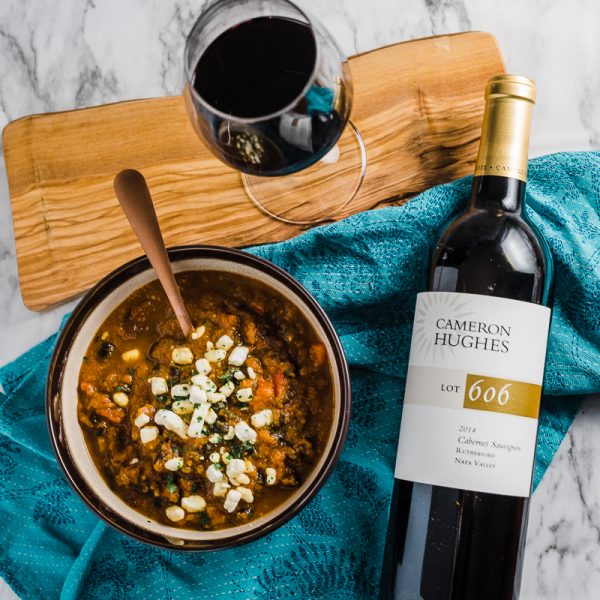 For the main dish, I created a brand new recipe for a spicy, vegetarian pumpkin chili. This is the perfect Fall comfort food. The big bold flavors of this vegetarian chili stand up perfectly to a big Cabernet Sauvignon.
The secret ingredient is adobo chili, which will warm you up in no time. Plus, it's incredibly easy to prepare for a crowd because it cooks up in the slow cooker.
I recommend pairing the pumpkin chili with Cameron Hughes Lot 606 Rutherford Cabernet Sauvignon. If you are a Cabernet drinker, then you already know that anything from Rutherford is going to be amazing. This is the area that put Napa on the map!
This one definitely does not disappoint, and it's become one of my favorite wines to serve when we have dinner guests. It's a full-bodied, smooth wine with flavors of blackberry, cherry, and dark chocolate.
Dessert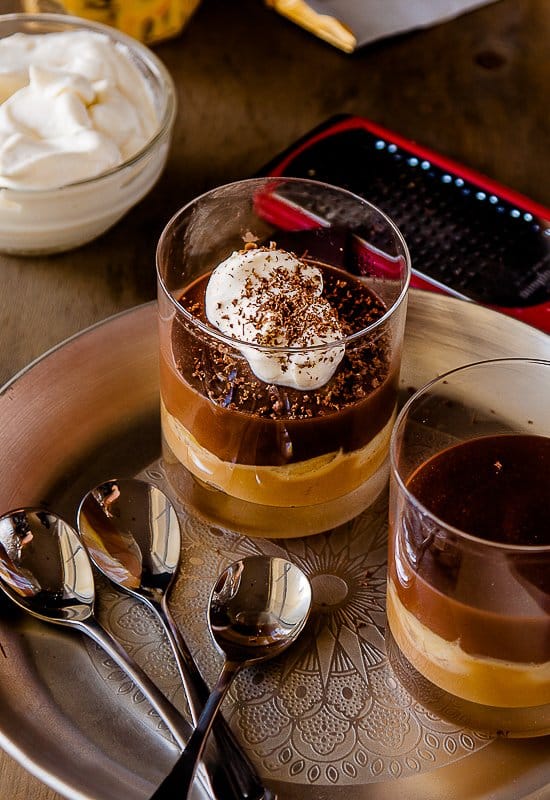 Finish things off with a decadent Chocolate Banoffee Pudding. The chocolate and caramel flavors are perfect for a Fall or Winter dessert. And I just love serving them as individual little trifles - they are so pretty and fun for a party!
Pinot Noir pairs beautifully with dark chocolate and caramel, which makes it a perfect match for this dessert course. I recommend the Cameron Hughes Lot 565 2015 Rogue River Valley Pinot Noir.
The Rogue River Valley is nestled between San Francisco and Portland, and is well-known for producing fantastic Pinots. This one is a pleasant, smooth wine with flavors of cherry, plum, and spice. Yum!
Now, doesn't that sound like the perfect dinner party? Delicious vegetarian food and amazing wine pairings that don't break the bank. Just add your friends, and you are all set to toast to the holiday season!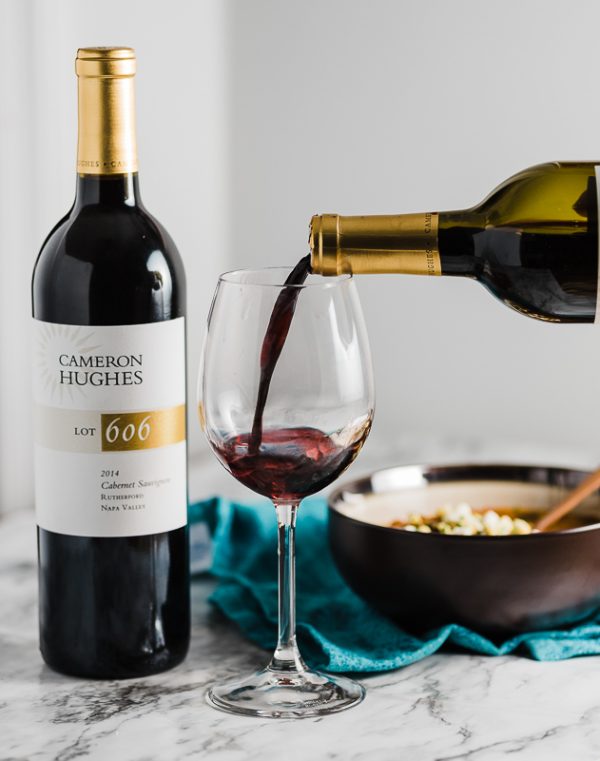 I was selected for this opportunity as a member of CLEVER and the content and opinions expressed here are all my own.
More Party-Worthy Recipes
If you love entertaining, be sure to check out these other party menus and festive dishes: