These Chocolate Banoffee Puddings might just be the best banoffee recipe you'll ever find! The sweet medley of dark chocolate, caramel, and bananas is aboslutely decadent. Serve the pudding in individual trifle glasses with freshly shaved chocolate to impress at your next celebration!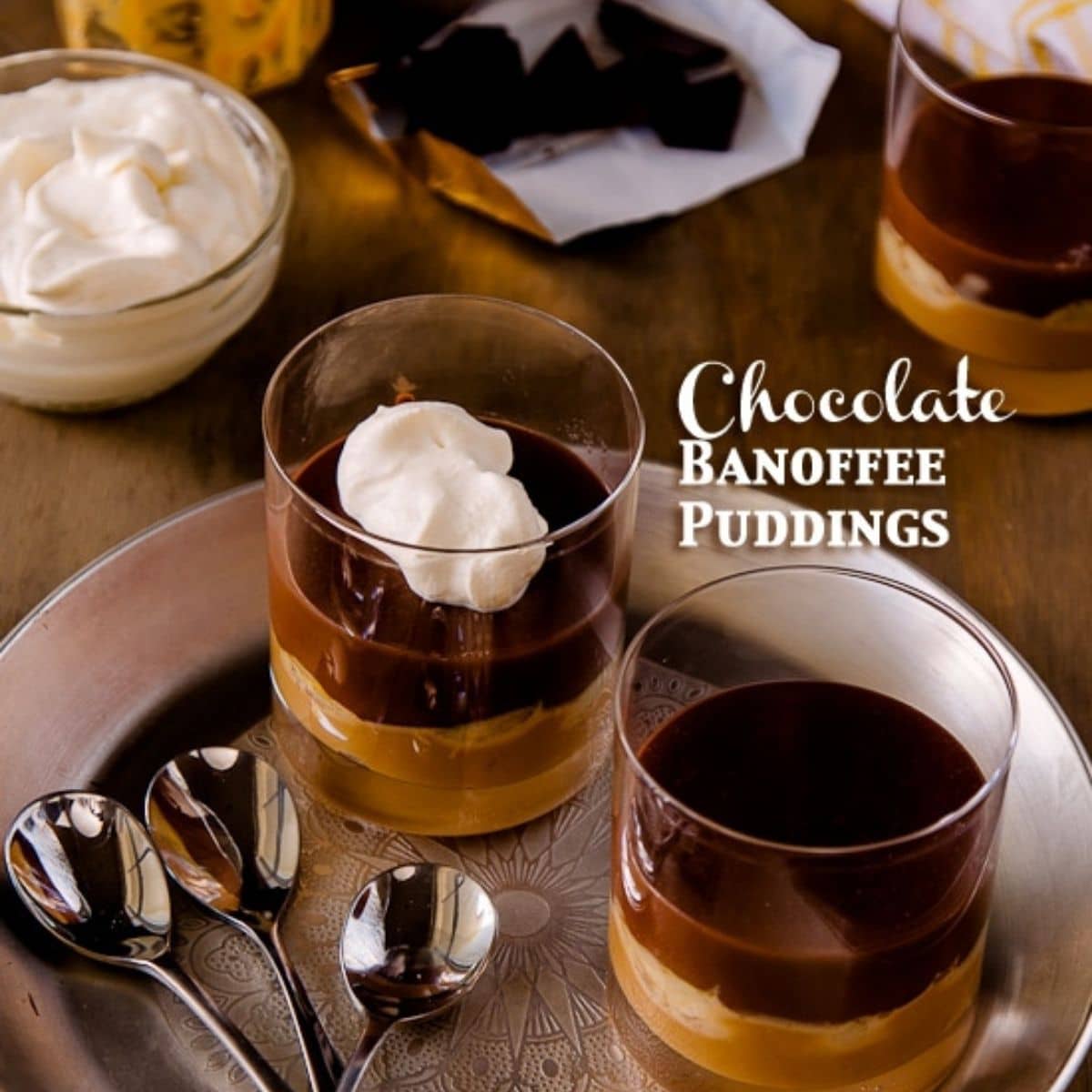 Okay, I admit it. I have a teeny, tiny, little bitty addiction to chocolate. Who can blame me really?
This past weekend I was able to host some great friends for a casual dinner. We kept things pretty simple for the meal, but I wanted to serve them something really special for dessert. So I came up with this recipe - which I think may be the best banoffee chocolate pudding that I have ever tasted!
Now if you don't know what banoffee is, then you have really been missing out. Banoffee (or bananoffee) typically refers to a type of pie. It's an English dessert made from bananas, cream, and toffee. The very best banoffee recipes feature classic dulche de leche!
Obviously, that's an amazing flavor combination. So I decided to adapt that traditional recipe into something a little more modern and fun! These banoffee puddings are easy enough to make for a family night at home, or fancy enough to serve at a dinner party. In fact, I recently made these Chocolate Banoffee Puddings the star of a vegetarian wine dinner, which also featured a spicy pumpkin chili and feta tartlets.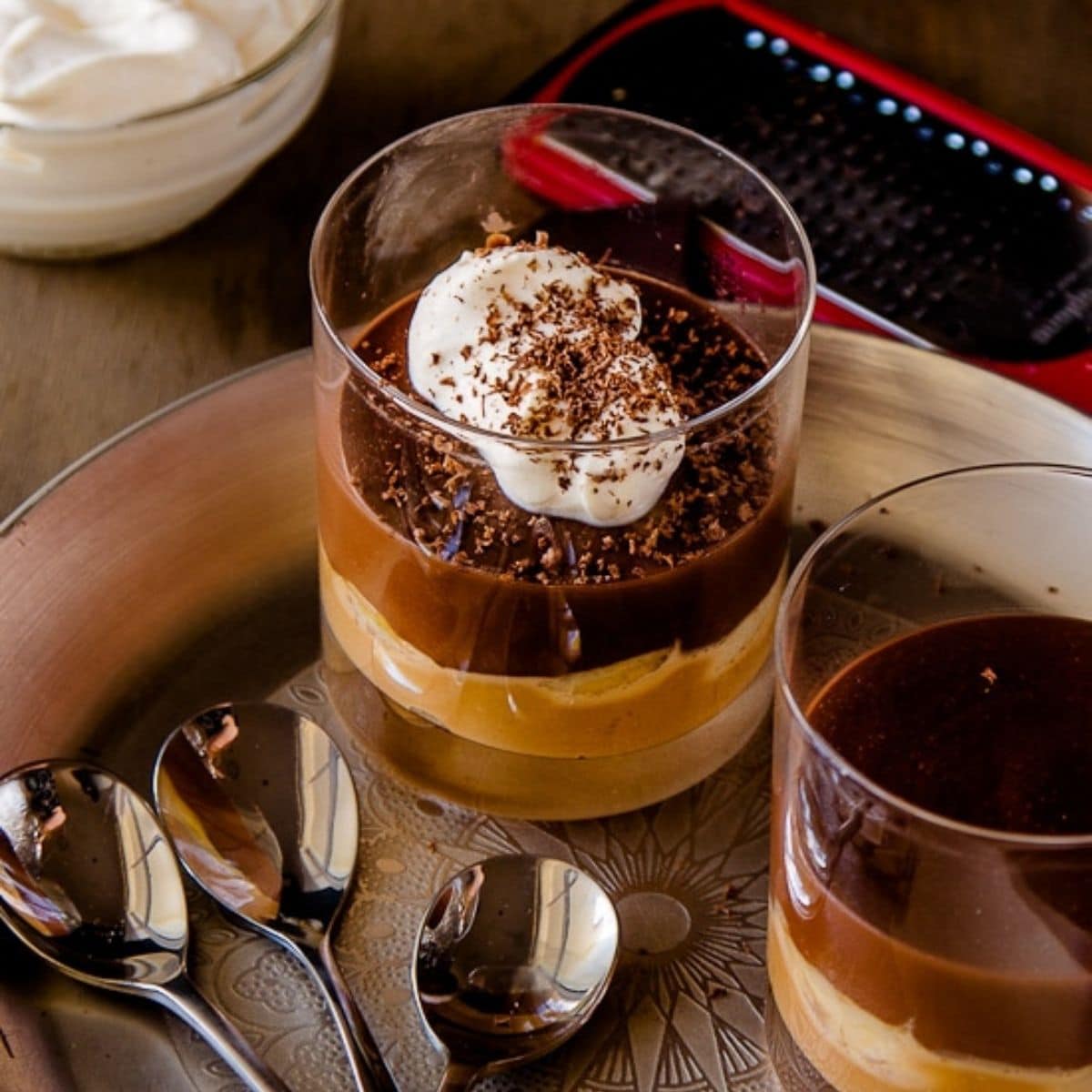 Let's make the Best Banoffee Chocolate Pudding!
Now, onto making the world's best Banoffee Chocolate Puddings.
We begin with a layer of dulce de leche. This sticky, sweet base is then topped with bananas lightly fried in butter. You could add a little brown sugar when frying the bananas if you really want to, but I felt with the sweetness of the dulce de leche, adding yet more sugar was unnecessary. But if you prefer a sweeter pudding - go for it!
If you love the flavor of dulce de leche - be sure to check out these Dulche De Leche Cupcakes too!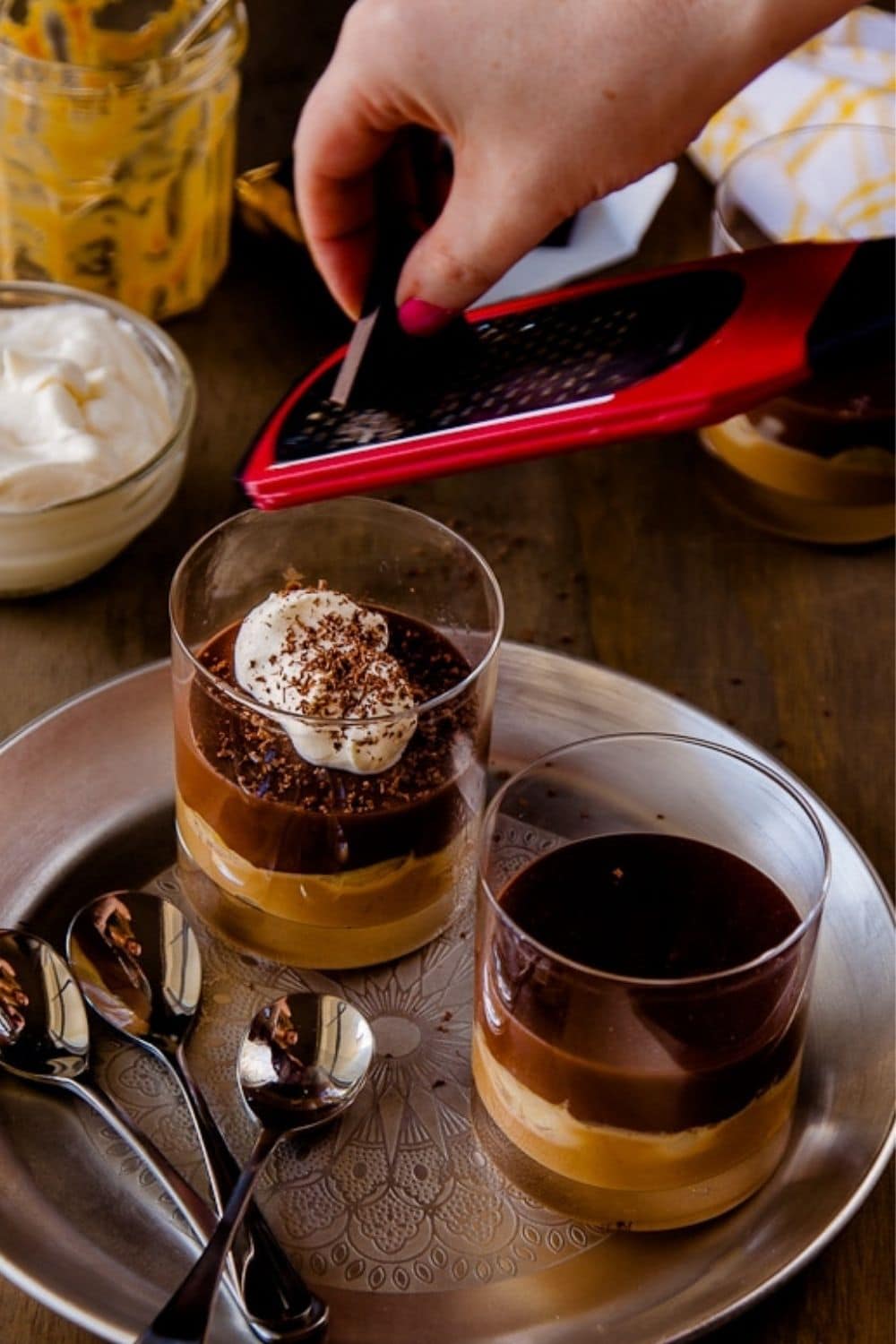 The dulche de leche is then topped with a creamy chocolate, slightly bitter pudding that isn't half as sinful as it looks. The chocolate pudding somewhat reminds me of a béchamel in that it has a milk base thickened with flour over a low heat. Once thickened, roughly chopped 70% cocoa chocolate is whisked in to make the most divine chocolate pudding you have ever tasted. The bitterness of the chocolate works so well with the sweet bananas and sticky caramel.
If you want to skip the dulce de leche and bananas, the pudding is brilliant served with fresh strawberries and cream, or caramelised orange segments. However, you may require a touch more sugar if you intend to stick with the 70% cocoa chocolate.
What more could you want - other than a spoon to eat one right now?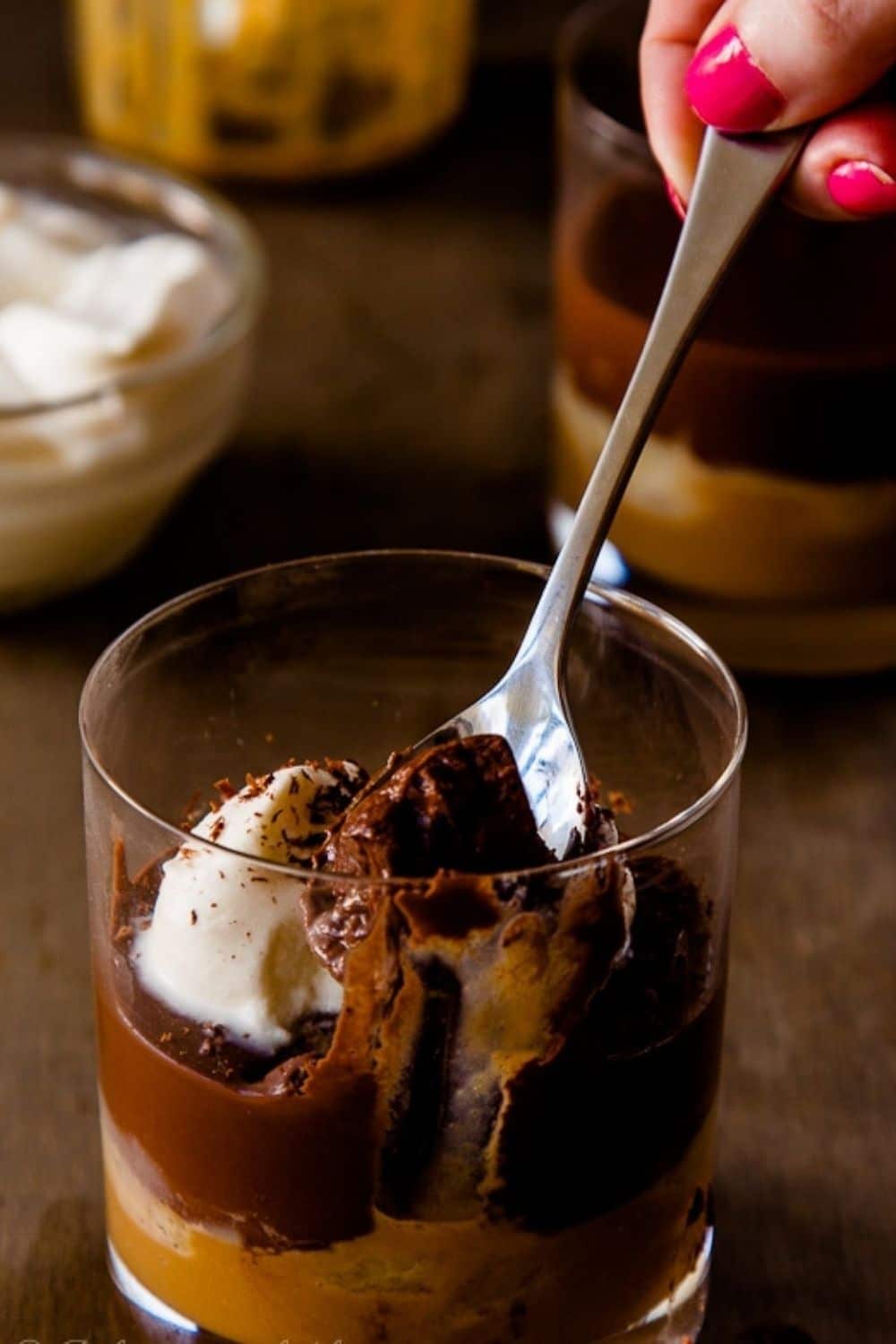 Want more delicious recipes?
Subscribe to the Delicious Everyday weekly newsletter. You will get a complimentary guide to vegetarian pantry essentials, and you'll never miss another recipe!
And don't forget to follow Oh My Veggies on Pinterest, Facebook and Instagram
Recipe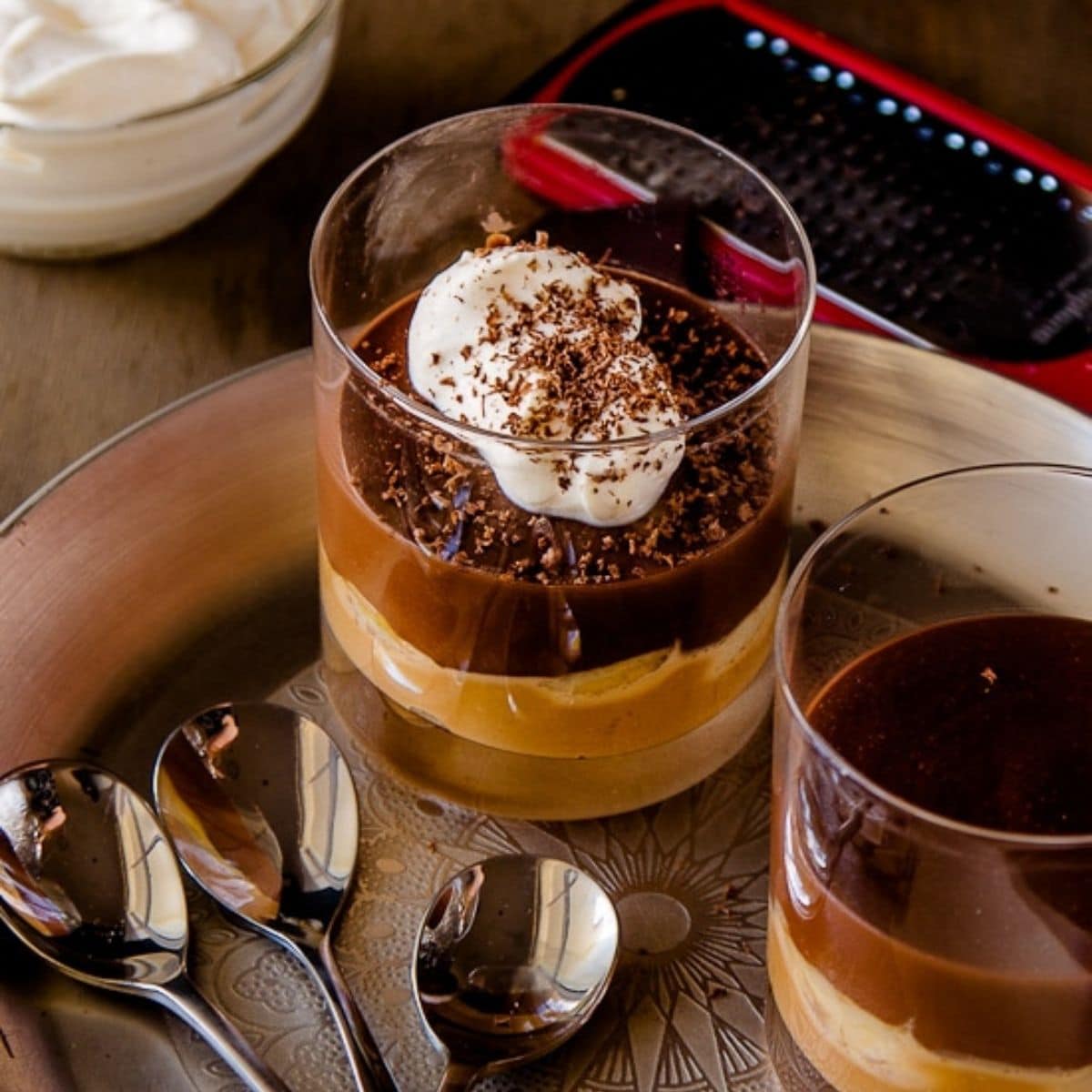 Ingredients
14

oz

condensed milk

sweetened

pinch

sea salt

3

bananas

just ripe, sliced

2

tbsp

butter

1

tbsp

flour

heaped, all purpose

⅛

cup

brown sugar

2

cups

milk

100

g

chocolate

70% cocoa, roughly chopped
Instructions
To make the dulce de leche preheat the oven to 220 celsius (425 Fahrenheit) and pour the condensed milk into a casserole dish and sprinkle with sea salt and stir to combine. Covering with a tight fitting lid or foil and place the casserole dish inside a large roasting pan and fill with water so that the water level is ½ the height of the casserole dish. Bake for 90 minutes until golden. Set aside to cool completely. If your dulce de leche appears lumpy after it comes out of the oven don't panic. Use an immersion (stick blender) to blend until smooth and glossy.

Heat a large frying pan over a medium low heat and add the butter. Once the butter has melted add the banana slices (you may have to cook the bananas in a couple of batches) and fry until softened. Remove from the heat and set aside to cool.

Take 6 small glasses and divide the dulce de leche between them. Top with the banana slices and set aside.

In a small saucepan add the flour and sugar and whisk in a small amount of milk and combine until a smooth paste forms. Add the remaining milk and whisk and place over a medium low heat. Whisk until the mixture thickens. This can take some time, you don't need to whisk all the while, but do keep an eye on the mixture and whisk now and again to prevent lumps forming.

Remove from the heat and add the chocolate. Leave the chocolate to melt for a minute before whisking into the mixture. Divide the chocolate mixture between the glasses and refrigerate until ready to serve. Serve topped with a dollop of cream and grated chocolate.
Notes
If you decide to make the chocolate pudding on it's own you may need to increase the sugar slightly to counteract the bitterness of the 70% cocoa chocolate, depending on your tastes.
Nutrition
Calories:
454
kcal
Carbohydrates:
68
g
Protein:
9
g
Fat:
18
g
Saturated Fat:
10
g
Cholesterol:
40
mg
Sodium:
157
mg
Potassium:
618
mg
Fiber:
2
g
Sugar:
60
g
Vitamin A:
465
IU
Vitamin C:
6.8
mg
Calcium:
291
mg
Iron:
0.8
mg
Craving more veg-friendly recipes?
Shop our collection of vegetarian and vegan cookbooks, including our new Vegan Thanksgiving and Vegan Christmas cookbooks!