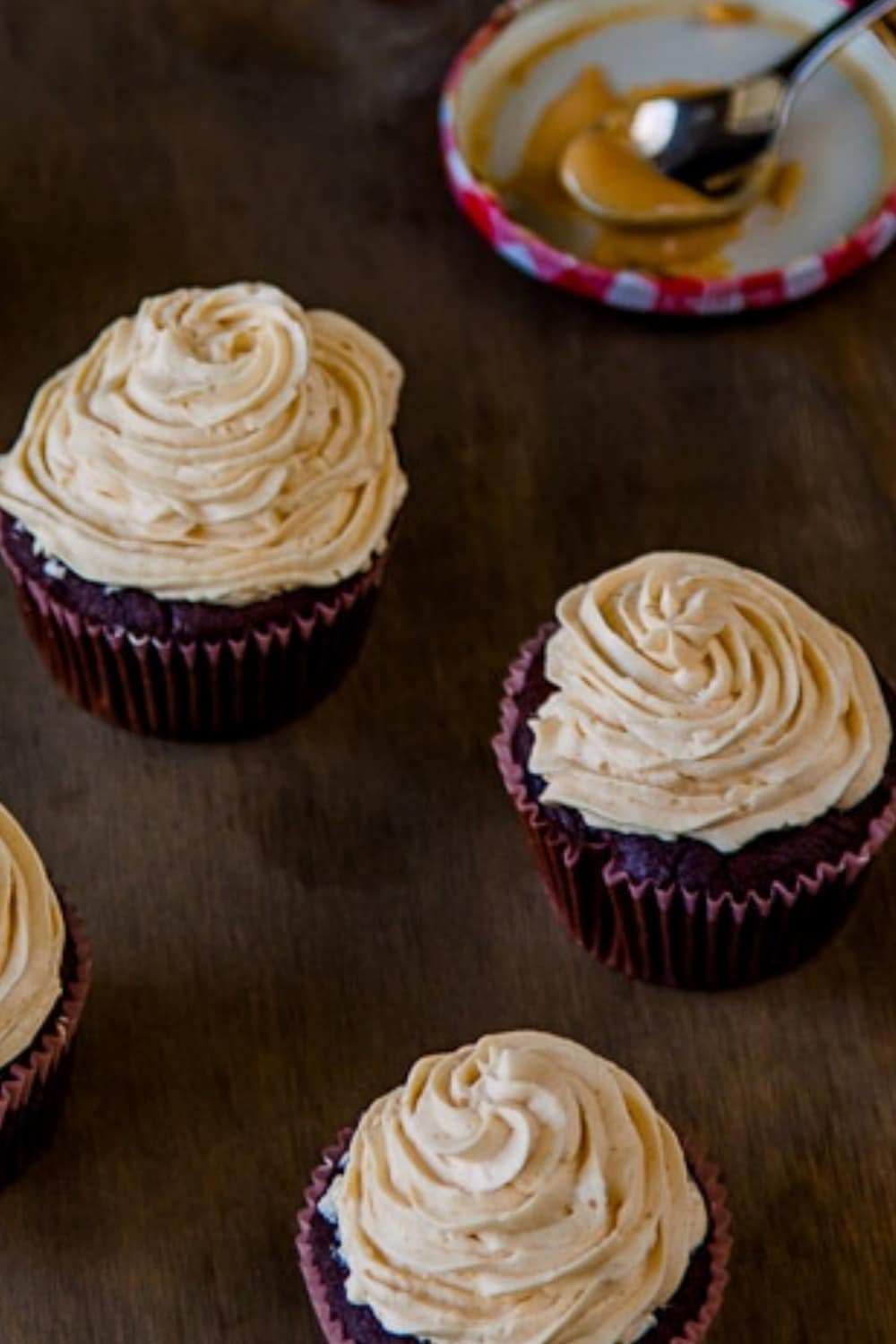 It was my birthday yesterday and I had the most wonderful day being pampered by my husband.
It started with him excitedly giving me a birthday card. After our first few years together he now understands that I love thoughtful cards, and that they can often mean more to me than any gift. His card was indeed thoughtful, in fact it brought tears to my eyes. This was quickly followed by gifts, and I couldn't help but laugh when I saw the little girl wrapping paper, which has become somewhat of a birthday tradition as each year he wraps my presents in Princess style paper. This year though it was fairy paper, for something different.  Along with a copy of [amazon_link id="1608197018" target="_blank" ]Heston Blumenthal At Home[/amazon_link], I received a gorgeous green silk dress and a dvd of one of my favourite movies.
Then came a breakfast of lemon pancakes. Pancakes are my husbands breakfast speciality, and I'm only too happy to enjoy them on the all too rare occasions that he cooks nowadays.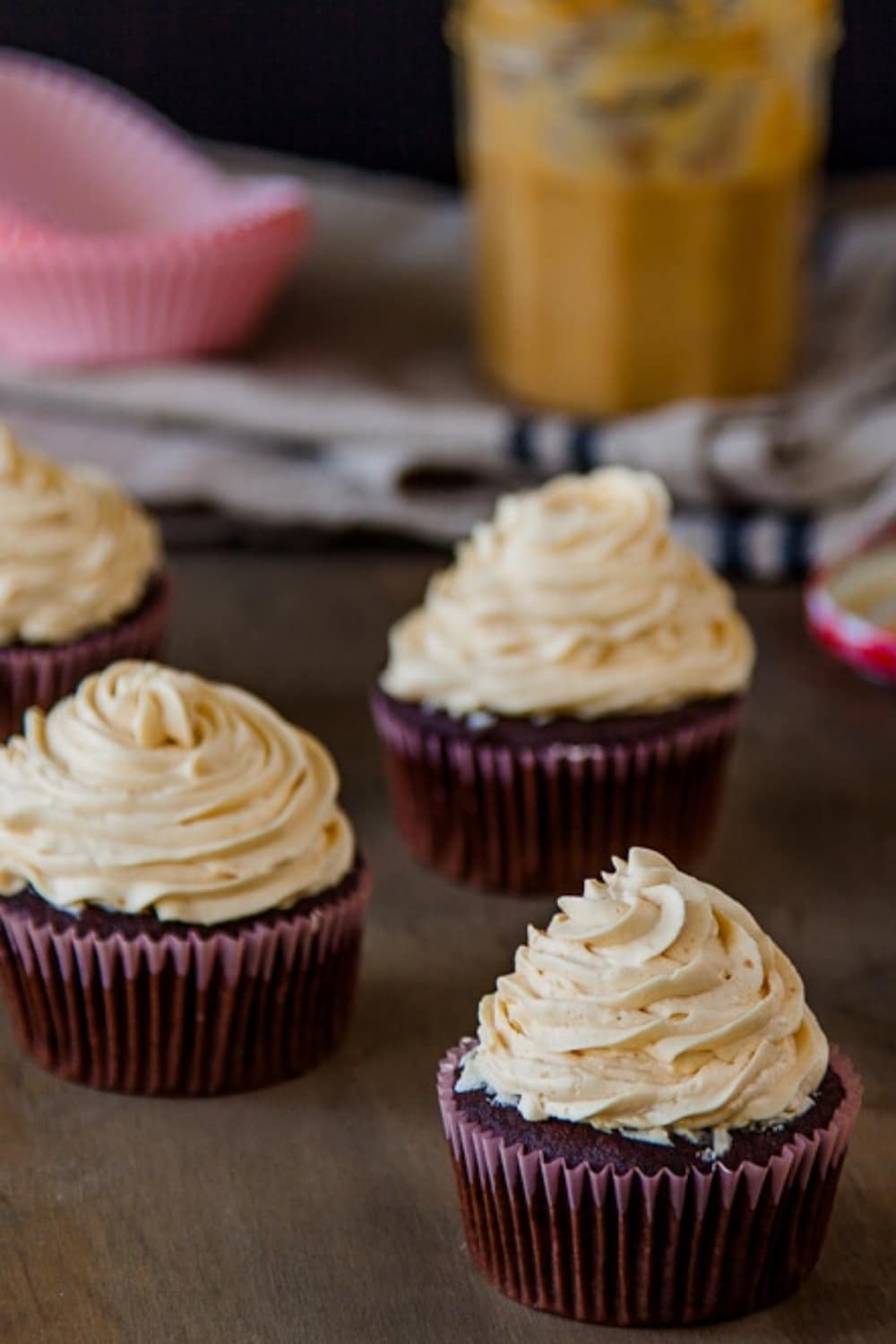 As I finished my pancakes he disappeared for a while, and I soon discovered he'd been busy preparing a candlelit bath, complete with a glass of champagne. Every few minutes he came to check if my champagne glass needed a top up, or if I'd like a snack or anything else. What more can a girl ask for!
And that's how I feel about these Double Chocolate Dulce de Leche cupcakes. They are delicious, dark and divinely chocolatey cupcakes. With melted chocolate and cocoa in the batter, they have a rich chocolate taste that many chocolate cupcake recipes lack, and filled with dulce de leche and topped with a dulce de leche Italian meringue buttercream they are all a birthday girl could ask for.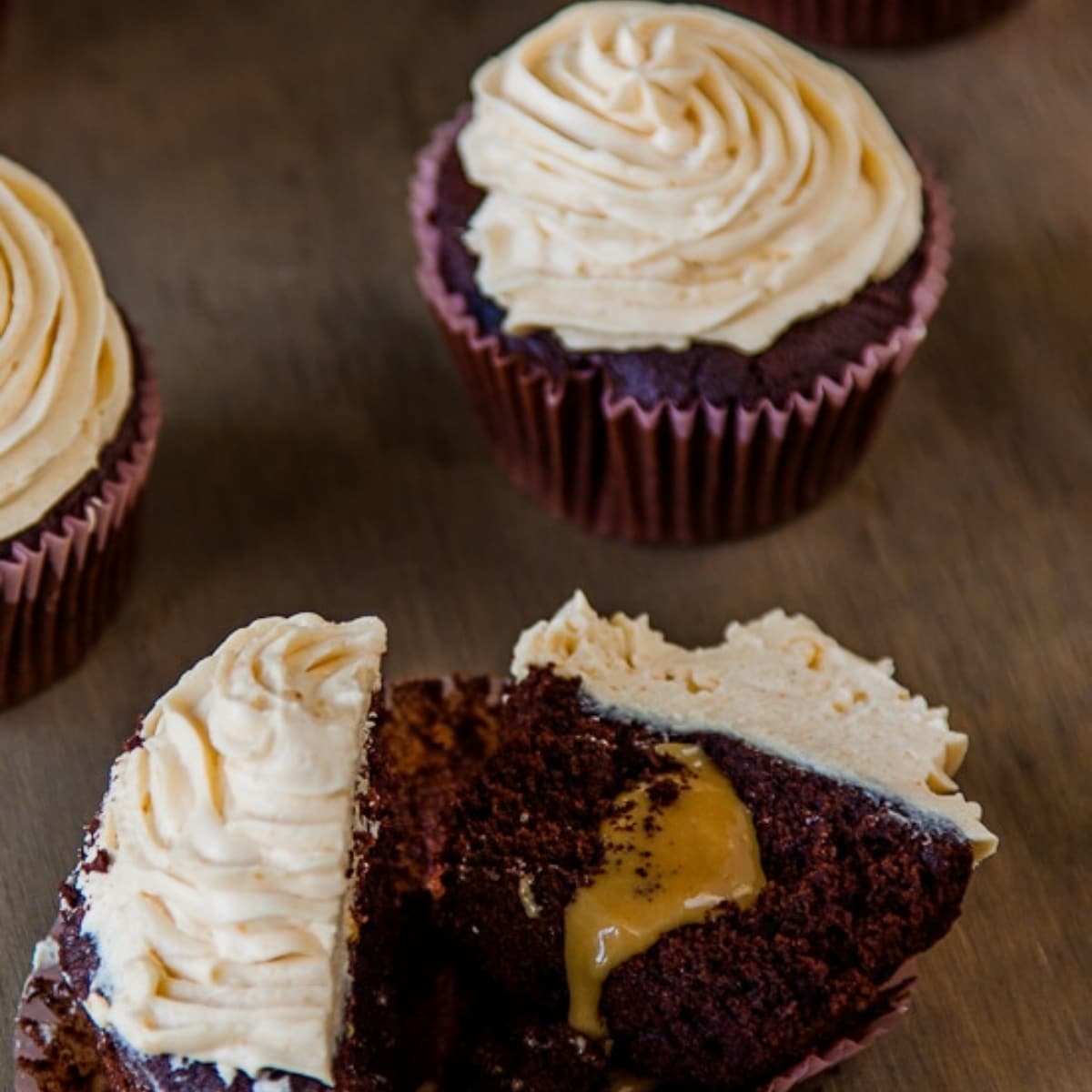 Recipe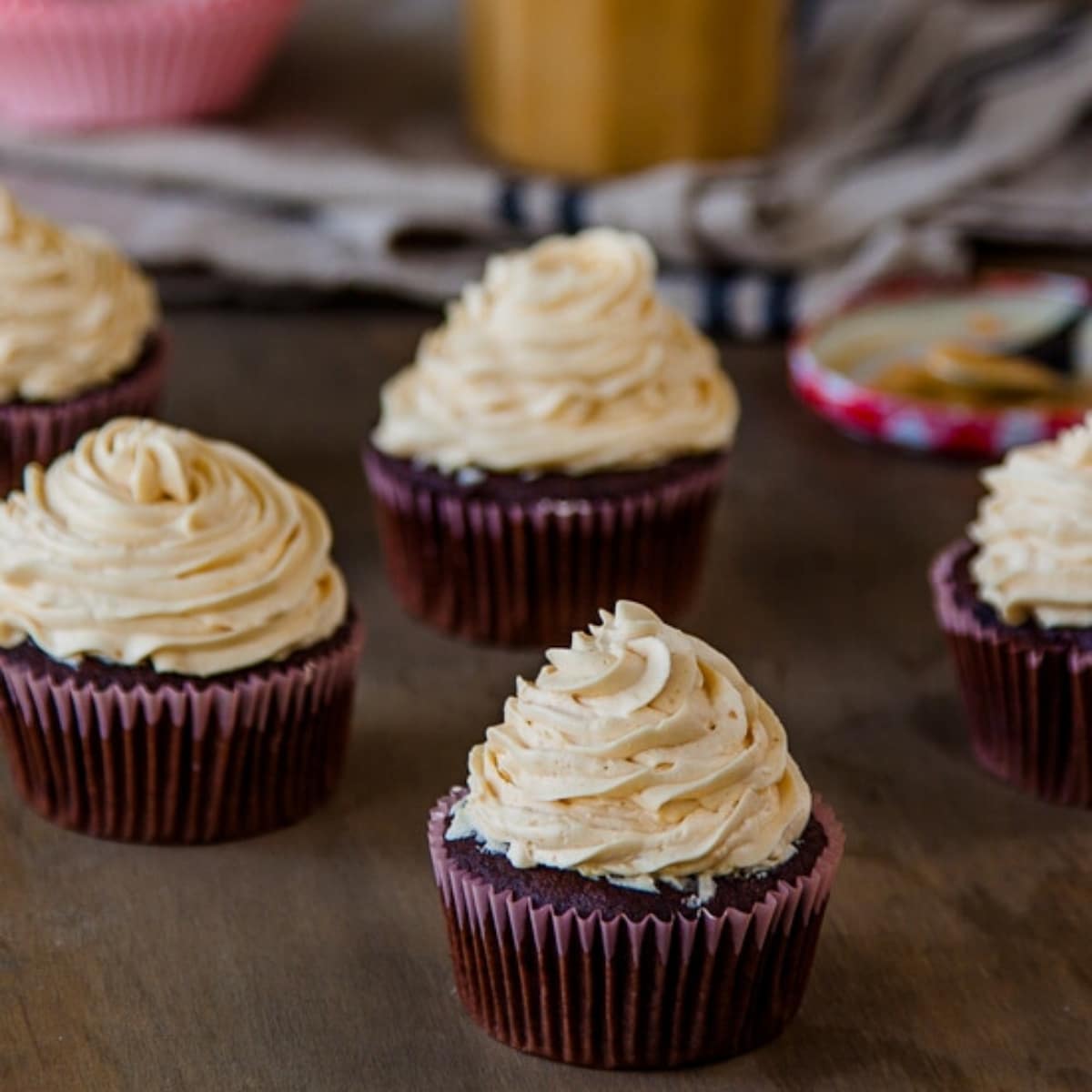 Ingredients
CHOCOLATE CUPCAKES:

110

g

of 70% cocoa chocolate

chopped into pea sized pieces

35

g

of Dutch process cocoa

90

g

of unsalted butter

2

eggs

150

g

of dark brown sugar

90

g

of plain flour

all purpose

tsp

¼ of baking soda

pinch of salt

125

ml

of buttermilk

DULCE DE LECHE:

2

tins sweetened condensed milk

big pinch of sea salt

ITALIAN MERINGUE BUTTERCREAM

180

g

of caster sugar

2

tsp

of golden syrup

50

ml

water

3

egg whites

300

g

of unsalted butter

at room temperature, and cut into cubes

½

cup

Dulce de Leche
Instructions
Begin by making the cake. Preheat the oven to 170 degrees celsius (340 Fahrenheit) and line a

cupcake tray

with cupcake liners.

Place the chocolate and cocoa in a heat proof bowl and set aside. Melt the butter in a small saucepan over a medium-high heat and pour into the chocolate and cocoa mixture and stir until smooth. Set aside.

In a separate bowl whisk together the eggs and brown sugar until the sugar is dissolved. Pour into the chocolate mixture and stir until well combined.

Sift the flour, baking soda and salt into a separate bowl. Sift again.

Add one third of the flour mixture to the chocolate mixture and mix until well combined. Add half the buttermilk and mix until combined. Add another third of the flour mixture, mixing until combined, before adding the remaining buttermilk and flour. When the mixture is thoroughly combined divide between the cupcake liners. Bake for 15 to 17 minutes of until the cupcakes spring back when pressed. Remove from the oven and cool on a wire rack.

Next make the dulce de leche. Preheat the oven to 220 celsius (425 Fahrenheit) and pour the condensed milk into a casserole dish and sprinkle with sea salt and stir through before covering with a tight fitting lid. Place the casserole dish inside a large roasting pan and fill with water so that the water level is ½ the height of the casserole dish. Bake for 90 minutes until golden. Set aside to cool.

To make the Italian buttercream place the sugar, golden syrup and water in a saucepan and mix until well combined. Use a pastry brush to dislodge any stray grains of sugar before placing over a high heat. Bring to a rapid boil and add a sugar thermometer. Cook until the mixture reaches 120 celsius (248 Fahrenheit) and remove from the heat.

Place the egg whites in the bowl of an electric mixer and whisk to soft peaks. With the mixer running, slowly pour the sugar syrup into the bowl, being careful not to touch the whisk, and continue whisking until the mixture cools, around 5 to 10 minutes. Add the butter, one third at a time, and whip until fully incorporated. Then add the cooled dulce de leche and whisk until well combined.

To assemble the cupcakes cut a circle in the top of each cupcake and scoop out part of the middle of the cupcake. Fill with dulce de leche and place the top back on each cupcake.

Fill a piping bag fitted with a star shaped nozzle with the Italian meringue buttercream and pipe onto the top of each cupcake in whatever pattern you desire.
Notes
If your dulce de leche appears lumpy after it comes out of the oven don't fret. Use an immersion (stick blender) to blend until smooth. It's important the Italian meringue cools down enough before you begin adding the butter. Add the butter to soon and it could melt and turn the meringue into a soupy mess. If that happens don't stress. Simply refrigerate the mixture in the mixing bowl for an hour and begin whipping again before adding the remaining butter and flavouring.
Nutrition
Calories:
504
kcal
Carbohydrates:
50
g
Protein:
6
g
Fat:
34
g
Saturated Fat:
21
g
Cholesterol:
118
mg
Sodium:
327
mg
Potassium:
301
mg
Fiber:
5
g
Sugar:
35
g
Vitamin A:
1045
IU
Calcium:
61
mg
Iron:
2.7
mg
Craving more veg-friendly recipes?
Shop our collection of vegetarian and vegan cookbooks, including our new Vegan Thanksgiving and Vegan Christmas cookbooks!