Our vegetarian meal plans are 5-day menus that serve a family of 4 — or less if you don't mind leftovers! Click on each of the meal links below to get printable recipes, then print the meal plan and shopping list at the bottom of this post.
Here's this week's vegetarian meal plan:
Monday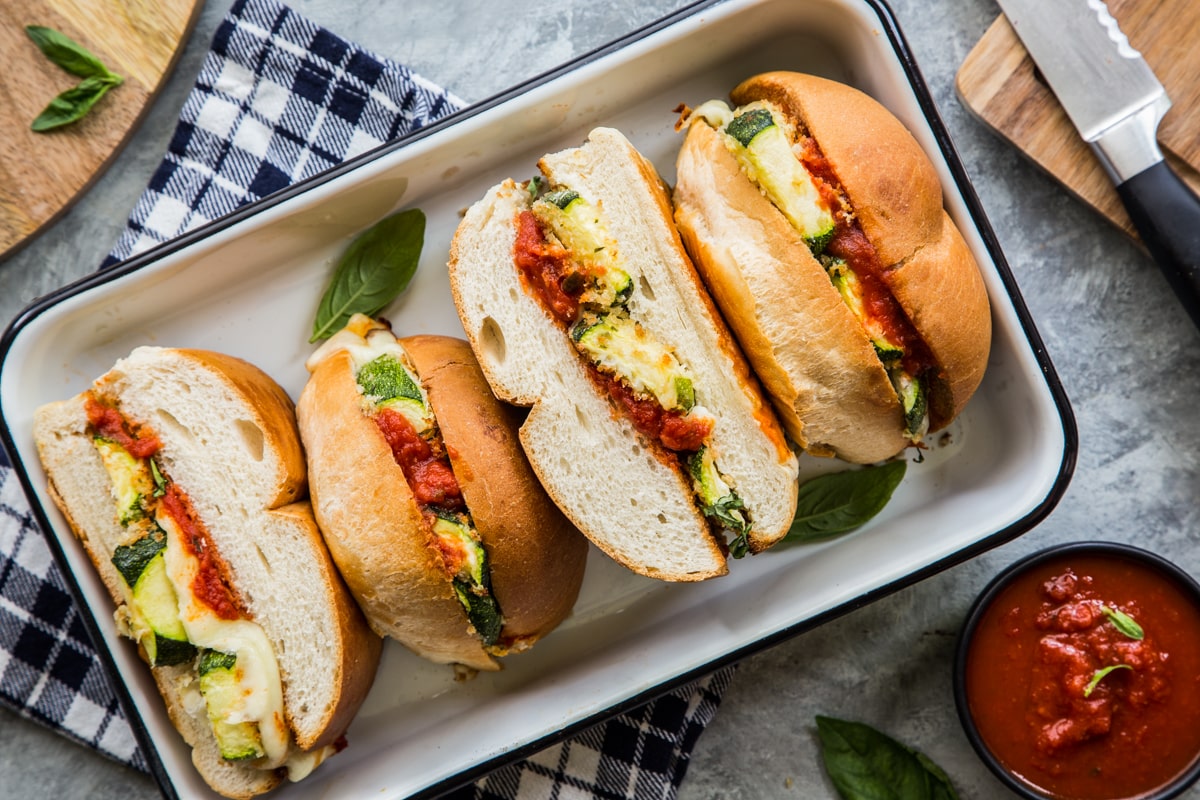 Zucchini Parmesan Sandwiches // With layers of tomato sauce and mozzarella, these sandwiches are an irresistible way to use up that summer zucchini.
Tuesday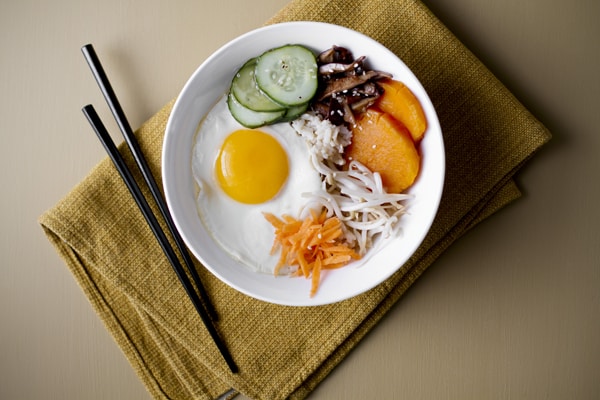 Sweet Potato Bibimbap // Flavorful Korean-inspired rice bowls get an upgrade with the addition of roasted sweet potato.
Wednesday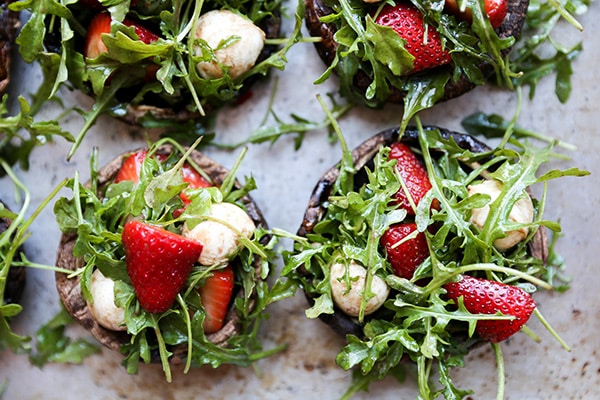 Caprese Stuffed Portabella Mushrooms // Juicy roasted portabella mushrooms are stuffed with summery Caprese salad made with your choice of strawberries or grape tomatoes.
Thursday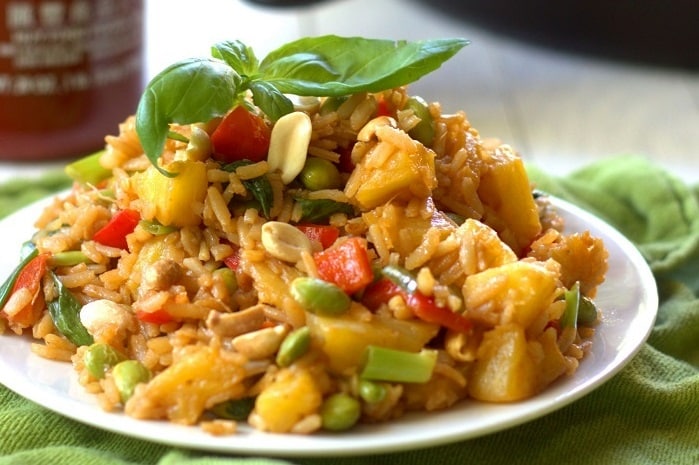 Pineapple Fried Rice with Basil and Peanuts // Juicy pineapple chunks and fresh basil take the flavor in this crispy fried rice to the next level.
Friday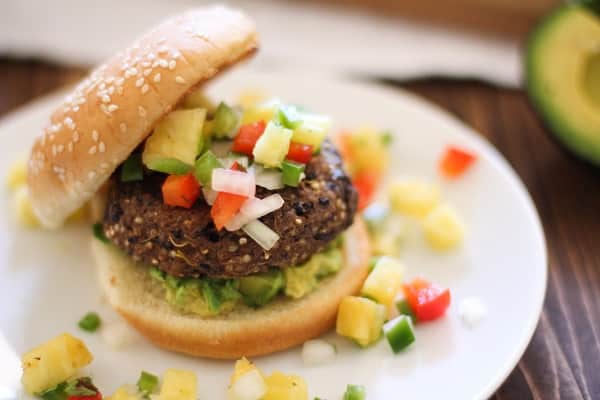 Sprouted Quionoa Black Bean Burgers with Pineapple Salsa // Sprouted quiona adds nutrition and texture to these hearty black bean burgers.
Printable Meal Plan & Shopping List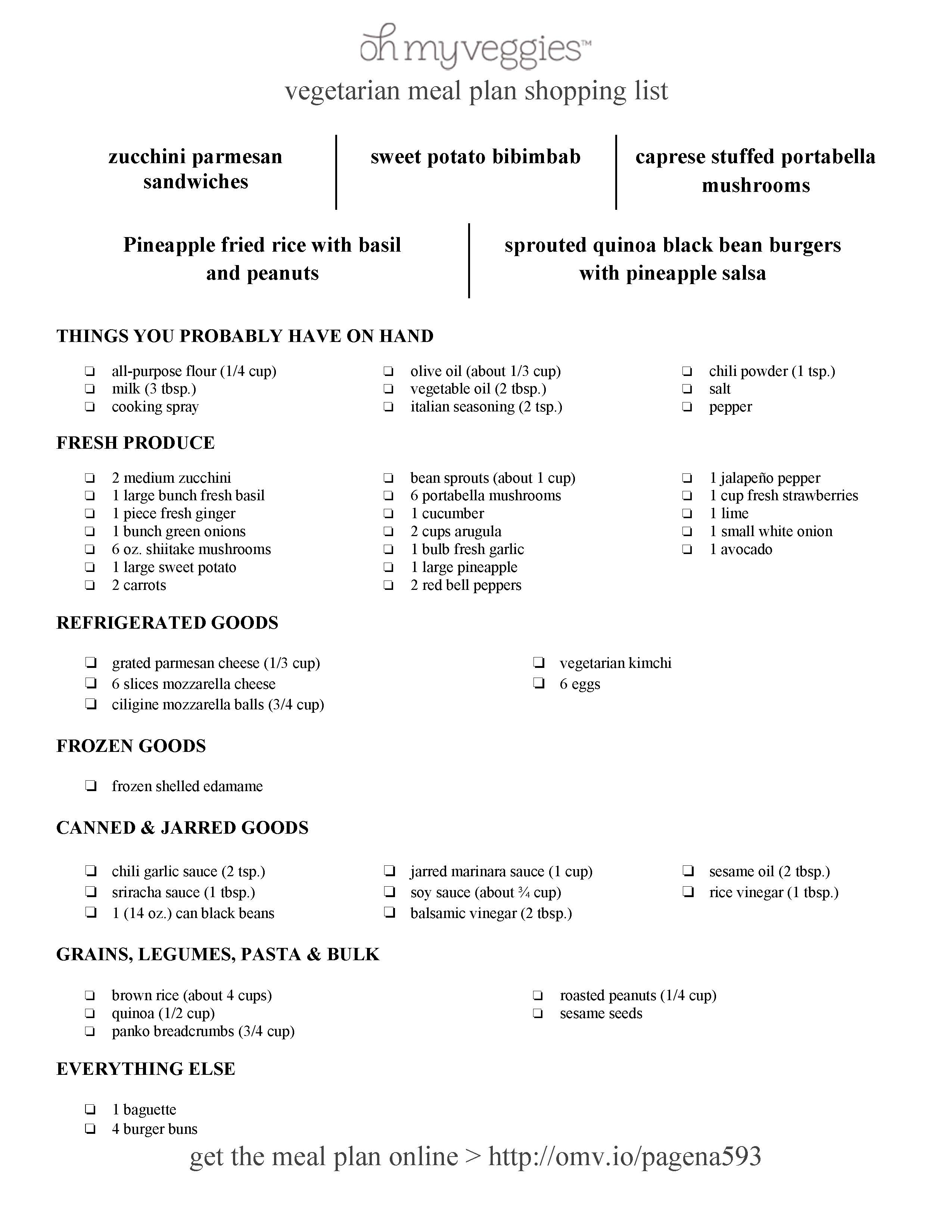 Tips for This Week's Vegetarian Meal Plan
Wednesday's stuffed portabella recipe works with strawberries or grape tomatoes. We put strawberries on the list, but feel free to switch that out with grape tomatoes if you prefer.
You'll need to start sprouting the quionoa for Friday's burgers in advance. Check out our instructions on how to do that here. Quinoa should just take a day or two.
Thursday's fried rice recipe works best with leftover rice that's a day or two old, so make extra when you cook Tuesday's bibibmap and it will be ready to go by Thursday.
Click here for a printable version of this week's vegetarian plan and shopping list.
Find more dinner ideas from our Meatless Meal Plan archives.