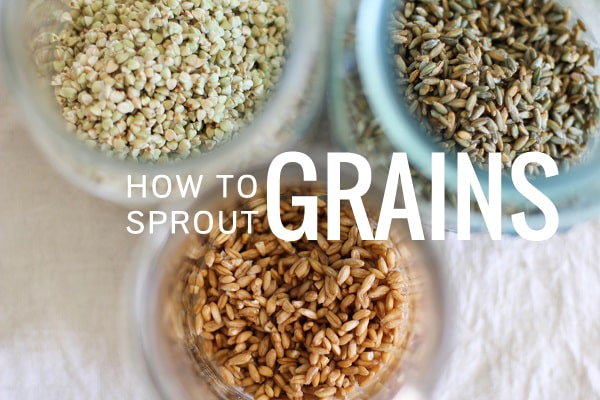 Have you ever sprouted your own grains? Chances are, if you have dabbled into the raw food diet, the answer is a big "yes!" Even if you haven't sprouted grains at home, you may have noticed sprouted grain bread at the grocery store and have wondered what all the fuss was about.
The concept of "live food" is becoming more and more popular and sprouted and fermented foods are forging their way into even mainstream food culture. Fermented and sprouted foods are considered alive and beneficial to your body. Let's learn how to sprout grains and have a looksy into their health benefits.

Why do people sprout grains?
Sprouted grains are easier to digest than non-sprouted grains! All raw whole foods contain enzymes, vitamins, minerals, and/or proteins, which help nourish your body. While the health benefits of most vegetables can be immediately absorbed when eaten raw or steamed, the full nutritional value of grains is locked up within them, so to speak. In essence, grains can not only be difficult to digest, but they are not as beneficial to your body when they aren't sprouted.
Sprouting grains breaks down some of the difficult-to-digest proteins and sugars, and releases the caged up vitamins, enzymes, and minerals, particularly zinc, vitamin C, and iron. This is not only incredibly healthy, but it also gives your body a digestive break because much of the "digestion" of the grain has already occurred through sprouting! Those who are sensitive to gluten and other proteins found in wheat (and other grains) may have an easier time processing sprouted grains.
For more information regarding the health benefit of grains, read McKel's What the Spelt?! 6 Healthy Grains to Add to Your Diet.
What are sprouted grains?
Just as flowers bloom from seeds, raw grains, nuts, and legumes contain reproductive parts that allow them to grow and reproduce. After grains are soaked in water then strained and left at room temperature in the dark, their reproductive system kicks in, and they begin to sprout and ferment. This fermentation process is what breaks down the proteins and sugars mentioned above and releases the probiotics that are indigenous to the grains. Added bonus: when sprouted grains are soaked, the liquid becomes probiotic-rich, and is known as rejuvalac. You can drink rejuvelac for its probiotic qualities, or use it to make vegan nut cheese!
Which grains are sprout-able?
Simply put: all of them! As long as you are using raw grains--meaning grains that have not been processed, heat treated, or roasted--you can sprout them! From corn to spelt, rye, buckwheat, barley, oats, einkorn, rice, you can sprout grains of any kind. Fun fact: you can also sprout legumes, seeds, and nuts!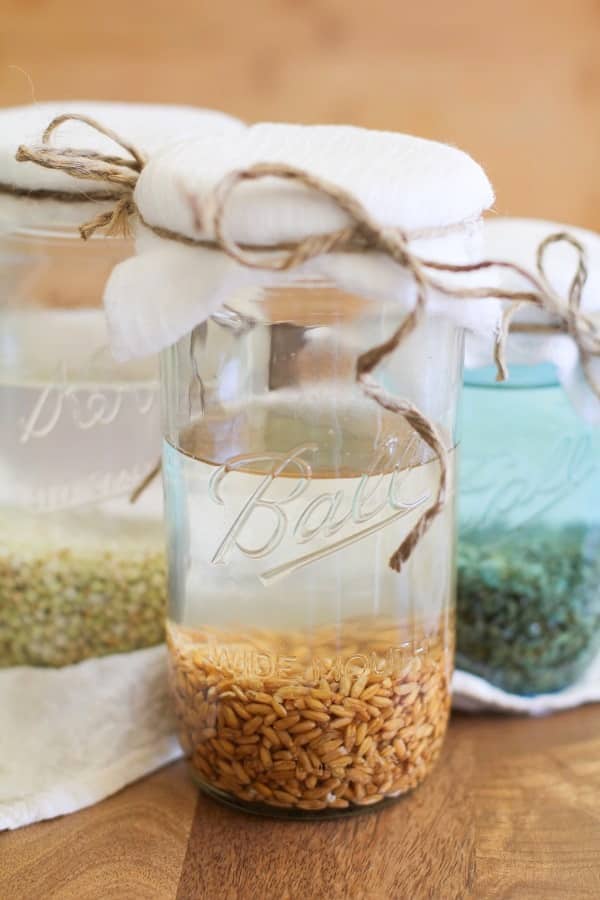 What do I do with sprouted grains?
Between adding them to salads, grinding them into flour for baked goods, or dehydrating them to make raw bread or bars, there are many uses for sprouted grains. Most commonly, sprouted grains are added to green salads, or tossed with dressing and other goodies to make grain salads. If you have a flour ginder (or really awesome blender), you can grind your own flour for baked goods. Additionally, those who have vegetable gardens at home may sprout grains to add to their growing mix.
How long does it take to sprout grains?
The temperature of your house determines how quickly the grain will sprout (warmer houses = shorter sprout time). I have found that it takes about 3 days from start to finish (including soak time) for my grains to sprout, and my home is normally kept around 65ºF. If you are sprouting grains in order to plant them in your garden, the sprout time will be longer (4+ days). For the most part, the length of sprouting time is the same for each grain.
Are you ready? Let's get started!
How to sprout grains:
Rinse your raw (uncooked/unroasted) grains under lukewarm water (I sprout 1 cup of grains at a time, but it's up to you how much you want to sprout).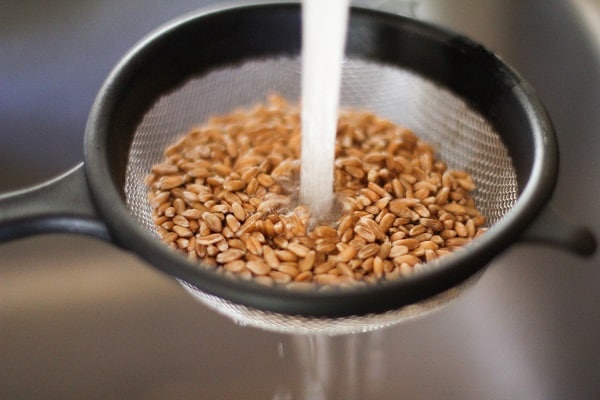 Pour the grains into a large mason jar and cover the grains with 2 to 3 inches of water.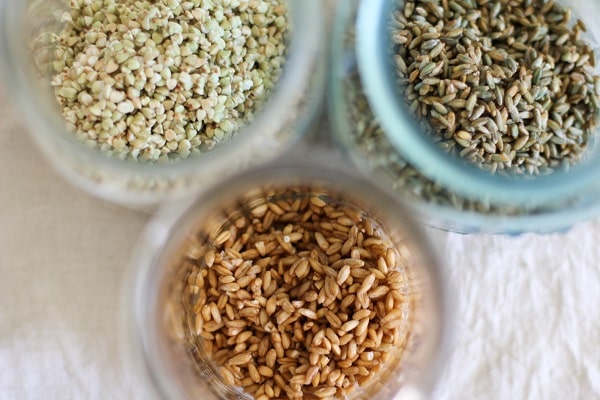 Cover the jar with cheesecloth bound by a rubber band or a sprouting lid so that the bugs don't get in. Remember, we are fermenting grains here and fermentation releases gasses that insects are SUPER attracted to. Allow the grains to soak for 24 hours in a dark spot (a cupboard or closet works perfectly).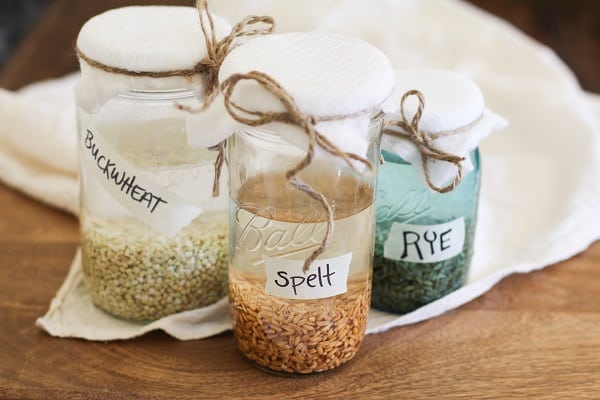 Drain the grains and rinse well. If you sprout buckwheat groats, don't be surprised when they form a gelatinous goo around them. This is normal and safe; however, this substance can form mold when left unattended, so just be sure you rinse well, and don't allow the grains to have too much moisture around them.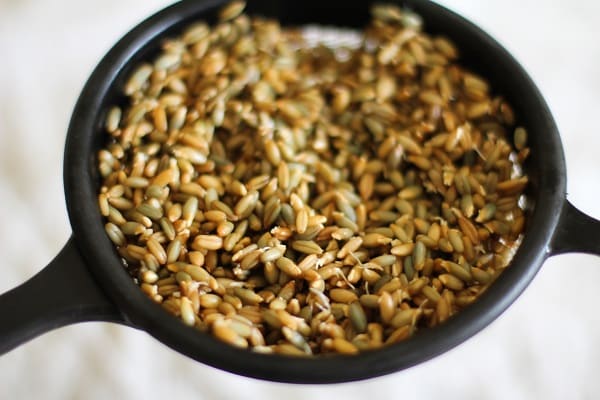 After the grains are thoroughly rinsed and drained, place them back in the jar, making sure the grains are moist but not drenched or submerged in water.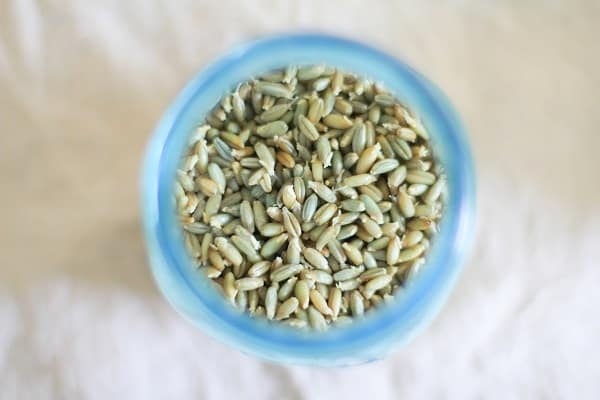 Cover the jar again with cheesecloth bound by a rubber band and lay the jar on its side in a dark spot.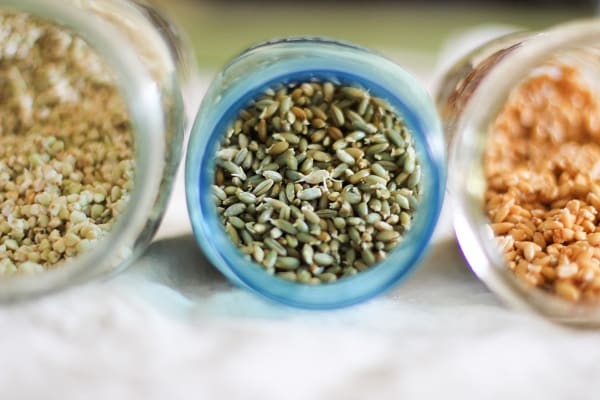 Rinse the grains 2 times each day until they sprout--this typically takes 2 to 3 days, but you will likely notice tails poking out after the first day. Remember to keep the jar covered and place it on its side between rinsings. The photo above is what the grains look like after 1 day.
After 2 to 3 days, you should see vibrant tails poking out of the grains. You are now ready to use them in your recipes!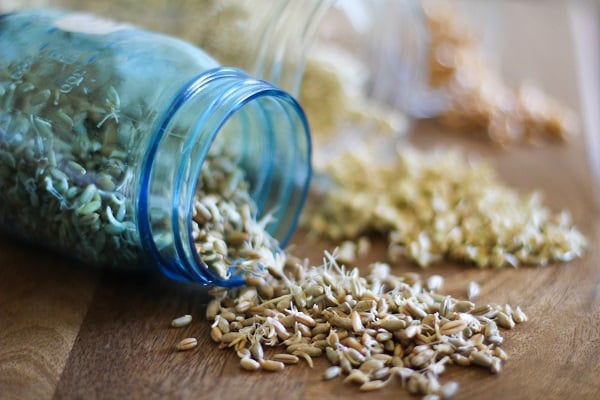 Remember: if you continue the process a few days longer, small green leaves will begin to emerge – you can plant these in your garden if you have a green thumb!
How to Store Sprouted Grains
Okay, my grains have sprouted … now what do I do?  First off, give them a good rinse. Certain grains such as buckwheat and spelt can be gooey, so giving them a good rinse will make them more palatable if you're using them in a recipe. If you don't use your grains in a recipe right away, put them in a resealable container and refrigerate them. When left at room temperature, grains will continue to sprout, so in order to stop this process, you need to stop the fermentation by chilling them.
That's all there is to it! What will you do with your sprouted grains?