This Vegan Lentil Soup is loaded with hearty vegetables and flavored with garlic and thyme. It's the perfect meal for a chilly fall or winter evening.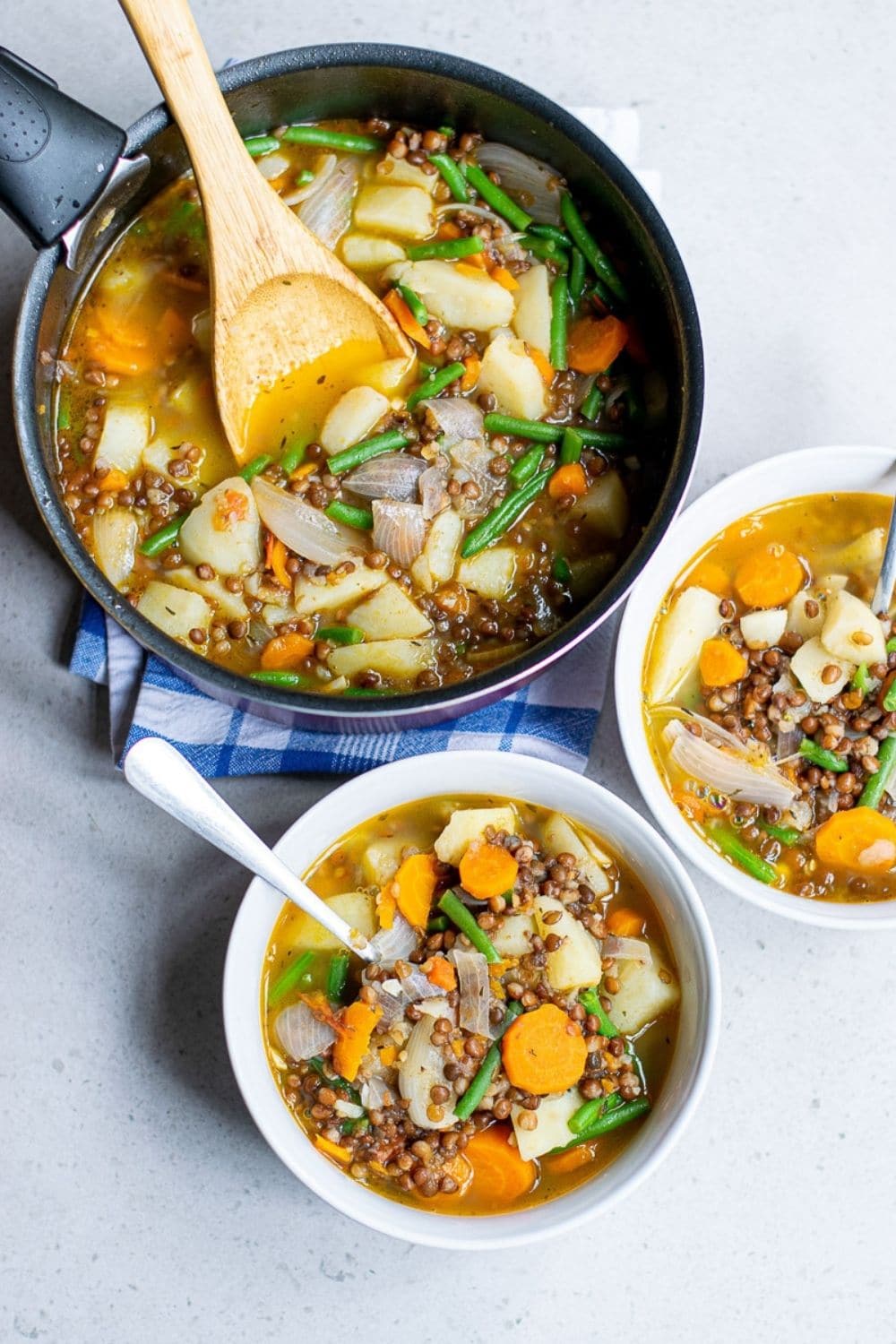 Jump to:
This one-pot meal is super healthy, too! Lentils are packed with protein and fiber—a great vegan option for those looking to add a little protein to their plant-based diets!
Making this vegan lentil soup is super simple! You start by frying the onion, garlic, and thyme, and then slowly adding in all the rest of the ingredients. Then, you just leave it alone for a while to cook, and that's it!
This vegan lentil soup recipe is...
vegan
vegetarian
plant-based
gluten-free
dairy-free
ready in 35 minutes
a hearty soup
And don't forget to grab a copy of my free vegan cheat sheet too! It's packed with my favorite easy substitutions to help you make just about any recipe vegan!
How to Make Vegan Lentil Soup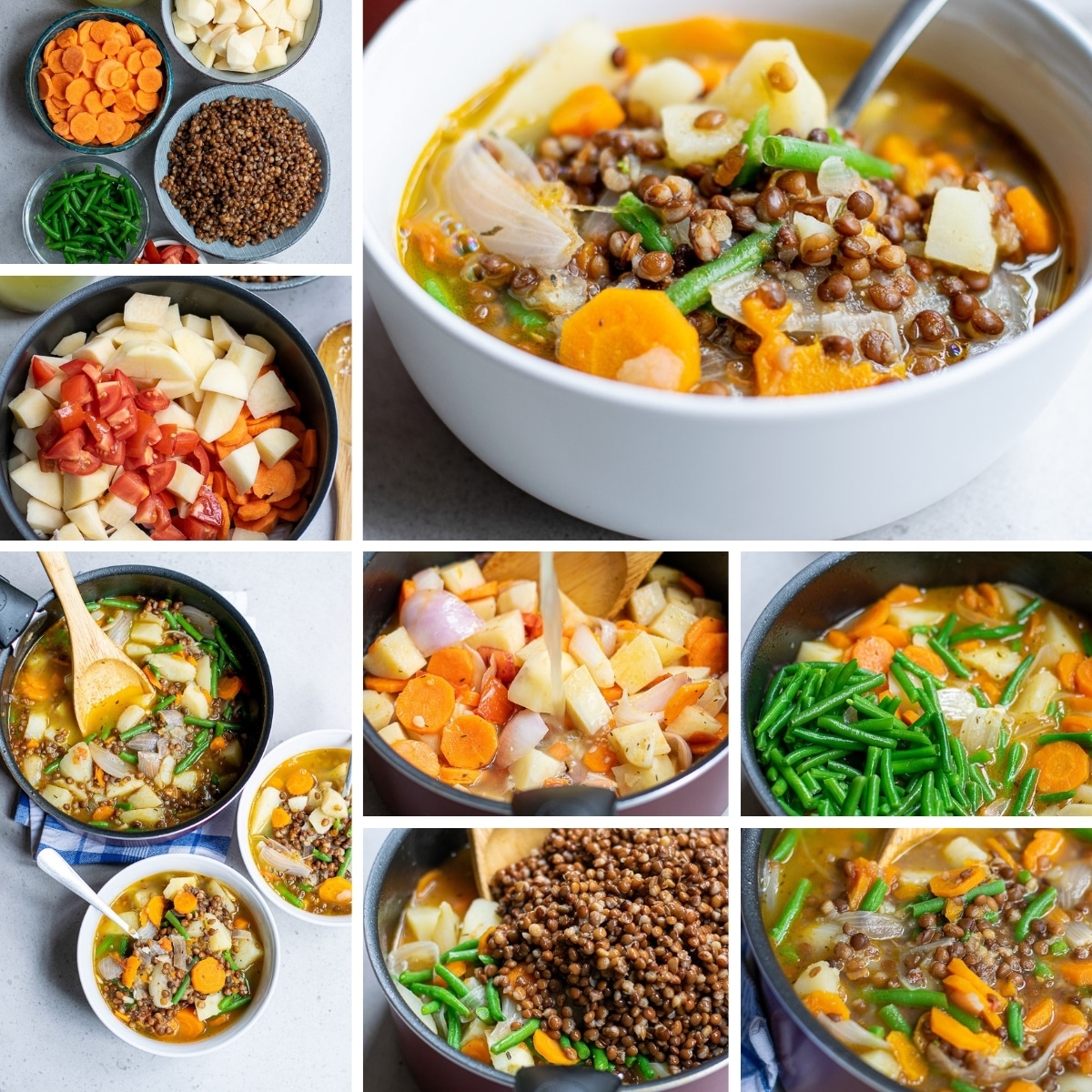 Heat a medium-large pan with olive oil.
Once hot, fry the onion, garlic, and thyme.
Add the potatoes, carrots, and tomatoes, and stir them while they cook.
Pour the vegetable broth over the vegetables, and then add the green beans.
Stir the soup and let it cook.
Add the lentils to the soup and stir well.
Bring the soup to a simmer, and then turn the heat to low-medium heat.
Cover the soup and let it cook until the carrots and the potatoes are tender.
Add salt and pepper to taste.
Remove the soup from the heat.
Serve it warm!
Scroll down for the full recipe with measurements and detailed instructions.
Tips & Tricks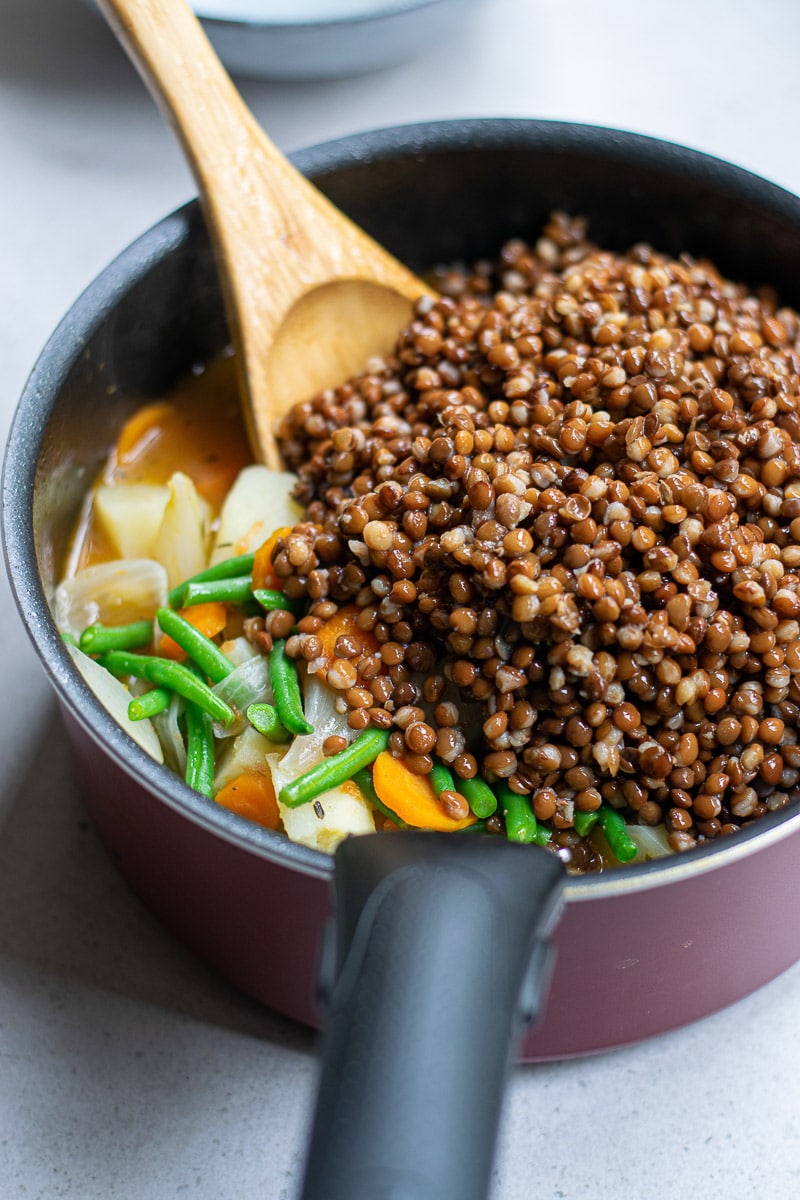 Cooking Lentils
There are multiple ways to go about cooking lentils. You can cook them on the stovetop, in a pressure cooker, or even in an Instant Pot!
To cook them on the stove, start by rinsing the lentils off. Then, add 3 cups of liquid for every 1 cup of dry lentils to your saucepan. Bring the water to a boil, then cover, reduce heat, and let them simmer until they are tender.
The cook time will depend on the type of lentils you use. For instance, brown lentils take 35–45 minutes, while red lentils may only take 15–20 minutes.
Using an Instant Pot will cut down the lentils' cooking time.
If you don't have time to cook lentils, you can always use canned lentils. Just be sure to rinse them under fresh water to remove the excess liquid.
Storage
This soup can be stored in the refrigerator for 5 days after cooking. Before storing it in the fridge, let it cool to room temperature.
If you want to save it for longer, you can store it in the freezer. To eat it after freezing, let it defrost in the fridge, and then warm it up on the stove.
Variations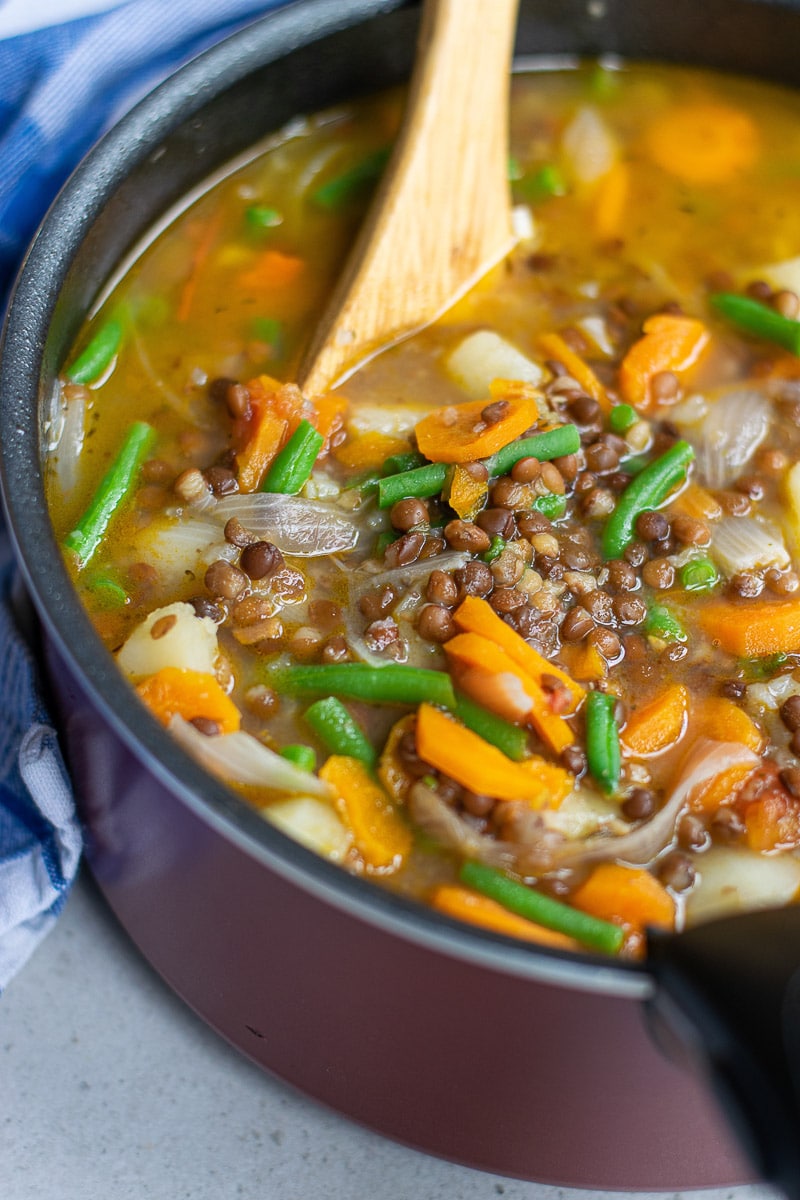 Spice It Up
If you want to add more flavor to your soup, add small amounts of coriander, cumin, or paprika. I also really love adding some fresh squeezed lemon to my soup. Yum!
You can also get a little fancy and use fresh rosemary or thyme.
Vegan Lentil Soup FAQs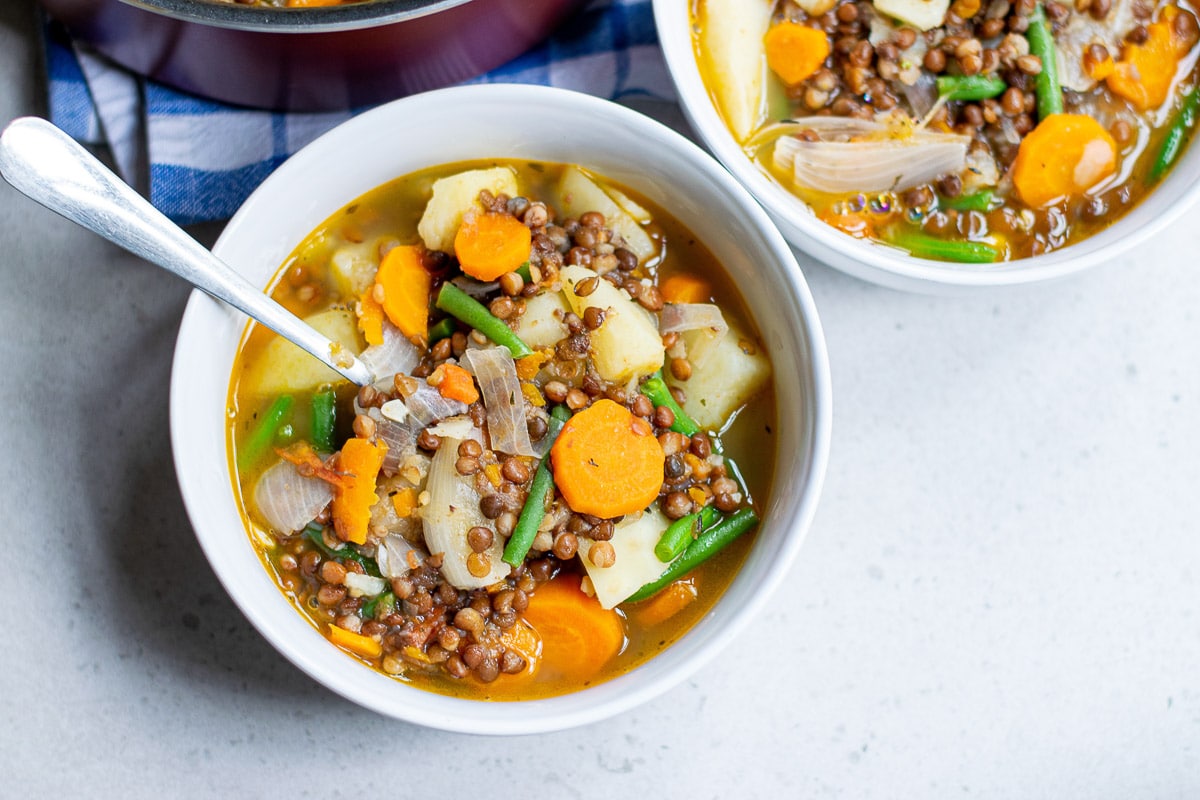 Are lentils good for vegans?
Lentils are great for vegans! High in folate, fiber, iron, and protein, lentils are great for soups, salads, and even on their own with some spices!
How do you make lentil soup from scratch?
To make lentil soup from scratch, cook lentils separately, and then add them to vegetable broth along with whatever other vegetables or spices you want, and let the soup cook until the vegetables are soft.
Which color lentils are the healthiest?
Black lentils, also known as beluga lentils, are the most nutritious of the lentils.
Red and yellow lentils are mild and sweet, but they can become mushy more easily—which means they work great for thickening soups.
Brown lentils hold shape better and have mild earthy flavor.
Green lentils also hold shape well, but they have a peppery taste.
What is a good side for lentil soup?
Some delicious sides for lentil soup are pan-fried mushrooms, pear walnut salad, dinner rolls, Greek salad, and zucchini fritters.
Are lentils a carb or protein?
Lentils are both a carb and a protein. They are a legume (think beans, soy, chickpeas) and have a high carb content but are also full of protein. For instance, 1 cup of lentils is equal to 36g of carbohydrates.
The protein content will depend on the color of the lentil, but 1 cup of brown lentils is 24g of protein.
What bread goes best with lentil soup?
Your favorite bread probably goes well with any soup! But for lentil soup, I would recommend a plain or herb baguette.
While you're here, be sure to grab our FREE 5-Day Meatless Meal Plan. It's packed with tasty recipes to make vegetarian cooking easy and delicious!
Recipe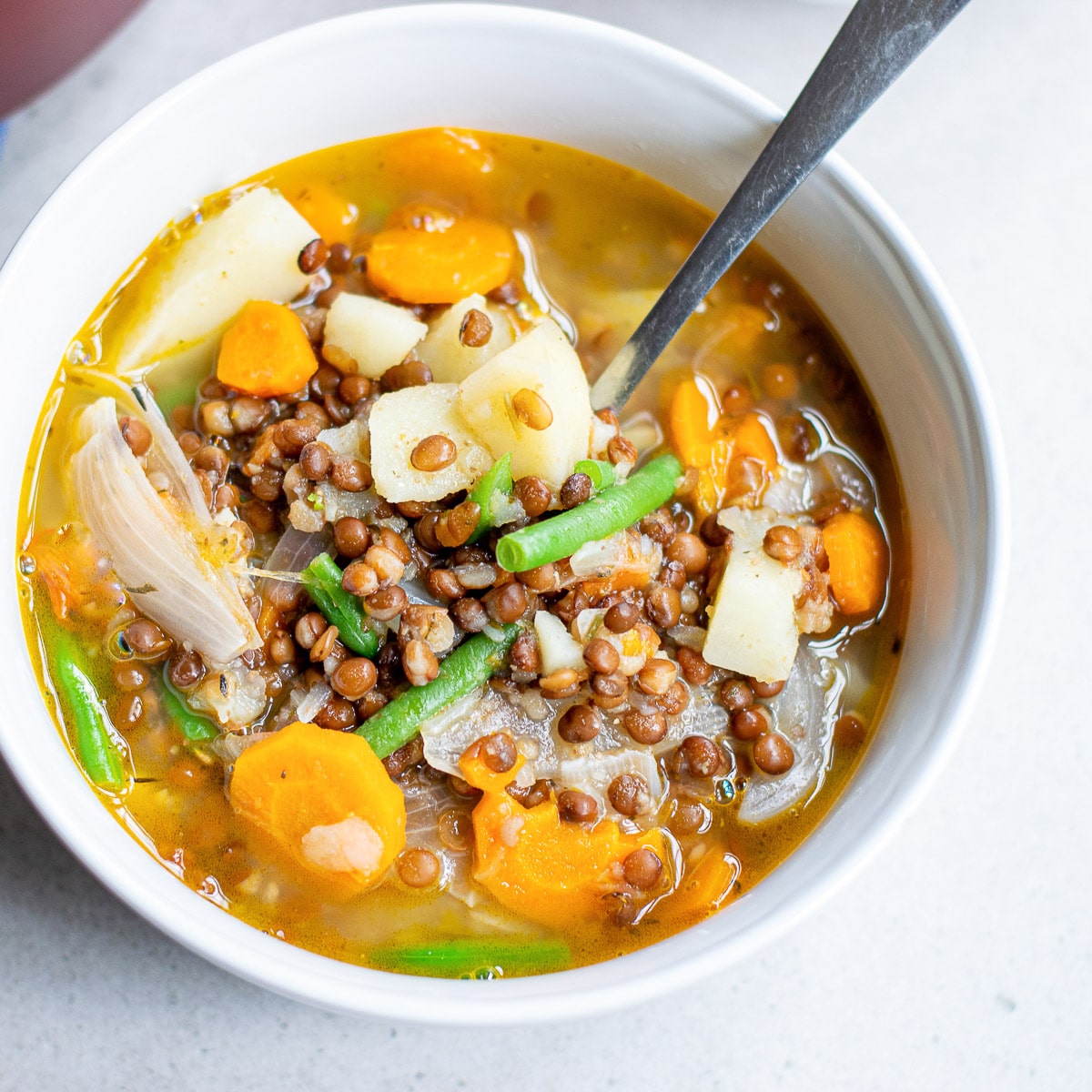 Ingredients
3

cups

brown lentils, drained and washed

3

cups

small potatoes, washed, peeled and diced

2

cups

medium carrots, cut in rings

5

cups

vegetable broth

¼

cup

green beans, chopped

¾

cup

tomatoes, diced

1

large

onion, roughly chopped

2

garlic cloves, chopped

2

tablespoons

olive oil

1

tablespoon

dried thyme
Instructions
Heat a medium-large pot on medium heat with olive oil. Fry onion, garlic and thyme. Add potatoes, carrots and tomatoes. Stir and cook for 2 minutes.

Pour vegetable broth and green beans. Stir and cook for another 2 minutes. Add lentils and stir well. Bring to simmer then turn to low medium heat, cover and cook for about 20 minutes until carrots and potatoes are tender.

Adjust taste with salt and pepper. Remove from heat.

Serve warm.
Notes
Allow to cool down before storing leftovers.
Store up to 5 days in refrigerator.
Nutrition
Calories:
478
kcal
Carbohydrates:
80
g
Protein:
27
g
Fat:
6
g
Saturated Fat:
1
g
Sodium:
825
mg
Potassium:
1423
mg
Fiber:
33
g
Sugar:
7
g
Vitamin A:
7795
IU
Vitamin C:
25
mg
Calcium:
95
mg
Iron:
9
mg
Craving more veg-friendly recipes?
Shop our collection of vegetarian and vegan cookbooks, including our new Vegan Thanksgiving and Vegan Christmas cookbooks!