This Chickpea Avocado Salad makes for a quick, healthy meal or side dish. This creamy chopped salad is ready in under 20 minutes and topped with a sweet Tahini Maple Dressing.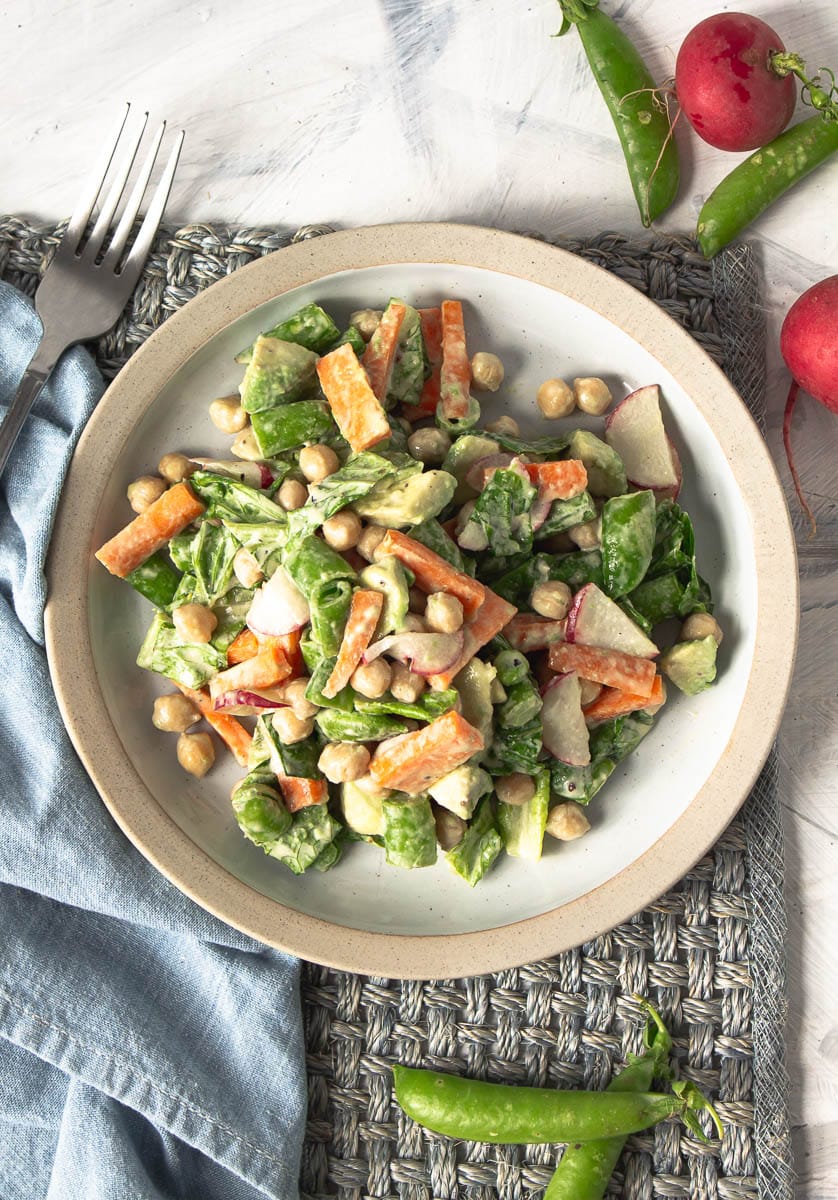 Jump to:
This vegan chopped salad is super simple to prepare. All you do is wash, dry, and cut some vegetables and then toss them with the dressing.
The ingredients are simple, but the dressing adds a delicious burst of flavor that everyone will love. 
This chickpea avocado salad recipe is...
vegan
vegetarian
plant-based
gluten-free
dairy-free
nut-free
soy-free
ready in 15 minutes
a nutritious weeknight meal or side dish
Add some rolls and make it a meal, or use this salad as a side dish for a bigger meal like these Rice Stuffed Tomatoes.
And don't forget to grab a copy of my free vegan cheat sheet too! It's packed with my favorite easy substitutions to help you make just about any recipe vegan!
How to Make Chickpea Avocado Salad with Tahini Maple Dressing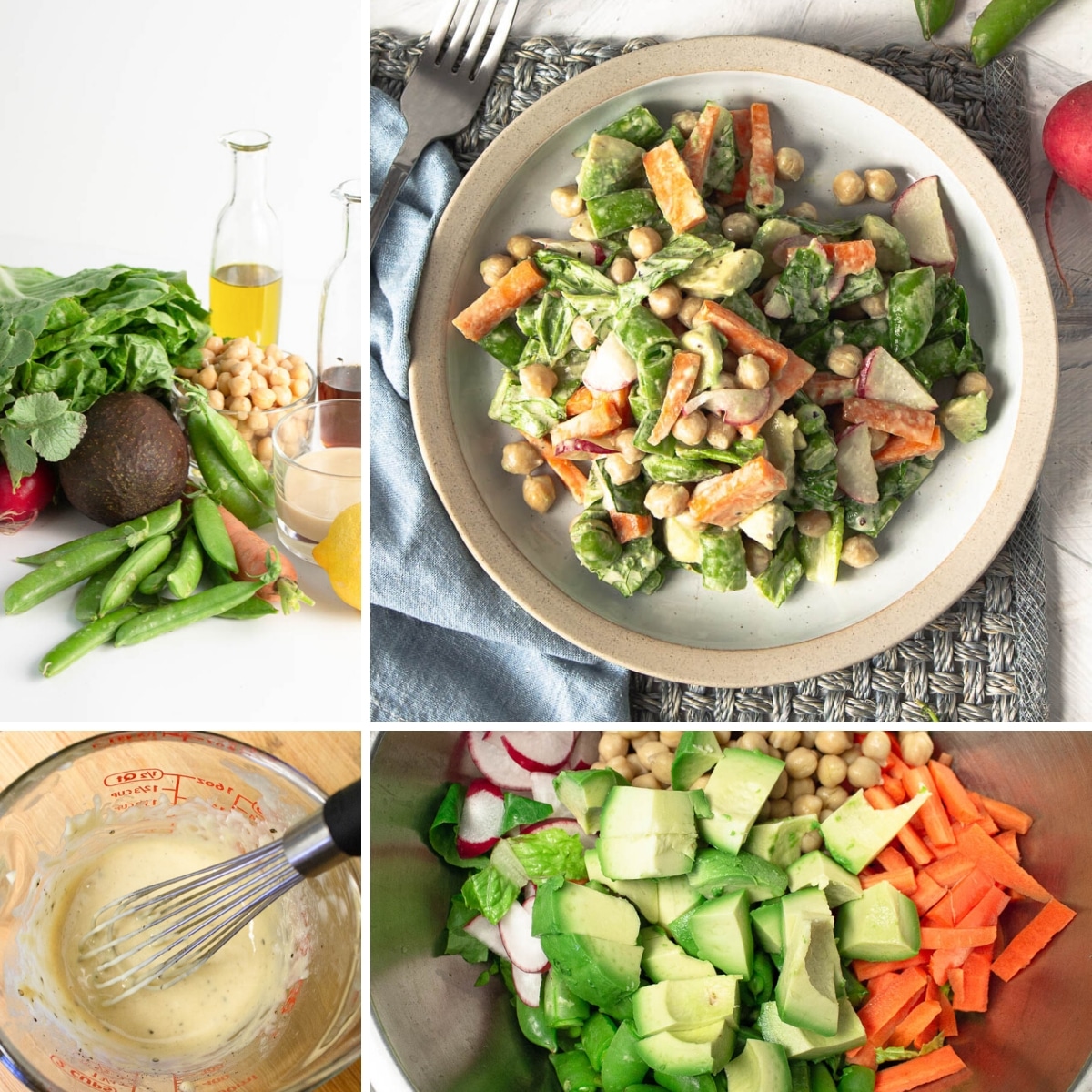 Wash all the vegetables and then dry them.
Cut the lettuce into strips.
Cut off the stem and root of the radishes. Then cut them into thick semi-circles.
Peel the carrots and slice them into small sticks.
Remove the stem and strings of the snap peas. Then cut the peas into small segments.
Remove the pit from the avocado and then cut the avocado into chunks.
If you use chickpeas from a can, rinse them in water and dry them.
Make the dressing by combining the tahini, maple syrup, lemon juice, salt, pepper, and olive oil.
Add all the vegetables and chickpeas to a large bowl and toss with the dressing until combined.
Enjoy!
Scroll down for the full recipe with measurements and detailed instructions.
Tips & Tricks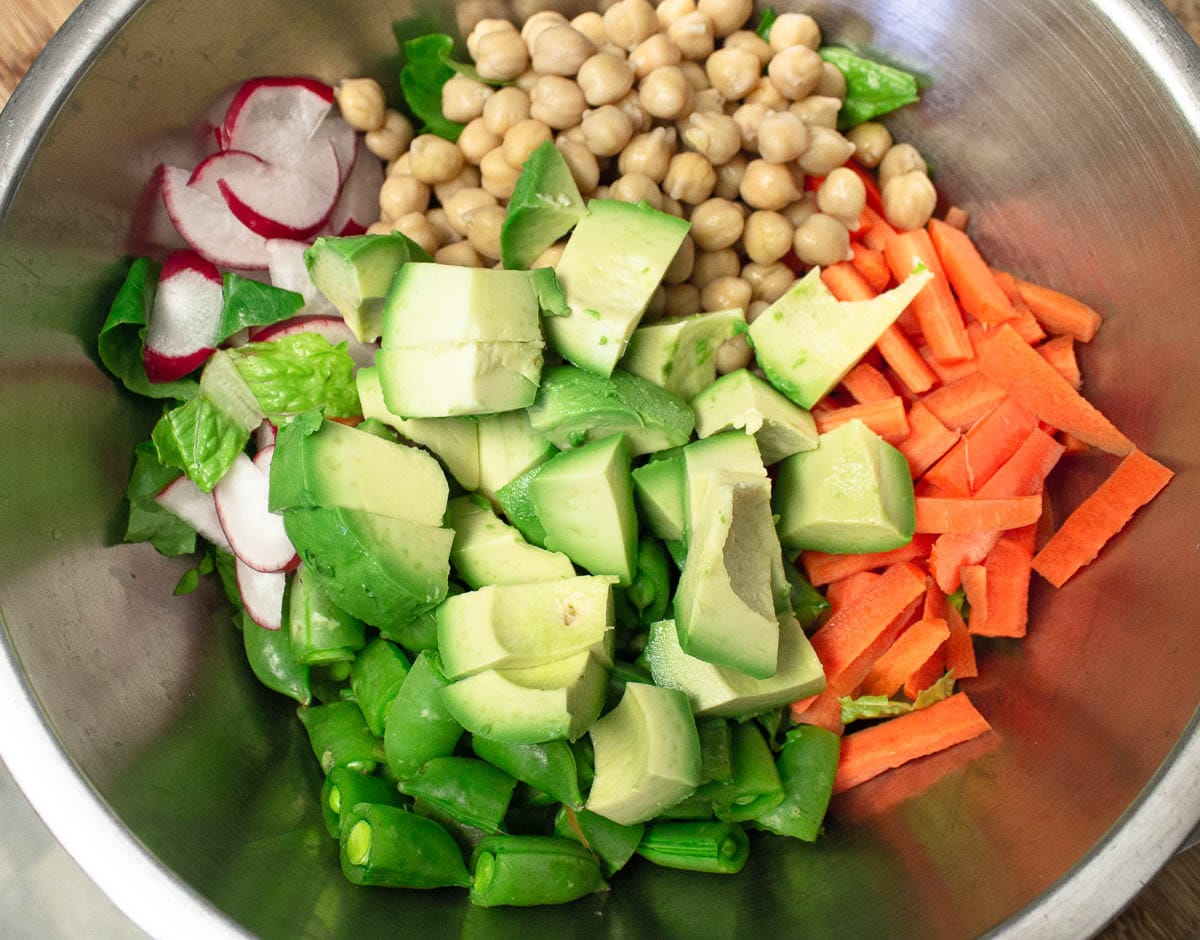 Eat Immediately
Avocado does not store well, so you'll want to eat this vegan chopped salad as soon as it's ready. You can store it in your fridge for a couple days, but it might brown and become a little too soft. 
The lettuce can also wilt if it's stored in the fridge, especially after being mixed with dressing. So if you are going to make this salad, make it the day of.
If you want to prep this salad ahead of time, prep everything except the avocado, and don't add the dressing to the salad until you're ready to serve it.
Sweeten It Up
I would suggest making the dressing in a separate small bowl. Add the minimum amount of maple syrup to start. Then do a taste test. If you like your dressing a little sweeter, slowly add more maple syrup to it, taste-testing as you go. 
Variations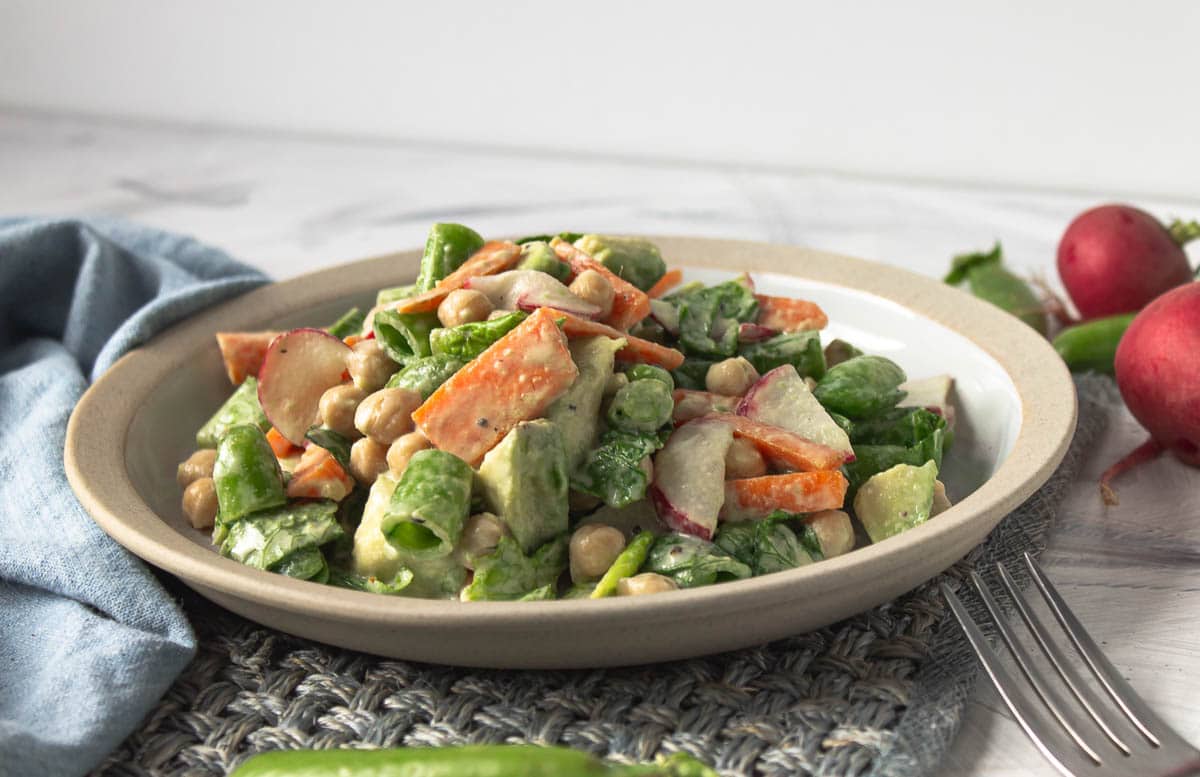 Use Dried Chickpeas
If you don't want to use canned ingredients, then you can cook dried chickpeas. With an Instant Pot, it takes approximately 50 minutes to cook them. 
If you don't have an Instant Pot or pressure cooker, then soak the beans overnight and then simmer them on the stove top. Or, you can cook them in a slow cooker on high for 4 hours. 
Make It A Pita Pocket
This salad would make a great filling for a pita pocket. Just make the vegan chopped salad as outlined by the recipe. Then take a pita, cut it in half, and spoon the salad into the pita pocket.
To add other flavors, I suggest adding tomatoes, green peppers, and red onions. Yum!
While you're here, be sure to grab our FREE 5-Day Meatless Meal Plan. It's packed with tasty recipes to make vegetarian cooking easy and delicious!
Recipe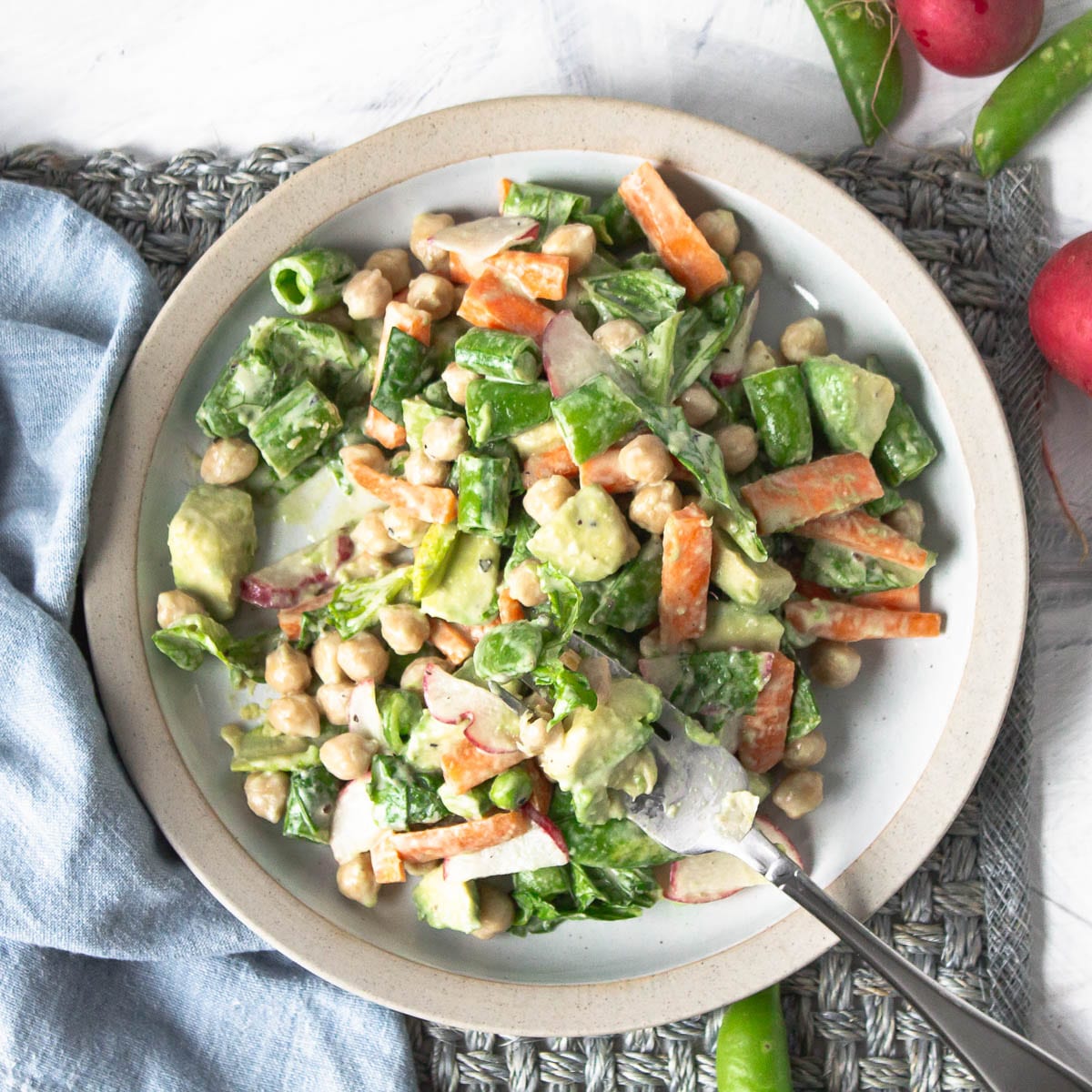 Ingredients
1

medium

avocado

1 ½

cups

snap peas

1

small head

romaine lettuce

3

small

radishes

2

carrots

1

cup

cooked chickpeas

Dressing

2

tbsp

tahini

½ - 1

tbsp

maple syrup

2

tbsp

lemon juice

½

tsp

salt

½

tsp

ground pepper

1

tbsp

olive oil
Instructions
Wash lettuce and drain thoroughly. Cut into 1" (2 ½ cm) strips across the leaf.

Wash radishes. Cut off stem and root. Cut into ⅛" (3mm) thick semi-circles.

Wash or peel carrots. Slice into ¼" x 1" (6mm x 2 ½ cm) sticks.

Wash snap peas. Remove stem and strings by gently breaking the stem end about ¼" (6mm) in and pulling along the sides of the snap pea. Cut peas into 1" (2 ½ cm) segments.

Remove pits and cut avocado into 1" (2 ½ cm) chunks.

If from a can, rinse chickpeas in fresh water. Dry chickpeas gently between paper towels. Set aside.

Combine all dressing ingredients, starting with the smaller amount of maple syrup, until everything is blended. Taste and add maple syrup as needed or desired.

Combine all prepared vegetables and chickpeas in a large bowl. Toss with dressing until combined.

Eat immediately. Avocado does not store well.
Nutrition
Calories:
368
kcal
Carbohydrates:
24
g
Protein:
5
g
Fat:
32
g
Saturated Fat:
5
g
Sodium:
25
mg
Potassium:
1106
mg
Fiber:
14
g
Sugar:
4
g
Vitamin A:
2732
IU
Vitamin C:
47
mg
Calcium:
24
mg
Iron:
1
mg
Craving more veg-friendly recipes?
Shop our collection of vegetarian and vegan cookbooks, including our new Vegan Thanksgiving and Vegan Christmas cookbooks!