Make these Vegan Black Bean Brownies for a healthier version of this classic dessert. Rich and decadent, these will melt in your mouth while giving you a boost of nutrients. Easy to make, with no complicated ingredients involved.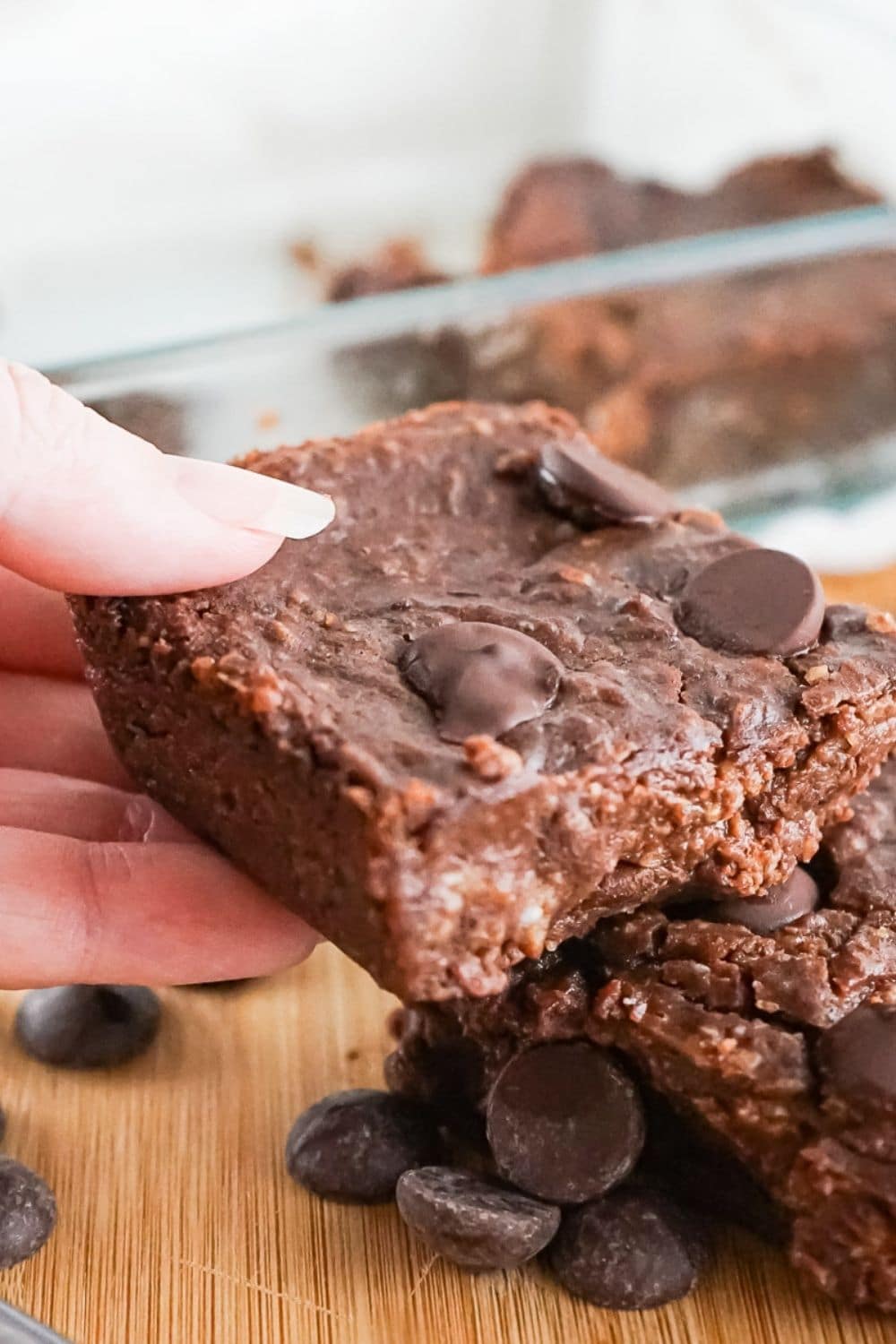 Jump to:
Ok, I know you're probably thinking, "Black beans in brownies?! What?!" I thought the same thing at first. However, once I tried them, I was like, "Hey now, this is a delicious way to fit in a ton of nutrients for the day."
Crazy enough, these Vegan Black Bean Brownies don't taste like you're eating beans in a dessert. On top of that, they give you a plethora of vital nutrients your body needs. It's a huge plus all the way around.
I used to think the same thing about these Vegan Crab Cakes and Tahini Caramel Buckwheat Balls. Vegan recipes might have strange or complicated names or ingredients sometimes, but they definitely get a bad rap for no reason. They end up being a lot more delicious than people realize.
Go ahead, give these black bean brownies a chance and I have no doubt you'll be surprised. 
How to Make Vegan Black Bean Brownies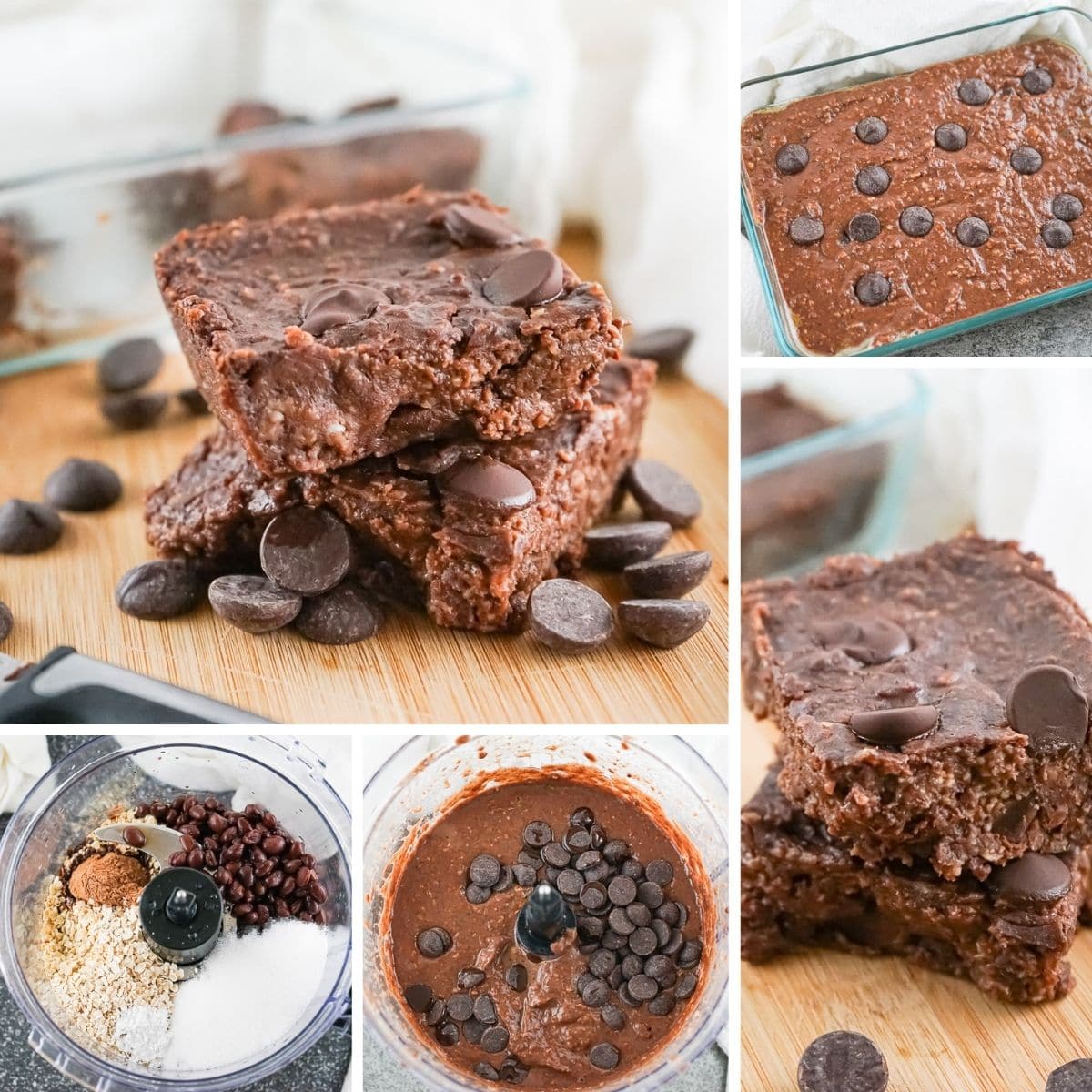 Prep - Preheat the oven to 350 degrees. Coat the baking dish with nonstick spray.
Blend - Place all the ingredients except the chocolate chips in a food processor. Blend until smooth.
Fold in - Fold in the chocolate chips. Pour mixture into the prepared pan.
Bake - Sprinkle the top with remaining chocolate chips and bake for 20 minutes.
Chill - Place in the fridge for 2 hours or until solidified. Enjoy!
Scroll down for full recipe with detailed ingredients and instructions.
Tips and Variations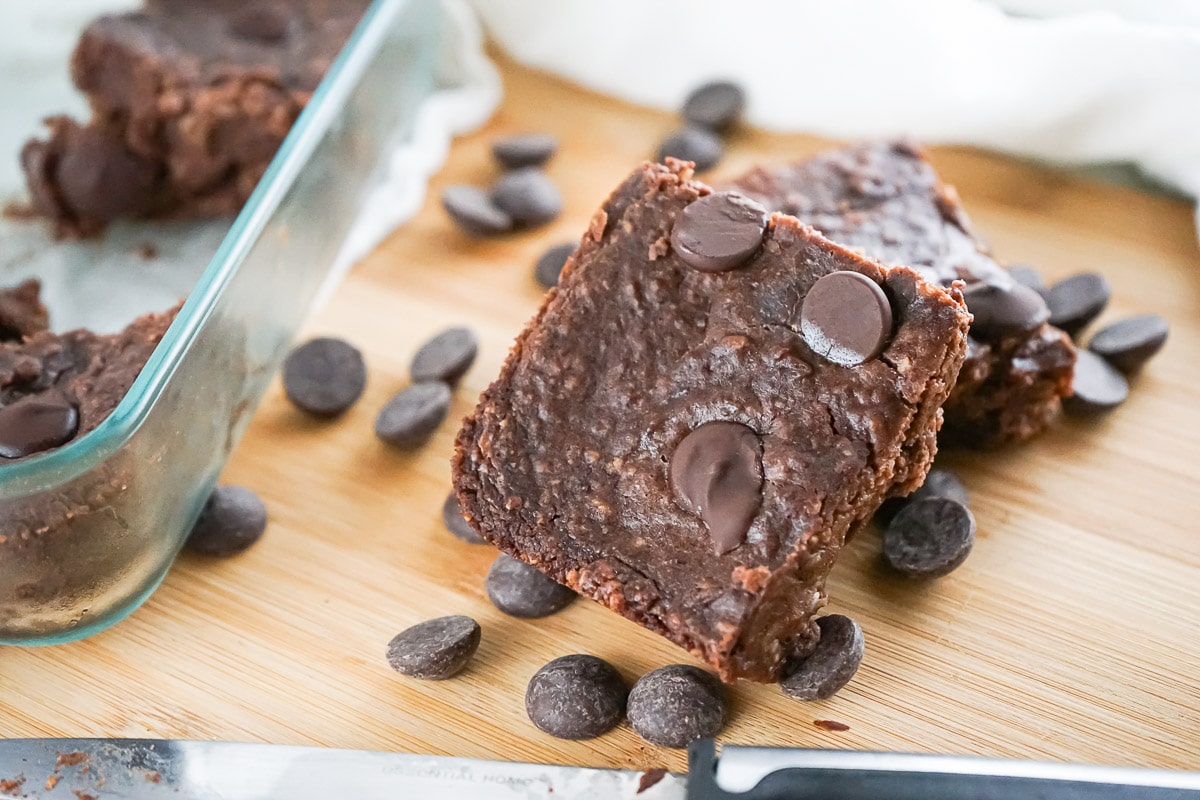 Storage - Store in a sealed container in the pantry for up to 3 days. Store in the fridge in a sealed container for up to a week. Seal in an airtight container, separated by wax paper, in the freezer, for up to 2 months.
Reheating - Reheat using the microwave or oven. I would suggest using a damp paper towel over the top of them if warming in the microwave. This will help ensure they don't dry out too much.
Use more chocolate chips - If you have more vegan chocolate chips to spare, add up to ½ a cup more if desired. I like to put some in the batter, then some on top.
Make a bigger batch - This recipe makes about 6 good size brownies. However, you can easily double or triple the batch, use a large baking dish, and get plenty more out of it. When making a bigger batch, you may need to blend it in batches as it might not all fit in your food processor.
Use a bigger baking dish - If you like your brownies a bit thinner, you can use a bigger baking dish and spread the batter out more. You may want to cut down the cooking time as thinner brownies don't need as long in the oven.
Let your brownies cool - If you don't let these brownies cool, you'll end up with a mess. They're like blondies and cheesecake, in that you have to give them time to firm up after the baking period. Trust me, it's worth the wait.
FAQs About Vegan Black Bean Brownies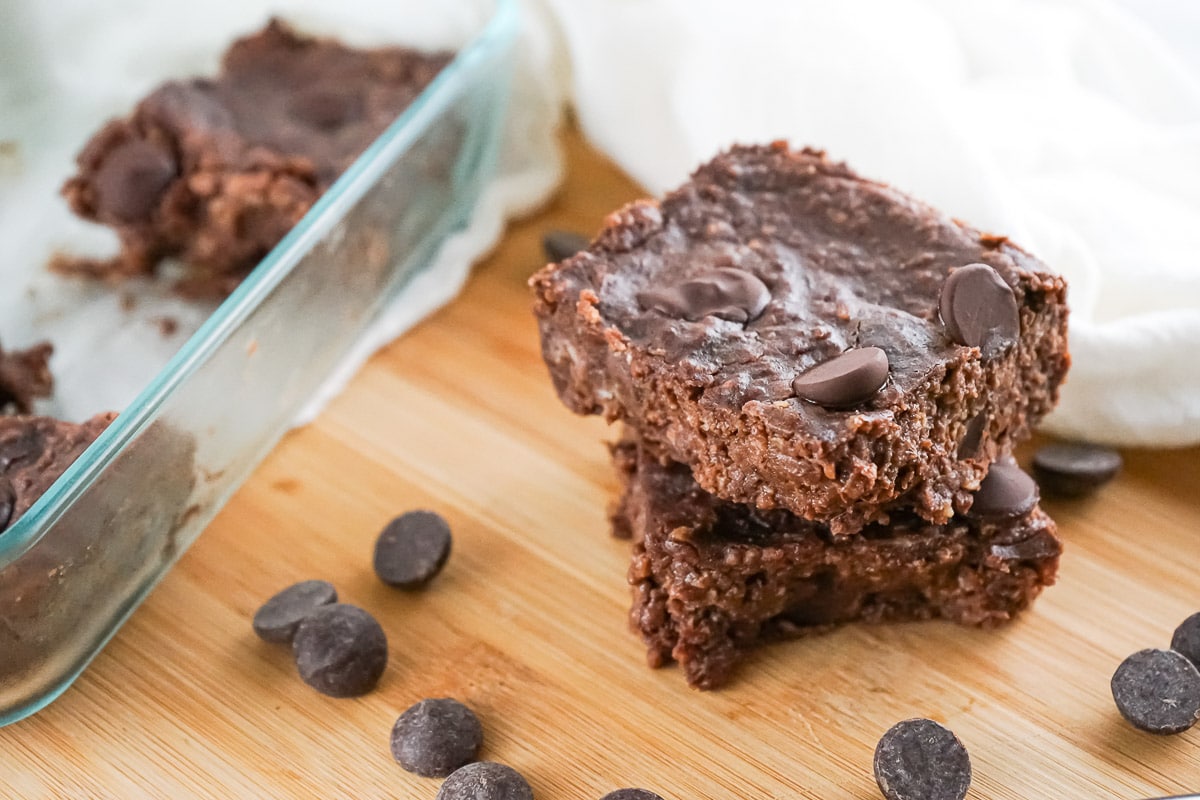 How Many Calories Are in a Black Bean Brownie?
This will vary depending on the type of black beans you use and the recipe in general. This will also depend on how big you cut the brownies. However, you can usually bank on the brownie being about 80 calories or less. This is why they're esteemed as a healthier option than your normal, run of the mill brownies. They also include a burst of vital nutrients your body relies on daily. Isn't that crazy that a brownie can offer that?
Are Black Beans a Superfood?
Black beans are definitely seen as a superfood simply because they're packed with so many nutrients. They're high in fiber, antioxidants, vitamins, minerals, protein, and a slew of other benefits. Did you know they can boost your digestion and help keep chronic illnesses at bay? If you don't have black beans, or beans in general, in your diet, you should! They're an all around food that are easy to incorporate into countless things, as you can see with these Vegan Black Bean Brownies. 
If you decided to give these Vegan Black Bean Brownies a try, please let me know in the comments below or on social media!
More Vegan Desserts
If you love these black bean brownies, don't miss these other delicious vegan desserts.
Recipe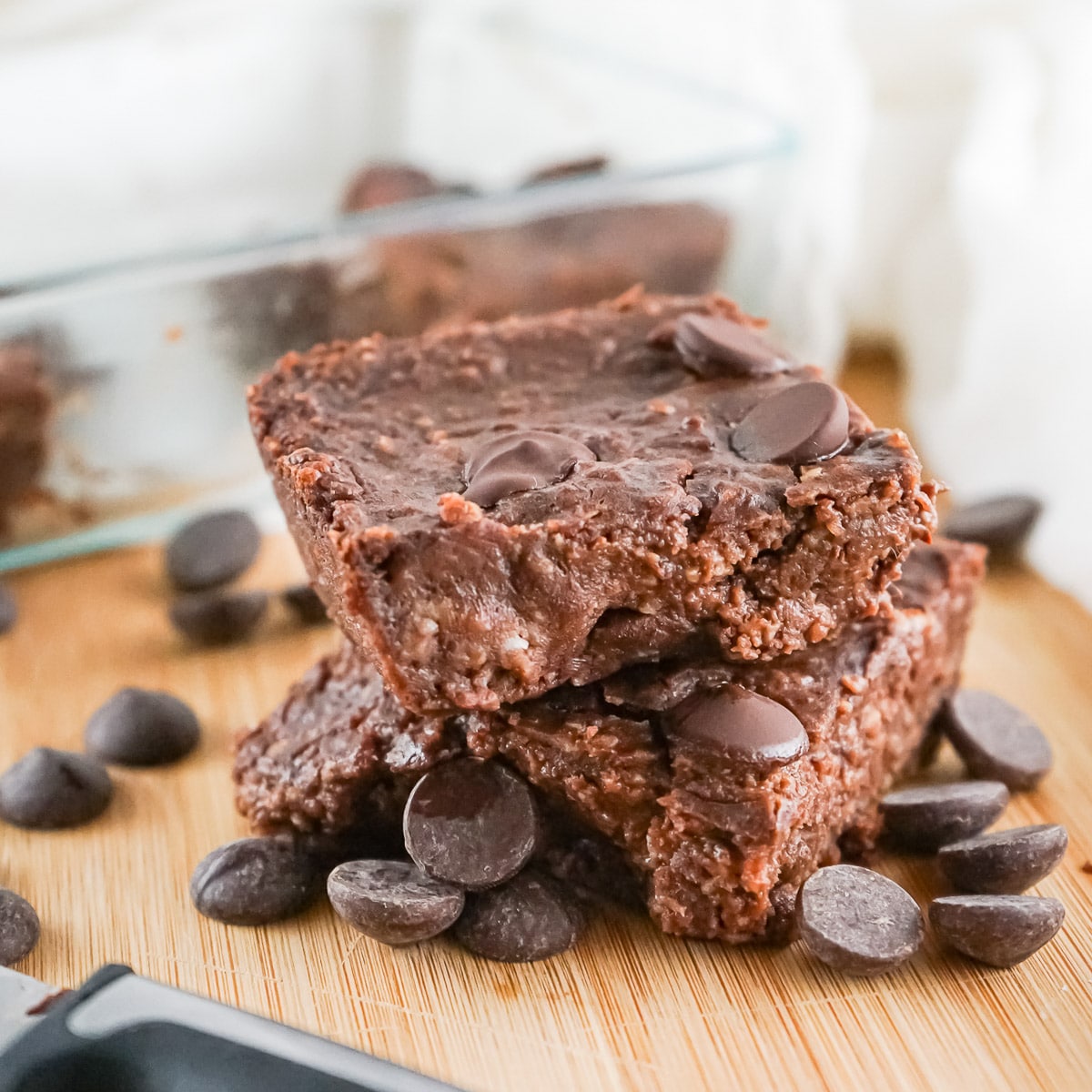 Instructions
Preheat the oven to 350 degrees and spray a 1-quart, rectangle, deep baking dish with nonstick spray.

Combine all the ingredients except the chocolate chips into a food processor and blend until smooth.

Fold the chocolate chips into the mixture except the extra for topping.

Pour into the prepared dish and spread evenly. Top with the extra chocolate chips.

Bake for 20 minutes or until a toothpick comes out mostly clean.

Remove and place in the fridge for 2 hours or until firmed up. Enjoy!
Nutrition
Calories:
434
kcal
Carbohydrates:
49
g
Protein:
9
g
Fat:
25
g
Saturated Fat:
5
g
Sodium:
390
mg
Potassium:
368
mg
Fiber:
8
g
Sugar:
24
g
Calcium:
73
mg
Iron:
3
mg
Craving more veg-friendly recipes?
Shop our collection of vegetarian and vegan cookbooks, including our new Vegan Thanksgiving and Vegan Christmas cookbooks!