Have you heard of Aussie Bites? They're sort of a cross between a mini muffin and a cookie. With a serious dose of granola bar thrown into the mix. They're a bit sweet, a tad salty, a little crunchy, and oh-so very delicious.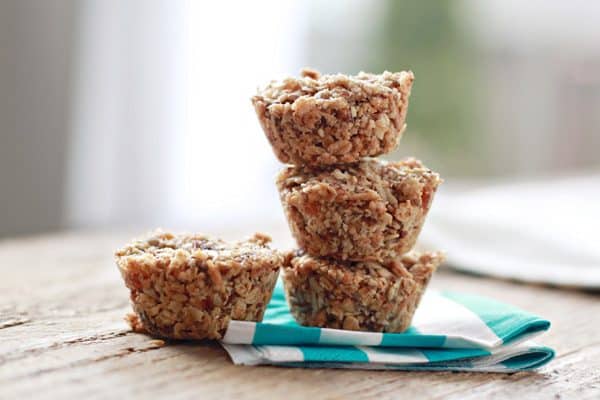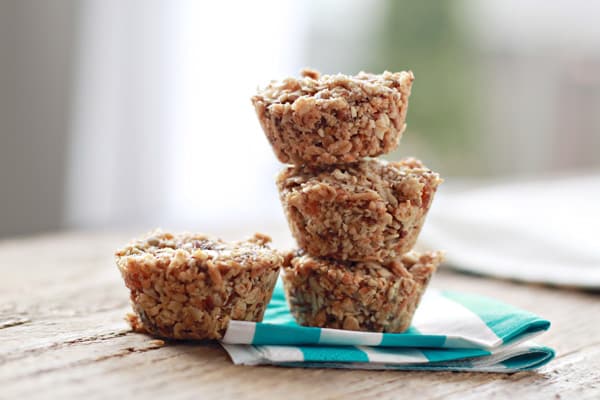 They boast a nice, healthy dose of Omega-3s and fiber, and they also make an incredible grab-and-go breakfast or healthy vegan snack. Basically, they rock.
I've only ever seen them on the shelves at Costco, but after becoming a bit addicted to the store-bought version, I set out to make my own. I checked the list of ingredients: Rolled oats. Butter. Flaxseeds. Coconut. Dried apricots. Raisins, honey, sunflower seeds... I could do this.
I wanted my version to be as healthy as possible, so I swapped the butter for coconut oil. And to keep them vegan, I opted for maple syrup instead of honey.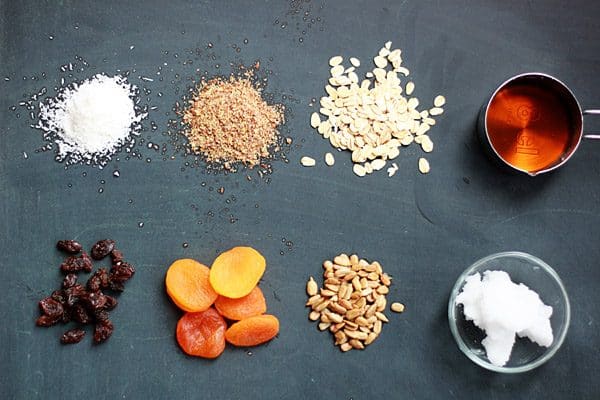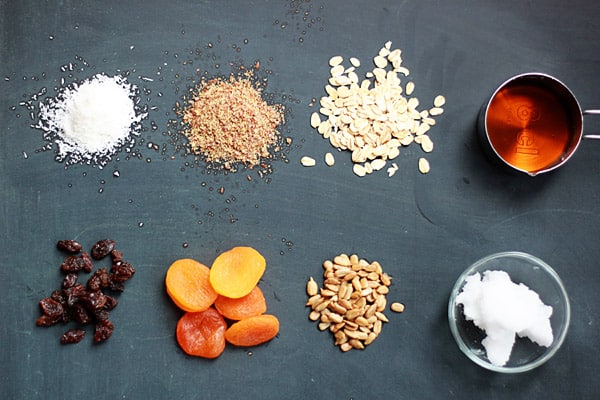 It took a handful of tries to get these right, but the recipe I settled upon has been a hit among my official taste panel (that would be, um, my toddler, my husband, my sister, my friend, and myself).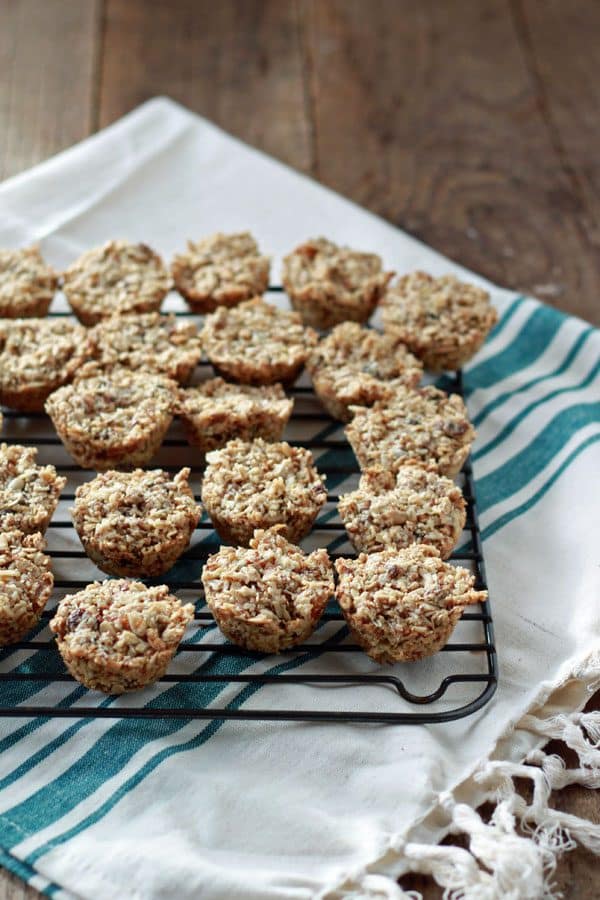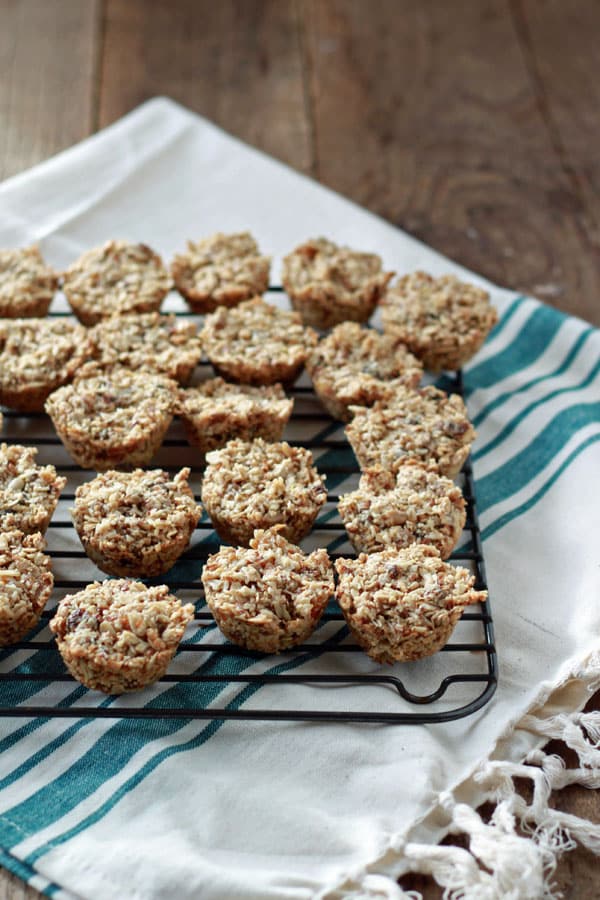 This recipe results in about four dozen Aussie bites, so if that's a bit much at one time, just freeze the extras.
Seal them in a zipper bag, put 'em in the freezer, and then pull a couple out and set them on the counter while you're starting your morning coffee. They'll be pretty well thawed and ready to go after just a few minutes.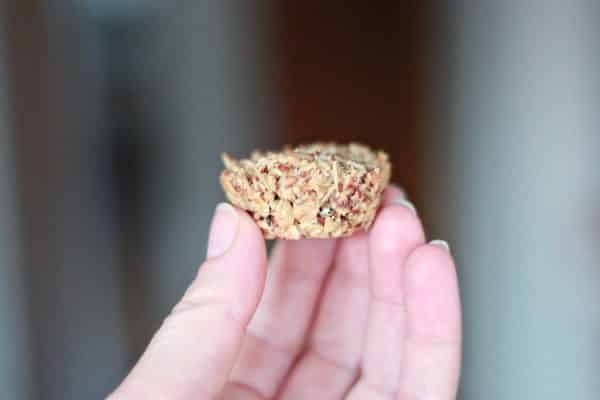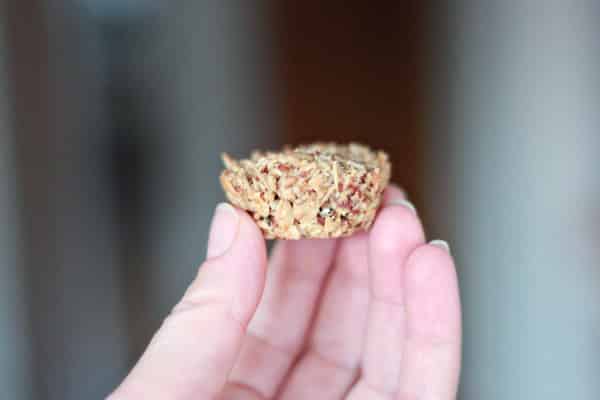 Recipe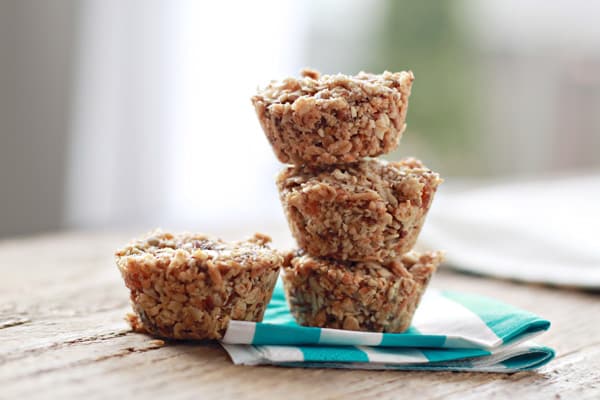 Instructions
Preheat the oven to 350ºF. Spray the cups of a mini-muffin pan with non-stick spray or rub with a little coconut oil**.

Heat the coconut oil and maple syrup in a small saucepan over medium-low heat, stirring occasionally, until coconut oil has melted. Set aside.

To the bowl of an 8-cup or larger food processor, add oat flour, oats, and sunflower seeds. Pulse a couple of times until the seeds and oats begin to break up. Add the coconut, flaxseed meal, baking powder, and salt. Pulse to mix.

Add the raisins and dried apricots and pulse until the apricots are approximately the size of peas.

Pour the melted coconut oil and maple syrup over the dry ingredients, then pulse just until combined. Transfer to a large bowl and stir well to make sure all ingredients are well-combined. If any of the apricots and raisins stick together in clumps, use your fingers to separate and distribute them throughout the mix.

Scoop by the heaping tablespoonful into the cups of the mini muffin pan (I use a cookie scoop). With your fingers, press each gently but firmly to pack and flatten.

Bake for about 12 minutes until set and edges are golden.

Remove from oven, allowing to cool for about 10 minutes. Use a butter knife to help pop each bite out of its respective tin; carefully remove from tin and place on a wire rack until completely cool and set. They may be fragile until completely cooled.

Keep at room temperature in an airtight container for up to 3-4 days, or freeze in a zipper bag.
Notes
* To make oat flour using rolled oats, just pulverize approximately 2 cups of oats in a food processor until it reaches the consistency of flour, and then measure 1 ½ cups of the flour for the recipe.
** This recipe yields about 48, and I only have a 24-cup mini-muffin pan, so I bake in two separate batches with no issues.
I have also made this recipe using a 4-cup mini food processor instead of a large food processor. I just pulse the items that need chopping or pulverizing as I go, mixing ingredients together in one large bowl.
Nutrition
Calories:
82
kcal
Carbohydrates:
9
g
Protein:
2
g
Fat:
5
g
Saturated Fat:
3
g
Polyunsaturated Fat:
1
g
Monounsaturated Fat:
1
g
Trans Fat:
1
g
Sodium:
46
mg
Potassium:
80
mg
Fiber:
1
g
Sugar:
3
g
Vitamin A:
49
IU
Vitamin C:
1
mg
Calcium:
17
mg
Iron:
1
mg
Craving more veg-friendly recipes?
Shop our collection of vegetarian and vegan cookbooks, including our new Vegan Thanksgiving and Vegan Christmas cookbooks!
This post was originally published on January 23, 2014.