Refresh! If our meatless meal plans had theme words, "refresh" would be this week's. From watermelon salad to minty-fresh couscous to tacos marinated in, um, refreshments (okay, that one is a stretch, we admit) -- this week is all about chilling. It's mid-summer, after all! Filling out the week: a delicious farro sloppy Joe recipe that does double duty, and hearty eggplant meatballs. Pretty cool, right?!
Here's this week's meatless meal plan:
Monday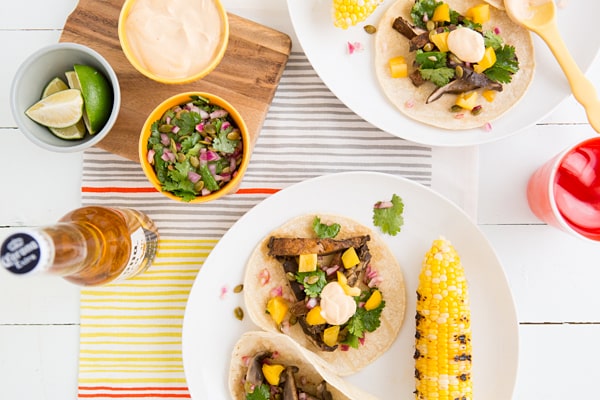 Beer-Marinated Grilled Mushroom Tacos with Pepita Relish & Chipotle Crema from Oh My Veggies // We can't think of a better way to kick off the week: Meaty beer-marinated mushrooms and crunchy pepita relish tucked inside a flour tortilla and topped off with a spicy cashew crema. Cheers to that.
Tuesday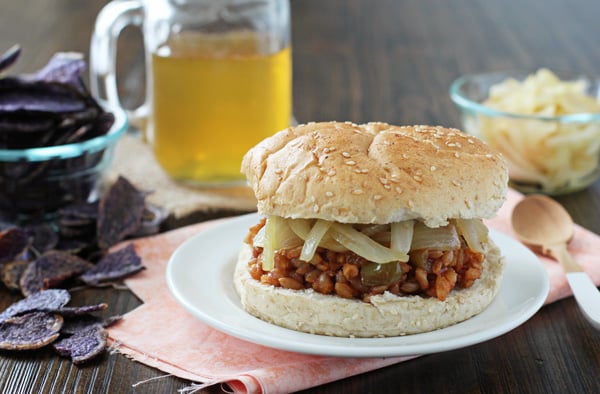 Chipotle Peach BBQ Farro Sandwiches from Oh My Veggies // Nutty, chewy pearled farro makes the perfect filling for "pulled" barbecue sandwiches. We love the tender grilled onions and sweet-and-spicy sauce. The best part? This recipe makes enough so that you can serve the leftovers with tomorrow's salad.
Wednesday
Watermelon, Green Olive, and Pistachio Salad from Real Simple // Leave the stove off and enjoy this simple sweet-and-salty salad for dinner. Green olives and pistachios elevate this tasty salad from the typical watermelon-and-feta combo -- and add some pretty color, to boot.
Thursday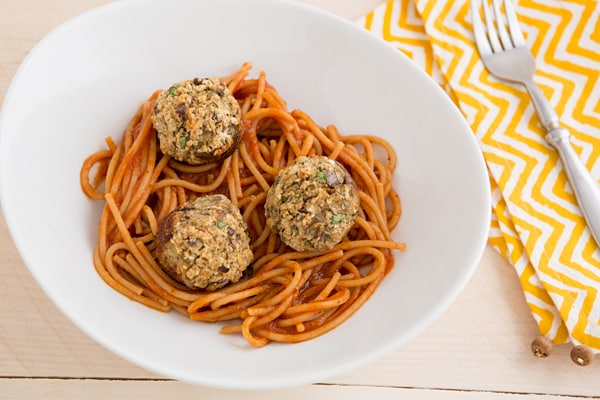 Vegan Eggplant Meatballs from Skinnytaste // We're always on the hunt for terrific eggplant recipes, and this one did not disappoint. Eggplant, white beans, and a generous sprinkling of parsley make for some seriously hearty meatballs. Here, we served them up over pasta tossed with a simple marinara sauce.
Friday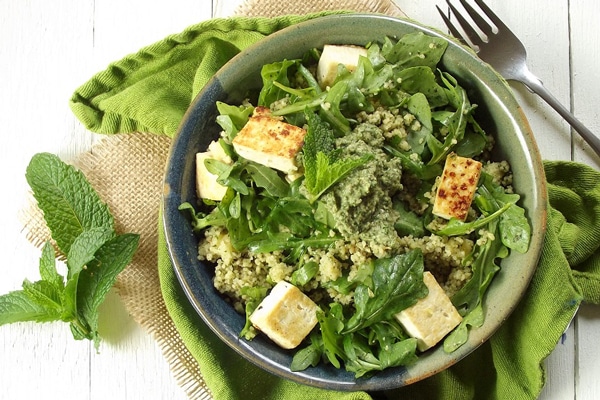 Mint Pesto Couscous with Tofu and Arugula from Connoisseurus Veg // Could dinner possibly look any more refreshing than this? We think not. Minty-cool couscous tossed with peppery arugula and seared tofu makes for a light yet satisfying salad. Happy Friday!
Tips for This Week's Plan
Get a head start on Monday's dinner by making the relish and crema on Sunday night.
The BBQ farro sandwiches make about 6 servings, but you can easily stretch it into 8 (so we've put 8 rolls on the shopping list instead of 6). Have them with chips on the side the first night, then have the leftovers with watermelon salad on Wednesday.
We added store-bought marinara to the shopping list for the meatball recipe and we also added regular pasta -- if you'd rather use zucchini noodles, cross the pasta off the list and add 2 pounds of zucchini.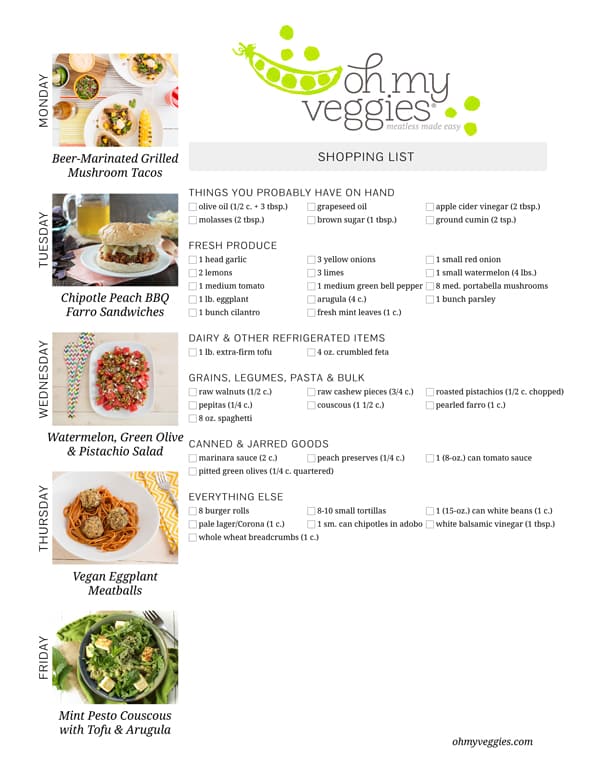 Click here for a printable version of this week's meatless meal plan and shopping list, then click on the links above to print out each recipe. Now you're set for the week!
Find more dinner ideas from our Meatless Meal Plan archives.