I've been buying lots of peaches lately since they're in season here and although I'm perfectly happy to have them as a snack, I decided to incorporate them into this week's meal plan by kicking off Monday with a summery kale salad made with fresh peaches and corn. Zucchini cakes and ratatouille pasta put seasonal produce to good use too, and the week ends with socca topped with sautéed greens and a roasted cauliflower and couscous salad. Roasted cauliflower is the best cauliflower!
Here's this week's meatless meal plan:
Monday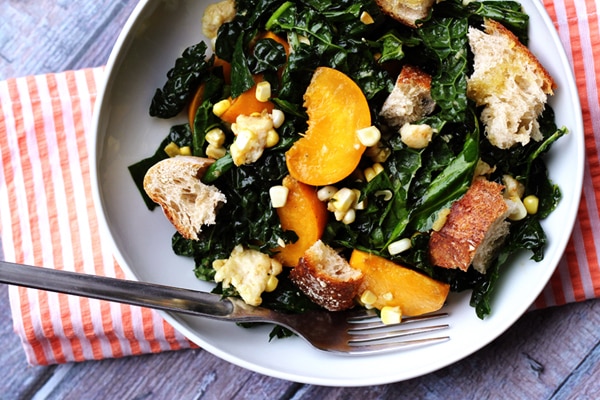 Kale Salad with Peaches, Corn and Basil-Honey Vinaigrette from Eats Well With Others // You'll find this recipe on Eats Well With Others, but it's originally from Let Them Eat Kale!
by our contributor Julia -- you bought a copy, right? You should! Because: THIS SALAD. It's a summery take on panzanella made with juicy peach slices and fresh summer corn. And kale, of course.
Tuesday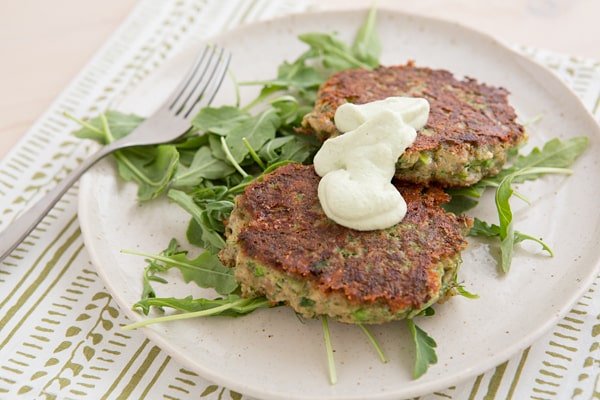 Zucchini Walnut Feta Cakes with Cucumber Yogurt Sauce from Cooking Light // Confession: I topped mine with cashew tzatziki instead of yogurt sauce. But nevermind that! These crispy cakes are pan-fried to perfection and served over a bed of fresh salad greens.
Wednesday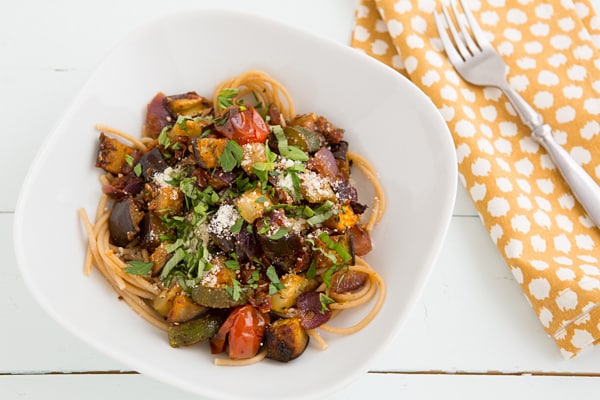 Ratatouille Pasta from The Woks of Life // Trust me, this recipe is completely worth turning the oven on. The ratatouille vegetables caramelize while roasting, so by the time they're done, they're just bursting with flavor. Who needs marinara when you can top your spaghetti with roasted veggies?!
Thursday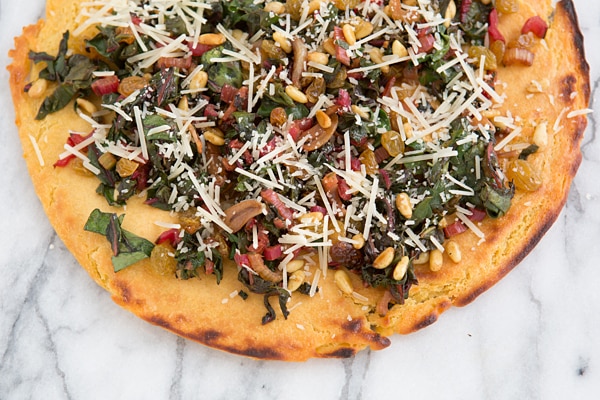 Socca with Sautéed Chard and Parmesan from Oh My Veggies // A socca is a big savory pancake made with chickpea flour. You can top them with just about anything, but I love it with a simple topping of sautéed greens and cheese.
Friday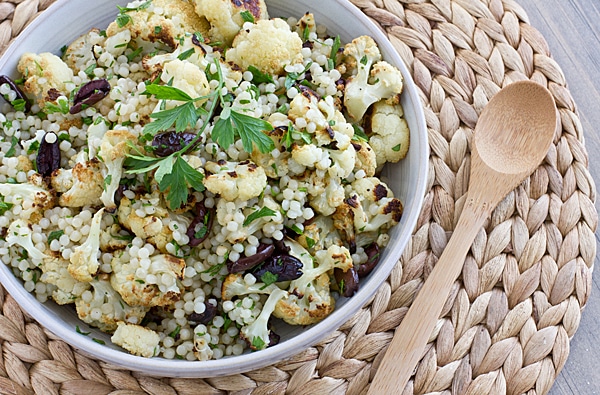 Warm Israeli Couscous Salad from Oh My Veggies // I'm pretty fanatical about getting my grocery shopping done in one weekend shopping trip, which is why I love cauliflower -- you can count on it to last until Friday. This simple warm salad is a perfect ending to the week and any leftovers can be eaten cold for lunch on Saturday.
Tips for This Week's Plan
You'll need chickpea flour for the socca -- this is also sold as gram flour and garbanzo bean flour.
You can also use the chard as a topping for polenta -- either homemade or store-bought -- instead of making the socca.
Leftover parmesan, feta, or goat cheese would all make tasty additions to Friday's salad!
If you can't find a block of vegetarian parmesan, just buy a container of grated parm and use that instead of shredded on the socca.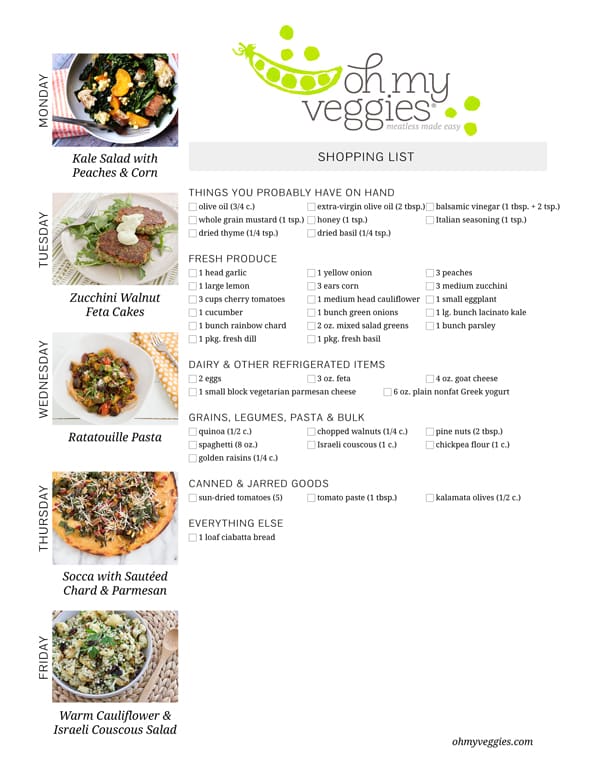 Click here for a printable version of this week's meatless meal plan and shopping list, then click on the links above to print out each recipe. Now you're set for the week!
Find more dinner ideas from our Meatless Meal Plan archives.