Growing up in a busy family with two brothers and a sister, weekday breakfasts were always about the quick and easy. Cereal or oatmeal was the go-to, and Strawberries n' Cream instant oatmeal packets were my favorite.
While I still enjoy creamy strawberry oatmeal, I now take a more nutritious approach that includes a balance of protein, natural sugars, and healthy fats. These vegan Strawberry Oatmeal Breakfast Bowls are just as quick and tasty -- but worlds healthier.
"Just add water" certainly has its place in the life of a bustling family, and that's exactly where this recipe can come into play. It really is as simple as just adding milk (coconut and almond milk, that is), but instead of an empty carb breakfast that leaves you hungry at 10 a.m., you get a well-rounded meal that guarantees hours of satisfaction. All it takes is a combination of fresh fruit, rolled oats, nuts, and seeds to start your day off on the right foot.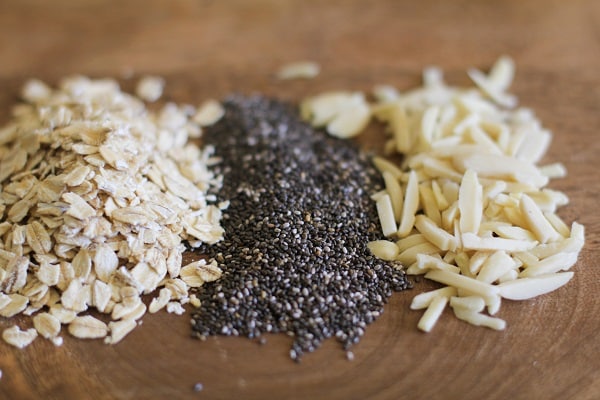 This complete meal includes fresh strawberries, chia seeds, pumpkin seeds, slivered almonds, coconut milk, and almond milk. A little pure maple syrup is all you need for some natural sweetness. If you like to change up your breakfast now and then, you can modify the recipe to your taste by adding a dollop of nut butter, yogurt, and/or a mix of your favorite fruit and nuts. Another major plus: You can make this breakfast either hot or cold!
Because the weather is getting warmer, I have been making the overnight version -- one that's eaten cold -- instead of cooking the oats on the stove top. If you've never made overnight oats, it's easy! You simply soak the rolled oats in your choice of milk, along with sweetener and any other add-ins you like, such as vanilla or cinnamon, and plop it in the refrigerator overnight. That's all it takes for your breakfast to be ready for you in the morning.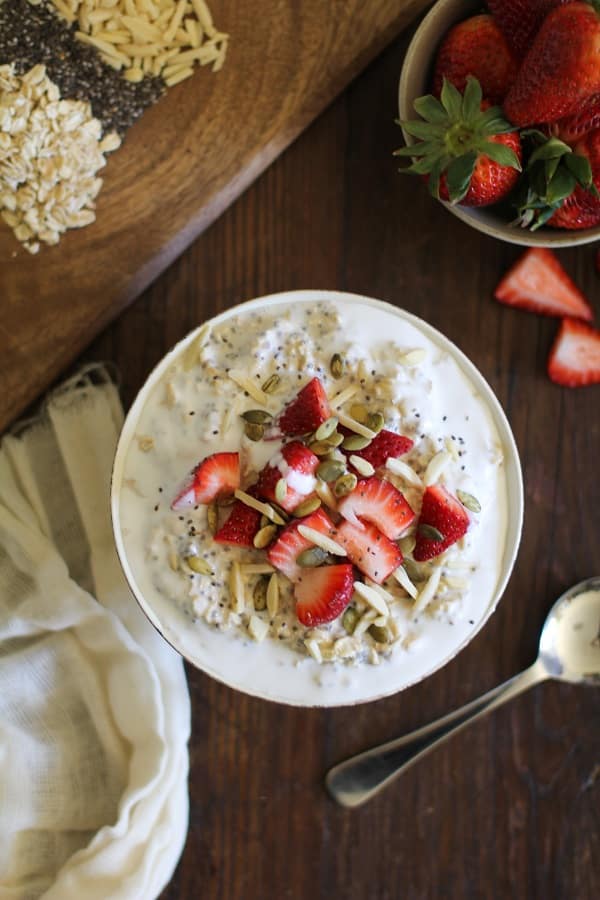 Just add milk? Don't mind if I do!
This post was originally published on May 29, 2014.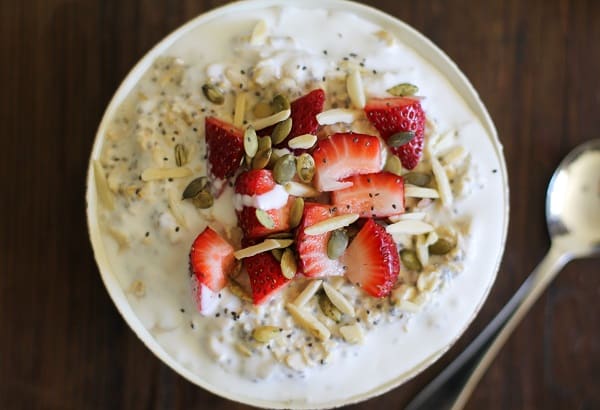 Ingredients
For the oatmeal:
2

cups

rolled oats

not the instant kind

2

tablespoons

chia seeds

2

tablespoons

unsweetened shredded coconut

2

tablespoons

pure maple syrup

1

14-ounce can lite coconut milk

1

cup

unsweetened almond milk

1

teaspoon

pure vanilla extract
For the bowls:
Fresh ripe strawberries

quartered

Slivered almonds

Pepitas

pumpkin seeds

Additional almond milk or coconut milk
Instructions
For the cold version (overnight oats):
Add all oatmeal ingredients to a large container with an airtight lid and stir well. Seal and place in the refrigerator overnight (or at least 6 hours).

Divide the oats between four bowls and pile each with strawberries, pepitas, and almonds. Add additional almond milk or coconut milk if desired.
For the hot version:
Add the oats, chia seeds, coconut, maple syrup, coconut milk, and almond milk to a medium-sized pot. Bring to a full boil over medium-high heat, then reduce heat and simmer for 15 to 20 minutes, stirring occasionally, until oatmeal has thickened and the liquid has been absorbed. Remove from heat and stir in vanilla extract. Divide between four bowls and top with strawberries, almonds, and nuts, along with additional almond and/or coconut milk, if desired.
Notes
Prep and cook times are for the hot version of the recipe. Allow for at least 6 hours for the cold (overnight) variation.
Nutrition
Calories:
246
kcal
Carbohydrates:
38
g
Protein:
7
g
Fat:
8
g
Saturated Fat:
3
g
Polyunsaturated Fat:
3
g
Monounsaturated Fat:
1
g
Trans Fat:
1
g
Sodium:
87
mg
Potassium:
215
mg
Fiber:
7
g
Sugar:
7
g
Vitamin A:
3
IU
Vitamin C:
1
mg
Calcium:
146
mg
Iron:
2
mg