This vegan lasagna verde is packed with protein and healthy flavor from tofu, jalapeno pesto, and creamy cashew ricotta. Yum!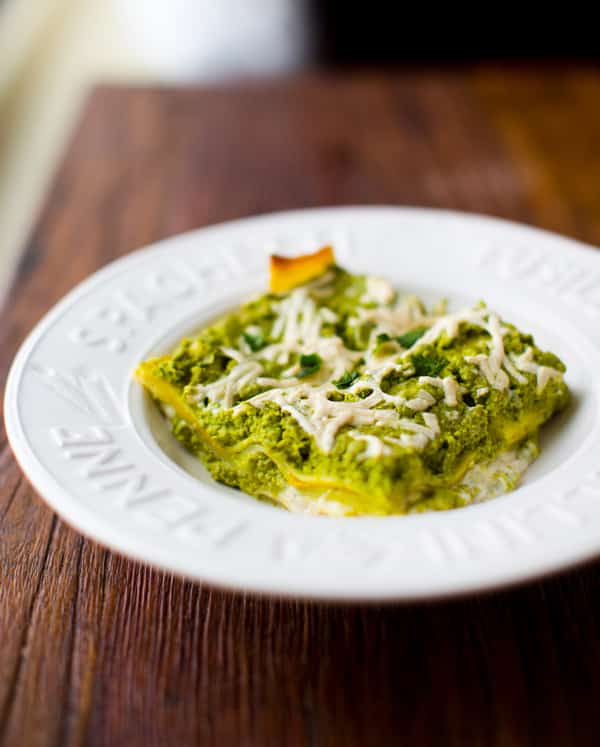 Since September, my husband and I have been living in a rental while we house-hunted and then renovated the house we bought. Almost everything we own has been in storage since then too and I've been surprised by the things I miss and the things I thought I'd miss, but really don't.
What do I miss the most? My cookbook collection.
I miss my cookbooks! Yes, the internet has eleventy-billion recipes at our fingertips, but it's just not the same as a book in hand; browsing a website is so different from browsing through a cookbook.
There's much more serendipity with a cookbook - I can't possibly look through every recipe on most websites, but I can do that with a cookbook and it often means something piques my interest that I might not have found online.
That's why I get excited when my favorite bloggers come out with cookbooks—they let me get to know bloggers and the food they cook in a different way.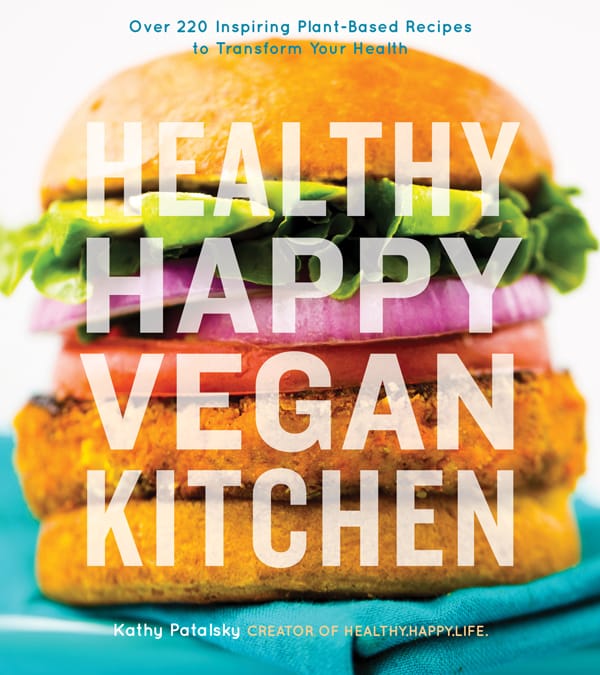 Healthy Happy Vegan Kitchen
is Kathy Patalsky's new cookbook—you might know her from her food blog Healthy Happy Life or from her other site, Finding Vegan. I've been a big fan of both for years.
This is a comprehensive cookbook - it's not about a specific thing, instead it encapsulates what Kathy's blog is about and the recipes cover everything from breakfasts to baked goods.
Many of Kathy's recipes are creative takes on classic dishes. They're not just "hey, I took a lasagna recipe and replaced the ricotta with tofu - now it's vegan!" This Lasagna Verde recipe takes traditional lasagna and makes it into something completely different.
Tomato sauce is replaced with a spicy jalapeño pesto and thinly sliced tofu is swapped in for the protein. And then there's the Vegan Cashew Ricotta, which adds rich, creamy layers between the pesto, noodles and tofu. It's...so...good.
You can get Healthy Happy Vegan Kitchen on amazon.com or anywhere awesome cookbooks are sold.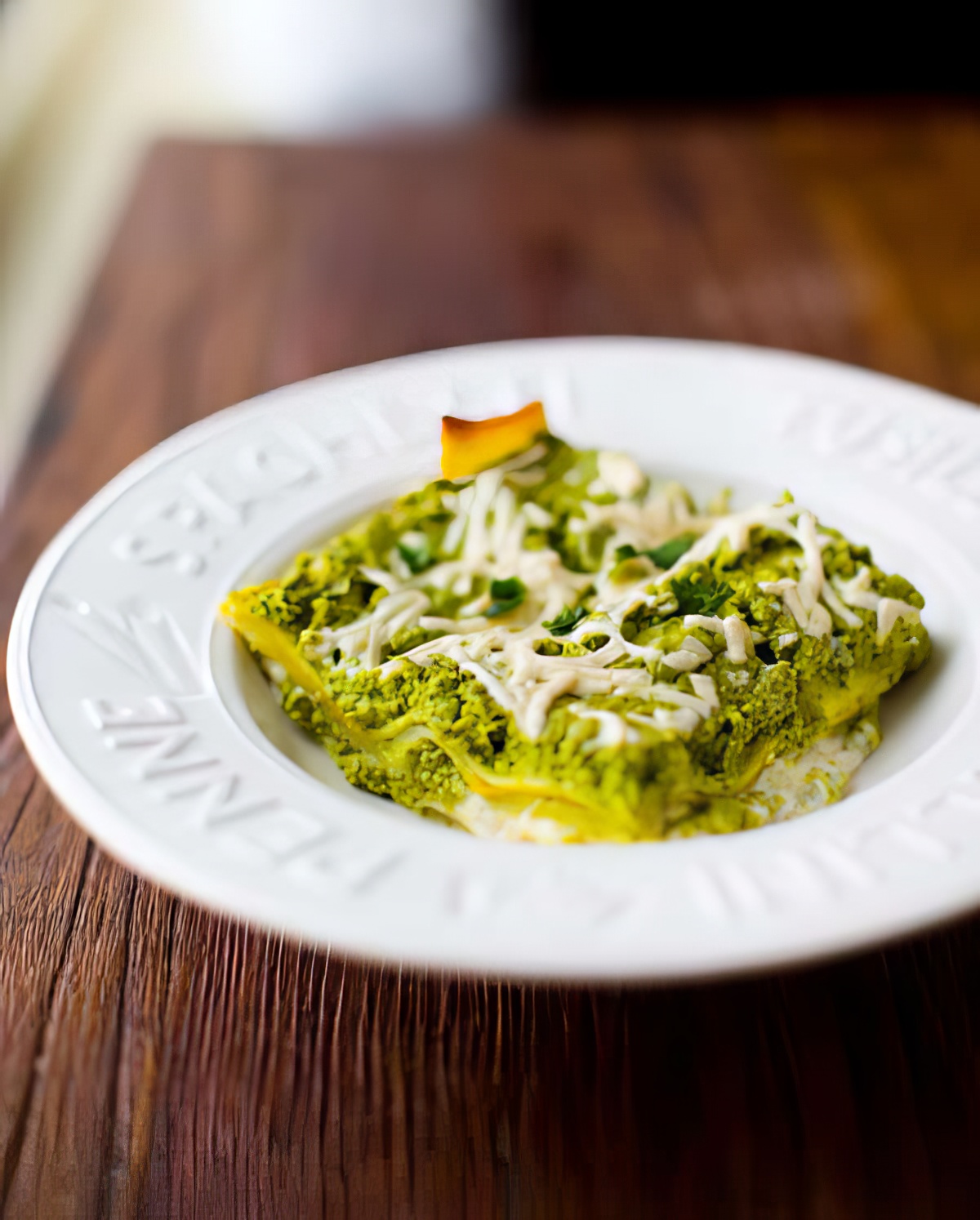 Ingredients
1

tablespoon

extra-virgin olive oil
Spicy Jalapeño Pesto
2

cups

fresh basil leaves

2

cups

fresh spinach

½

cup

fresh lemon juice

½

cup

walnuts

¼

cup

raw pumpkin seeds

¼

cup

extra-virgin olive oil

1

jalapeño

seeded

1 to 3

cloves

garlic
Tofu
14

ounces

firm or silken tofu

thinly sliced

½

teaspoon

extra-virgin olive oil

Few pinches of sea salt and freshly ground black pepper

1

tablespoon

nutritional yeast

optional
Cashew Ricotta
1 ½

cups

raw cashews

soaked overnight

½ to 1 ½

cups

nondairy milk

or water, see instructions

2

tablespoons

fresh lemon juice

Sea salt and freshly ground black pepper
Topping
½ to 1

cup

vegan mozzarella cheese shreds

½

cup

chopped fresh basil

for garnish
Instructions
Preheat the oven to 350°F. Grease a lasagna baking dish with the oil.

Bring a large pot of salted water to a boil. As soon as the water comes to a boil, drop in 4 of the lasagna noodles and cook until tender, 10 to 12 minutes. Remove the cooked noodles and line them up to cover the bottom of the prepared baking dish. Repeat until all the noodles are cooked, transferring the cooked noodles to a side plate once you have covered the bottom of the baking dish. (If you are able to cook more than 4 noodles at a time without having them stick together, you can do that too.) Reserve ½ cup of the pasta cooking water.
For the Spicy Jalapeno Pesto
In a high-speed blender, combine all the pesto ingredients with ⅓ cup of the pasta cooking water and blend, increasing the speed from low to high, until smooth. The pesto should be thick, yet easy to pour and drizzle, a tad thicker than the consistency of tomato sauce for pizza. Add more of the pasta cooking water, a spoonful at a time, if desired to thin out the texture of the pesto a bit. Pour the pesto into a bowl and set aside.
For the Tofu
In a sauté pan, heat the oil over medium-high heat. Add the tofu slices and season with salt, pepper, and nutritional yeast (if using). Cook, stirring occasionally, until the tofu edges brown, 3 to 4 minutes. Set aside.
For the Cashew Ricotta:
Drain the soaked cashews and rinse under warm water. Place the cashews in a food processor or high-speed blender.

Add the lemon juice and ½ cup of the liquid and process on high until smooth, which may take a few minutes depending on the strength of your food processor. The water will create a standard creamy texture, but using nondairy milk as the liquid will create an extra-creamy texture. When blending, if the ricotta is looking too dry, add more nondairy milk or water as needed. You want the end result to be a bit thicker than hummus. Fold in salt and pepper to taste.
Make the Lasagna:
Add the tofu over the bottom layer of noodles in the baking dish. Top with a generous layer of the cashew ricotta, followed by a layer of pesto, a sprinkle of vegan cheese, and a layer of noodles. Add the remaining cashew ricotta and pesto and any remaining tofu. Top with another layer of noodles. You can layer the lasagna however you'd like, really, just be sure to finish off with a top generous layer of pesto sauce and a sprinkle of vegan cheese.

Cover tightly with foil and bake for about 40 minutes. The top of the lasagna will be rippled and drier in texture, and the layers will be moist and tender. The edges should be lightly browned but not overcooked or crispy. Remove the foil, turn the oven to broil, and broil for 1 to 2 minutes. Let cool for at least 20 to 30 minutes in the baking dish before slicing and serving. This cooling time before serving is important. Do not serve too hot or the layers will fall apart too easily. Top with fresh basil to serve. Serve warm.
Nutrition
Calories:
451
kcal
Carbohydrates:
43
g
Protein:
13
g
Fat:
26
g
Saturated Fat:
4
g
Polyunsaturated Fat:
7
g
Monounsaturated Fat:
13
g
Trans Fat:
0.001
g
Sodium:
27
mg
Potassium:
452
mg
Fiber:
4
g
Sugar:
4
g
Vitamin A:
1237
IU
Vitamin C:
15
mg
Calcium:
90
mg
Iron:
3
mg
Craving more veg-friendly recipes?
Shop our collection of vegetarian and vegan cookbooks, including our new Vegan Thanksgiving and Vegan Christmas cookbooks!