These simple baked potatoes with a one-pot lentil filling are ideal for lunchboxes, a comforting dinner or a post-workout meal. Make the filling from a handful of simple ingredients and serve with an easy mashed avocado sauce for deliciousness every time!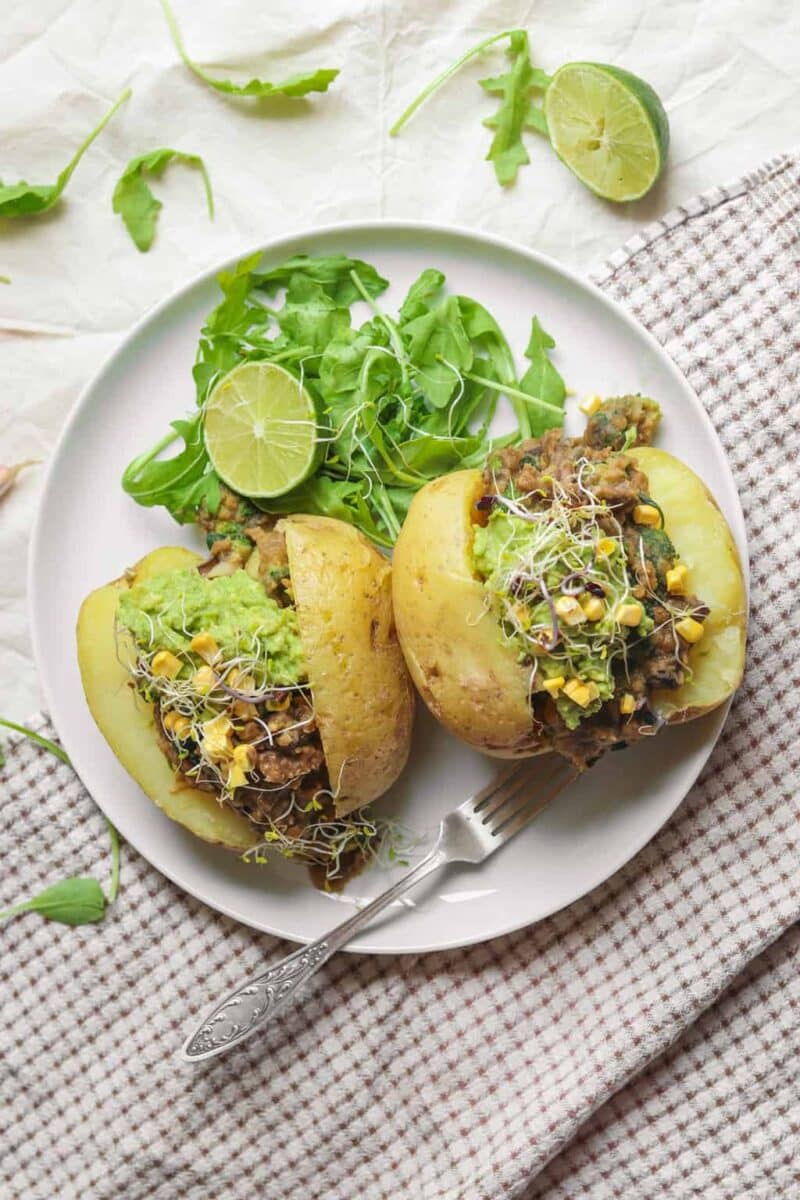 Potatoes are a huge staple in my diet and by far one of my favourite ingredients. I mean, we all know just how versatile they are! You can make chips/fries, wedges, mashed potatoes, roast them, make a potato salad, and so much more. I often microwave and snack on plain potatoes (as in, no salt or seasoning) because I think they taste amazing by themselves it's the easiest way to get an energy boost.
Plus, potatoes are much healthier than the diet industry often tells us. It's quick to demonise the carb content of spuds, ignoring the fact that they're an unprocessed, whole plant food that comes straight from the earth.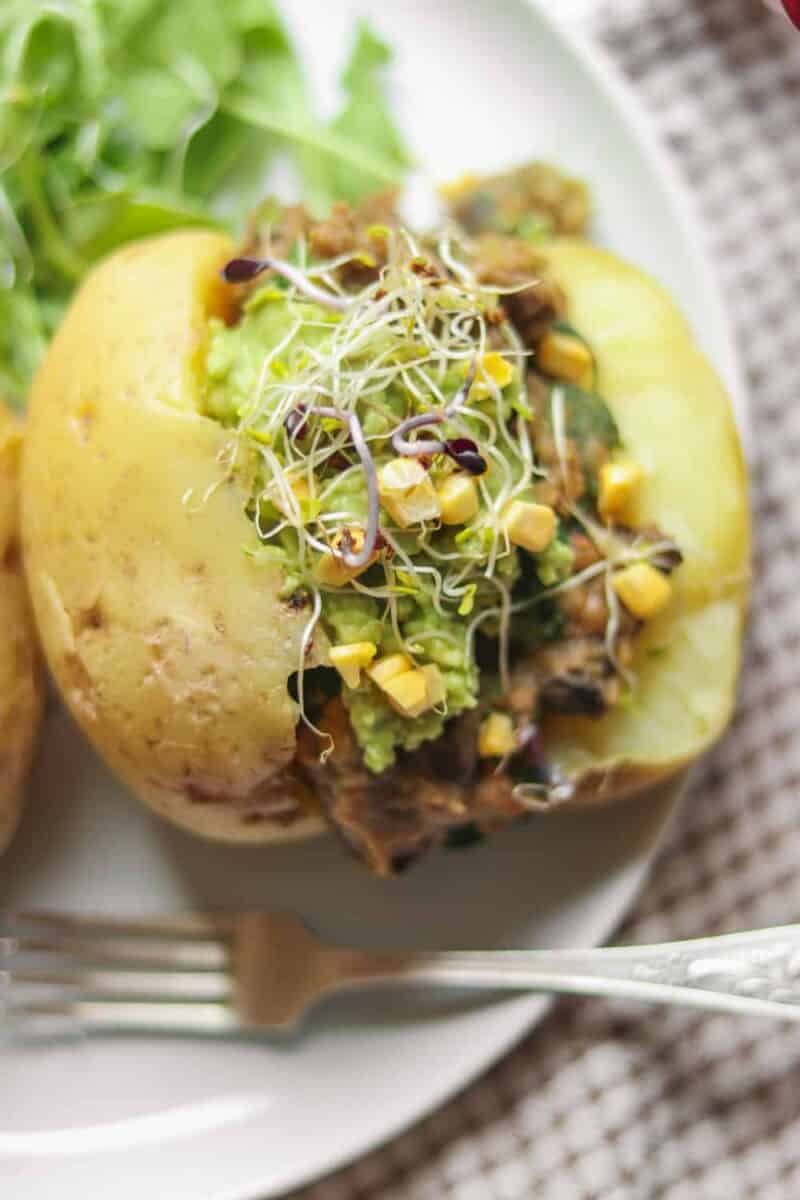 Unless your doctor told you to do so for medical reasons, there's no need to cut delicious carbs from your diet. In fact, they make up around 70% of my diet! Some people prefer eating higher fat. But, I was raised eating carbs and will always be a carb girl at heart - especially when the carb in question is potatoes.
What's so great about vegan baked potatoes?
Honestly, I never know whether to call these baked potatoes or jacket potatoes. But I don't know if they're called jacket potatoes anywhere outside the UK, so I went with the former because according to google analytics most of you come from the US. I'm not about to cause confusion.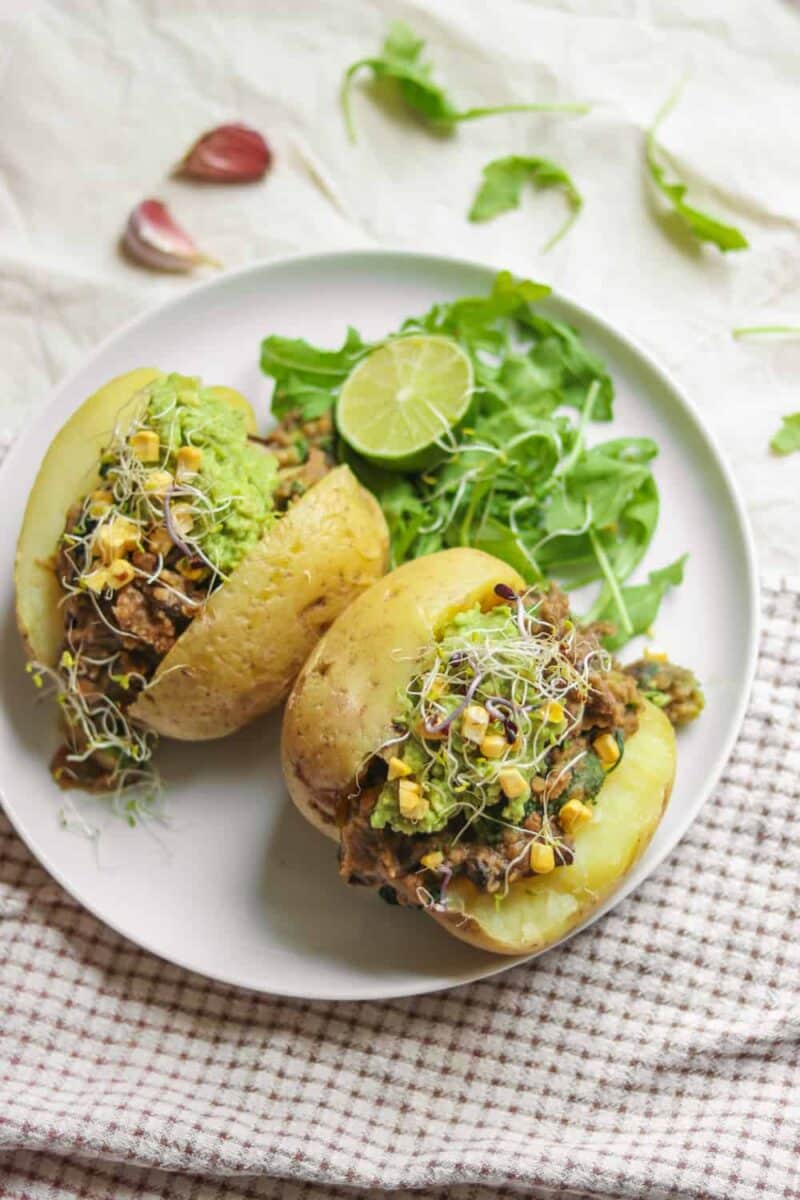 Regardless of what you call them, this is one of my favourite ways to serve potatoes. Each time you make stuffed potatoes, it's like enjoying a brand new meal if you switch up the filling. I chose this meal all the time in the school cafeteria as a kid. Now, the obsession has come back with a vegan (and often high protein) twist.
Of course, jacket potatoes make a super cosy and comforting dinner. But they're just as good for meal prep. Cook up enough potatoes for the week, a large batch of filling, and you've got your make-ahead lunch sorted. Or, if you're up for making the filling on the day, all you have to meal prep is the potatoes themselves.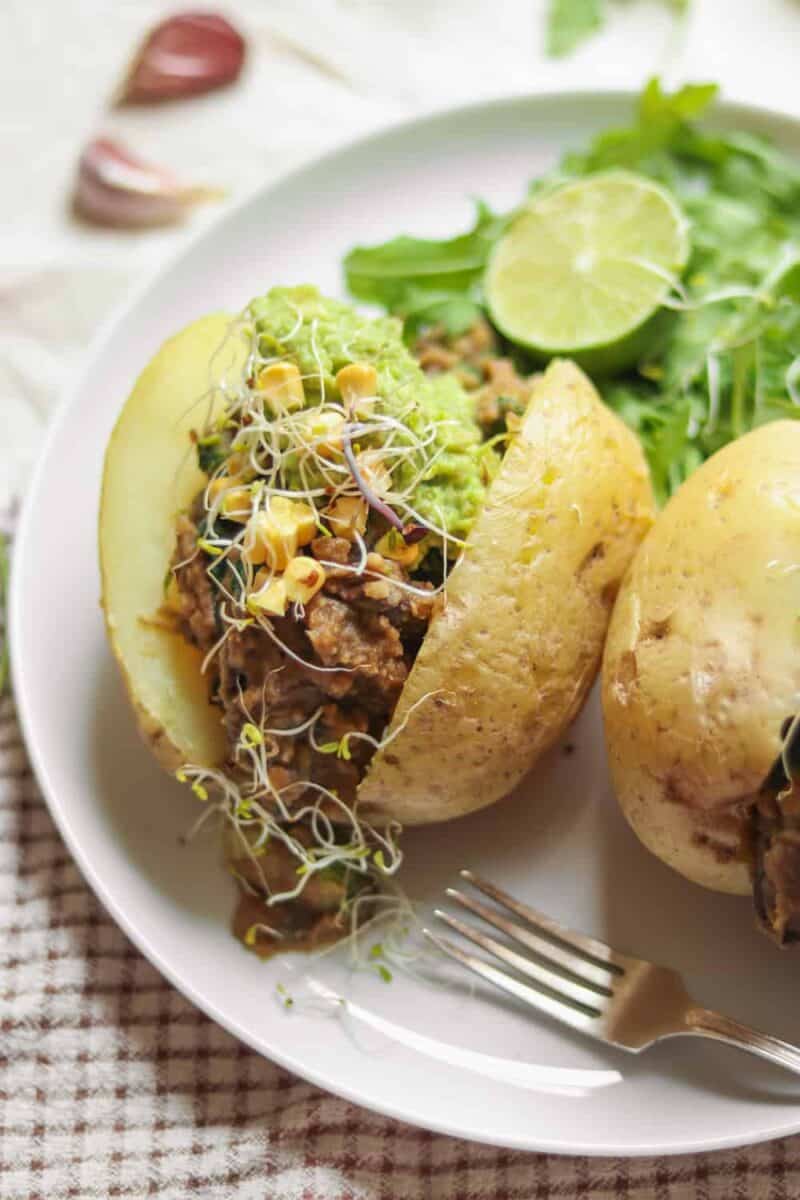 How to prepare baked potatoes
You have two options here. You can, of course, bake them in the oven for 45 minutes - 1 hour until cooked through. Alternatively, just use the microwave if you want a quicker option. Wrap them in a paper towel and microwave at 80% for 5 minutes, flip them over and give them five minutes more. Keep in mind that cooking times will vary depending on potato size.
Simple baked potato filling ideas:
Baked beans and vegan cheese
All types of beans and lentils with a sauce of your choice
Salad
Tofu or tempeh, marinated then baked/fried
Chickpeas with vegan mayo
Hummus (try this if you haven't already!)
Mushrooms
Avocado
One-pot lentil baked potato filling
I'm not exaggerating when I say that the filling we're making today is one of the tastiest things I've made recently. It's not the most extravagant, for sure (check my blackberry dessert pizza for that). But all the flavour comes from really simple, whole ingredients and it 100% tastes like comfort food.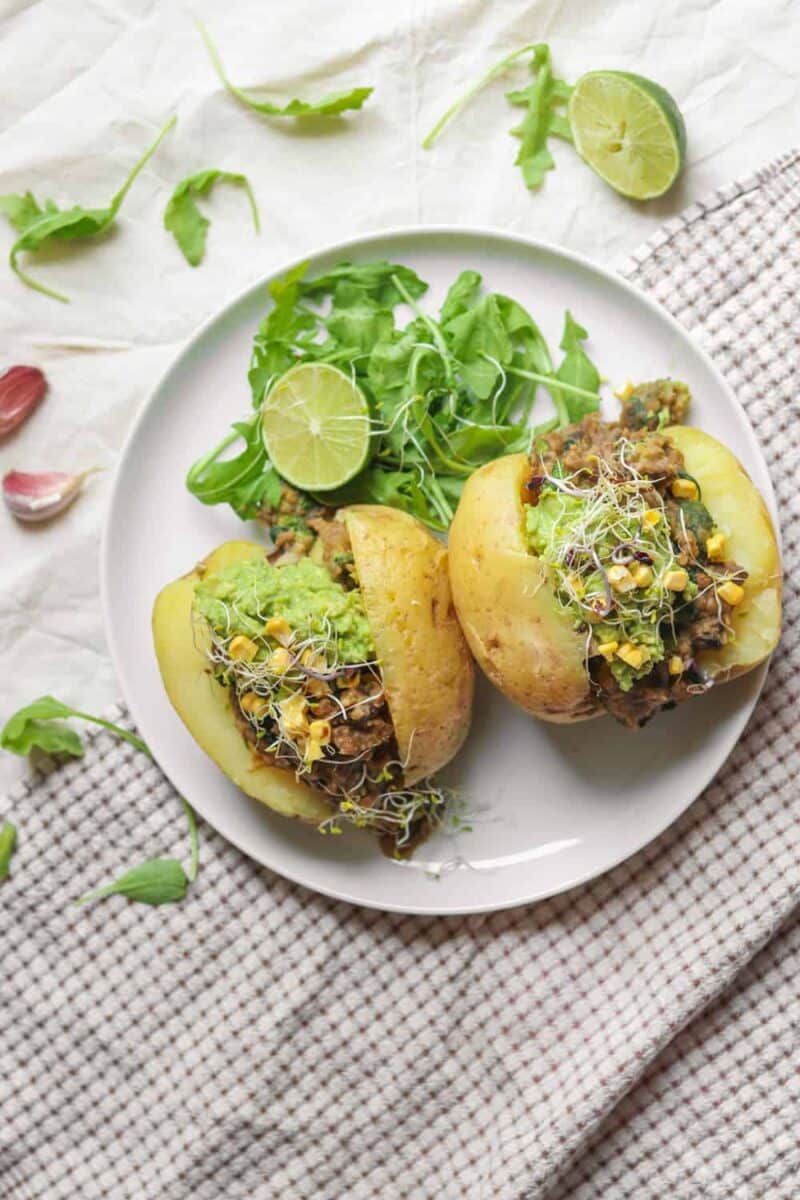 The mushrooms bring along a savoury and earthy flavour. The chestnut and oyster varieties are the best for this in my opinion. Cashew milk and maple syrup add a hint of creaminess and sweetness. And then there's garlic working its garlicky magic. You get a serving of cosy, warming deliciousness with each forkful of soft and crumbly potato - just what we all need now that autumn is around the corner. An added bonus is that you only need one pot to make this filling. In other words, far less washing up!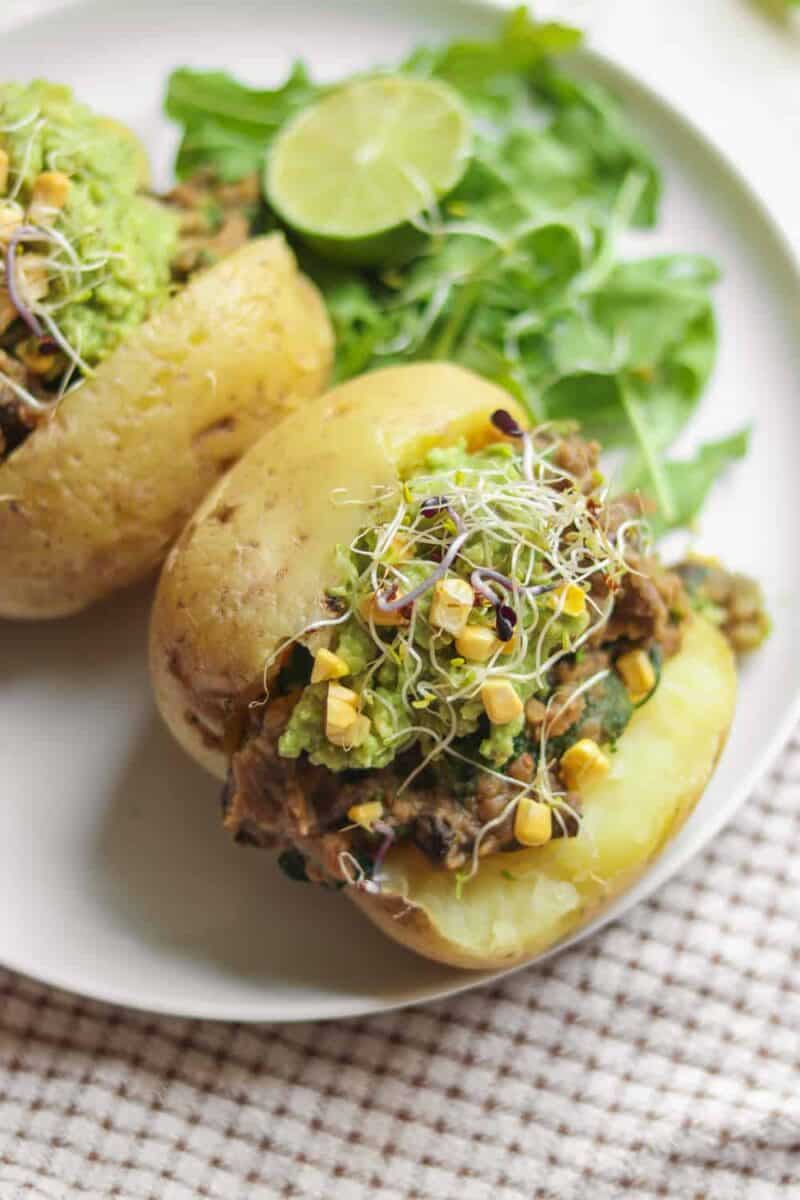 How to make baked potatoes with a one-pot lentil filling
Start by adding some minced garlic, red onion and garlic granules to a sauce pan and stir for a few minutes. Then throw in the mushrooms and after they've cooked down, add in some red lentils and cover them with water. Just be sure not to add too much - it's much better to go slow and steady, adding more as needed, and make sure it's all absorbed by the end.
Continue simmering and stirring. Around ten minutes into the cooking process, pour in some cashew milk. You can replace this with any plant milk of your choice (just make sure it's unsweetened) but I find that cashew works best for a creamier flavour.
At the last minute, I like to throw in some broccoli, nutritional yeast and fresh spinach, stirring until wilted down. You can easily add any other veggies you have on hand. A few good options may be carrots, celery, butternut squash and the like - just be sure to put them in with respective cooking times in mind.
Remember that you don't have to serve this filling with jacket potatoes at all! Cook up a batch on meal prep Sunday/Monday, and then serve it with a carby side of your choice throughout the week. I'm talking pasta, rice, quinoa, etc. It could even work as a soup with a side of your favourite bread!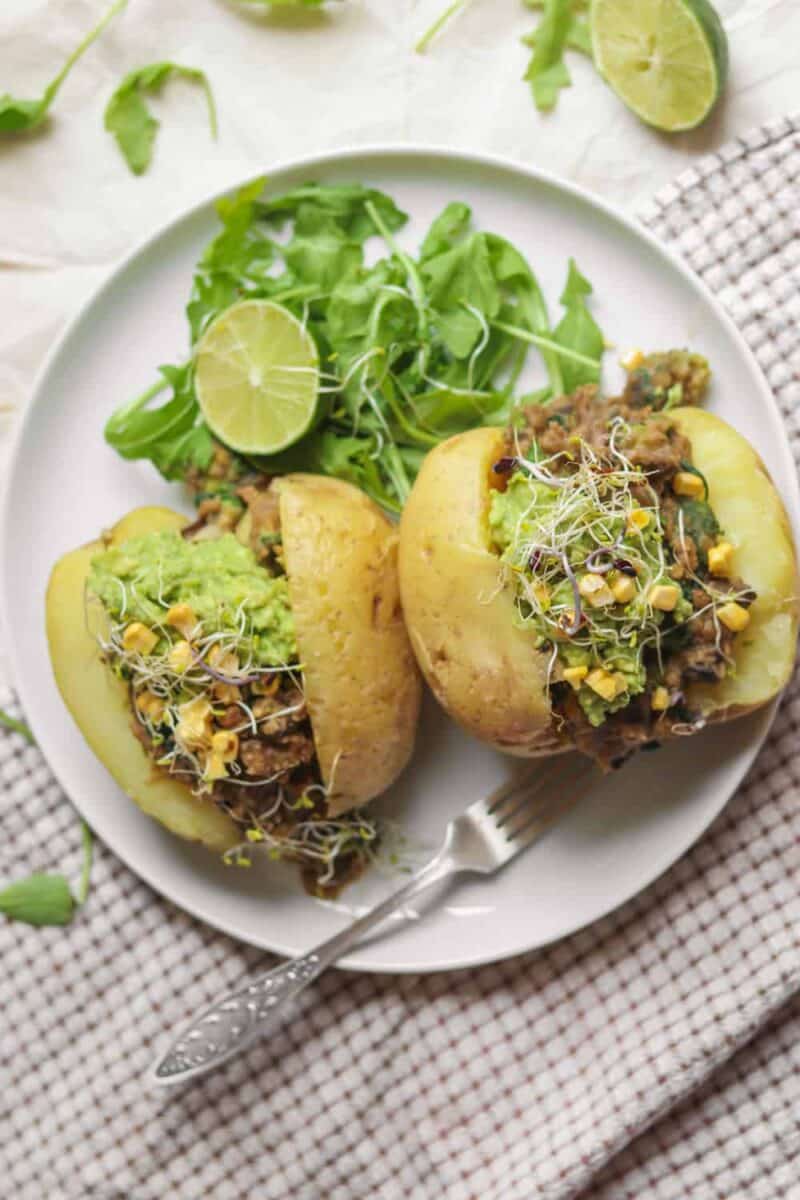 Other recipes perfect for a quick and easy lunch
Let me know in the comments: what's your favourite stuffed potato filling? If you give this recipe a go, be sure to tag me on Instagram (@earthofmaria) so I can see your creations, or leave your thoughts below!
Ingredients
4

large

potatoes

1

large

red onion

diced

4

cloves

garlic

minced

1

tsp

garlic power

2.5

cups

chestnut mushrooms

chopped

2

cups

red lentils

salt and pepper, to taste

1

cup

cashew milk

2.5

cups

broccoli

chopped

5

tbsp

nutritional yeast

2.5

cups

spinach leaves
To serve
2

medium avocados

juice of 1 lime

sea salt to taste

fresh sweet corn

alfalfa sprouts
Instructions
Preheat an oven to 200 degrees C/392 F. Bake the potatoes for 45-50 minutes, depending on the size of the potatoes.

Add the red onion, garlic and garlic powder to a non-stick saucepan on a medium-high heat and stir for 2-3 minutes, until translucent. Add the mushrooms and continue stirring for around 4 minutes more.

Lower the heat and add the red lentils and cover with water, but be sure not to pour in too much. Season to taste with salt and pepper.

Simmer on a low-medium heat for 15-20 minutes, stirring occasionally and adding more water when necessary. Around 10 minutes into the cooking process, pour in the cashew milk.

At the last minute, stir in the broccoli, nutritional yeast and spinach. Cook until the spinach wilts and the broccoli softens slightly.

To make the avocado sauce, mash the avocados using a fork in a mixing bowl with lime juice, seasoning to taste with salt.

Serve the potatoes with the lentil filling, avocado sauce, fresh sweetcorn and alfalfa sprouts. The lentil filling can be stored in the fridge for 3-4 days in an airtight container.
Nutrition
Calories:
547
kcal
Carbohydrates:
97
g
Protein:
37
g
Fat:
2
g
Sodium:
100
mg
Potassium:
2585
mg
Fiber:
38
g
Sugar:
2
g
Vitamin A:
2450
IU
Vitamin C:
47.5
mg
Calcium:
195
mg
Iron:
17.8
mg
Craving more veg-friendly recipes?
Shop our collection of vegetarian and vegan cookbooks, including our new Vegan Thanksgiving and Vegan Christmas cookbooks!
Pin this recipe for later!