Are you feeling the need for some flower power? These lavender cupcakes are so fun and easy to make. Delicious lavender-infused cupcakes are topped with a beautiful lavender buttercream frosting. They're so simple - yet pretty enough for teatime.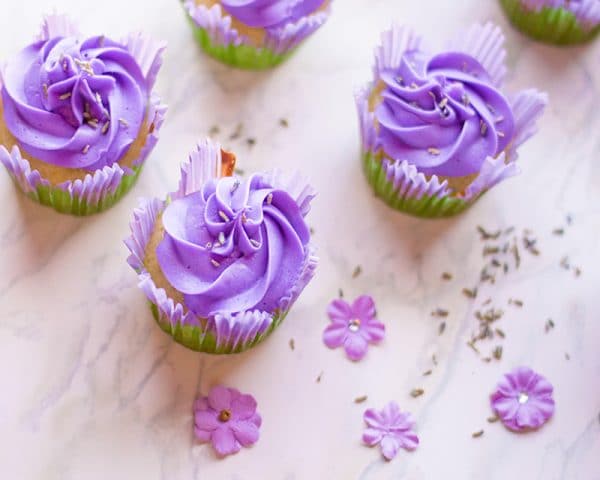 When we moved into our new home, I promptly planted lavender all around our deck. It smells absolutely divine when it's in bloom, and I've been wondering what I might be able to do with it in the kitchen.
I've heard of others cooking with dried lavender, but was a bit skeptical.
But then I came across these adorable flower cupcake liners, and just couldn't resist trying my hand at these little lavender-inspired cupcakes.
And I have to say, these turned out pretty amazing. And they really couldn't be any cuter.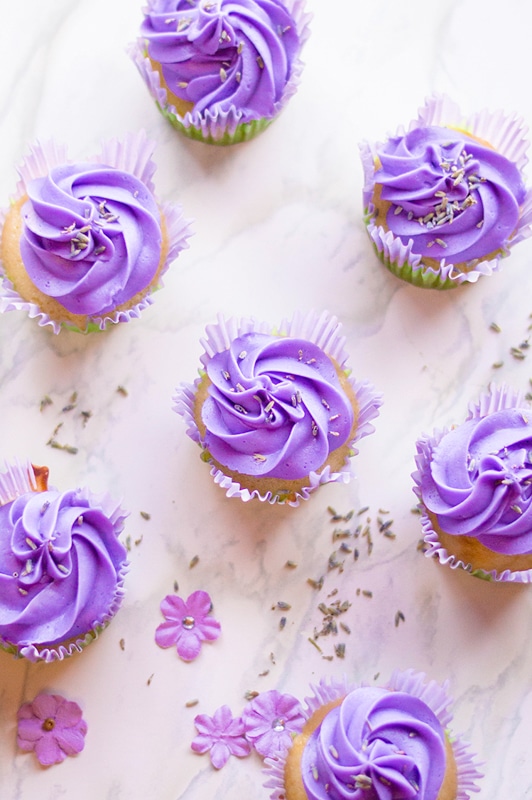 They have the deliciously simple taste of vanilla cupcakes and buttercream frosting, but with a subtle hint of lavender. And so much prettier!
Whether you're a hippie at heart, love your natural herbs, or you're looking to add some new flavors to your routine, these lavender cupcakes are worth a try.
Let's make lavender cupcakes!
The tricks here are all in the frosting. So I won't spend too much time on the initial cupcake making.
You are going to make a basic white cupcake. In fact, it's the same cupcake batter that I used for my strawberry cupcakes. The only difference is that you'll add a pinch of dried lavender to the mix. (The full recipe is at the bottom of this post.)
If you want to cheat a bit, you can also pick up a packaged white cake mix, and just add the lavender to your batter.
Then, simply bake the cupcakes and let them cool a bit until you're ready for the fun part - the frosting!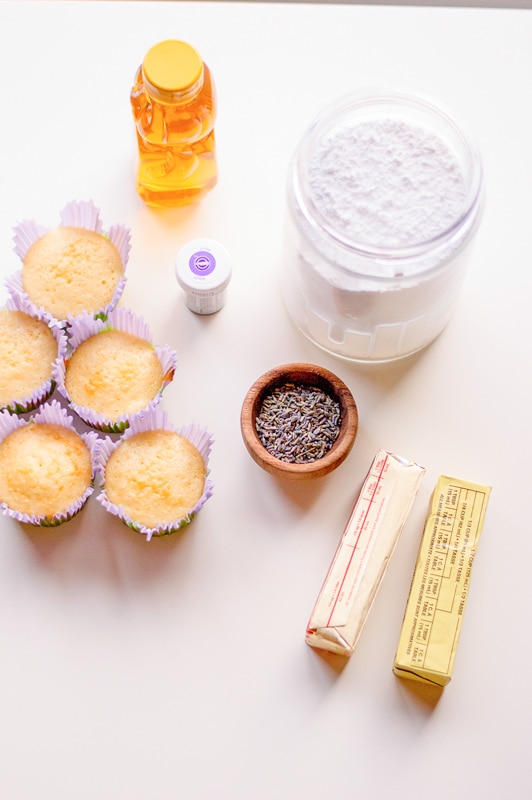 Start by gathering all your ingredients. You'll need your pre-made cupcakes (with those cute flower muffin liners of course), softened butter, confectioners' sugar, a bit of milk, violet gel food coloring, honey, and dried lavender.
You can dry your own lavender from your garden, or you can just pick up some edible dried lavender from the store.
Making Lavender Buttercream Frosting
Make sure your butter is nice and soft before you get started. Then combine butter, sugar, and milk in a large mixing bowl.
Using an electric mixer, start beating the ingredients together on medium speed and then increase the speed to high.
You'll notice it start to form stiff peaks, and that's when you know the buttercream frosting has become the consistency you need.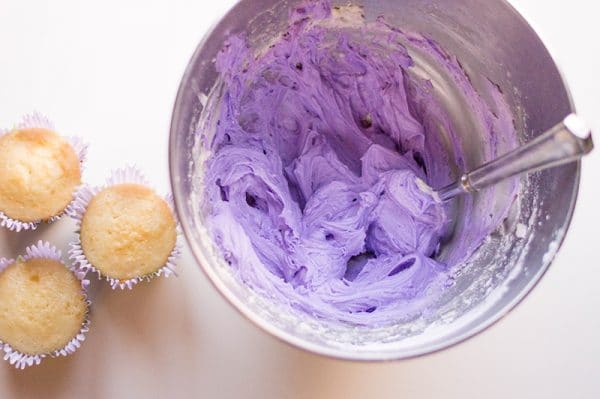 Next, add in your food coloring, a couple drops of lavender oil, and fold in the honey to make your frosting just a touch sweeter.
Don't go overboard with the lavender oil - just a couple drops will give the cupcakes a subtle hint of flavor. Add too much and the cupcakes will smell like perfume - yuck!
Make it Vegan
If you want to vegan-ize these cupcakes, you have a few options.
For the cake batter, I recommend using this vegan vanilla cake batter. Then add in the dried lavender, as described in this recipe.
For the frosting, your best bet is to use this vegan buttercream frosting as a base. Then add the lavender and food coloring as described in this recipe.
You will want to omit the honey, or substitute a drizzle of agave syrup instead.
Decorating your Lavender Cupcakes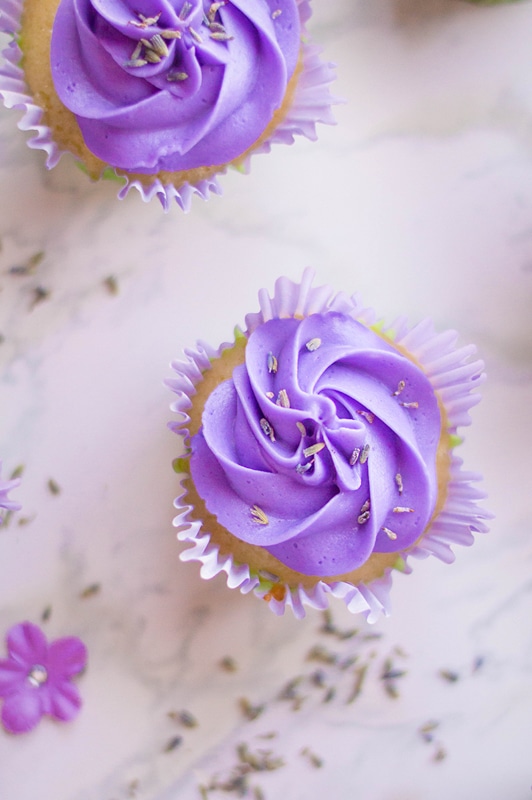 Once your cupcakes are cooled, we'll get started on frosting them. It's important that your cupcakes are completely cooled because warm cupcakes could melt the buttercream frosting.
They'll still be tasty if this happens, but not nearly as pretty.
Add your frosting to a piping bag, and frost each cupcake. Get creative with the piping. There are all sorts of ways you can pipe the frosting to look just like a flower.
If you need some inspiration, I love this little video from Wilton. It shows you how to make a whole bunch of cute flower designs in just a few minutes!
This is how my frosting designs turned out. I'm not a decorating master - but I think they are pretty cute!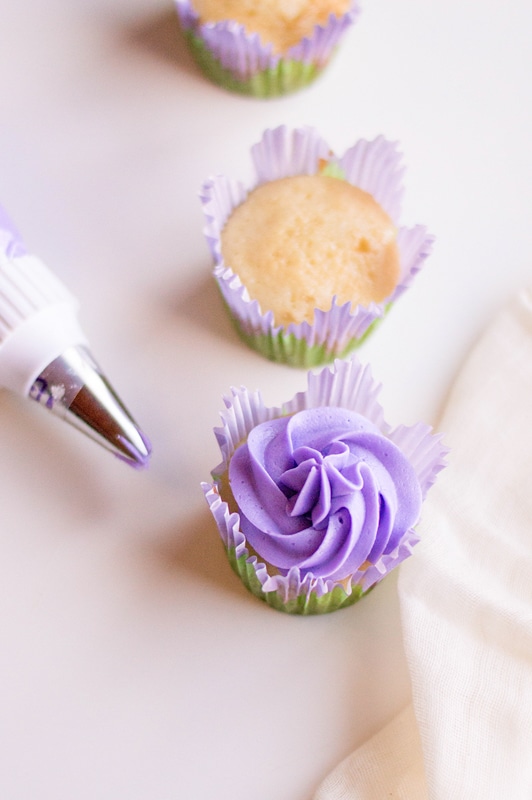 And your very last step in making lavender cupcakes is adding the dried lavender.
Just sprinkle a pinch on top of each cupcake. And don't worry! Dried lavender is edible. On its own, it has a floral taste with hints of mint and rosemary.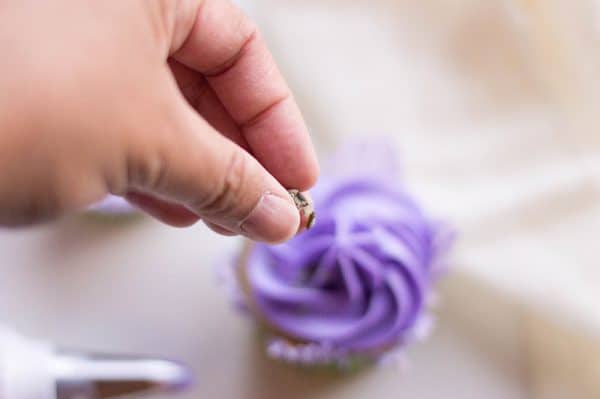 You could also mix some lavender into the frosting itself to make a true lavender buttercream frosting, but I felt it would be too overpowering for my taste.
Plus, it looks so pretty sprinkled on top.
Feel free to experiment with this one. There are lots of ways to get that bit of lavender flavor into the cupcakes. If you don't love the idea of dried lavender, you could add a few drops of lavender oil to the cake batter or buttercream frosting as an alternative.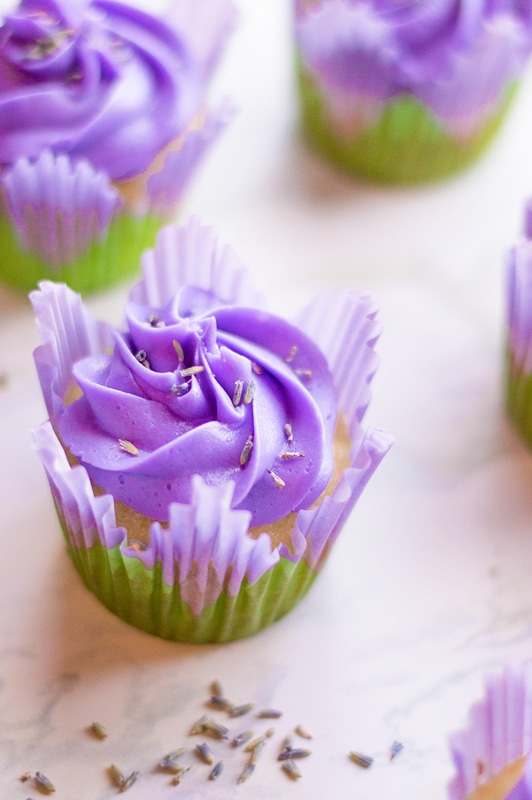 And voila, you have beautiful, delicious lavender cupcakes!
These lavender buttercream cupcakes are perfect for summer entertaining, birthday parties or even a casual wedding. They're fun and easy to make - and pretty enough for any occasion.
Recipe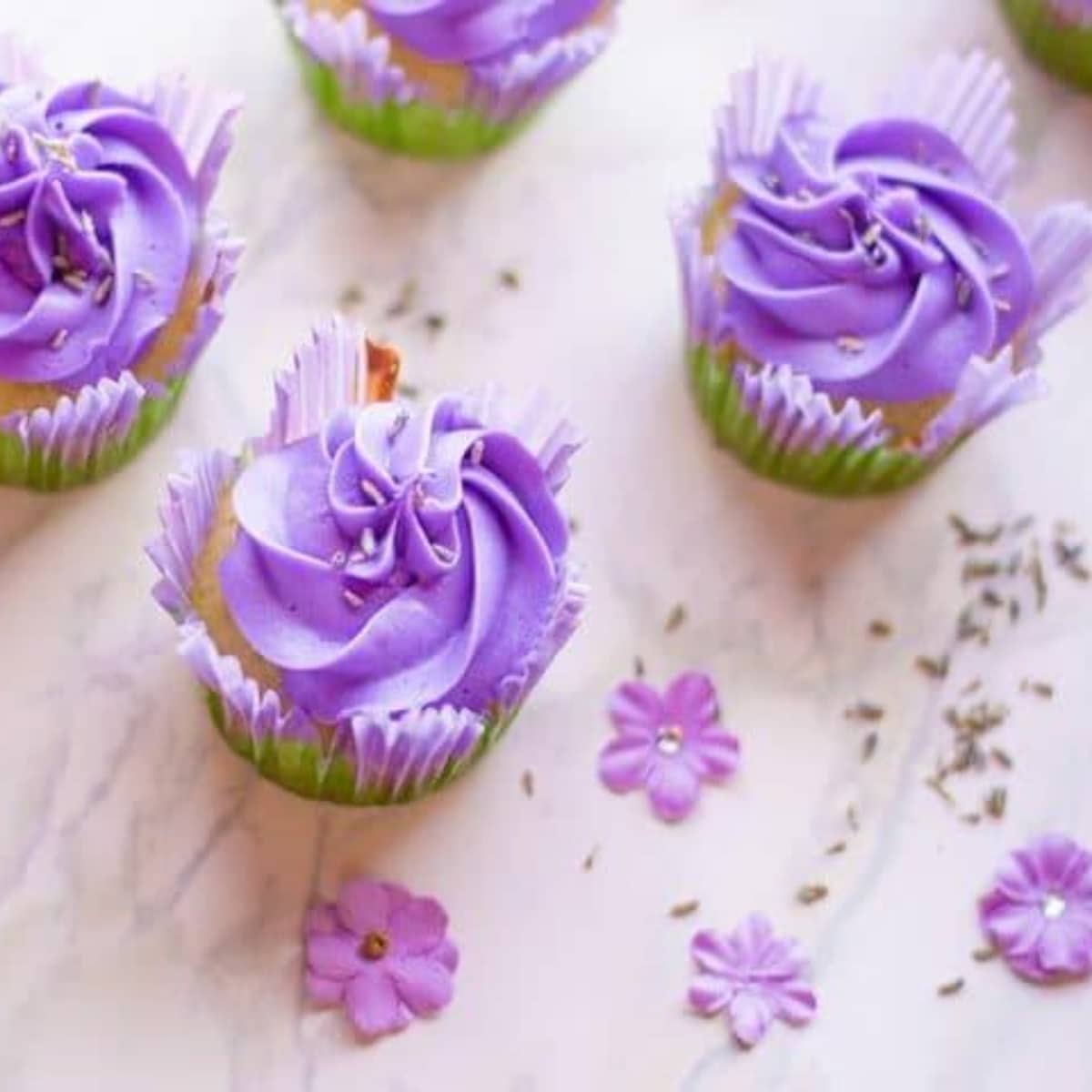 Ingredients
For lavender cupcake batter:
For buttercream frosting:
2

sticks

butter

softened

4

cups

confectioners' sugar

2-3

tbsp

milk

2

small drops

purple gel food coloring

2

tbsp

honey

2

tbsp

dried lavender

for topping
Instructions
For lavender cupcakes:
Preheat oven to 350 degrees.

In a small bowl, mix together the wet ingredients (butter, egg whites, milk) for the cupcake batter.

In a separate larger bowl, mix together the dry ingredients for the cupcake batter (flour, sugar, baking powder, lavender, salt).

Mix together the dry and wet ingredients to form the cupcake batter. Use an electric mixer to make this easier, if you have one.

Spray a cupcake tin with cooking spray. Pour batter into cupcake tins. Bake for 12-18 minutes, until a sharp knife inserted into a cupcake comes out clean.
For buttercream frosting:
Before decorating cupcakes, ensure they are cool.

Using an electric mixer, start beating butter, sugar, and milk on medium speed. Gradually increase the speed to high, and you will see your buttercream starting to take form. It is ready once it forms still peaks.

Color buttercream with purple gel food coloring, then fold in honey.

Using a piping bag, frost each cupcake. Top with dried lavender and serve.
Notes
For a smoother cupcake batter, you can process the dried lavender in a food processor before using. This will grind it into a smooth powder.
Nutrition
Calories:
595
kcal
Carbohydrates:
85
g
Protein:
4
g
Fat:
27
g
Saturated Fat:
17
g
Cholesterol:
73
mg
Sodium:
288
mg
Potassium:
160
mg
Sugar:
68
g
Vitamin A:
860
IU
Calcium:
73
mg
Iron:
1.1
mg
Craving more veg-friendly recipes?
Shop our collection of vegetarian and vegan cookbooks, including our new Vegan Thanksgiving and Vegan Christmas cookbooks!