Take a vegan falafel wrap with you to school or work as a delicious lunch packed with plantbased protein! With kimchi, edamame and a simple paprika hummus spread, this simple recipe certainly isn't missing any flavour.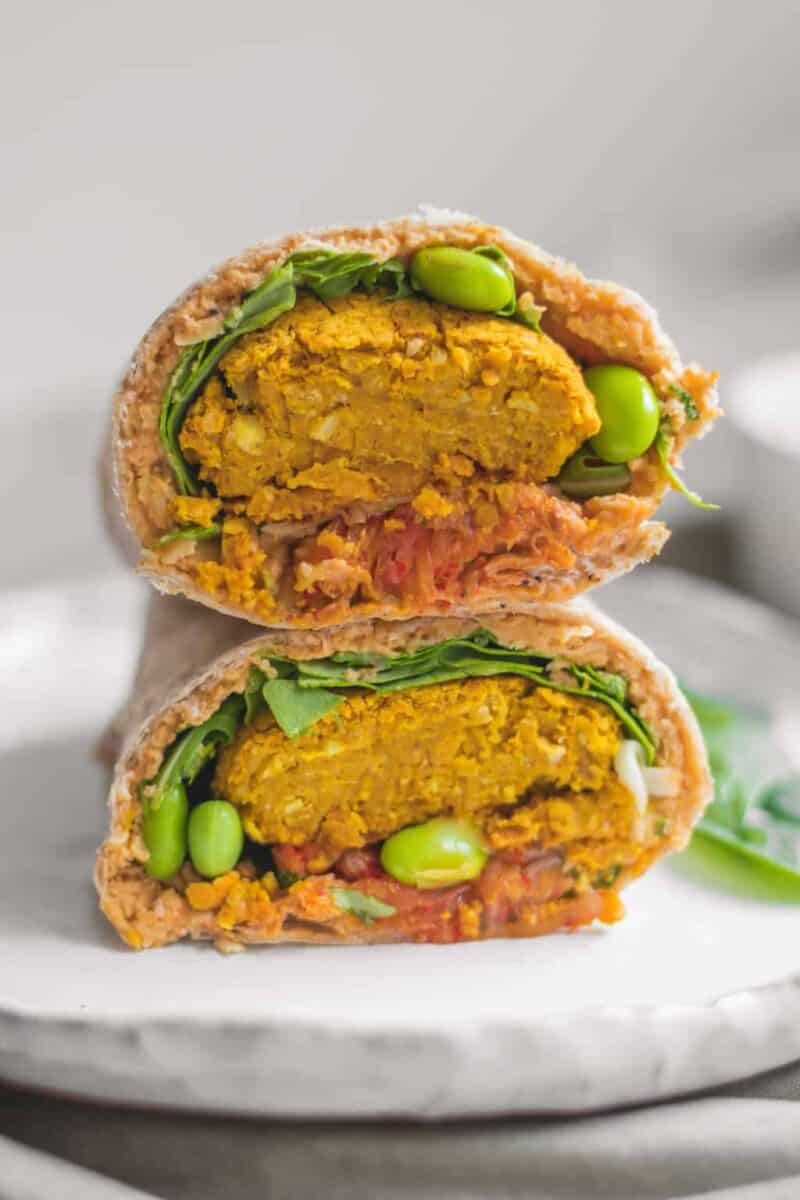 Disclosure: some of the links in this post are affiliate links. This does not result in any extra cost for you, but it does mean that I make a commission if you click through and make a purchase. 
I've come to decide I prefer wraps over sandwiches. I think it's because I finally taught myself how to wrap (not to be confused with rap because that's a skill I'll never perfect) them without everything falling apart. And it proved easier than expected! Hence, they've pretty much replaced sandwiches as a make-ahead lunch for me.
Vegan packed lunch for school or work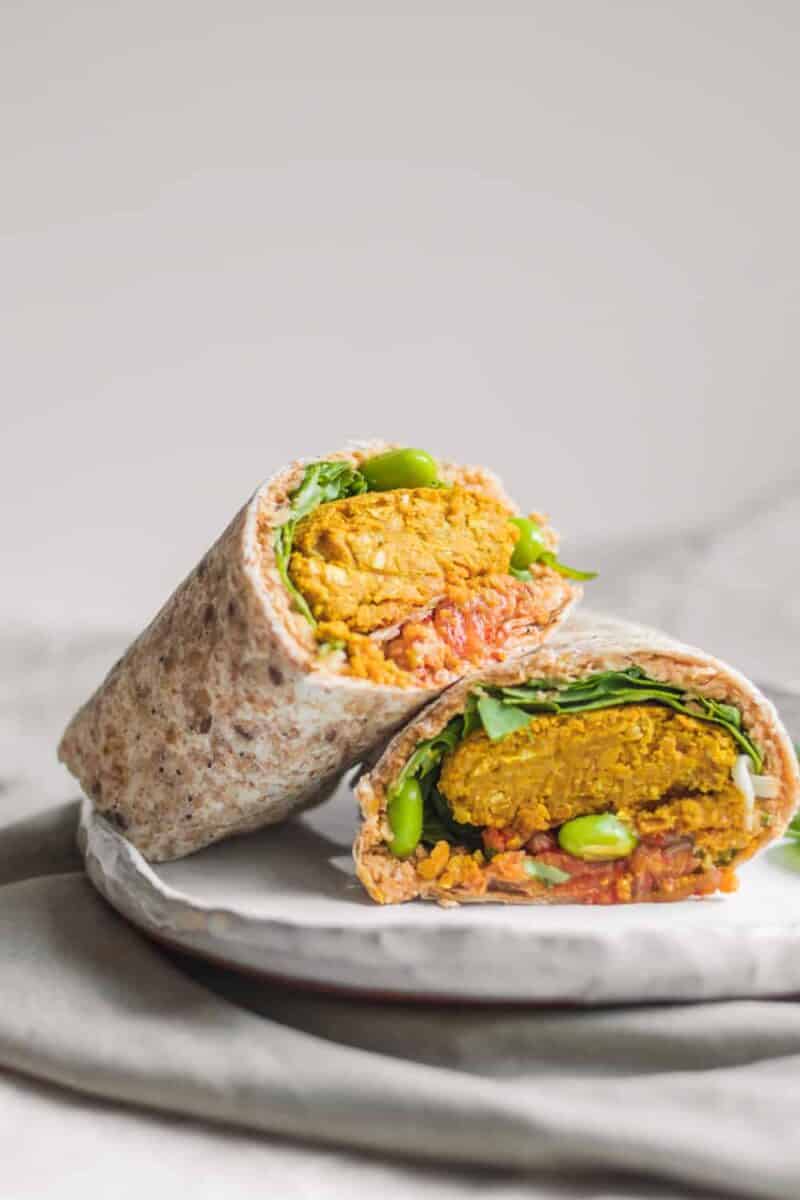 We all know what season it is now - back to school. September is around the corner and everyone is going back to school/college/university. My uni course doesn't start until October, but I'm making sure I have plenty of go-to recipes for that very busy yet exciting time.
Not too long ago, I came up with a super easy, oil-free baked falafel recipe that I didn't share straight away because I was looking for a perfect way to serve them.
Of course, you can make a huge variety of lunches with falafel. I love adding them to different salads, crumbling them into pasta or also bringing a dip with me for a snack on the go.
But adding them to a wrap with paprika hummus, veggies and kimchi? Even better.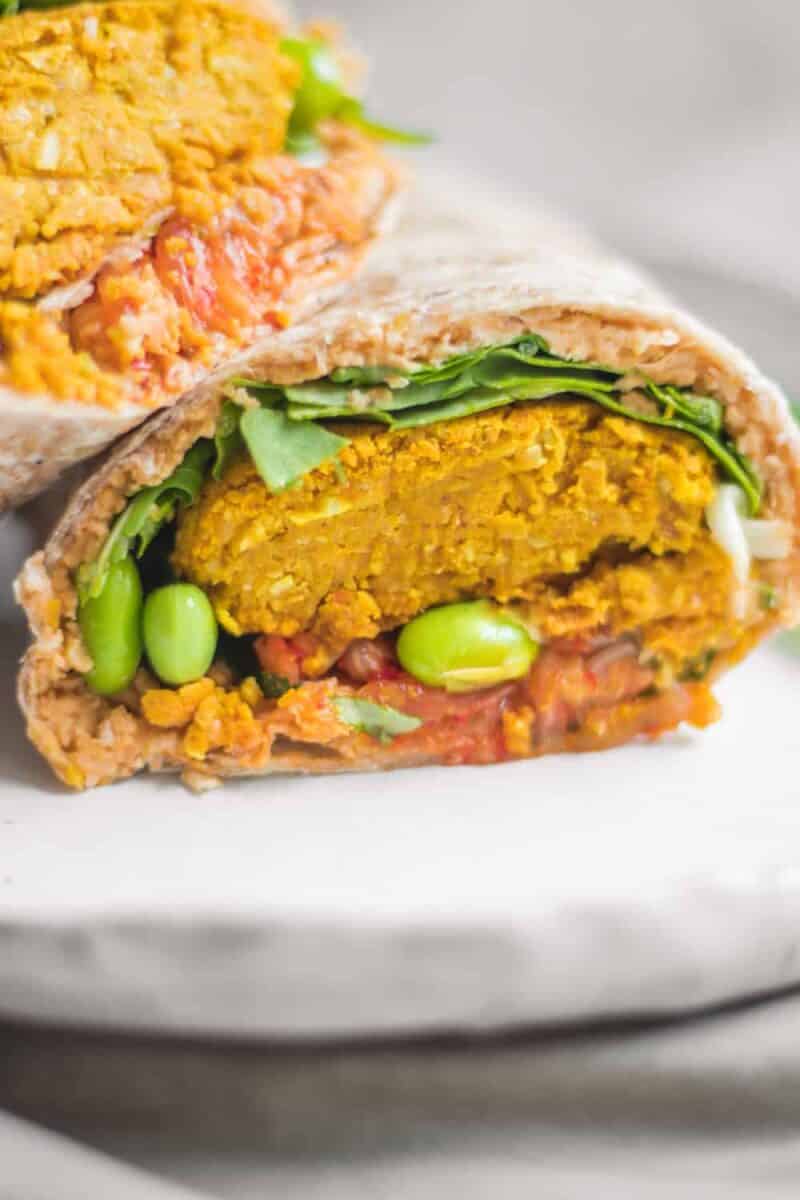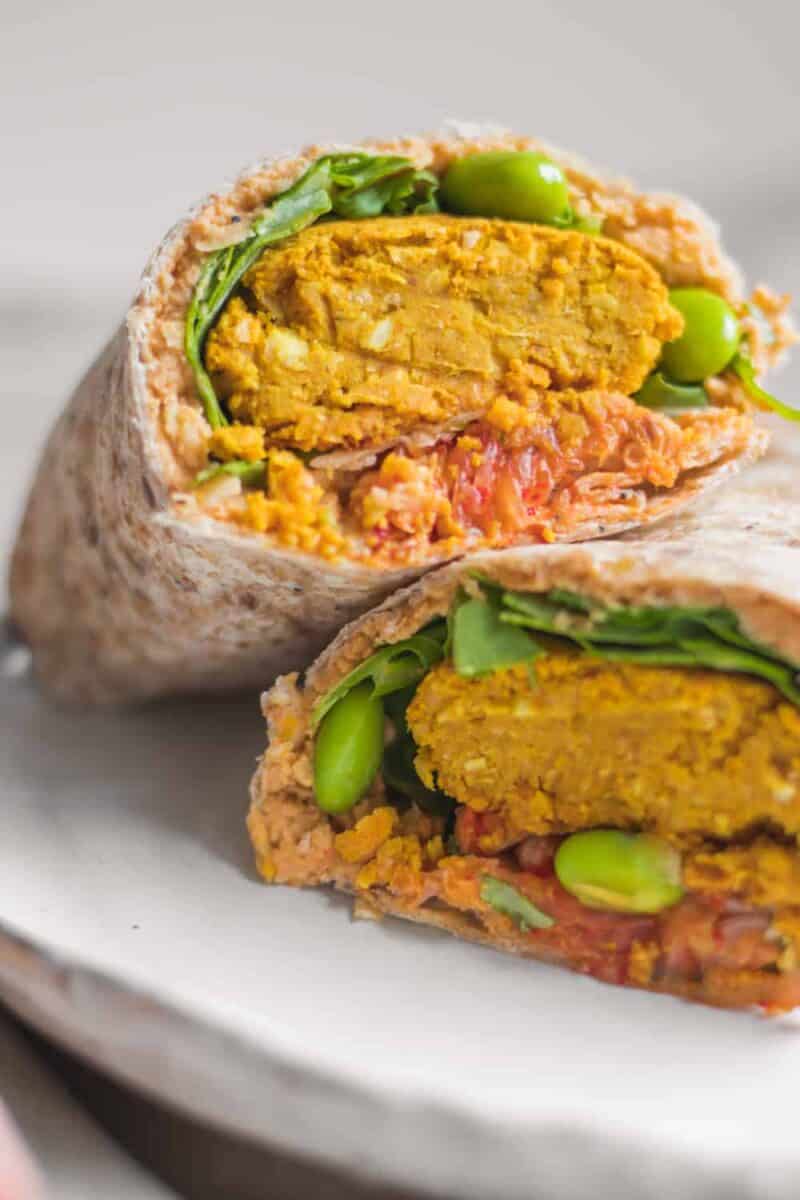 Let's talk about the hummus for a second. It's not a 'classic' hummus recipe to be sure (i.e., the type of thing you get at restaurants). It prioritises convenience and simple preparation, but still has a delightful and smoky flavour. If you can, use soaked and cooked chickpeas for best results, but canned work too if you want to save time (or you're like me and always forget to soak the chickpeas).
How to make baked falafels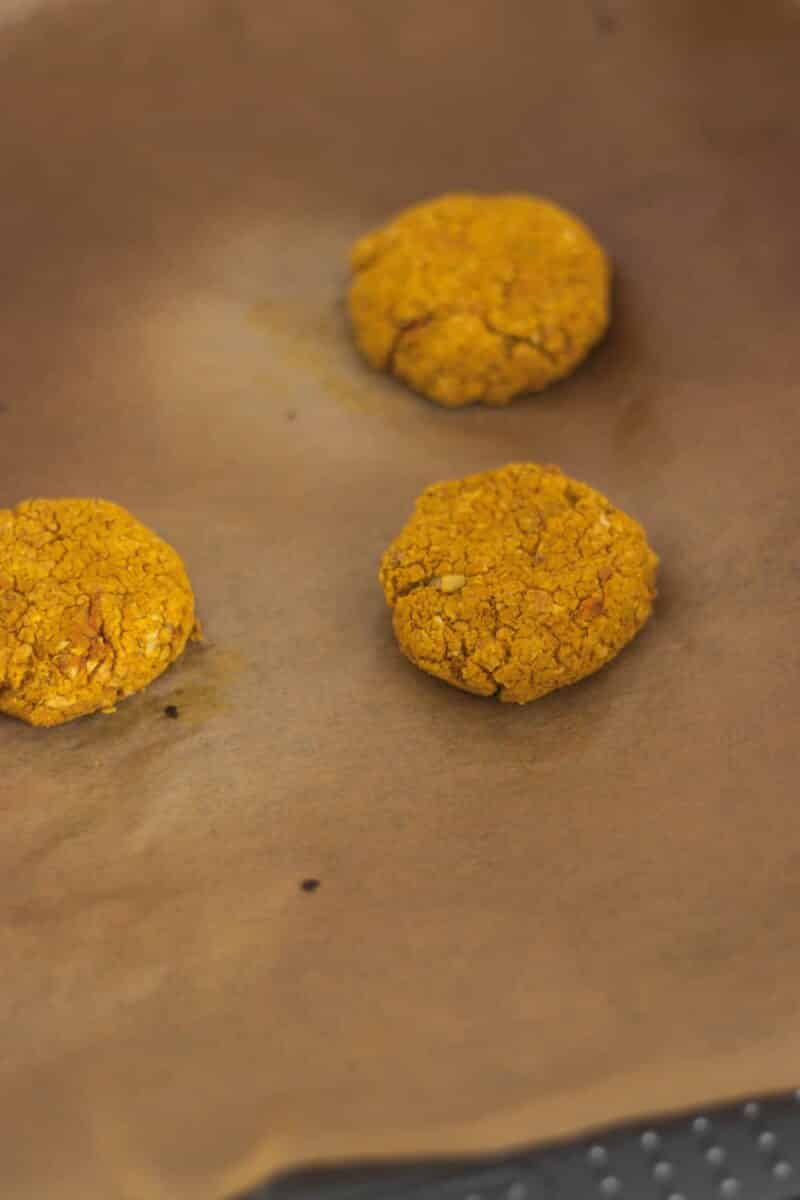 The key to a good vegan falafel wrap is, of course, a good falafel.
Add the ingredients to a food processor with a few tbsps water as needed. Use your hands to make falafel shapes on a sheet of baking paper. Bake at 200 degrees Celcius for 20 minutes. Done! It's as easy as that.
For the spices, we're going for cumin, turmeric, paprika and cayenne pepper. Leave the cayenne pepper out if you don't like spicy food, and feel free to add any others of your choice. Something I love about falafel is that switching up a few ingredients creates an entirely new flavour!
Also, when the falafels are in the oven, keep an eye on them after the 15 minute mark. They can get too crispy very fast, and we want to make sure they stay soft on the inside.
What else to put in a vegan falafel wrap?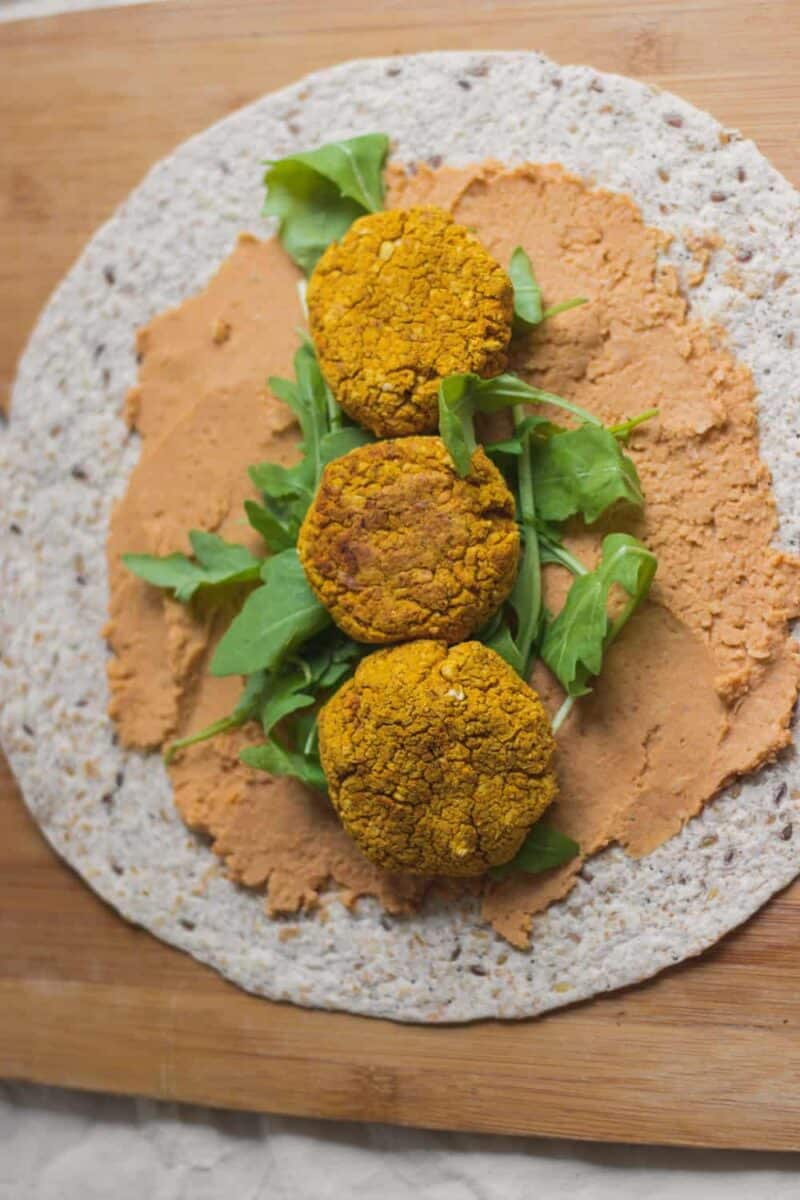 Of course, you want to add a few extras to your falafel and hummus. I went with serialised zucchini and arugula for crunch, edamame for extra protein and healthy fats and kimchi for overall yumminess.
A few other things to try out include:
Veggies of your choice: tomatoes, cucumber, carrot, roasted aubergine...
Leafy greens like spinach and kale
Nuts and seeds
Roasted nut butter or tahini - so good!
Coconut or soy yoghurt
Condiments of your choice: vegan mayo, ketchup, and the like.
Sauerkraut - have this instead of the kimchi if spicy food isn't your thing.
Jackfruit
Rice or quinoa
And so much more! Not all at once though, simply because you might have a hard time wrapping that up. I'm always trying out new combinations to keep my lunches interesting. Plus, if you prefer sandwiches over wraps, it's very much possible to have the same ingredients between two slices of your favourite bread.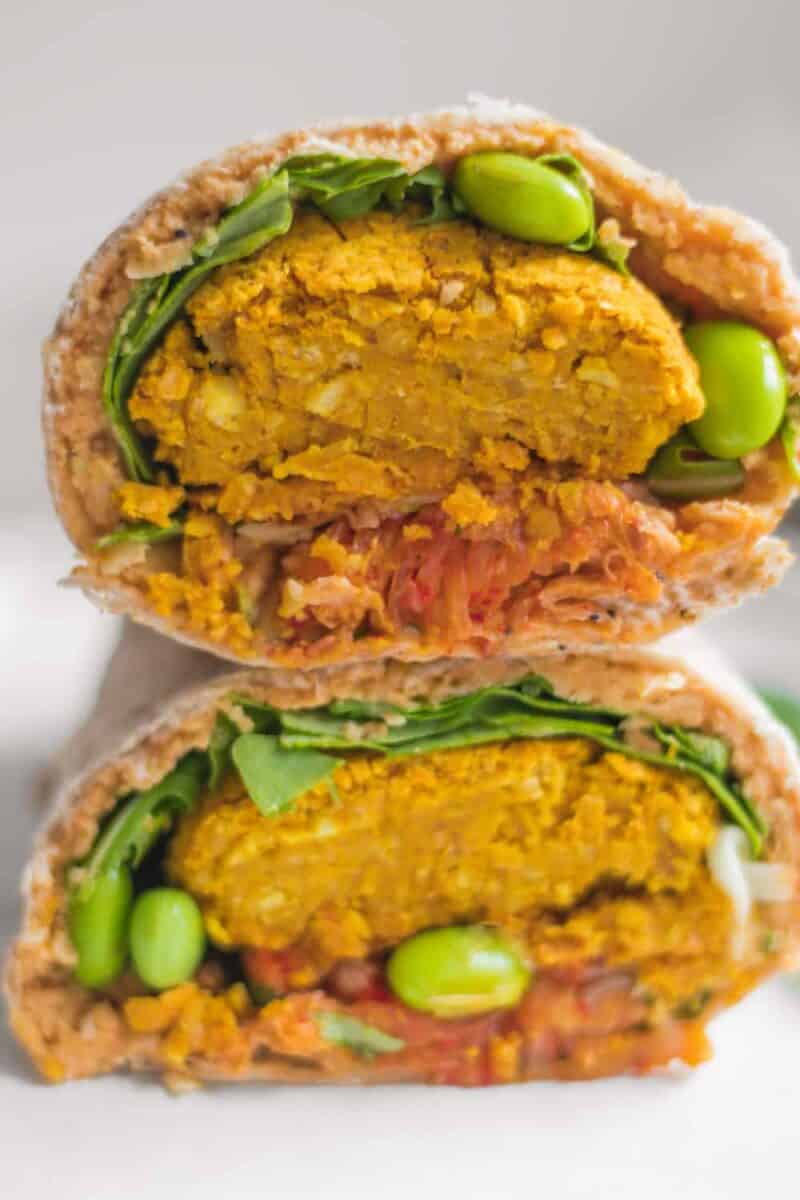 A few reasons why I'm obsessed with this vegan falafel wrap recipe
The falafels are perfectly crunchy on the outside and soft on the inside.
It's full of different textures, which is always a must for a good sandwich or wrap.
The hummus is easy to make and definitely good enough to eat by itself with a spoon.
Everything is made without any refined oil.
Wraps like this are perfect for lunchboxes and eating on the go.
You can make each wrap unique with different sauces and vegetable combinations.
They only take 30 minutes!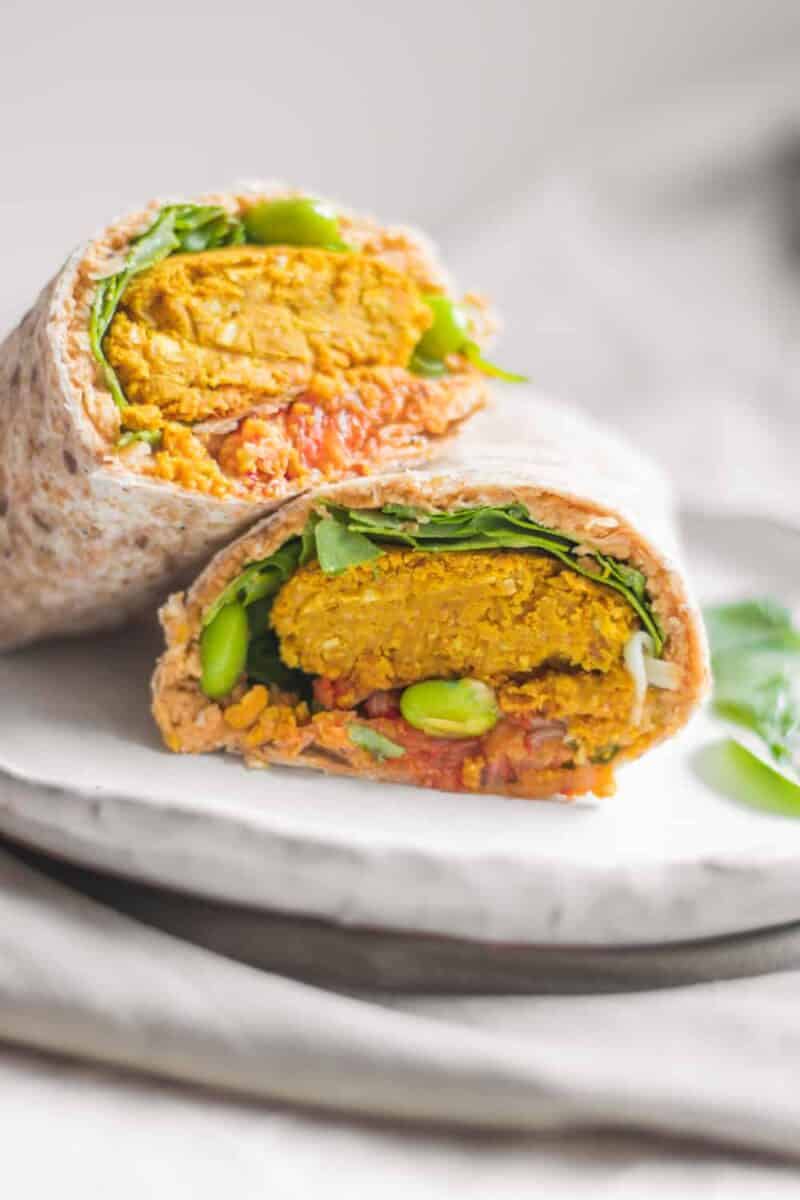 Products I used for this:
Other recipes you might like...
Let me know in the comments: what's your favourite wrap filling at the moment? If you give this recipe a try, be sure to tag me on Instagram (@ohmyveggies), or comment a photo on Pinterest so I can see your creation!
Recipe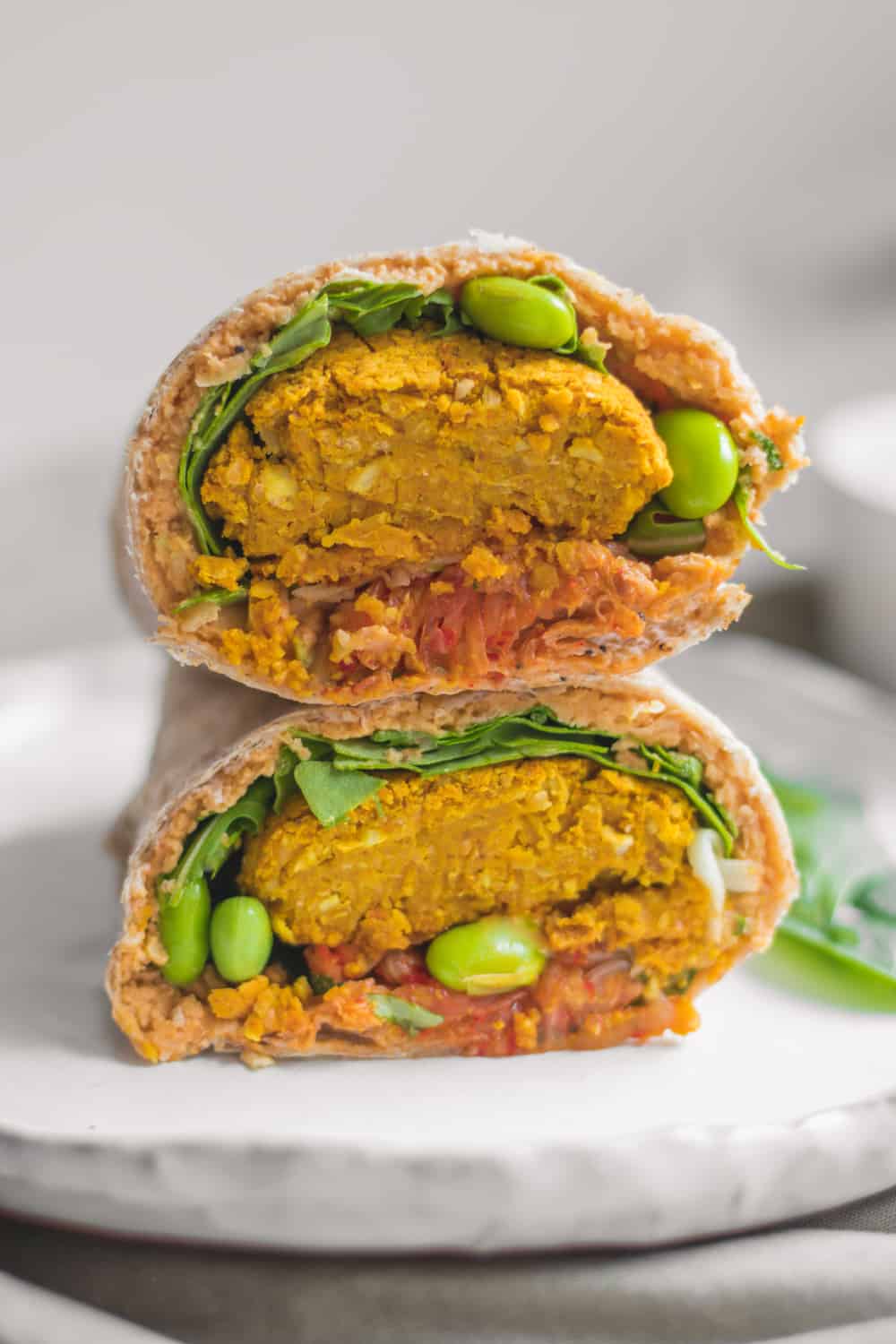 Ingredients
For the hummus spread
To serve
2

gluten-free tortillas

1

cup

fresh arugula

1

cup

zucchini

spirallized

½

cup

edamame

¼

cup

kimchi
Instructions
Preheat an oven to 200 degrees C/392 F. Add all the falafel ingredients to a food processor and blend for a couple minutes, until well combined. Add more water if necessary.

Use your hands to make flat falafel shapes and arrange them evenly on a sheet of baking paper. This mixture should make 6-7 falafels. Bake for up to 20 minutes, checking after the 15 minute mark to make sure they don't burn.

Meanwhile, make the hummus by placing all the ingredients into a food processor and blending until smooth. Add more water if necessary.

Once the falafels are ready, arrange the wraps by spreading the hummus on tortillas and adding fresh arugula, the falafels, spiralized zucchini, edamame beans and kimchi. Roll up tightly and serve straight away, or store in the fridge in an airtight container for 2-3 days.
Craving more veg-friendly recipes?
Shop our collection of vegetarian and vegan cookbooks, including our new Vegan Thanksgiving and Vegan Christmas cookbooks!
Pin this for later!