I consume so much butternut squash this time of year that I might be at risk for turning orange!
I love it every which way possible: roasted, mashed, baked into desserts. You name it. I just can't seem to get enough butternut squash.
One of my go-to recipes for butternut squash is coaxing it into a puréed soup. It's an easy fall dish that's equally suited for a cozy weeknight meal at home or served up as part of a more formal dinner gathering. But sometimes, I find puréed soups to be a little bit lacking in substance. They are generally satisfying enough for lunch or when eaten as an appetizer. But to be sufficient enough for a full entrée, I think they require a little bit of bulking up. I usually do this in the form of of toppings, like nuts, spiced chickpeas or croutons. But this time, I decided to add in some fresh cheese tortellini. The cheese tortellini provide the perfect salty contrast to this slightly sweet and nutty soup. And they give this soup a substantial amount of "bite," which makes this Roasted Butternut Squash and Fennel Soup with Cheese Tortellini perfectly suited for a main meal.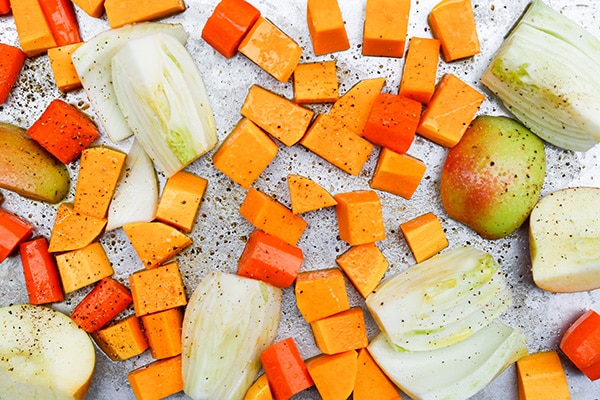 I started this recipe by roasting up all the fruits and vegetables in my oven until they were very soft and starting to caramelize. While this does take a little bit more time than simply cooking everything on the stovetop, the resulting flavor enhancement is well-worth the extra investment. Then I added all of the roasted ingredients to my blender with some vegetable broth and puréed them until smooth and creamy. I transferred the puréed soup to large stock pot with the remaining vegetable broth, brought it to a low simmer and then cooked the cheese tortellini right in the soup itself. Definitely look for fresh tortellini, which generally cook up faster than the frozen varieties (and I think have a superior taste as well).
You'll need 4 cups of vegetable broth for this recipe, but keep an extra cup handy in case you decide you want to thin the soup out a bit. I've found that some varieties of tortellini expand more than others once cooked, which will change how thick or thin the resulting soup will be.
Recipe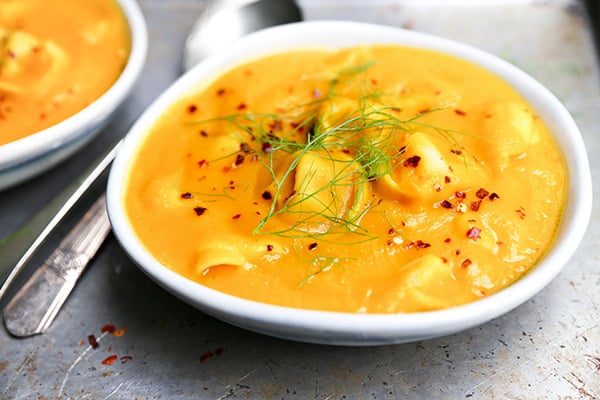 Ingredients
2

cups

peeled and cubed butternut squash

about 1 to 1 ½-inches in size

1

cup

peeled and chopped carrots

about 1 to 1 ½-inches in size

1

medium fennel bulb

trimmed and quartered (reserve a few fronds for garnish)

1

medium red apple

cored and quartered

2

tablespoons

olive oil

½

teaspoon

salt

½

teaspoon

black pepper

4-5

cups

vegetable broth

1

9-ounce package fresh cheese tortellini

¼

teaspoon

crushed red pepper flakes
Instructions
Preheat your oven to 400°F. Line a large rimmed baking sheet with parchment paper and set it aside.

In a large bowl, toss together the butternut squash, carrots, fennel and red apple with the olive oil, salt and black pepper until evenly coated, then spread out onto your prepared baking sheet in a single layer. Transfer the baking sheet to your oven and roast, stirring once halfway through the cooking time, for 40 minutes. The fruits and vegetables should be soft and starting to brown in places. Remove the baking sheet from your oven and set it aside for about 10 minutes to cool slightly.

Once cool enough to safely handle, transfer all of the roasted fruits and vegetables to your blender. Add in about 2 cups of the vegetable broth. Blend on high until smooth. Then pour the contents of your blender into a large heavy-bottom pot and stir in 2 more cups of the vegetable broth. Place the pot over medium heat and bring the soup to a simmer. Stir in the cheese tortellini and cook them in the soup according to the package instructions, generally about 7-9 minutes. If the soup is getting thick, you can add in the remaining cup of vegetable broth. Taste and add more salt and pepper, if desired.

To serve, ladle the warm soup into bowls. Garnish with some of the reserved fennel fronds and a sprinkling of red pepper flakes, if desired.
Nutrition
Calories:
165
kcal
Carbohydrates:
25
g
Protein:
3
g
Fat:
7
g
Saturated Fat:
1
g
Polyunsaturated Fat:
1
g
Monounsaturated Fat:
5
g
Cholesterol:
1
mg
Sodium:
350
mg
Potassium:
646
mg
Fiber:
6
g
Sugar:
9
g
Vitamin A:
12928
IU
Vitamin C:
26
mg
Calcium:
78
mg
Iron:
1
mg
Craving more veg-friendly recipes?
Shop our collection of vegetarian and vegan cookbooks, including our new Vegan Thanksgiving and Vegan Christmas cookbooks!