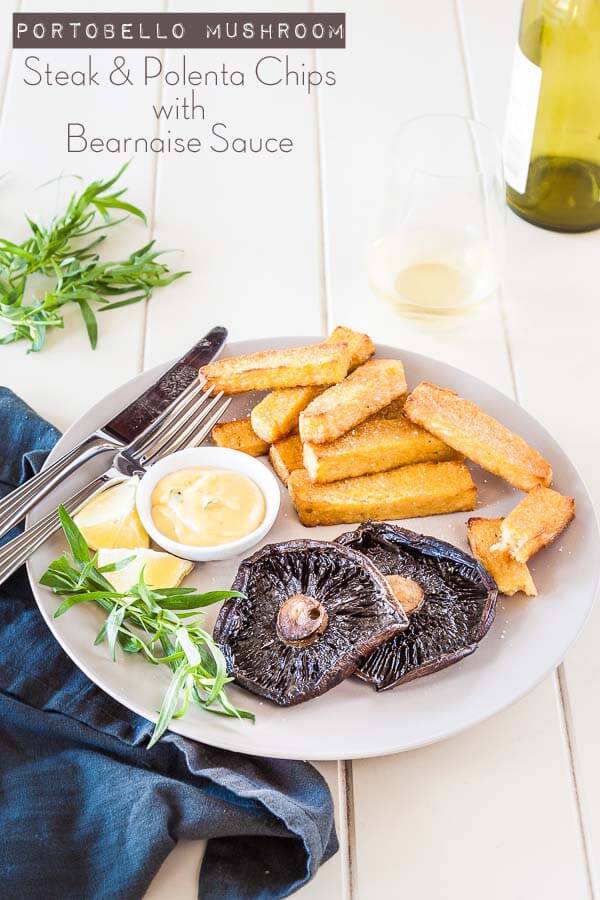 Over the last 20 years that I've been vegetarian, the most common piece of unsolicited advice I've been given from people, when they discover I'm vegetarian, is that I simply need a big juicy steak and that will "fix me" right up. Well, 20 years later (I'm perhaps either a slow learner, or stubborn, or both) I've finally taken their advice, albeit with a vegetarian spin.
As a "meat for vegetarians" I've had fun experimenting with using mushrooms over the years, to reinvent in a variety of classic meat dishes - such as Beef Wellington, which became Mushroom Wellington, and Boeuf Bourguignon, which became Mushroom Bourguignon.
So, when I was recently asked by the Australian Mushroom Growers Association to come up with a mushroom recipe for Mother's Day, I couldn't help but have a little more fun, and continue along the "meat for vegetarians theme". This time we have the classic Steak and Chips which has been turned into Portobello Mushroom Steak and Polenta Chips with Bearnaise Sauce.
Mushrooms are fabulously meaty in texture, so I don't think it's too much of a stretch to turn hefty portobello mushrooms into portobello steaks. The trick here is to cook the mushrooms in a medium hot pan, to get a nice sear on the outside, which adds to the allusion of steak.
Served with a side salad (such as this simple cucumber salad, roasted pumpkin and quinoa salad or this fig and pear salad) it would be a wonderfully hearty mothers day lunch, satisfying vegetarians and carnivores alike.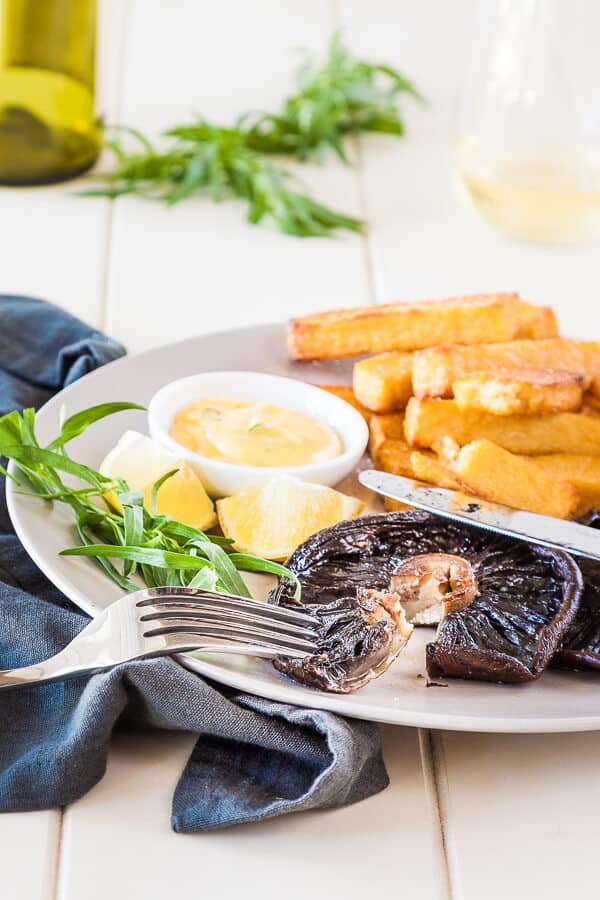 PS. Power Of Mushrooms is running a competition at the moment where you have the chance to win one of five $500 cash prizes. Click here to enter!
Recipe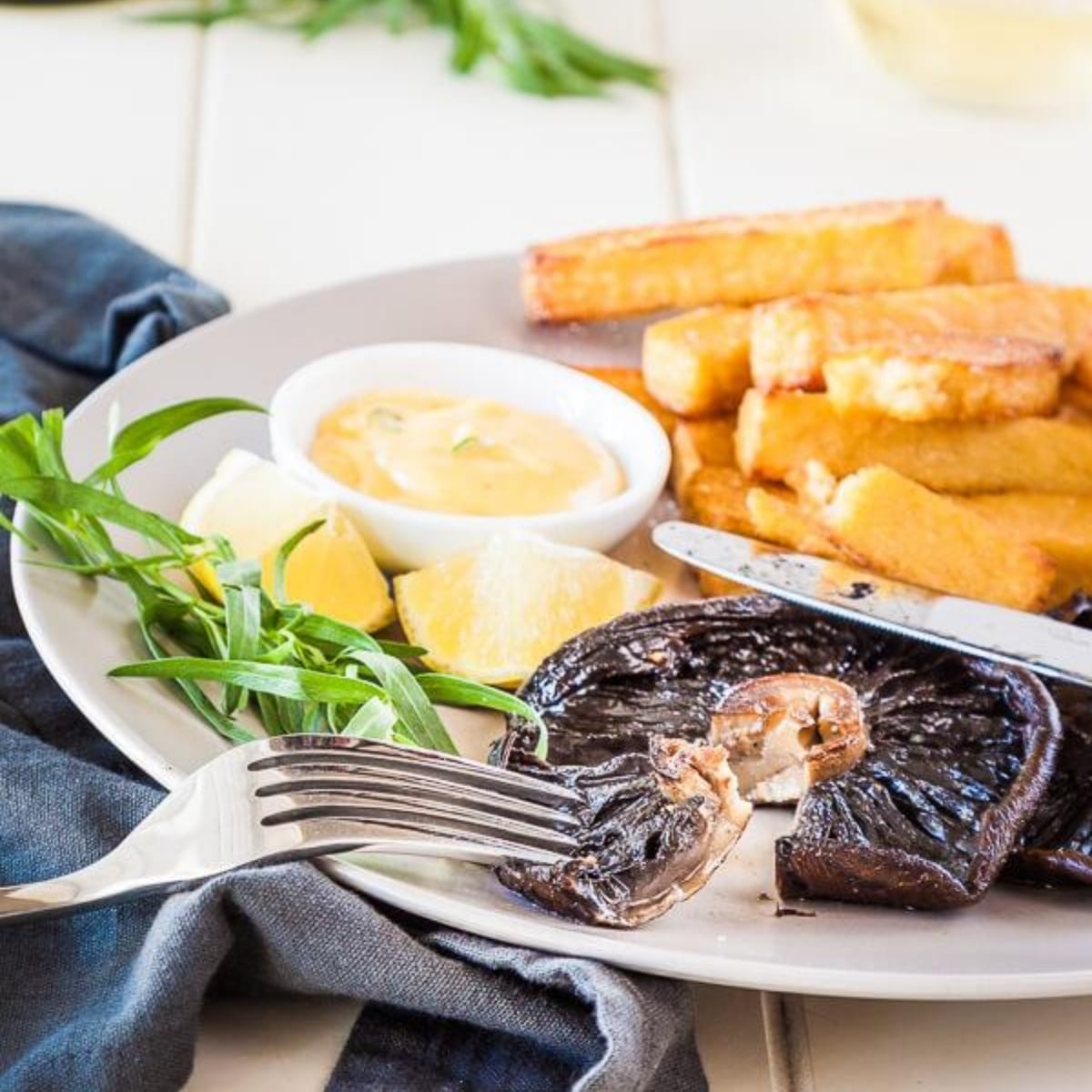 Ingredients
POLENTA CHIPS:

4

cups

vegetable stock

1

cup

instant polenta

½

cup

grated parmesan

2

tbs

olive oil

sea salt

BEARNAISE SAUCE:

1

tbs

minced shallot

2

tbs

fresh tarragon leaves

chopped, and their stalks, chopped roughly and bruised

2

tbs

white wine vinegar

2

tbs

white wine

1

tsp

peppercorns

crushed or bruised

3

egg yolks

1

tbs

water

220

g

unsalted butter

at room temperature, cut into ½-inch cubes, 2 sticks

Freshly milled white or black pepper

¼

to ½ lemon

juiced

MUSHROOM STEAKS:

4 - 6

extra large portobello mushrooms

cleaned and stalks trimmed so that the mushrooms sit flat stalk side down

1

tbs

olive oil
Instructions
Begin by making the polenta chips. Lightly grease a 20cm (8 inch) square cake tin and set aside. Place the stock in a large saucepan over medium heat and bring to the boil. Gradually whisk in the polenta, in a steady stream (don't dump it all in at once), and whisking continuously for 2–3 minutes or until thick. Remove from the heat and stir through the parmesan. Pour into the cake tin carefully smooth the top. Refrigerate for 2 to 3 hours, or overnight, until set.

Preheat the oven to 200 celsius (400 Fahrenheit) and line a baking tray with baking paper or parchment. Remove the polenta from the tin and cut into thick chips. Arrange on the prepared tray and lightly brush with half the olive oil. Bake for 15 minutes and turn the chips and lightly brush with remaining olive oil. Return to the oven and bake until crisp and lightly browned, approximately another 15 minutes. Sprinkle the chips with sea salt and toss to coat.

When the chips go in the oven prepare the bearnaise sauce.

To make the bearnaise, place the shallot, tarragon stalks, half the tarragon leaves, vinegar, white wine and peppercorns in a saucepan. Bring to a boil and reduce until about 1 tbs in volume. Strain the liquid through a tea strainer, and press the tarragon leaves and stalk to get all of the liquid. Set aside to cool slightly. Place a saucepan of water over a medium heat and bring to a gentle simmer. Place a heatproof bowl over the top of the pan of simmering water (ensuring the bowl does not touch the water) and add the egg yolks and water, along with the tarragon vinegar. Whisk constantly until the mixture thickens and doubles in size start adding the cubes of butter, one at a time, until all the butter is absorbed. Taste and season with salt and pepper along with lemon juice.

Just before the chips are ready preheat 2 large frying pans over a medium high heat. Lightly brush the mushrooms with olive oil and sprinkle season with salt and pepper. Cook for 3 to 4 minutes each side, until cooked through and lightly charred.

Divide the mushroom steaks and polenta chips between 4 plates. Add the remaining tarragon to the bearnaise and stir through. Serve with the mushroom steaks and chips.
Notes
The polenta for the chips can be made the day before, and cut into chips, and cooked just before serving.
Nutrition
Calories:
758
kcal
Carbohydrates:
37
g
Protein:
11
g
Fat:
62
g
Saturated Fat:
33
g
Cholesterol:
275
mg
Sodium:
1146
mg
Potassium:
139
mg
Fiber:
1
g
Sugar:
2
g
Vitamin A:
2300
IU
Vitamin C:
1.2
mg
Calcium:
184
mg
Iron:
1.3
mg
Craving more veg-friendly recipes?
Shop our collection of vegetarian and vegan cookbooks, including our new Vegan Thanksgiving and Vegan Christmas cookbooks!
Disclosure
This post was sponsored by Australian Mushroom Growers Association. As always, all opinions are my own.