Do you ever forget about a certain foodstuff's existence for a few months--or even a few years? I have. For instance, a few years back, I had a light bulb go off above my head. An egg-shaped light bulb, actually. Egg salad sandwiches!  I'd totally forgotten about them. They just, poof, vanished from my mental list of lunch or dinner options.
I'd forgotten how easy they were to make, how satisfying they can be, and how much I loved them.
I hope it's not just me that does that, but now I'm paranoid. Well, it's decided, then. Next month's weekly meal plan theme: Brain food, with an emphasis on foods that can help to sharpen memory. I'm not sure that's really a thing, but I intend to find out.
Unless I forget.
Anyway, here's this week's menu!
Monday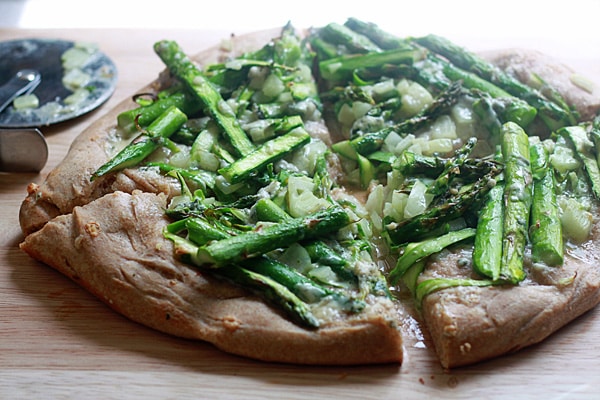 Shaved Asparagus & Gorgonzola Pizza from Naturally Ella // When I made this pizza, I learned I'm terrible at shaving asparagus. I also learned I'm terrible at making it look attractive in a photo. Sorry about that. But! I'm not sorry about including this super-simple and scrumptious recipe in this week's meal plan. Tender asparagus, tangy Gorgonzola and garlic-infused olive oil join together in this marvelous, easy pizza. We used Trader Joe's whole wheat pizza dough for extra-quick preparation.
Tuesday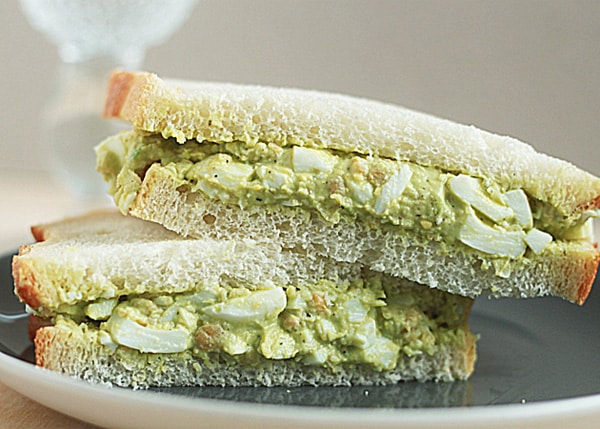 Smashed Chickpea Guacamole Egg Salad Sandwiches from Kitchen Treaty // We're not above resorting to a hearty, simple sandwich for dinner now and then, and I hope you aren't either. With the flavors of guacamole (think avocado, garlic, and lemon) along with the one-two protein punch of chickpeas and hard boiled eggs, these sandwiches satisfy. If you're sick of hard-boiled eggs after Easter's egg-fest, just leave out the eggs and add a few more chickpeas.
Wednesday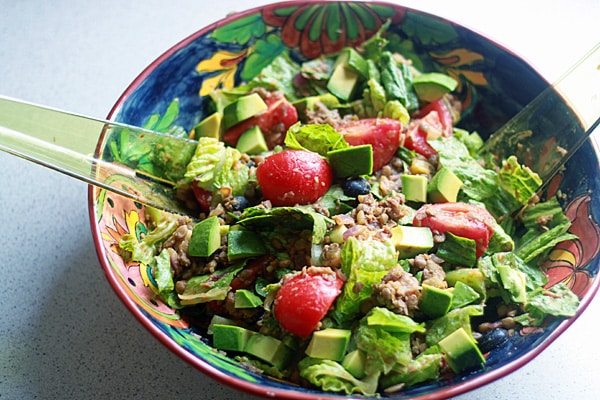 Lentil Taco Salad from Kalyn's Kitchen // I've got to say, I think this salad is brilliant. You toss a huge pile of seasoned, still-warm lentils in with chopped romaine, tomatoes, olives, scallions, and avocado, and magic happens. We served this with a southwestern Ranch dressing, some shreds of cheddar cheese, and a few tortilla chips, but it makes a plenty satisfying meal without the accoutrements.
Thursday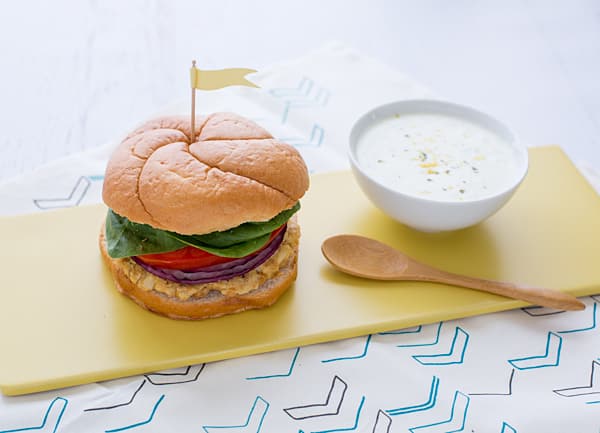 Cauliflower Hummus Burgers with Mint Tzatziki from Oh My Veggies // First guacamole sandwiches, now hummus burgers! I guess this week's theme could be "the flavors of a dip in sandwich form." These hummus-flavored cauliflower burgers convince us that could be a worthwhile trend. The burgers come together quickly, and the lemony mint tzatziki takes them over the top.
Friday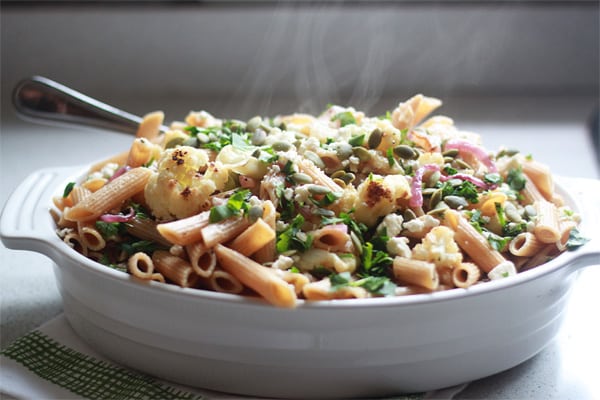 Roasted Cauliflower & Red Onion Pasta from The Fig Tree // This tangy pasta is a cinch to pull together--perfect for the week's homestretch. This recipe makes a pretty large amount, but the good news is, the leftovers will be perfect for an easy weekend lunch! Note: Courtney's recipe calls for pine nuts, but I'm not a fan of them, so I subbed in pepitas in my version.
Tips for This Week's Plan
The cauliflower burger recipe makes six patties, so you might just have some leftovers! Pack a pita, patty, and some leftover tzatziki for a marvelous next-day lunch.
Save the leftover ½ cup of chickpeas from Tuesday's sandwiches and throw it in with the Lentil Taco Salad for a little added flavor and protein.
Instead of buying one medium head of cauliflower and then two cups additional for the burgers, grab one large head of cauliflower. Pluck off enough florets for Thursday's recipe and roast the rest on Thursday for the pasta.
Same with the green onions (also known as scallions). Monday's pizza calls for one bunch, but Wednesday's taco salad calls for a half cup. Go for the biggest bunch you can find and snatch a couple for Wednesday, then use the remainder in Monday's pizza.
The small red onion, single tomato, and handful of spinach on the shopping list are for the burgers. Adjust the list accordingly if you'd like to add or remove toppings.
The shopping list calls for five eggs. Buy a full dozen and hard-boil the remaining seven for easy snacking all week.
Serve the sandwiches and burgers with fresh fruit, baby carrots, or any chips you happen to have on hand.
Ranch dressing and grated cheese are optional toppings for the Lentil Taco Salad. I left them off the list since they're optional, but add them on if you want to use them.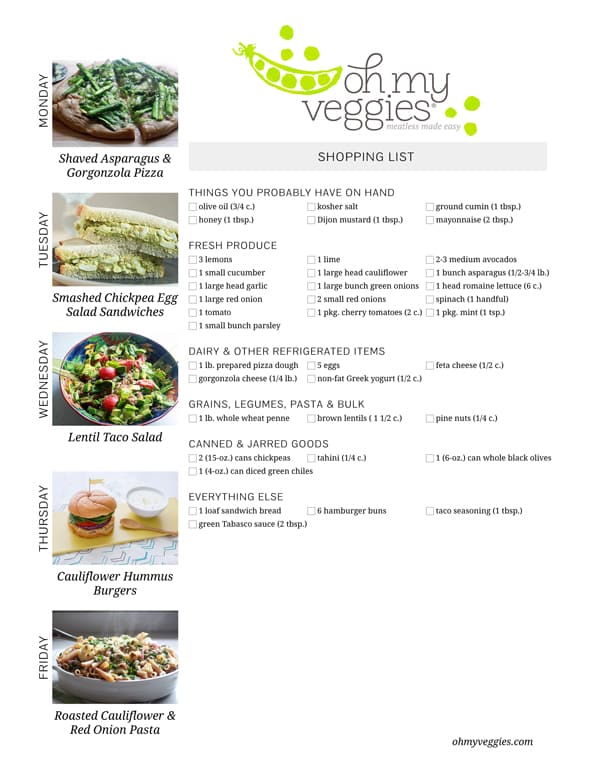 Click here for a printable version of this week's meatless meal plan and shopping list, then click on the links above to print out each recipe. Now you're set for the week!