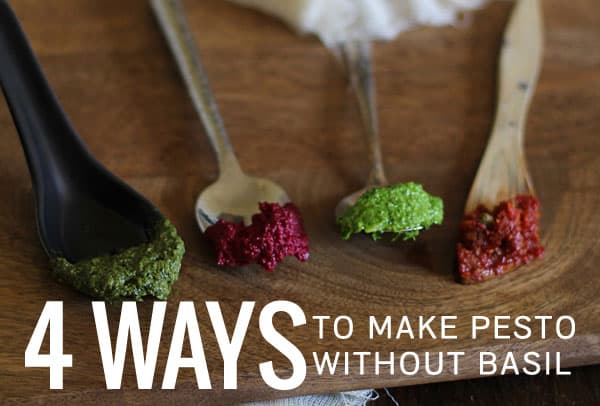 Pesto is an easy sauce to love. It's fresh, flavorful, and easy to make. And it's versatile too! Toss it with pasta, slather it on a sandwich, or use it instead of tomato sauce on pizza. While traditional pesto is typically made with basil, pine nuts, and parmesan cheese, there are so many ingredient and flavor options to try.
For your pesto enjoyment, I've whipped up four different types of pesto without basil, using cilantro, parsley, beets, and sun-dried tomatoes as the bases instead. The instructions for all four recipes is the same--put all of the ingredients except the oil and salt in your food processor, turn it on, and slowly pour the oil in through the feed tube until it reaches a consistency you like, stopping to scrape down the sides if needed. Season with salt and you're done!
Ready to get your pesto fix times four? Let's do this!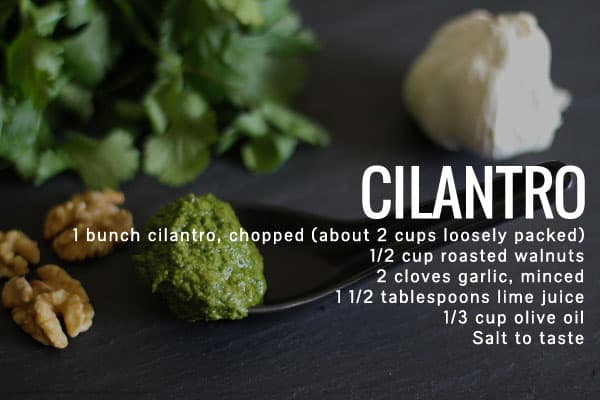 Cilantro pesto can be incorporated into recipes the same way you would use basil pesto, but it also works well with Indian and Mexican food--think a dollop of cilantro pesto on a bowl of dal or spread onto a veggie-packed quesadilla. I used roasted walnuts, but you can use cashews or almonds if you have them on hand.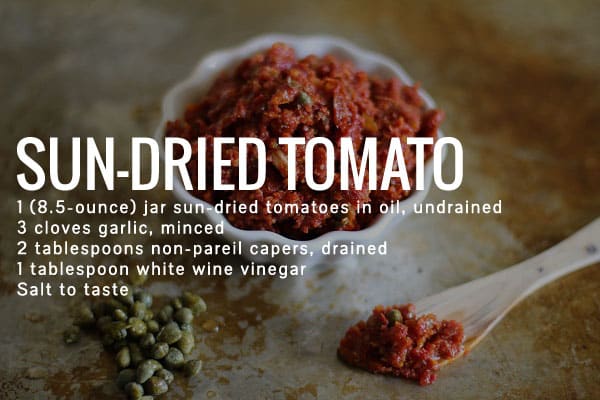 If there's one food that adds instant spunk to a recipe, it's sun-dried tomatoes! Sun-dried tomato and caper pesto is perfect on pizza and is also great for making lazy-man pasta after work. It's so full of flavor that you don't need many other ingredients for adding pizazz to a meal. You can add a couple of tablespoons of pine nuts or parmesan cheese to this sauce, but I find this simple recipe to be delicious as is!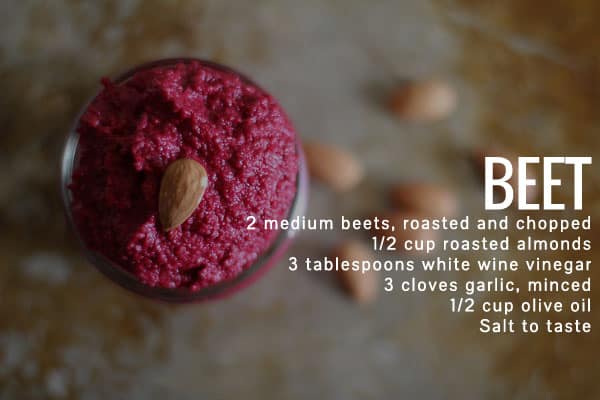 If you're a beet lover, you must try beet pesto! My favorite use for beet pesto is to smear it on toasted bread with melted cheese and thick slices of avocado. Beet pesto may as well be called "superfood sauce" because it's packed with nutrients! To make the roasted beets for this pesto, peel and cut your beets into 1 ½-inch pieces, wrap them in foil, and bake them at 400º for 40 to 50 minutes, until tender. Allow the beets to cool completely before making the pesto.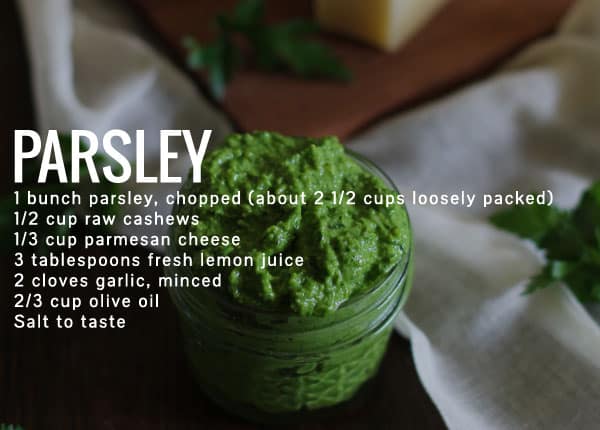 Pesto is the perfect place to stick your leftover parsley! Rarely do I skip the parsley when a recipe calls for it; however, most recipes only require a small amount. This means I end up with almost an entire bunch of parsley, with nowhere to put it. Enter: parsley pesto. Just like cilantro pesto, it can be used the same way as a traditional pesto--toss it with pasta, use it on pizzas, or use it as a sandwich spread.