Photos by Emily Caruso
One of the strangest cravings I've had during my pregnancy is lettuce. Normally, lettuce is something that I tolerate as an important part of salads or pick off my veggie burgers when I'm at a restaurant (there is nothing delicious about warm iceberg lettuce!)—not something I'd ever feel enthused about. Now, however, I'm suddenly all about lettuce. It's fresh! It's crisp! It's green!
Other than salads and sandwiches, I've realized there aren't a lot of ways to eat lettuce, but lettuce wraps are one option that often gets overlooked. I mean, you might order lettuce wraps at restaurants, but they're one of those things you probably don't make very often at home. Well, it's time to change that.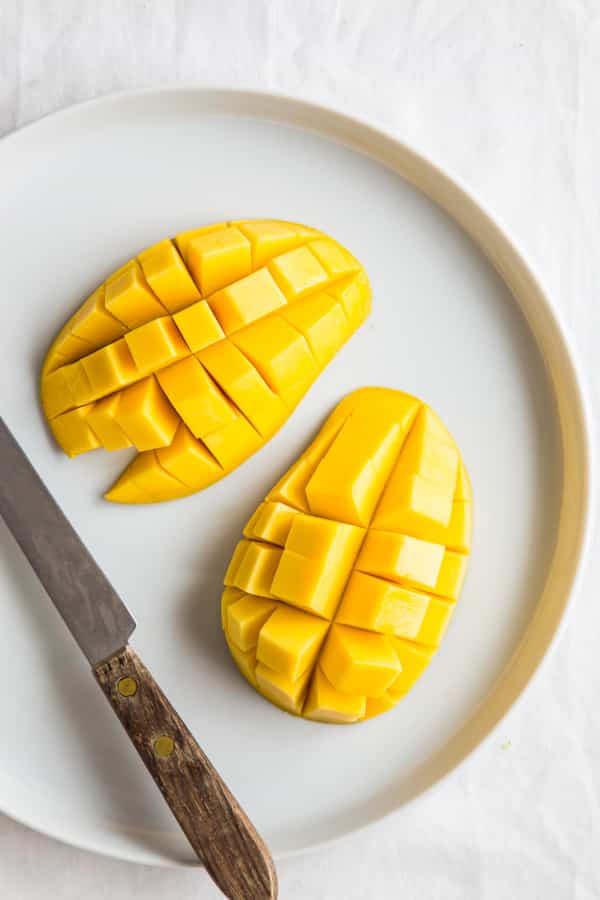 Lettuce wraps are super easy and super versatile—you can fill them with so many different things. (We've got a P.F. Chang's style lettuce wrap recipe and another for grilled tofu lettuce wraps on the blog if you're looking for other ideas!) This particular version was inspired by a recipe I stumbled upon on the Williams-Sonoma website—it had pork and mango as the filling. I wasn't interested in the pork, but mango? YES. It's champagne mango season, my favorite time of the year, and I thought lettuce wraps would be a great way to put them to use. (Not that I even need an excuse to eat champagne mangoes—usually I just eat them cubed with a sprinkle of cinnamon. Best. Snack. Ever.)
For the pork, I substituted crumbled tempeh quickly cooked with a little hoisin sauce and lime juice. Nothing fancy! Cucumber and chopped cashews add a little crunch and mint leaves add a fresh, herbal flavor to these wraps. You'll want to finish them with a drizzle of sauce—if you live near a Trader Joe's, their Sambal Matah is a perfect mix of sweet and spicy flavors and it goes really well with these wraps. (Just remember, a little goes a long way!) Otherwise, if you want to add a spicy kick to your wraps, opt for sriracha; to play up the sweetness of the mango, use a sweet chili sauce, either store-bought or homemade.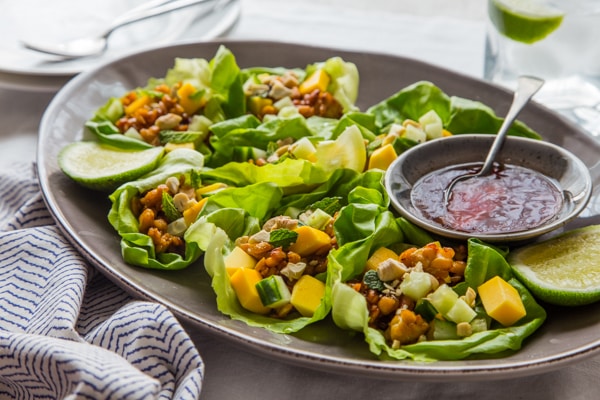 Servings:
4
servings as a light meal, 8 servings as an appetizer
Ingredients
1

tablespoon

peanut or grapeseed oil

1

8-ounce package tempeh, crumbled

2

tablespoons

hoisin sauce

1

tablespoon

lime juice

¾

cup

diced mango

about 1 champagne mango

½

cup

seeded and diced cucumber

¼

cup

chopped roasted cashews

¼

cup

chopped mint leaves

8

butter or bibb lettuce leaves

Sweet chili sauce

sriracha or Sambal Matah, for serving
Instructions
Heat the oil in a skillet over medium-high heat. Add the tempeh and cook, stirring often, until lightly browned, about 3 minutes. Stir in the hoisin sauce and lime juice; remove from heat.

Divide the tempeh, mango, cucumber, cashews and mint leaves into 8 lettuce leaves. Drizzle with sweet chili sauce and serve.