A perfect bowl of vegan oatmeal is the perfect breakfast to get you leaping out of bed in the morning, energized to start your day. This simple step-by-step guide will show you how to make your own fully customizable vegan oatmeal, that's impossible to get bored with. Don't miss the featured recipe for vegan vanilla oatmeal with caramelized fruit at the end!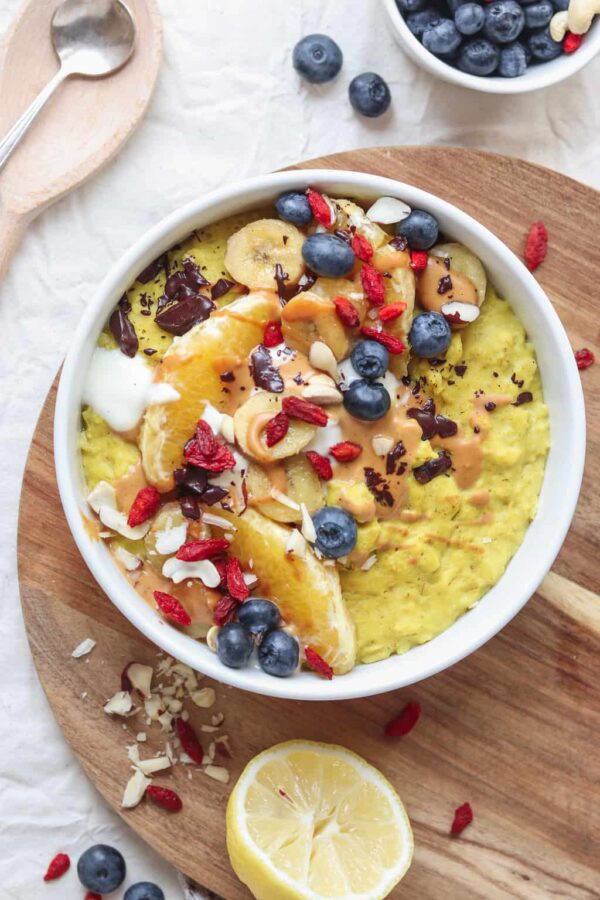 Jump to:
When scrolling through Instagram, do you ever come across those ridiculously photogenic oatmeal bowls topped with all the exotic fruit you can think of, and sigh with jealousy?
Same goes for smoothie bowls and banana nice cream.
After all, most of us don't have time to make a Louvre-worthy masterpiece before jumping into our morning routine. Right?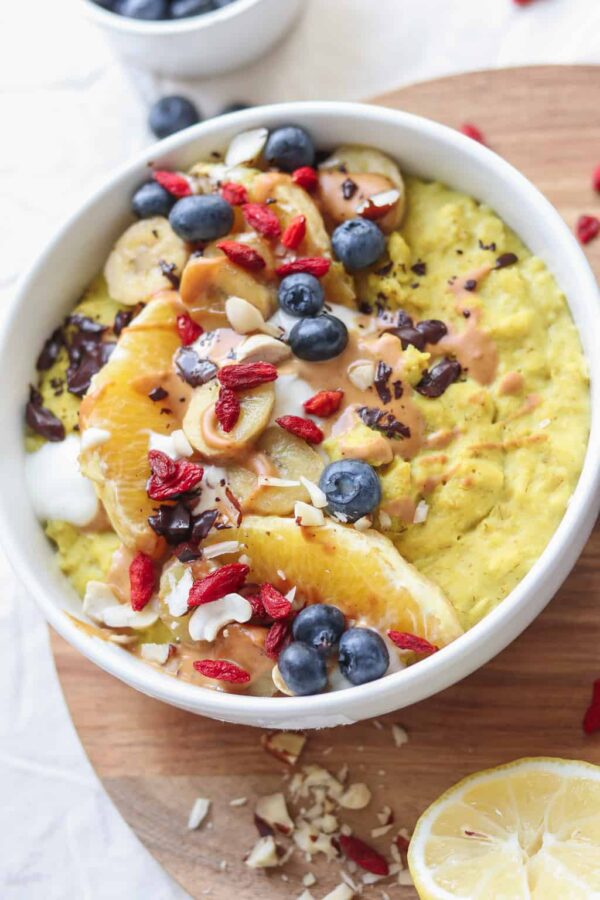 But then we have the old 'Instagram vs real life dilemma'. For many people, myself included, food styling and photography are creative outlets – kind of like art or music.
Photographs of food tailored towards blogs and Instagram feeds are often not representative of what their creators eat 90% of the time, which is rather average looking food.
Trust me – you wouldn't want to see the leftover pasta I'm eating as I update this blog post.
Sometimes, I'll make a bowl of oatmeal whenever my schedule allows (mostly in the late afternoon), photograph it for the blog and then store it in the fridge to eat the next day. It doesn't look nearly as pretty by then.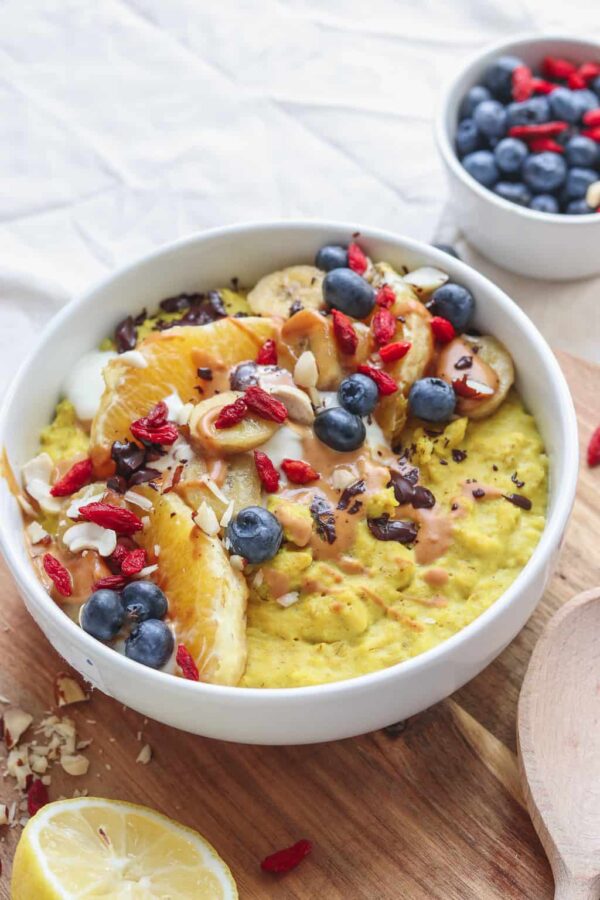 Truth is, 'fancy' oatmeal (i.e., not just oats and water stirred together on the stove) is easy. Not only that, but also delicious, cosy and energising – a breakfast that will keep you full for hours. If you have a few spare moments, make your toppings as pretty as you'd like. If you want to keep it quick and practical, throw them on and move ahead with your day.
I created this guide to crafting the perfect bowl of vegan oatmeal for anyone who wants a breakfast that's neither boring, nor complicated. Feel free to skip any of the steps I outline below and/or add anything else – after all, it's your life, your oatmeal, and no one can tell you what to do!
What oats should I use?
This is a good question, because there are three main varieties – steel-cut, rolled and instant – and you can read more about them here. But put shortly, steel-cut oats get processed the least and take the longest time to cook on the stove (around 25-30 minutes), instant oats are the most processed but are ready almost instantly, as the name suggests.
In general, I go for gluten-free rolled oats (like this brand!) They take just around five minutes to cook and unlike instant oats, retain much of their texture and shape.
Vegan Oatmeal Ingredients
Choose a plant milk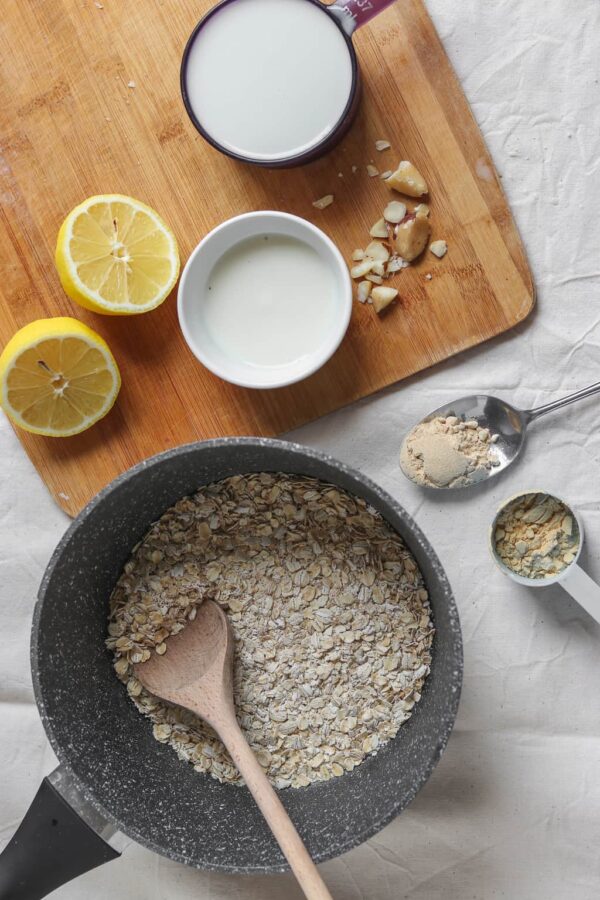 Oatmeal cooked with milk (or dairy free milk), as opposed to just water, tastes so much better. I usually use a mix of the two. Plus, the type of plant milk you choose makes a big difference to the outcome.
Good news is that plant milks come in such a wide variety and allow you to switch up your oatmeal without changing much else. For example, cashew milk (my personal favourite) has a very neutral, creamy taste. Almond milk is sweeter, while oat milk has an earthy, pleasant aftertaste.
How much liquid you use depends on your desired consistency. This may be controversial, but I like my oatmeal to be on the runnier side, opting for anything up to a 3:1 ratio on most days. That is, 3 cups liquid to 1 cup oats, with 1-1.5 cups of the liquid coming from milk and 1.5-2 coming from water.
If you're unsure, start with equal parts oatmeal and milk, and add more water as you cook until you get the texture you prefer.
Sweeteners
Which sweetener, and how much you use comes down to personal preference. You can also omit the sweetener entirely and rely on other toppings to add flavor, but some things to try include:
Golden syrup. Foolproof and makes your oats taste like dessert.
Agave nectar. Slightly less sweet than golden syrup.
Sugar of choice. Give brown sugar cinnamon oatmeal a try, and you won't regret it!
Stevia.
Chopped dates. Brilliant for some extra texture.
Mashed banana.
Fresh or frozen berries, lightly crushed. I opt for fresh in the summer, frozen in the winter.
I love the last three because they sneak in a cheeky portion of fruit, and add a sweetness that's not too overpowering.
Spices
Extra tip for creamy oatmeal!
Add some apple sauce, or a few tablespoons of a plant based yogurt of your choice, such as soy or coconut yogurt. This will give your oatmeal a delicious creamy texture!
Add Superfoods and/or Protein Powder
You can skip this step if you want to stick with the basics, but it's my personal favorite, because this is where an oatmeal bowl can get some truly unique flavors.
Some options to try include: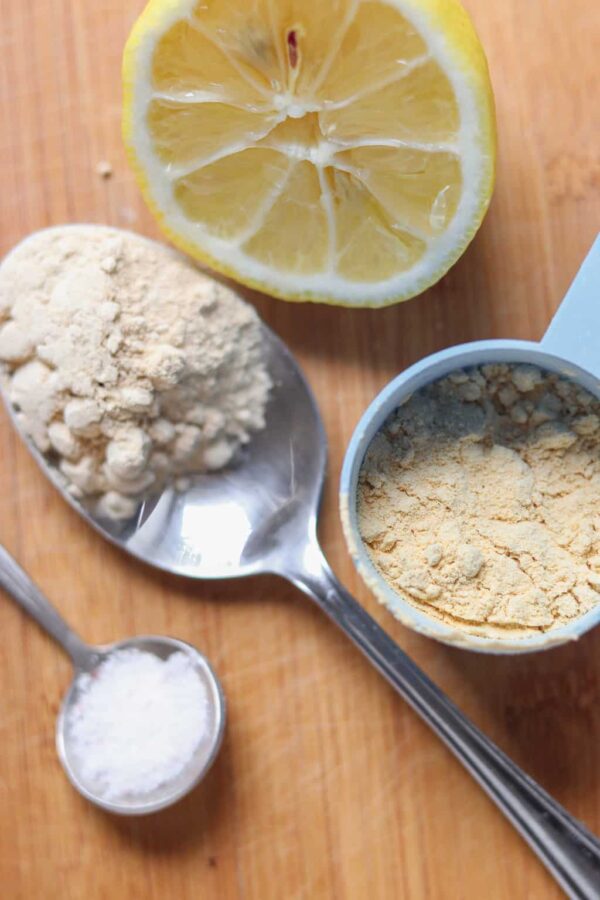 Taking protein supplements on a vegan diet is far from necessary to meet your daily requirements. In fact, I get most of mine from wholefoods, such as beans, legumes, nuts and seeds.
But ½-1 scoop of protein powder can be good for either flavor, or an extra boost if you're very active. The protein powder I use at the moment and love is this Orgain Vegan Protein Powder.
Add Nut Butter and/or Vanilla Extract
Adding just a spoonful of your favorite nut butter will make your oats more filling and add a nice nutty flavor to your vegan oatmeal. Try runny almond butter, and you'll never be able to go back!
Likewise, a little bit of vanilla extract (½ tsp is usually plenty!) goes a long way to ramping up the flavor.
How to Cook the Oatmeal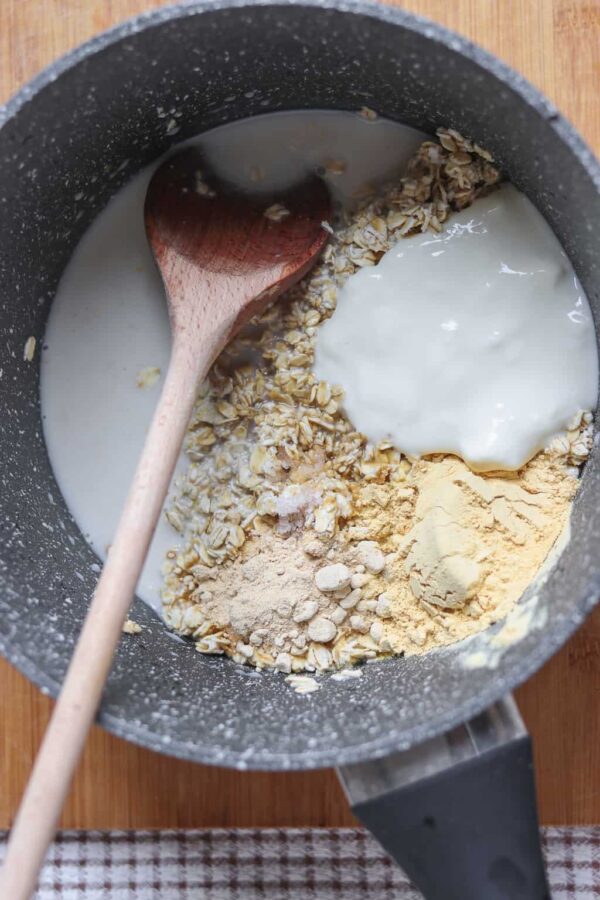 For this, you have three options:
Microwaving:
Stir together your ingredients in a microwavable bowl and leave on 80% power for 2-3 minutes. Reserve this method for when you're in a rush, but still want an energizing, healthy breakfast.
Cooking on the stove:
If you want the creamiest, coziest oats, this is the way to go. Stir together all of your ingredients and bring to a gentle simmer. Stick to a low-medium heat, because bringing it up too much may result in the oats sticking to the bottom of the saucepan or drying out: the 'slow and steady wins the race' principle definitely applies here.
I like to start with around ½ of the liquid I intend to use, and gradually add more throughout the cooking process. Continue simmering and stirring frequently until the liquid has absorbed. In general, if you use rolled oats, this takes 5-7 minutes.
Make overnight oats:
Okay, these technically don't have to be 'overnight'. Leaving them in the fridge for at least one hour works fine.
Overnight oats could save you if you're someone who rushes around in the morning, doesn't know what to eat and skips breakfast. You'll wake up with a tasty and nutritious breakfast waiting for you. To eat on the go, just throw them into a jar.
Check out this Coconut Mango Overnight Oatmeal for a delicious recipe.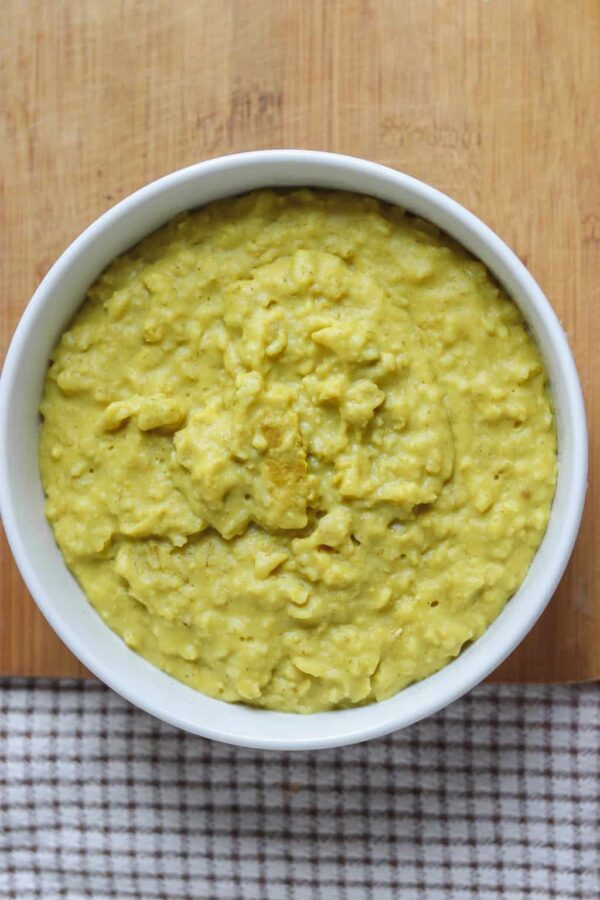 Vegan Oatmeal Toppings
Toppings are how you make porridge interesting. Now that you're prepared your delicious base oatmeal, and transferred it to a favorite bowl, it's time to go all-out with the toppings. Of course, you can look through your fridge/cupboards and grab whatever aligns with your mood. But here are some tasty ideas to get you started:
Add more Sweetener and/or Milk
If you make overnight oats and they come out a bit dry the next morning, add an extra splash of your plant based milk before serving.
I like to drizzle soy yogurt on my stove-cooked oatmeal because I'm obsessed how the hint of 'coolness' contrasts with the otherwise warm dish!
Fruits and Berries
Fruit and berries are hands down the best oatmeal toppings. No oatmeal is complete without some natural deliciousness sprinkled on top.
Anything from apple for extra crunch, to a handful of raspberries and mango for a more tropical feel.
Of course, try to eat seasonal produce whenever possible. During autumn/winter, most of us don't want to take out a loan just to buy a handful of blueberries.
When certain things go out of season or you live in a colder climate, opt for frozen.
Likewise, dry fruit such as prunes, apricots and dates make ideal winter substitutes. (Except for raisins because... ewww.)
Fruit Compote
One of my favourite fruity toppings for oatmeal is compote, which you can make fuss-free. Simply add either fresh or frozen berries of your choice to a saucepan on a medium heat, and simmer with a few tablespoons of water and a sweetener of your choice for 3-5 minutes.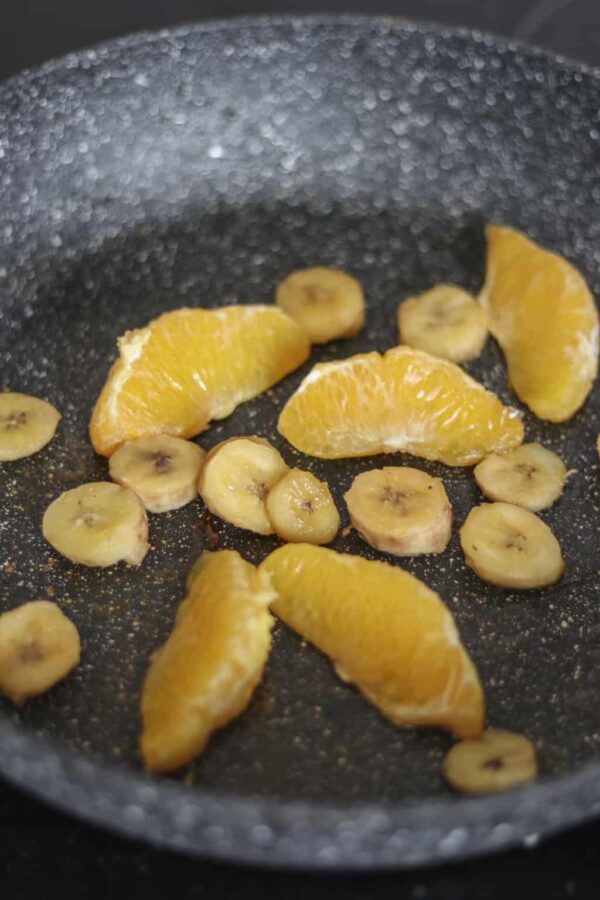 Caramelized Fruit
Take thing up another notch with caramelized fruit. Bananas and oranges work great for this! Simply chop up some ripe banana and peel apart a fresh orange, add them to a frying pan with around a tablespoon of liquid sweetener, and cook for 2-3 minutes on each side.
Nuts and Seeds
You know, for a delicious way to eat your healthy fats and bring some crunch to your breakfast. Anything of the nut variety that you find lurking in your cupboard could be a potential 'yay', so add it on. Here are some ideas:
Pecans: a personal favorite of mine.
Brazil nuts.
Coconut: fun fact, it took me 18 years to figure out that a coconut is in fact a nut, despite the very obvious last syllable.
Almonds.
Cashews.
Pumpkin seeds.
Sunflower seeds.
Peanut butter.
Macadamia.
Hazelnuts.
Walnuts.
Pine nuts.
Finish with some nut/seed butter.
This is the icing on top of the not very metaphorical cake, because if you've done this correctly, your resulting vegan oatmeal should taste like cake in a bowl. But you can't go wrong by adding a spoonful of nut butter anyway.
You should definitely try peanut butter oatmeal, for sure. But to switch things up, alternate between other varieties: cashew, almond, pumpkin butter, sunflower seed butter (something I can't get enough of at the moment).
And if you haven't tried tahini on your oats before, you now have an extra item on your to-do list, because it's a must have!
Oh, and you know that saying – 'less is more'? Totally doesn't apply here.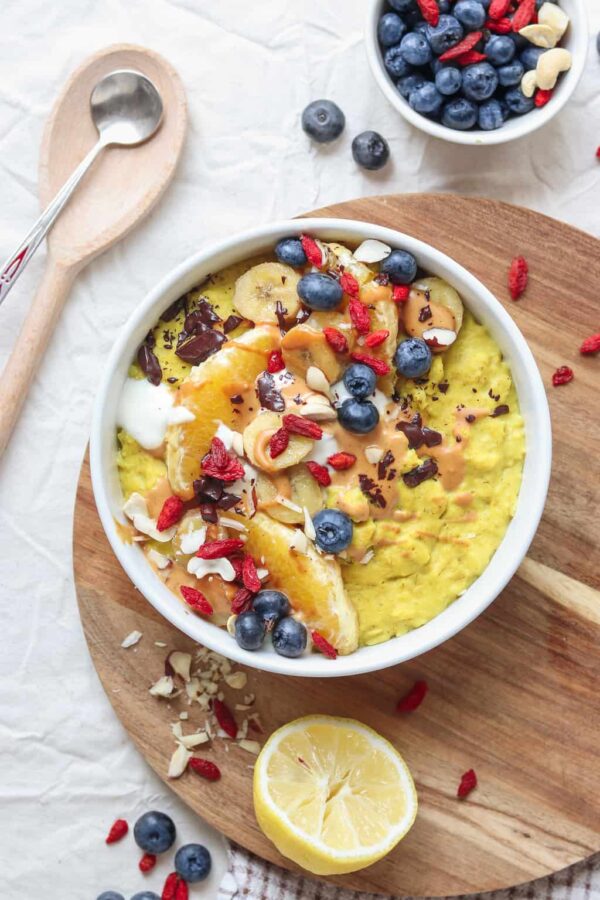 Okay, I'm not sure how I just wrote nearly 2000 words about vegan oatmeal, but I hope it's the inspiration you need to create your own gorgeous breakfast bowls. Remember: start with a solid foundation, and customize it how you like from then onwards.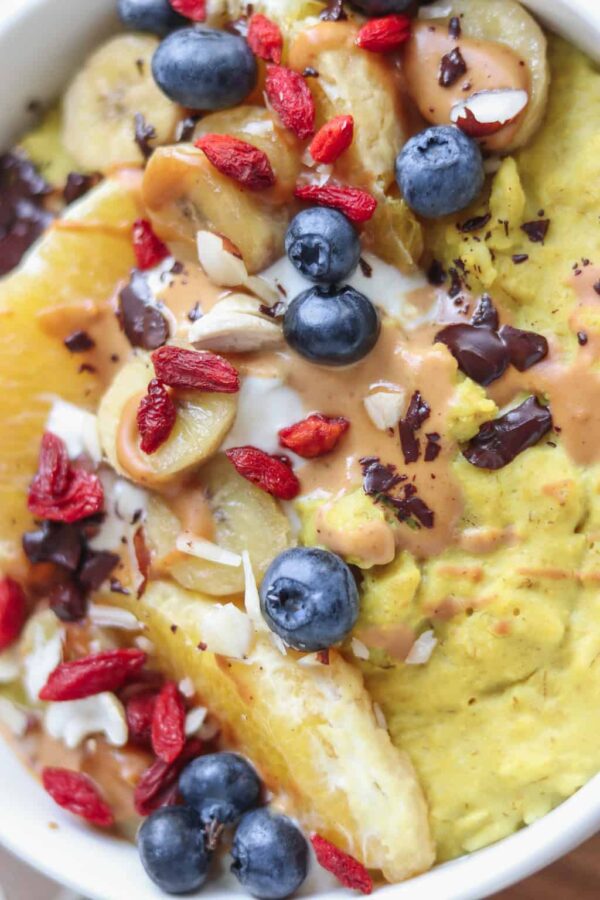 Below, I included a recipe for vegan vanilla oats with caramelized fruit – a healthy, protein-packed breakfast – to kick off your journey towards mastering oatmeal.
So if you aren't into this whole customization thing and just want a recipe to follow, this is the one!
Recipe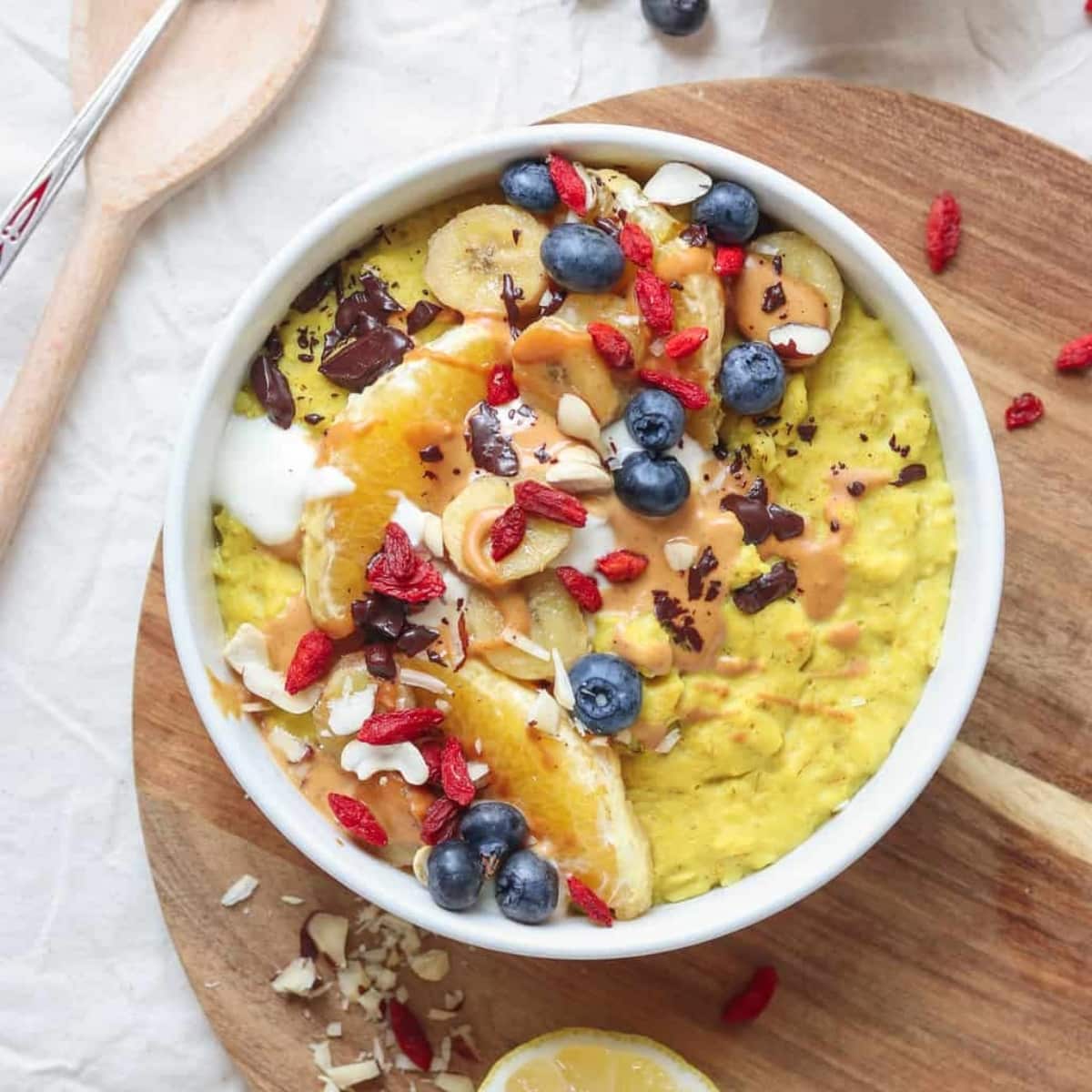 Ingredients
1

cup

rolled oats

1

tbsp

maca powder

½

scoop

vegan protein powder

optional

¼

cup

soy or coconut yoghurt

¼

tsp

pink Himalayan salt

½

lemon

juice of

1

tbsp

agave nectar

1

cup

plant based milk

1

cup

water

plus more as needed
For toppings
1

small banana

sliced

1

small orange

peeled

1

tbsp

agave nectar

¼

cup

soy yoghurt

½

cup

blueberries

or other berries of choice

1

tbsp

peanut butter

or any other nut butter of choicee

2

large brazil nuts

chopped

2

tbsp

dark chocolate

chopped

2

tbsp

goji berries
Instructions
Add the oats, maca powder, protein powder, soy/coconut yoghurt, Himalayan salt, lemon juice, agave nectar and plant milk into a sauce pan. Bring to a simmer on a low-medium heat.

Stir for 5-7 minutes, gradually adding at least 1 cup of water throughout the cooking process.

To make the caramelised fruit, place the banana coins and oranges on a non-stick frying pan and drizzle evenly with the agave nectar. Cook for around 2 minutes on each side on a high heat, until the banana coins are golden brown.

Serve immediately with the rest of the toppings, or leave in the fridge overnight.
Nutrition
Calories:
566
kcal
Carbohydrates:
91
g
Protein:
14
g
Fat:
19
g
Saturated Fat:
6
g
Trans Fat:
1
g
Cholesterol:
1
mg
Sodium:
511
mg
Potassium:
804
mg
Fiber:
13
g
Sugar:
41
g
Vitamin A:
218
IU
Vitamin C:
67
mg
Calcium:
329
mg
Iron:
5
mg
Craving more veg-friendly recipes?
Shop our collection of vegetarian and vegan cookbooks, including our new Vegan Thanksgiving and Vegan Christmas cookbooks!