This strawberry and banana vegan protein smoothie bowl is not only delicious and naturally sweet, but also filling thanks to a few secret ingredients. Ready in under five minutes, it may just become your favorite pre-workout breakfast.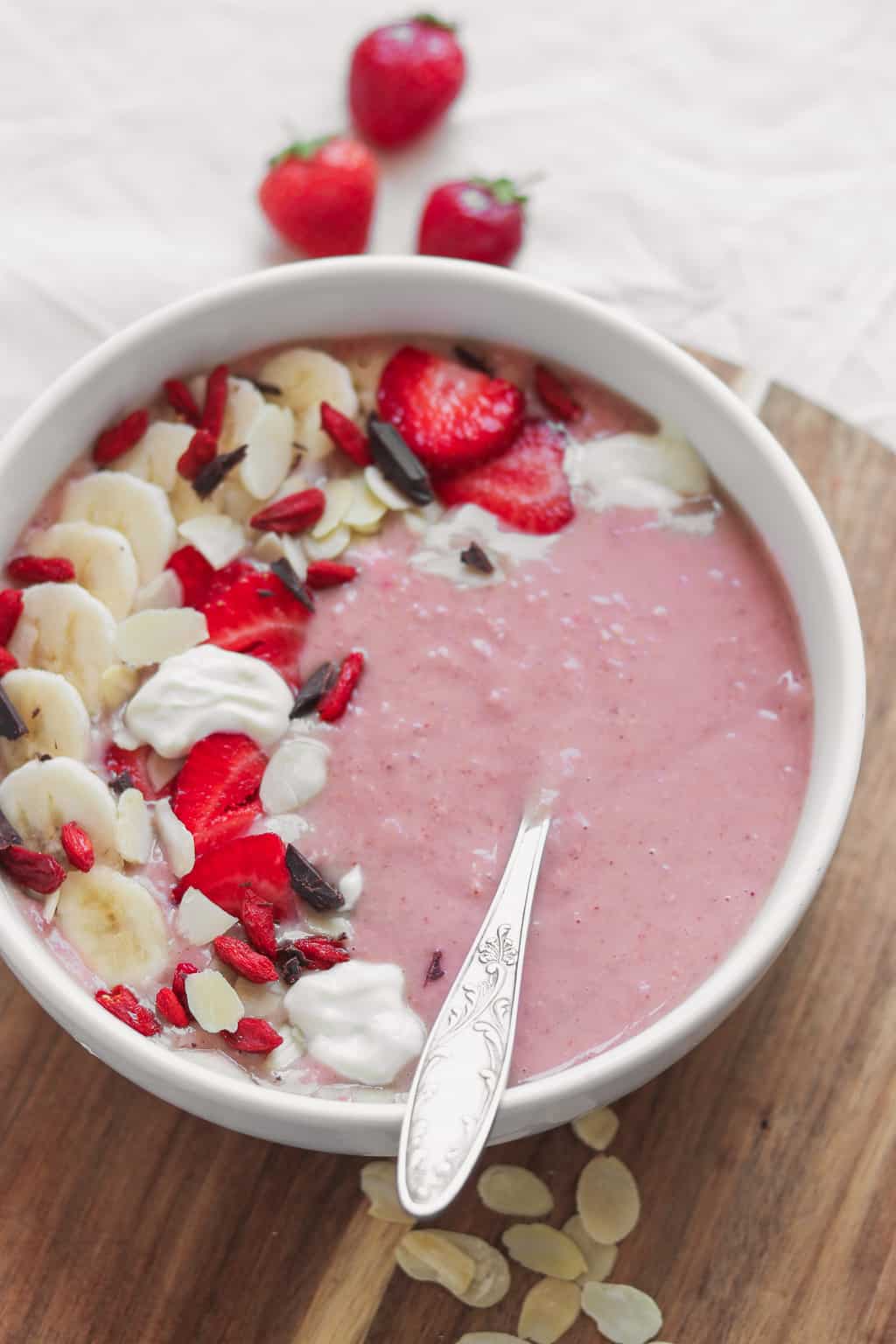 I'm writing this after a super tough upper body workout and can positively say it's one of the best ones I've had in a while. Over the last few weeks, I've been as intentional as possible with building up my strength. As in, writing down how much I'm lifting and trying to increase this every week.
Tracking progress is an easy thing to overlook, but makes a huge difference to how fast you actually move forward! Plus, it gives me an excuse to buy new pretty notebooks- because you know, having a separate one for 'fitness' is the epitome of organization.
Now, the post-workout stir-fry I'm enjoying right now is fantastic. I'm always super hungry after the gym and appreciate anything that's full of carbs and comes together in fifteen minutes or less.
But, I certainly wouldn't mind this strawberry and banana vegan protein smoothie bowl to accompany it. Hmm... maybe for dessert!
So, if you're looking for your next healthy vegan breakfast idea, you should give this protein smoothie bowl a try because it's:
Ready in five minutes! All you have to do is add the ingredients to a blender and then decorate (unless you choose to be REALLY intricate).
Super thick and creamy. And, you can adjust how much liquid you use depending on what consistency you want to achieve.
Satiating. It will energize you all throughout the morning.
Good for an on-the-go breakfast: simply pour it into a jar as opposed to a bowl.
Genuinely delicious and naturally sweet. 
How to Make a Smoothie Bowl Filling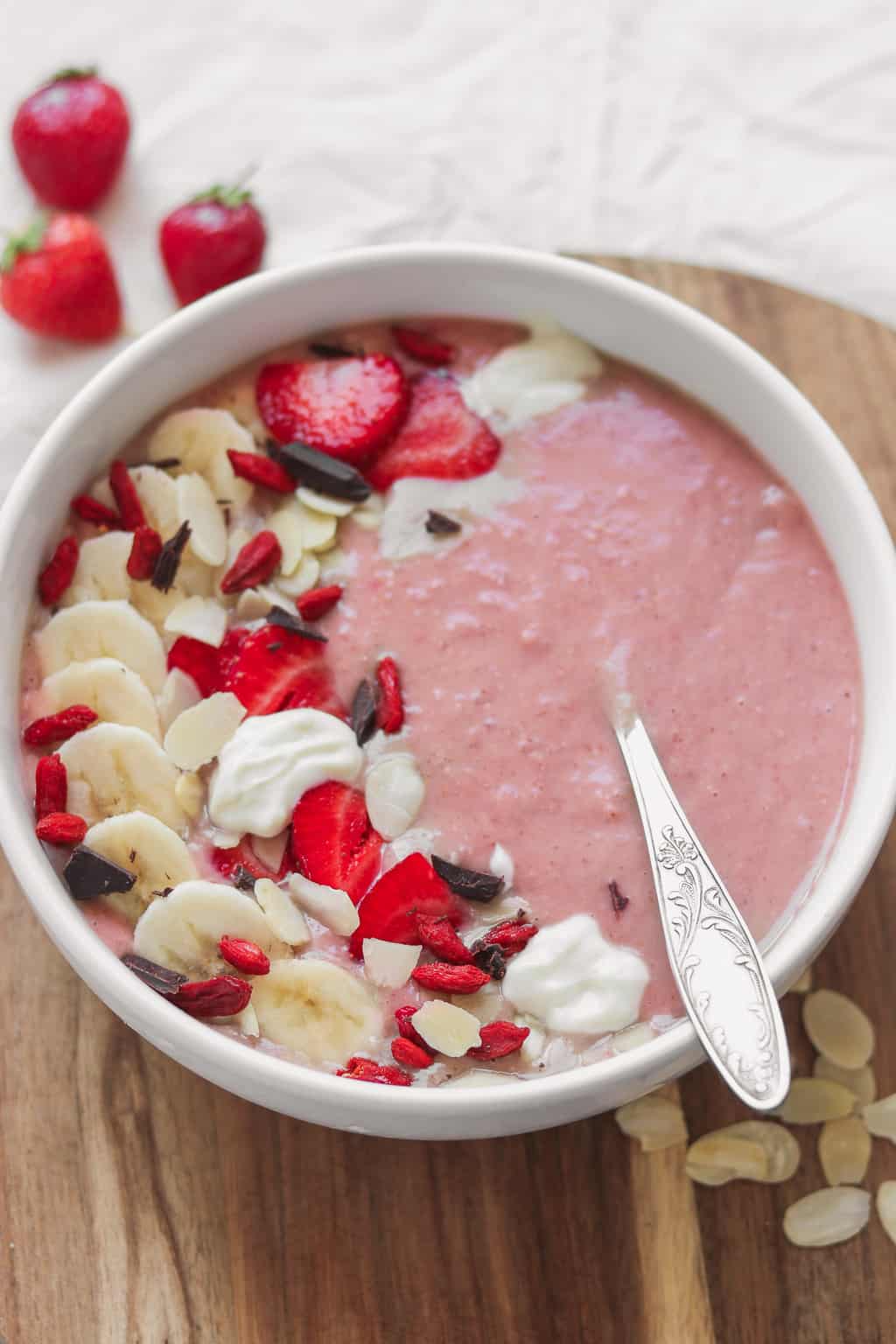 Okay, I have to admit that smoothies have a bit of a bad rep, and aren't always that great. No one likes being hungry thirty minutes after a meal, no matter how delicious and fruity it may be, and the fact is that fruit digests very quickly.
So, fruit-only smoothies are more of an appetizer or a snack for me. The key to making these smoothie bowls filling and turning them into a well-balanced meal is adding sources of protein and healthy fats.
Add Protein
Let's talk about protein first. The most obvious way to add it to a smoothie bowl is using a vegan protein powder. These aren't only convenient, but can also bring in more delicious flavor. Here are some of the ones I have personally tried and liked: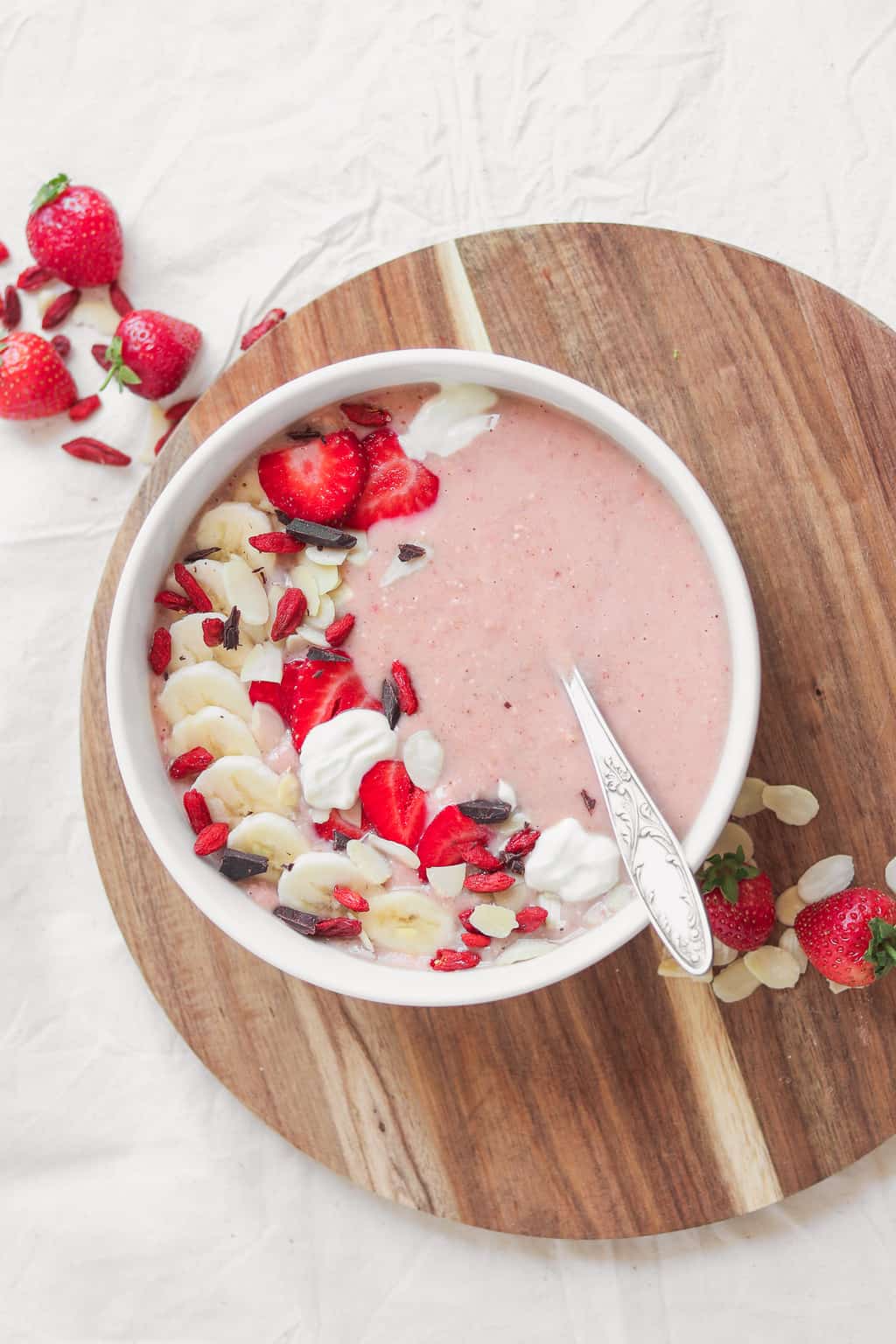 However, not everyone likes taking protein powder, in which case you have to get a bit more imaginative. For my chocolate protein smoothie bowl recipe on VegKitchen, I used tofu for both its protein content and super smooth texture.
That's most likely one of the weirdest things you've heard all week. Tofu?! In a smoothie?! But trust me, you can't taste or detect the tofu at all. I'm not even a big tofu fan, and I love it.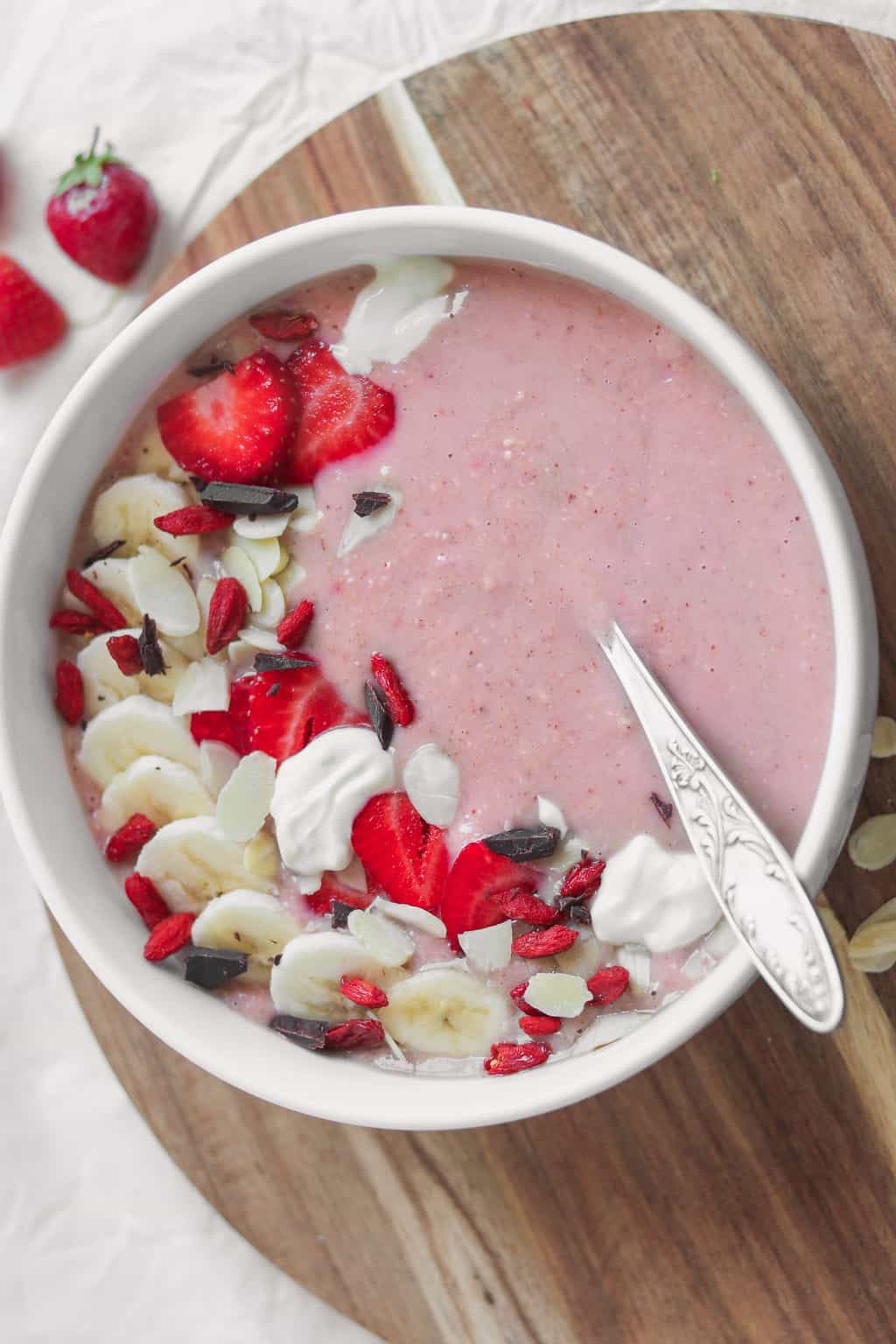 Add Almond Butter
For healthy fats, I added a tablespoon of my beloved Barney Butter Almond Butter. But, you can use any nut or seed butter of your choice. There are so many varieties out there nowadays, and I love trying out new ones to see how they change the flavor.
Or, sprinkle in a few tablespoons of whole nuts and seeds: seeds like flax and chia blend up really nicely and add a bit of extra bulk to your breakfast.
Alternatively, blend in ¼-1/2 of a ripe avocado. This fruit (that I actually used to hate before I went vegan) is pretty magical! Not only is it one of my favorite sources of healthy fat, but I also love the creaminess it adds without the weird taste you would expect. (And if that sounds good, make sure you check out this avocado chocolate mousse too!)
Add Oats
Another trick for a healthy, filling vegan smoothie bowl is adding some oats. Simple, but works perfectly every time. To keep this smoothie gluten free, I simply used gluten free rolled oats.
So, it's kinda like having oatmeal and a smoothie all in one breakfast. Mornings don't get much better than this!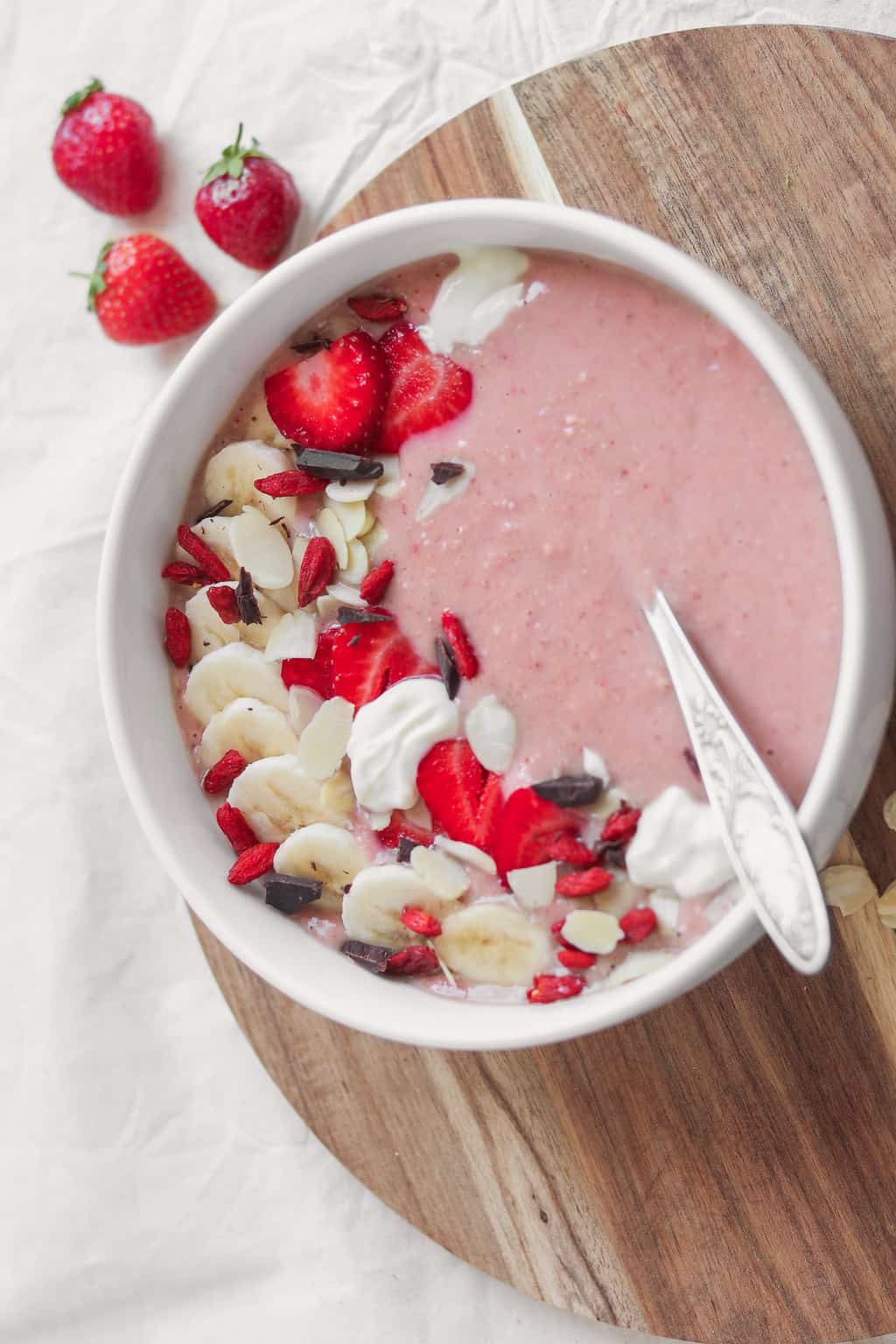 Smoothie Bowl Toppings
Ah, my favourite aspect of making smoothie bowls: decorating them! What you choose for your toppings totally depends on what you like.
For this vegan protein smoothie, I used more banana and strawberries, almonds, 99% dark chocolate, goji berries and soy yogurt.
Some foolproof options include:
More fresh fruit and berries
Nuts and seeds
Coconut flakes
Dried fruit and berries (chopped medjool dates are always perfect)
Dairy-free chocolate
Protein/energy bars, either homemade or store-brought
Granola
Nut and seed butters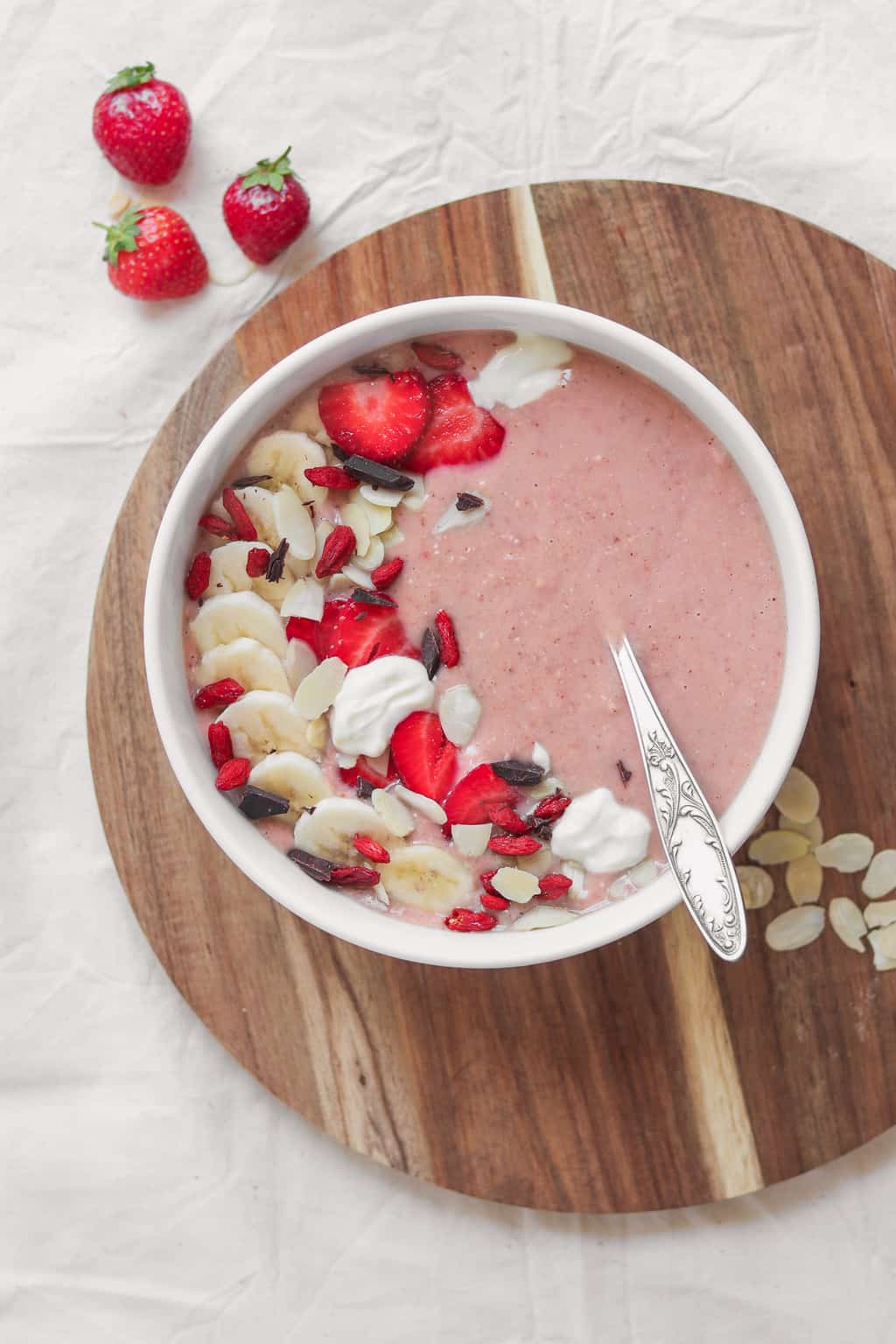 More Breakfast Ideas
If you love this vegan protein smoothie bowl, check out these other delicious recipes:
Recipe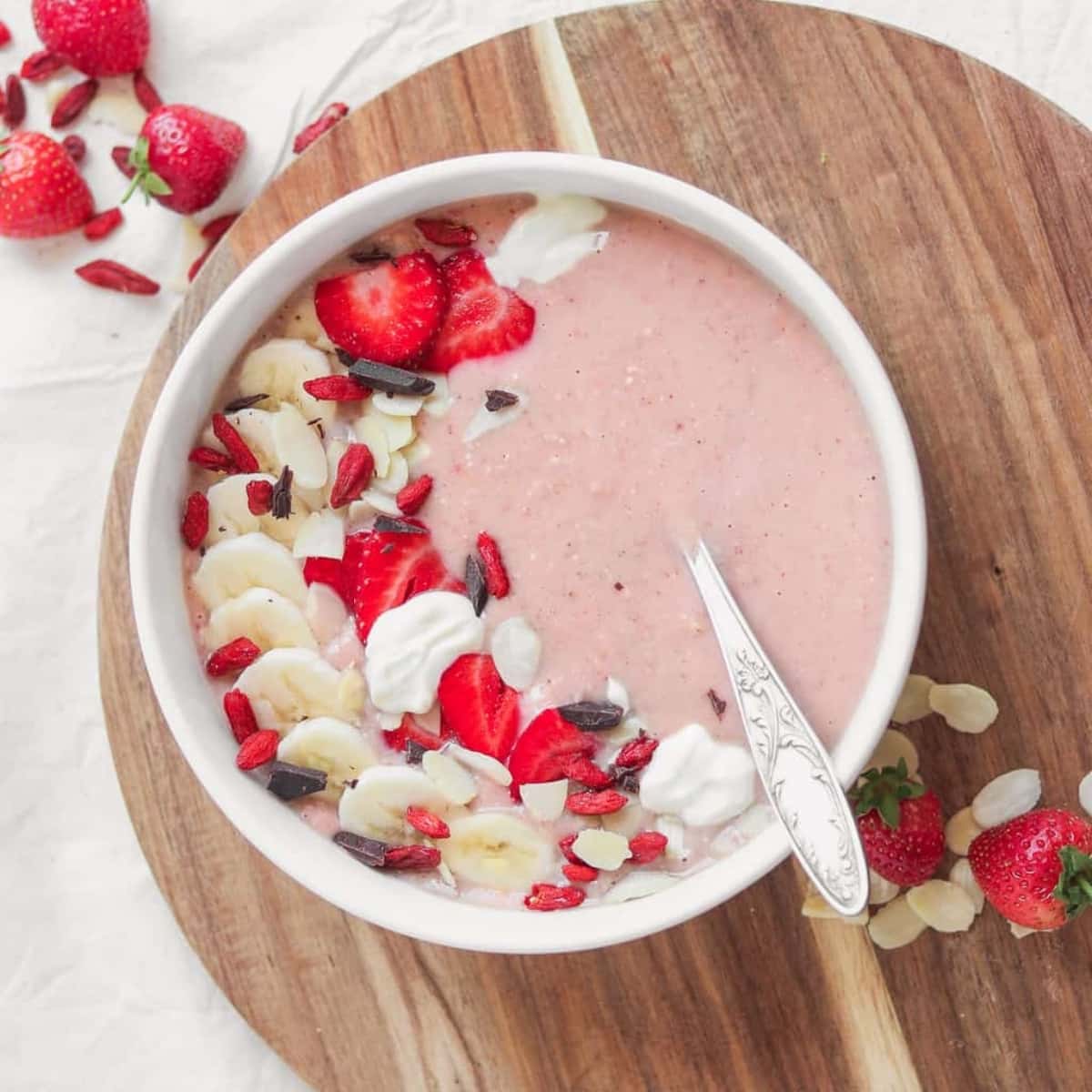 Ingredients
Topping options
banana

strawberries

almond flakes

goji berries

dark chocolate

chopped
Instructions
Put the banana, gluten-free oats, strawberries, cooked chickpeas, almond butter and cashew milk into a food processor and blend until smooth. Add more cashew milk if desired.

Pour into a bowl and decorate with the toppings. Alternatively, serve in a glass or jar for a breakfast on-the-go.
Notes
Swap for any nut or seed butter of your choice
Use any plant milk of your choice if you don't have cashew
Nutrition
Calories:
327
kcal
Carbohydrates:
63
g
Protein:
9
g
Fat:
7
g
Saturated Fat:
1
g
Sodium:
26
mg
Potassium:
905
mg
Fiber:
10
g
Sugar:
26
g
Vitamin A:
129
IU
Vitamin C:
37
mg
Calcium:
68
mg
Iron:
3
mg
Craving more veg-friendly recipes?
Shop our collection of vegetarian and vegan cookbooks, including our new Vegan Thanksgiving and Vegan Christmas cookbooks!