You all know that I participate in Menu Plan Monday. Even before I started blogging, I always planned out my meals for the week. By planning meals ahead of time, we end up saving money because we're wasting less food. Food spoilage is like throwing money away! But doing a weekly meal plan involves more than just putting together a few recipes and calling it a day. If you want to eat fresh produce throughout the week and do it with only one trip to the grocery store, you need to know which fruits and veggies go bad quickly and which ones will last longer.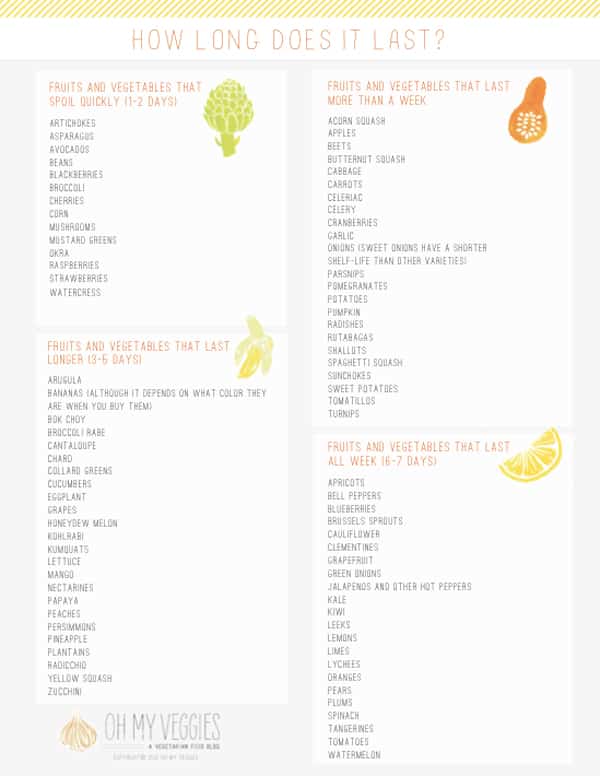 Click here for a printable version of this list here.
Below is the list I use to plan my meals each week. Right after you go grocery shopping, make meals with the fruits and vegetables that spoil most quickly. As you reach the end of your shopping cycle, make meals with cabbage, butternut squash, sweet potatoes, and other produce that lasts longer. If you use this list and plan your meals accordingly, you can eat fresh produce all week long without having to go to the supermarket more than once.
Fruits and Vegetables That Spoil Quickly (1-2 days)
Artichokes
Asparagus
Avocados
Beans
Blackberries
Broccoli
Cherries
Corn
Mushrooms
Mustard Greens
Okra
Raspberries
Strawberries
Watercress
Fruits and Vegetables That Last Longer (3-5 days)
Arugula
Bananas (although it depends on what color they are when you buy them)
Bok Choy
Broccoli Rabe
Cantaloupe
Chard
Collard Greens
Cucumbers
Eggplant
Grapes
Honeydew Melon
Kohlrabi
Kumquats
Lettuce
Mango
Nectarines
Papaya
Peaches
Persimmons
Pineapple
Plantains
Radicchio
Yellow Squash
Zucchini
Fruits and Vegetables That Last All Week (6-7 days)
Apricots
Bell Peppers
Blueberries
Brussels Sprouts
Cauliflower
Clementines
Grapefruit
Green Onions
Jalapenos and other hot peppers
Kale
Kiwi
Leeks
Lemons
Limes
Lychees
Oranges
Pears
Plums
Spinach
Tangerines
Tomatoes
Watermelon
Fruits and Vegetables That Last More Than a Week
Acorn Squash
Apples
Beets
Butternut Squash
Cabbage
Carrots
Celeriac
Celery
Cranberries
Garlic
Onions (sweet onions have a shorter shelf-life than other varieties)
Parsnips
Pomegranates
Potatoes
Pumpkin
Radishes
Rutabagas
Shallots
Spaghetti Squash
Sunchokes
Sweet Potatoes
Tomatillos
Turnips
And, just a quick disclaimer: This list started as a small sidebar I cut from Vegetarian Times and over the years, I've added a lot to it and rearranged things based on my own experience, so your mileage may vary. Use common sense when you're cooking--even if something is supposed to last a full week, if it doesn't smell or look right, toss it!