You won't find anything quite like a fresh homemade tortilla. Learn how to make Homemade Tortillas made with just 3 ingredients. Wholemeal flour, salt, and water are all you need for this tortilla recipe.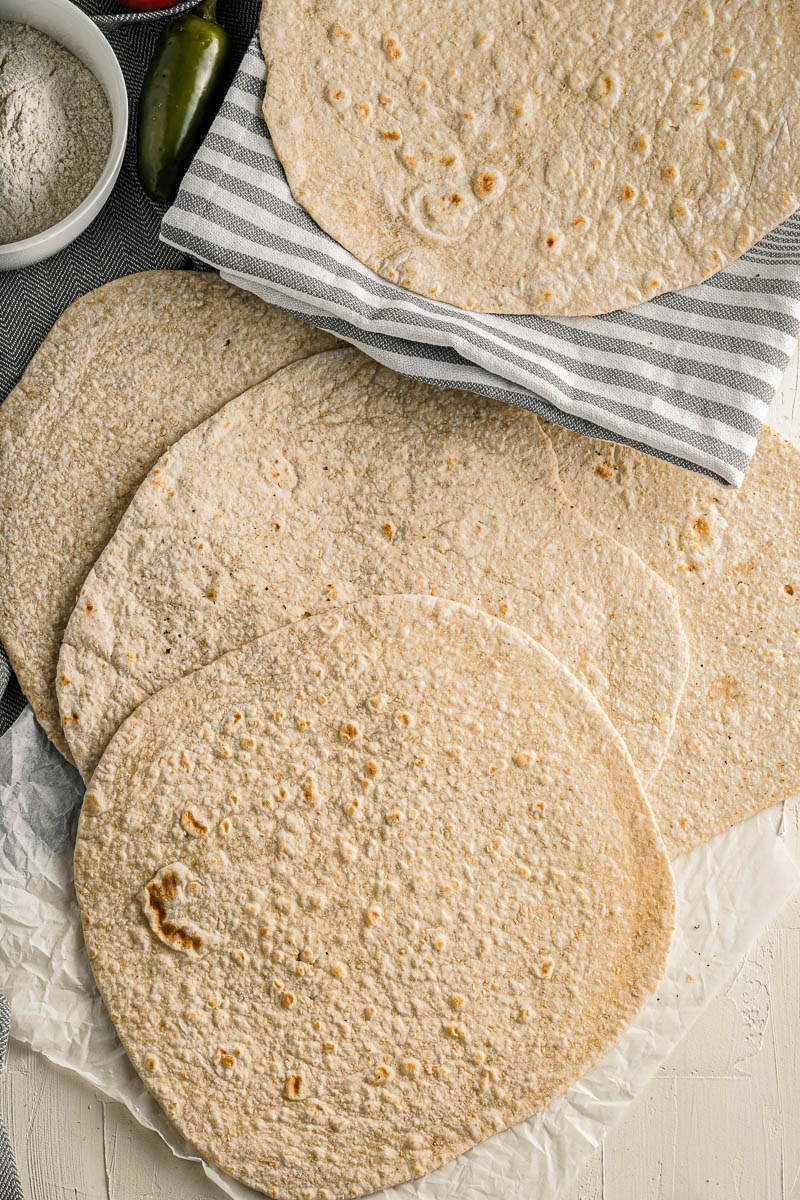 Jump to:
Use these tortillas to make your favorite tofu breakfast burrito, sweet potato and kale wrap for lunch, or burritos for dinner. No matter how you eat these tortillas, they're super easy to make and serve.
Try making my vegetarian black bean crunch wrap with your fresh tortillas—it is so good! There are endless ways to serve up your tortillas if you are looking for ways to use them up.
This Homemade Tortillas recipe is...
Made with 3 ingredients
Light and tender
Easy to make
No special tools needed—just a rolling pin!
How to Make Homemade Tortillas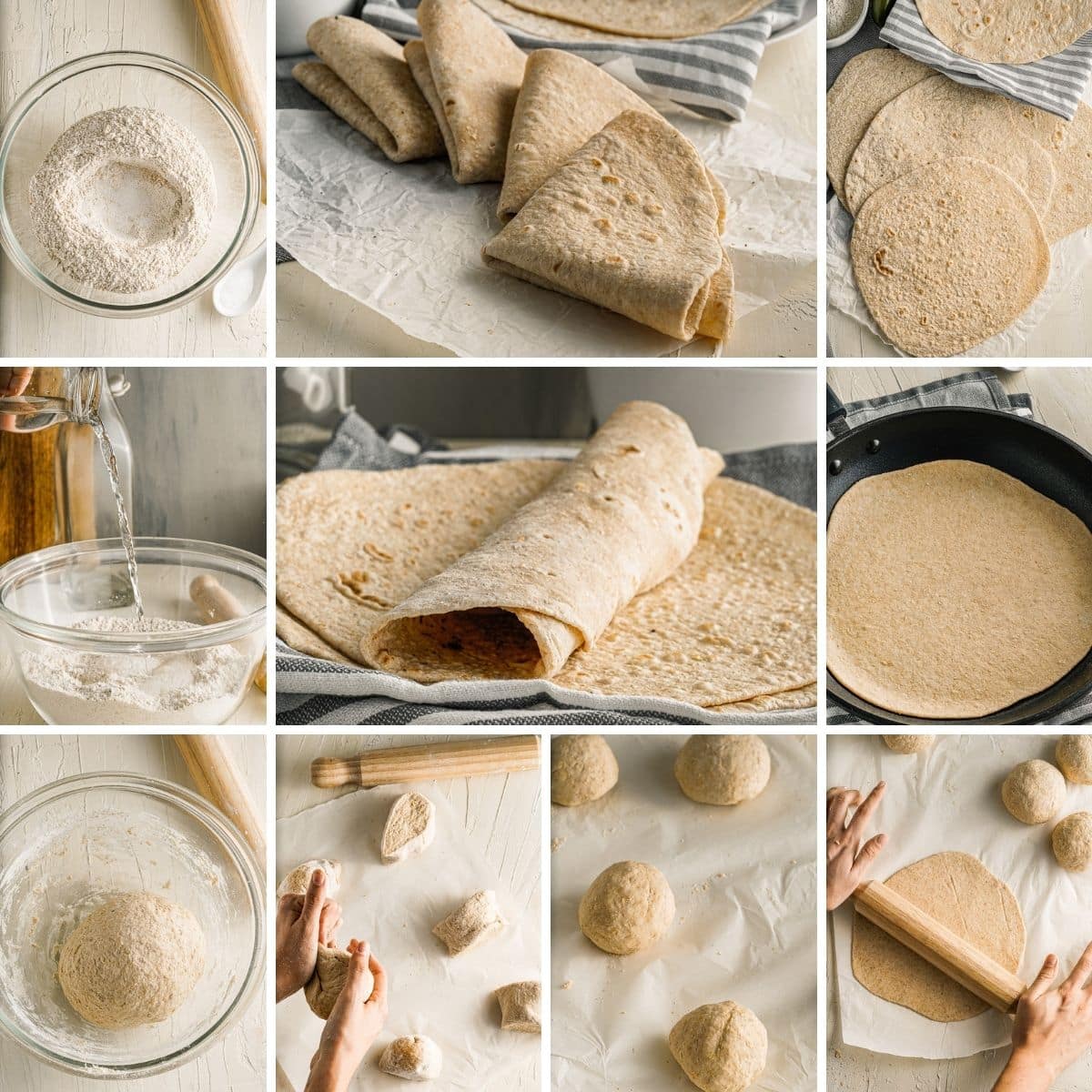 Mix the flour and salt together in a bowl.
Add water a bit at a time.
Knead the dough until soft, then split into equally.
Use a rolling pin to spread thin the tortillas.
Place tortilla in heated pan and cook both sides.
Enjoy.
Full directions for how to make Homemade Tortillas are in the printable recipe card at the bottom of the post.
Tips & Tricks for Homemade Tortillas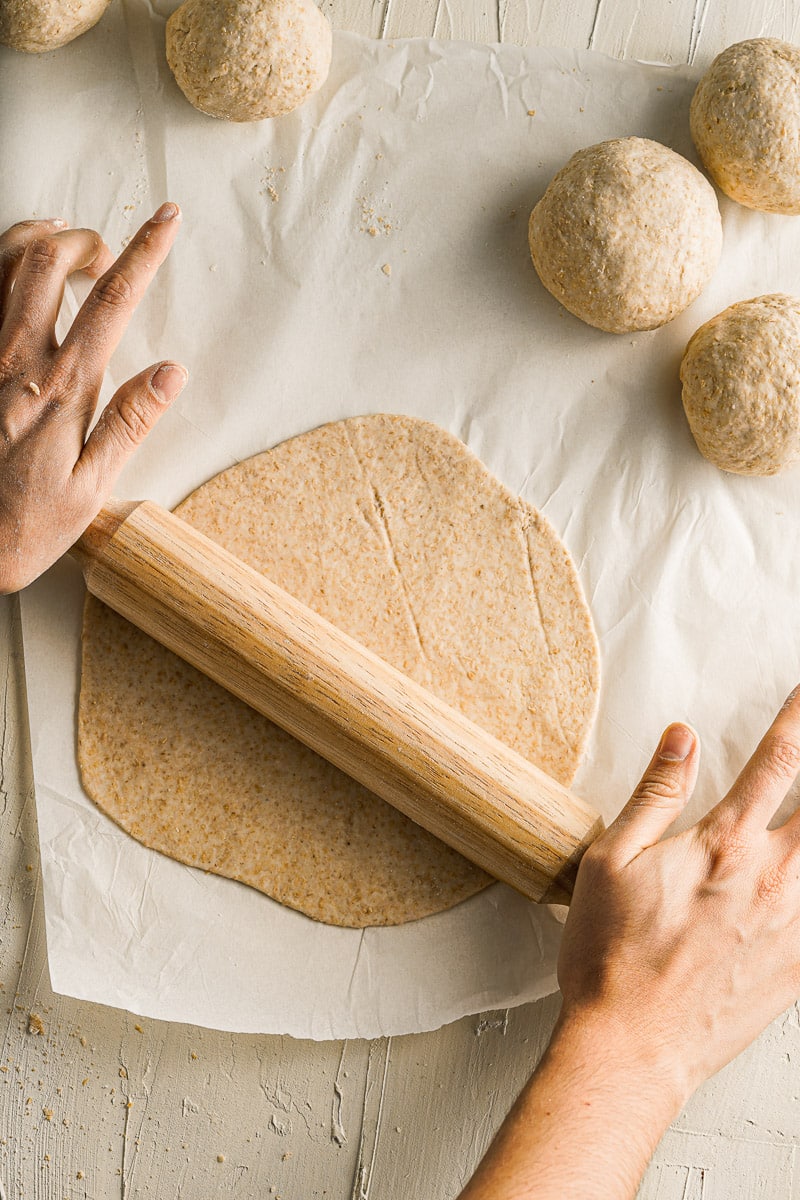 Keep Tortillas Covered
It's very important that you keep the tortillas covered. If you don't keep them covered, they will dry out and break. Just use a light dry or slightly damp towel to cover your tortillas.
Rolling Pin
You can buy fancy tools specifically for making tortillas. However, I find that using a rolling pin works just as well, and you don't have to buy new tools!
Thin Tortillas
Make sure to make your tortillas nice and thin. Otherwise you will find that they won't cook up the right way. If you prefer a thicker flatbread, you could always try whipping up some homemade naan bread instead.
Warm Water
I recommend using warm water when you are working with your tortilla dough. Cold water can make your dough stiff, but warm water will make your dough easier to work with and roll out.
Variations to Homemade Tortillas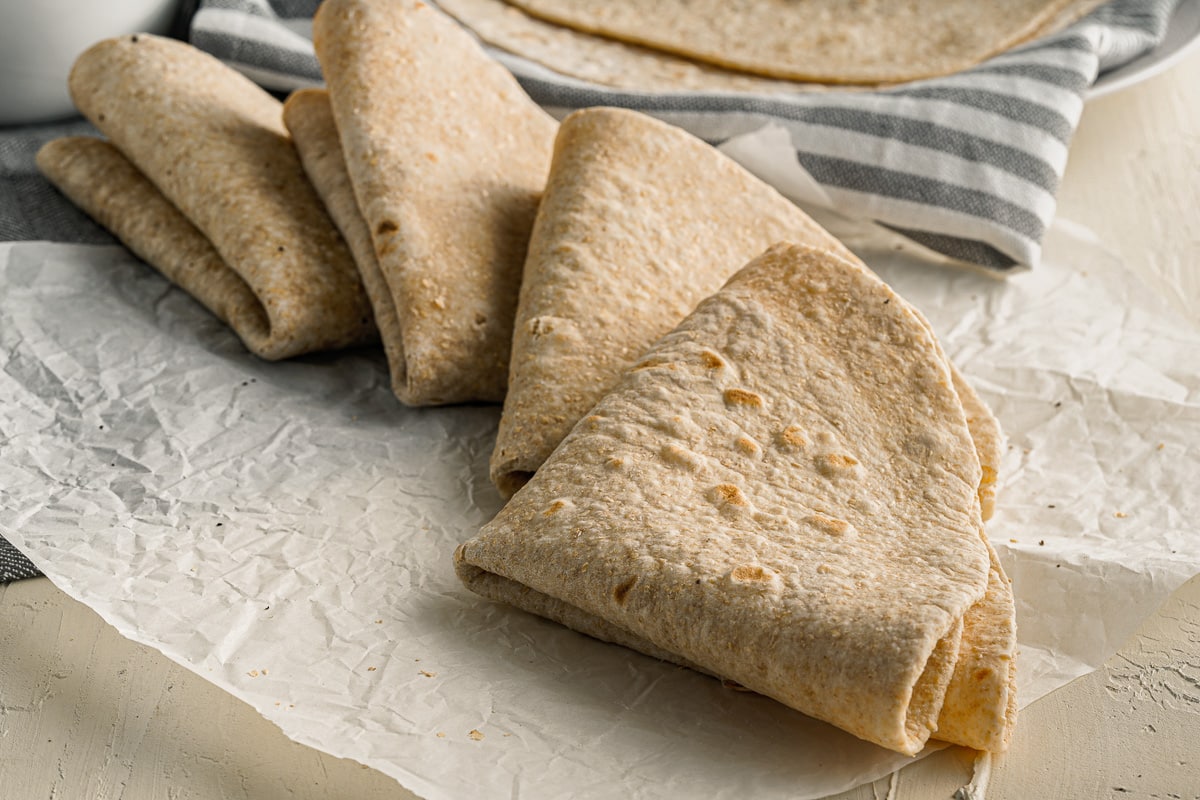 All-Purpose Flour
You can swap the wheat flour with all-purpose flour if you would like. If you decide to make the swap, you might need a bit more water. When I've made these tortillas with white flour, I end needing about ¼ cup more water.
Spices
You can add totally add spices to your tortilla dough to add some flavor! Try adding spices like smoked paprika, garlic powder, oregano, turmeric, or other favorites. Experiment to find your ideal tortilla flavoring.
Homemade Tortillas FAQs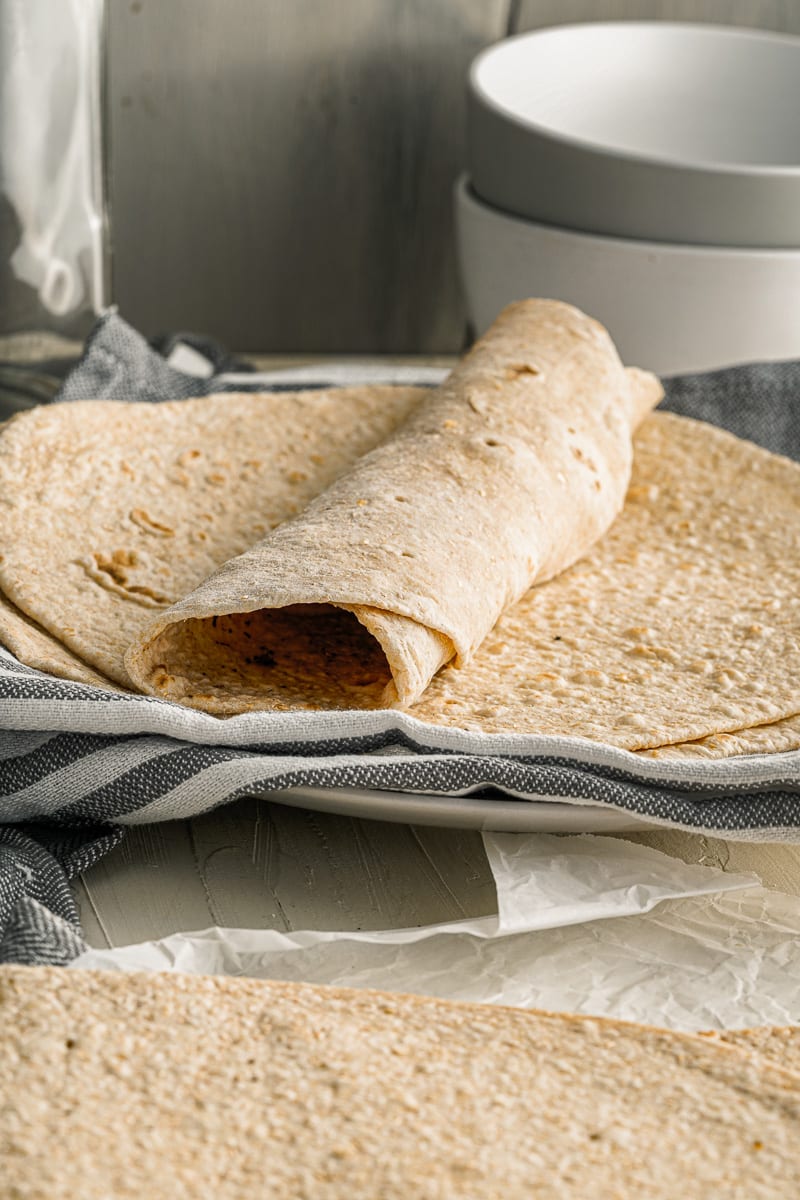 How many tortillas does this recipe make?
You will be able to make 6 large tortillas, or 10 smaller tortillas with this recipe. If you would like more or less, you can easily double or half the recipe as needed.
How do you know when to flip the tortillas?
You will find that the tortillas begin to brown just a bit on the side touching the pan. This is a sign that the tortilla is ready to be flipped to cook the other side. Once the second side is also beginning to brown, remove the fully cooked tortilla from the pan and place on a plate.
What should I do if bubbles form on the tortillas while cooking?
If you see any bubbles form on your tortillas while cooking, just take your spatula and gently break the bubbles. Alternatively, you can use a knife to poke open the bubble. but even if your tortillas have bubbles, don't worry—this is a natural thing that happens to tortillas when they are cooked.
What are some ways to use up tortillas?
Breakfast burritos, wraps, burritos, quesadillas, and more—the way to use up tortillas are endless. These tortillas are a blank canvas and mild in flavor, so they are truly versatile. Eat them however you want!
Recipe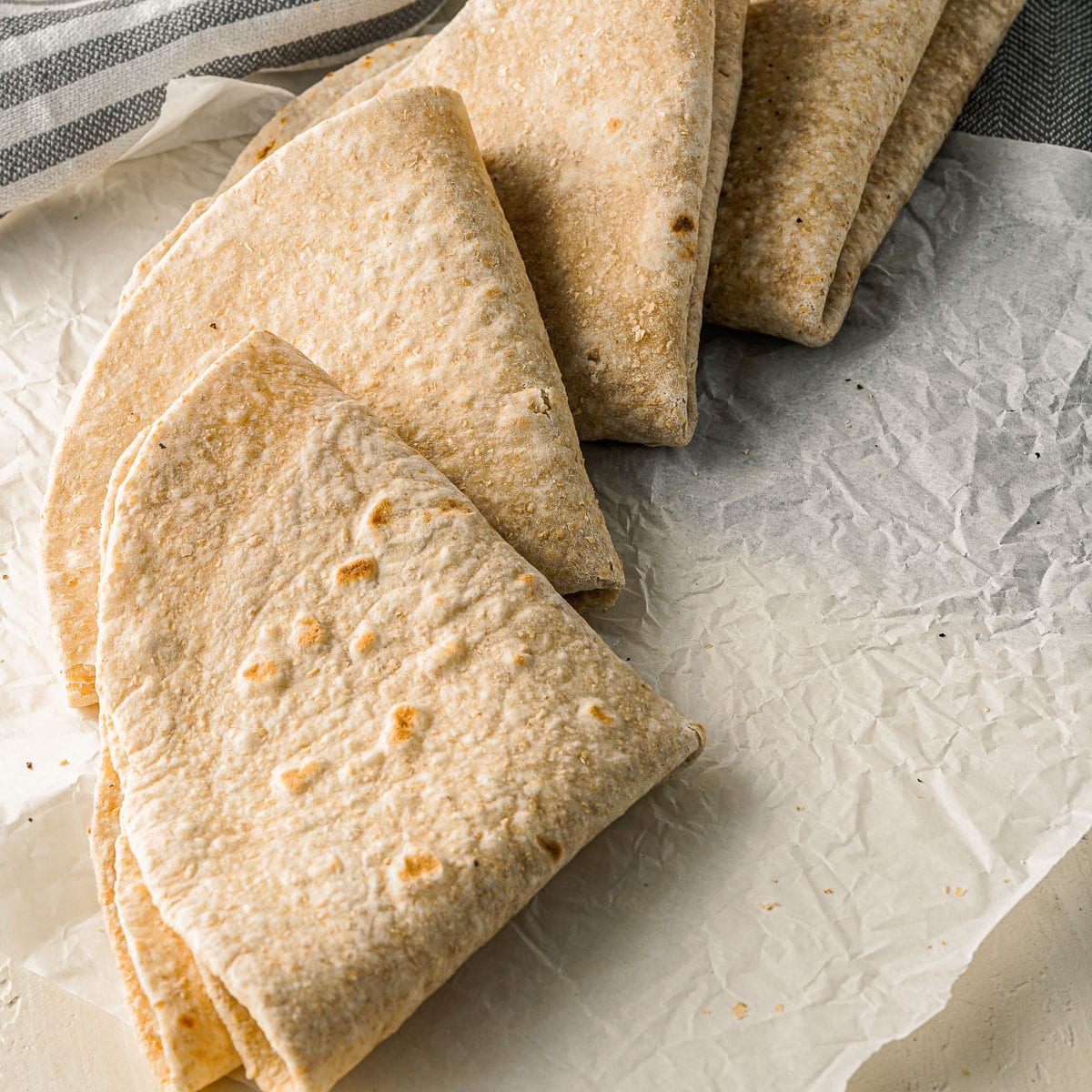 Servings:
6
large tortillas
Ingredients
3

cups

wholemeal plain flour

1

cup

water

1

tsp

salt
Instructions
Mix the flour with the salt.

Add the water by quarters until it is all combined.

Sprinkle some flour on the countertop. Knead the dough until soft; this will take at least 5 minutes. If the dough sticks to your hands, add more flour and keep on kneading until it's easy to shape.

Split the dough into six balls.

Use a rolling pin to flatten each ball into a thin tortilla.

Cook tortillas in a heated skillet, cooking for about 1–2 minutes each side. If any bubbles appear, just gently break them with the tip of a knife.

Enjoy!
Notes
This amount of flour will make six large tortillas or ten smaller ones.
Keep these tortillas covered or they will dry and break.
Replace wholemeal flour with all-purpose if desired; you may need an extra ¼ cup of water.
Use these tortillas to make wraps, quesadillas or burritos. Add some extra flavor with smoked paprika, turmeric, garlic powder, or dried oregano.
Nutrition
Calories:
204
kcal
Carbohydrates:
43
g
Protein:
8
g
Fat:
2
g
Saturated Fat:
1
g
Polyunsaturated Fat:
1
g
Monounsaturated Fat:
1
g
Sodium:
391
mg
Potassium:
218
mg
Fiber:
6
g
Sugar:
1
g
Vitamin A:
5
IU
Calcium:
22
mg
Iron:
2
mg
Craving more veg-friendly recipes?
Shop our collection of vegetarian and vegan cookbooks, including our new Vegan Thanksgiving and Vegan Christmas cookbooks!