This vegan wonton soup is so delicious and simple to make! The vegan wontons are packed with crumbled tofu, marinated in soy, sesame, ginger, and garlic. All simmered in a flavorful, savory broth.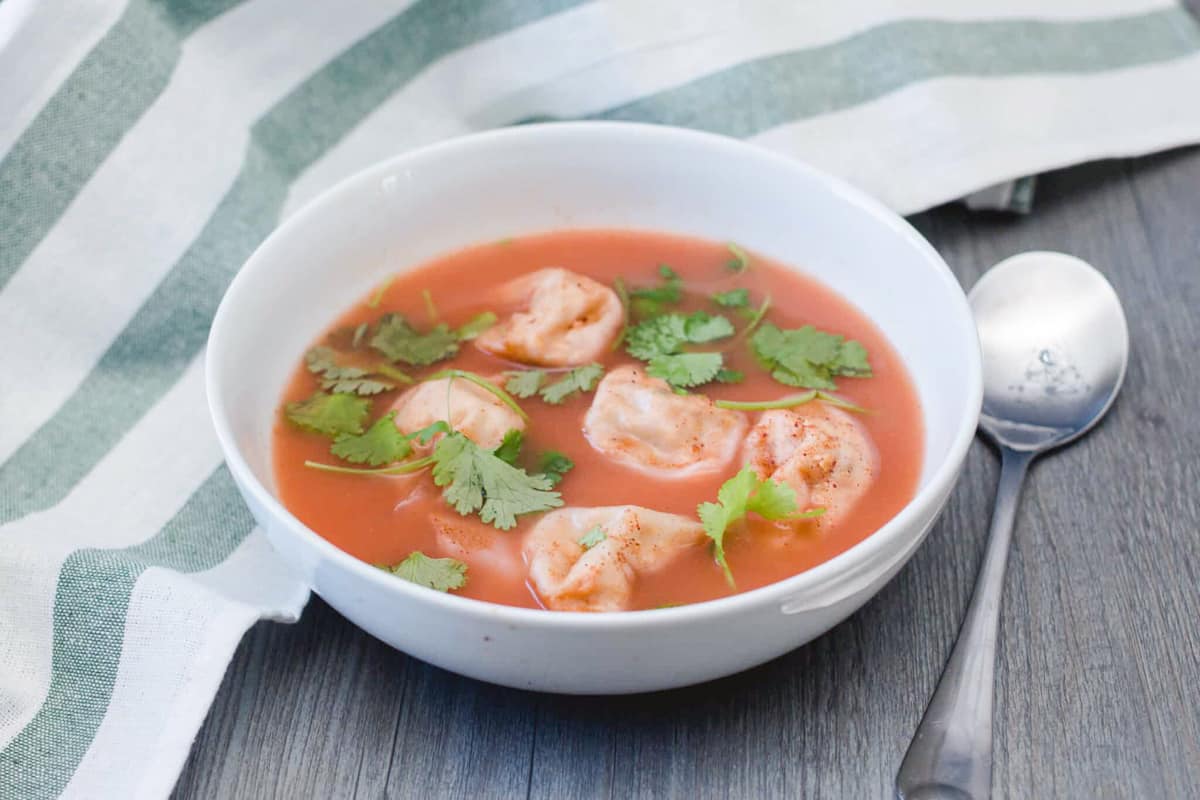 Wonton Soup. You know the one - the soup made famous by Chinese buffets all across the country. And for good reason - it's so incredibly good.
I've yet to meet anyone that doesn't love this simple soup, but I don't know many people who prepare it at home - even though it's surprisingly easy to make.
And it's also incredibly easy to make a plant based version - so let's get to it!
This vegan wonton soup is:
Warm and comforting.
Just a little bit sweet and a little bit spicy.
Simmered in a homemade wonton broth.
100% Vegetarian & Vegan
Easy to make in under 30 minutes.
A family-friendly meatless meal!
It's also a great soup for meal prep - as you can make extra wontons and serve them for days!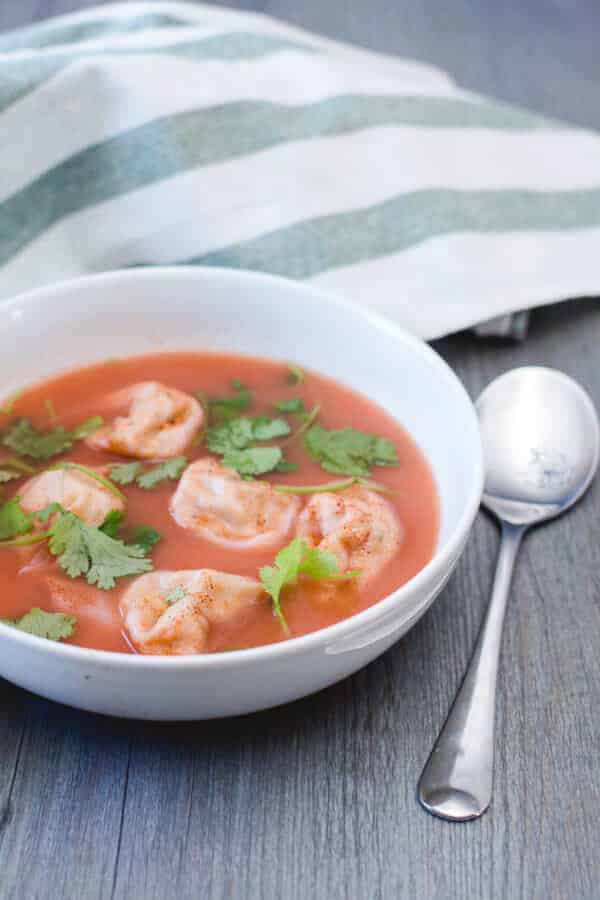 Making the Filling
The filling for these vegan wontons is very simple. I used tofu as a base. Although, I don't cook with tofu all that often, it worked really well here.
It has a nice crumbly texture that is similar to traditional wonton fillings and does a great job of absorbing all the Asian-inspired flavors!
To make the filling, you simply sauté the tofu on the stovetop with some fresh shallots, cilantro, sesame oil, and soy sauce. Easy and delicious!
Making the Wontons
Of course, the trickiest part of making this vegan wonton soup is making the wontons themselves. But I promise, it's easier than you think!
You need to start with some basic wonton wrappers - they look like the ones in this picture below. They can be round or square shaped. I like these wonton wrappers from Nasoya, which are vegan friendly.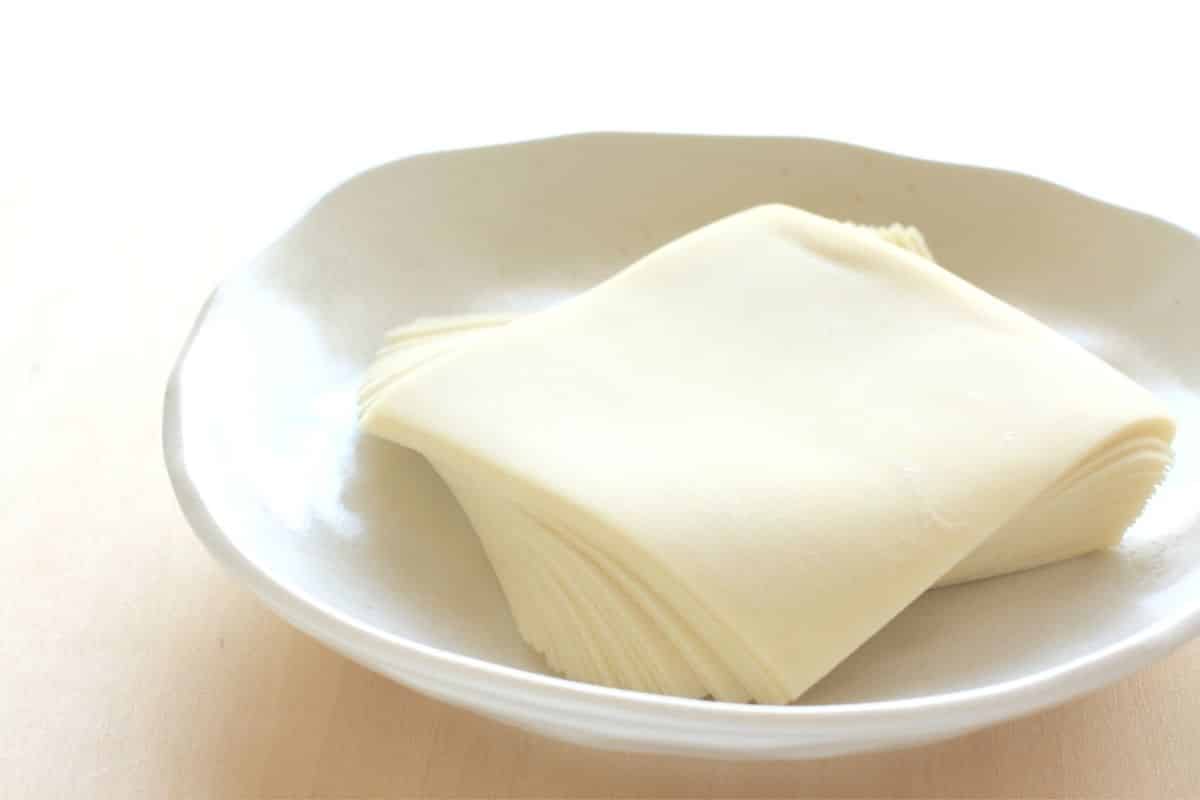 Then it's really pretty simple. Sprinkle some flour all over your work surface so the wonton wrappers don't stick. Then add a little spoonful (I use about 1 ½ teaspoons) of filling to the middle of a wrapper - and wrap it up!
You can dab a little bit of water around the outer edges of the wonton wrapper to help it stick together and stay sealed.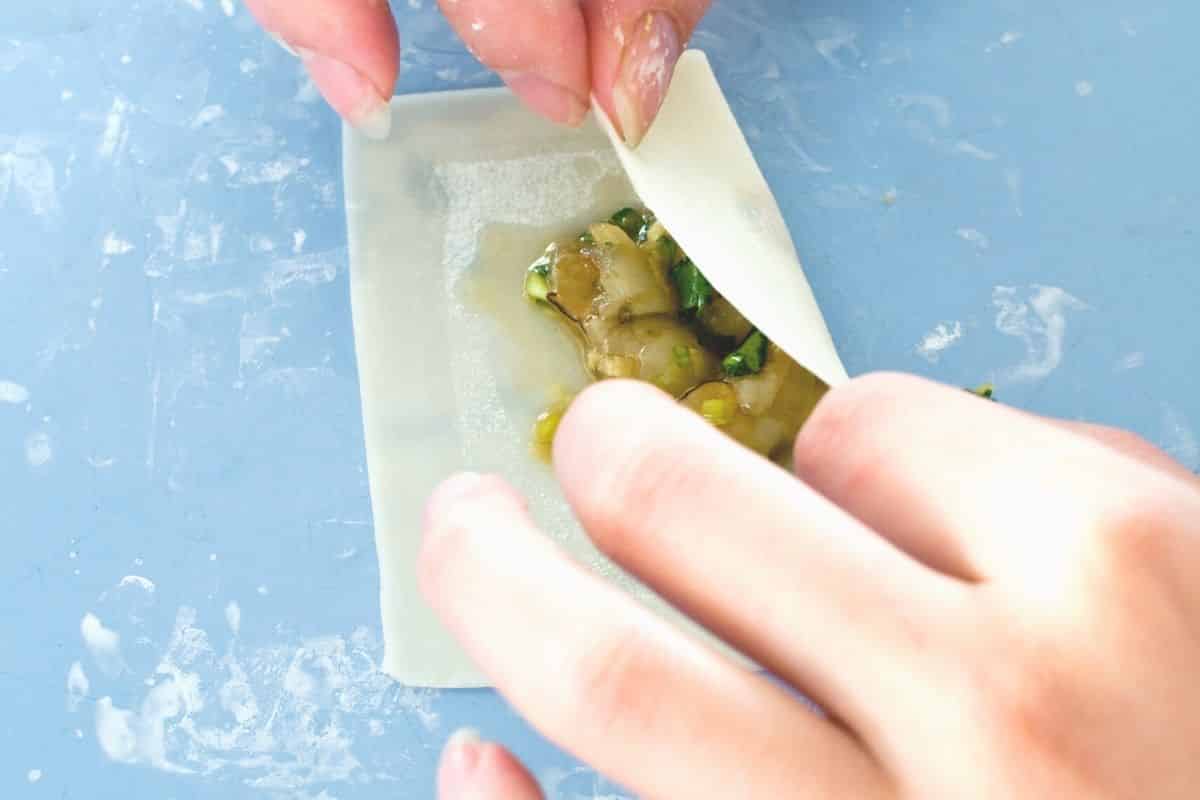 I like to wrap them up into these little purses (or packages or whatever you wat to call them), as they seem to hold together best when cooking. But really, you can wrap them any way you want, as long as they stay closed.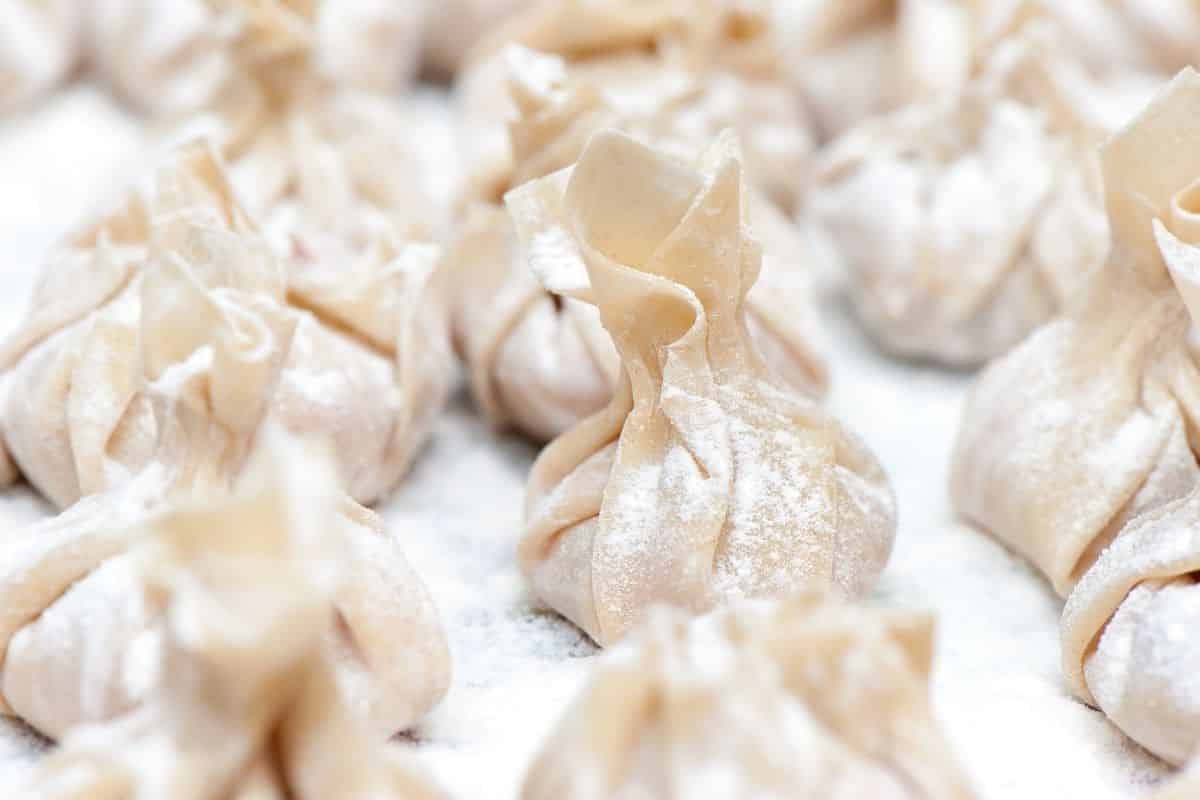 Now you have perfect vegan wontons ready to go into your vegan soup!
Tips, Tricks, & Variations
I made about 12 wontons from this recipe and still had some leftover filling, which depends somewhat on how much filling you put into each one. If you end up with extra filling - you can simply make more wontons or save it for later. It will keep in the fridge for 3-5 days.
Feel free to make extra wontons and freeze them for later. To do this, arrange the wontons in a single layer on a baking sheet or sheet of parchment paper and freeze. Then you can transfer them to a freezer-safe container or bag. When you're ready to make the wonton soup, just pop them into the boiling broth!
Use firm or extra-firm tofu for the wonton filling, so that it holds up to being cooked and gives you that nice, crumbly texture.
Go crazy with the garnishes! I sprinkled my soup with some fresh cilantro - but you can also add scallions, thinly sliced onions, or slivered chili peppers.
More Recipes
If you love this vegan wonton soup, check out these other delicious vegetarian recipes:
Recipe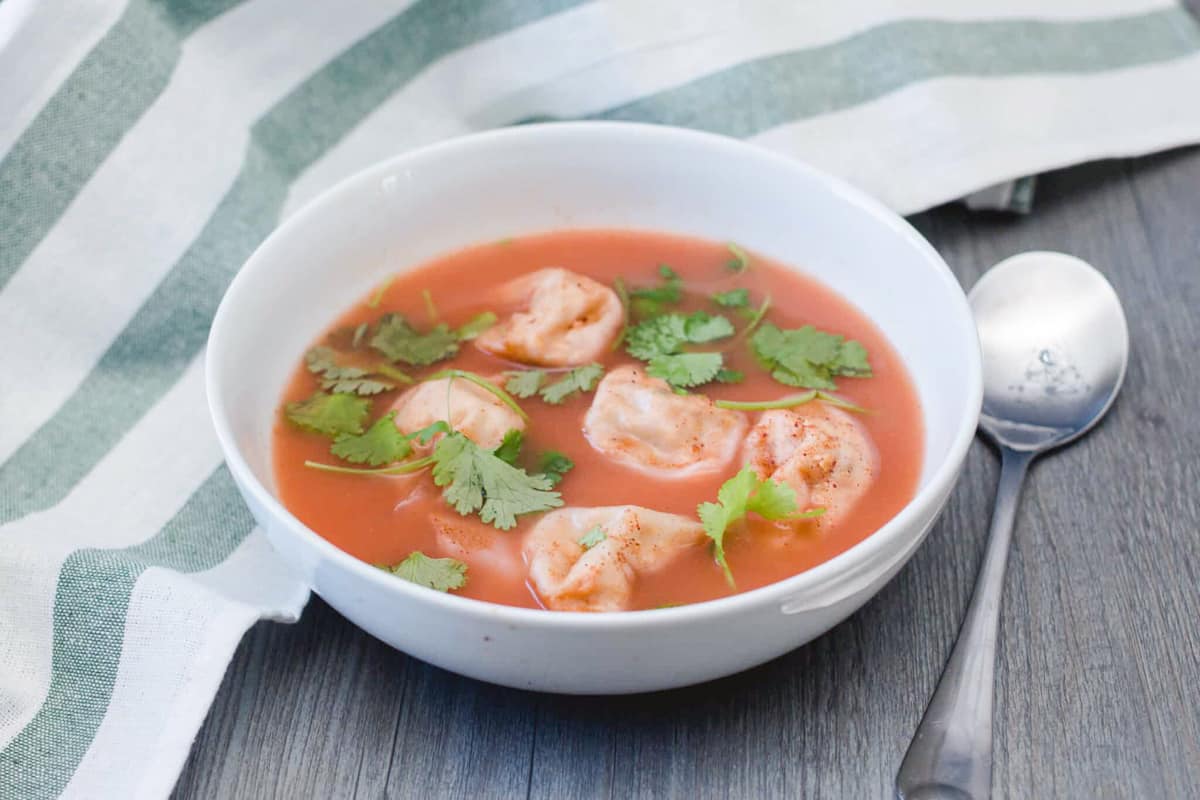 Instructions
Make the Wontons
Heat the sesame oil in a non-stick pan over medium heat. Add the shallots and cook 1-2 minutes, until softened.

Add the tofu, and use a fork to crumble it into bite-sized pieces. Add the garlic, ginger, soy sauce, and cilantro. Cook for 5 minutes, stirring frequently. Add salt and pepper, to taste.

Remove from heat and allow the mixture to cool for a few minutes, until it is safe to handle.

Sprinkle some flour on your work surface (counter or cutting board). Place one wonton wrapper on the work surface. Top with 1-2 tsp of the tofu mixture.

Wrap the wonton wrapper around the filling and press to seal. You can dab a bit of water around the edges of the wonton wrapper to help it seal better. Repeat with remaining wontons.
Make the Wonton Soup
In a large pot, heat the sesame oil over medium heat. Add the garlic and ginger, and stir for one minute.

Add the paprika and soy sauce, and stir. Add the vegetable broth. Add salt and pepper, to taste

Bring the broth to a boil. Reduce it to a simmer and add the wontons. Simmer for 5 minutes. Serve garnished with fresh cilantro.
Nutrition
Calories:
416
kcal
Carbohydrates:
44
g
Protein:
26
g
Fat:
16
g
Saturated Fat:
2
g
Polyunsaturated Fat:
8
g
Monounsaturated Fat:
5
g
Cholesterol:
4
mg
Sodium:
3189
mg
Potassium:
235
mg
Fiber:
4
g
Sugar:
6
g
Vitamin A:
1278
IU
Vitamin C:
4
mg
Calcium:
298
mg
Iron:
5
mg
Craving more veg-friendly recipes?
Shop our collection of vegetarian and vegan cookbooks, including our new Vegan Thanksgiving and Vegan Christmas cookbooks!