This easy homemade vegan cornbread is dense and moist, just the right amount of sweet, and packed full of fresh corn flavor. It's a wonderful treat on its own or the perfect match for a hearty bowl of vegan chili.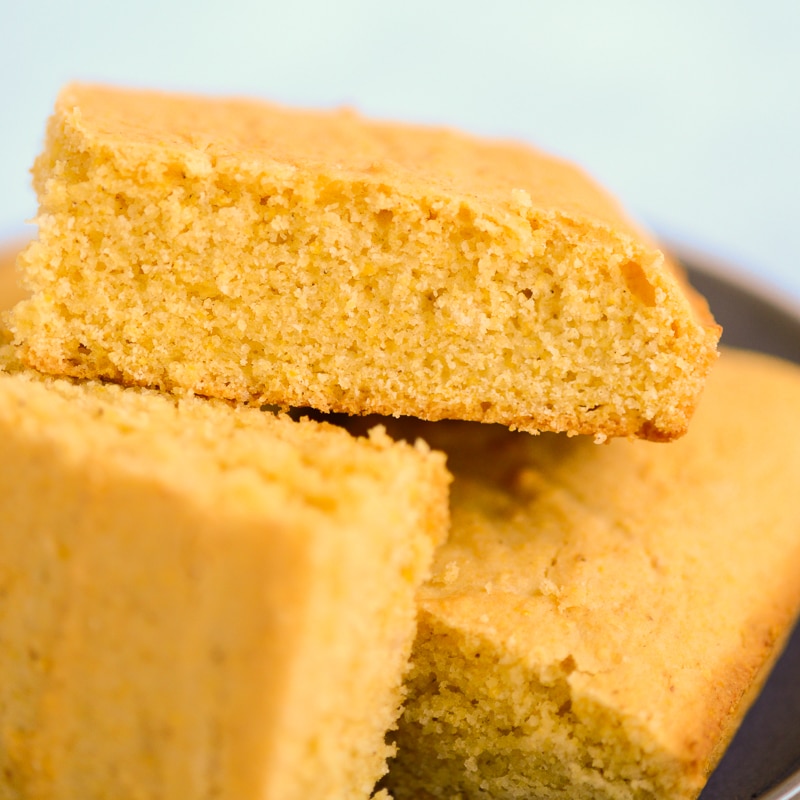 Cornbread is one of those delightfully perfect foods.
Moist, fluffy, sweet. What's not to love?
And fresh homemade cornbread is as good as it gets. I've been making this cornbread recipe for years, but wanted to try my hand at a vegan version as well.
Because everyone deserves to eat great cornbread. 😉
This vegan cornbread recipe is:
An easy one-bowl recipe!
Made with simple, easy-to-find ingredients.
Ready in less than 30 minutes.
100% vegan and vegetarian-friendly
Dairy-free. We use a plant based milk, like almond milk, in place of traditional milk.
Egg-free - A staple in traditional cornbread, you won't find any eggs here.
This cornbread is the perfect match for my slow cooker vegan chili - or any of these other amazing vegan chili recipes.
And if you love Southern food, be sure to check out this veggie jambalaya or these crazy good homemade hush puppies.
If you love vegan baking, make sure you grab a copy of my free vegan baking cheat sheet while you're here. It's packed with all my favorite plant-based substitutions to help you vegan-ize any recipe!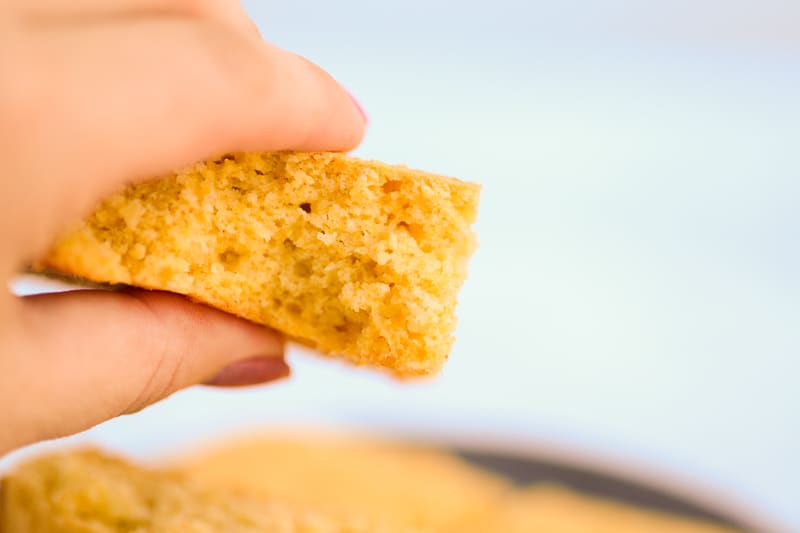 How to Make Vegan Cornbread
This one-bowl recipe is so crazy easy to make, you won't believe it. Let's get started!
Start off by preheating the oven to 350 degrees Fahrenheit.
Then, in a large bowl, combine the cornmeal, flour, baking powder, salt and sugar.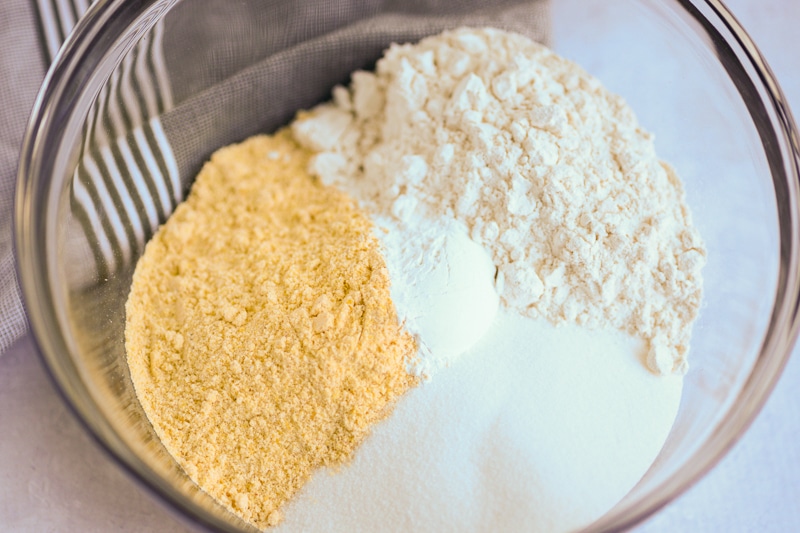 Next, add in the melted vegan butter (I like Earth's Balance) and mix everything together.
Then, slowly add in the non-dairy milk. I like to use almond milk - but you can use any type you prefer.
You might need a little bit more almond milk to get your cornbread batter to the right consistency. It can vary a bit depending on the flour you use.
So, I always start with about 1 cup of almond milk and then add some more if needed. Remember, you can always add more milk to the batter, but you just can't take it away!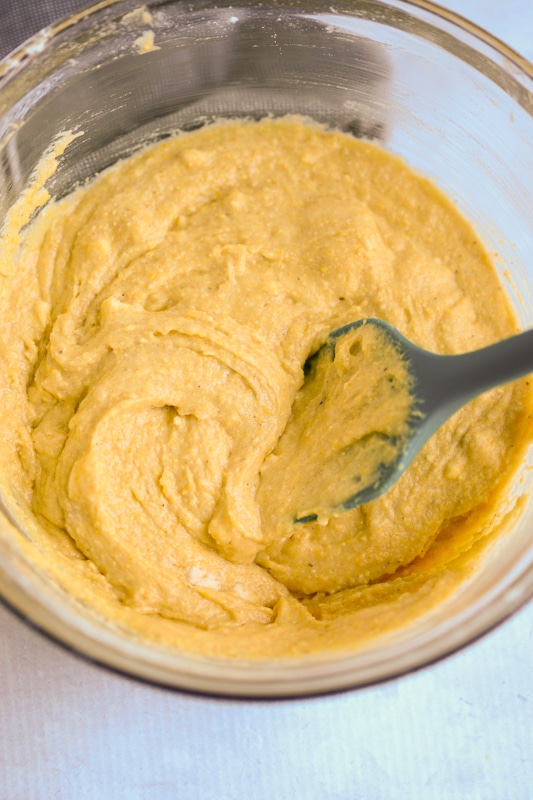 Once the vegan cornbread batter is smooth, pour it into a baking pan lined with parchment paper and bake until golden brown and the center is set.
This should take about 20-25 minutes in a 400 degree oven.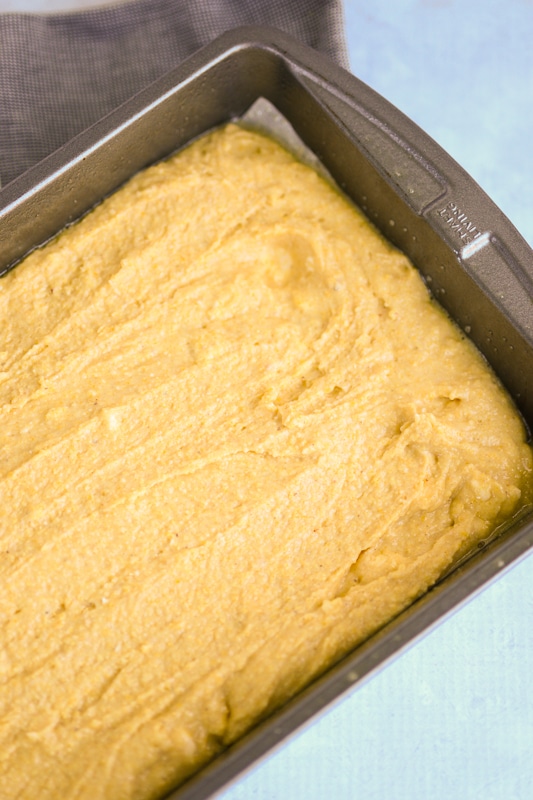 Tips for Making Vegan Cornbread
What's great about this vegan cornbread recipe is that you can use it as a "basic" cornbread recipe, and adjust it to your own liking.
If you prefer a sweeter cornbread, just adjust the amount of sugar in the recipe. Maybe add 1 extra tablespoon of sugar at a time, or try adding some agave syrup or maple syrup instead.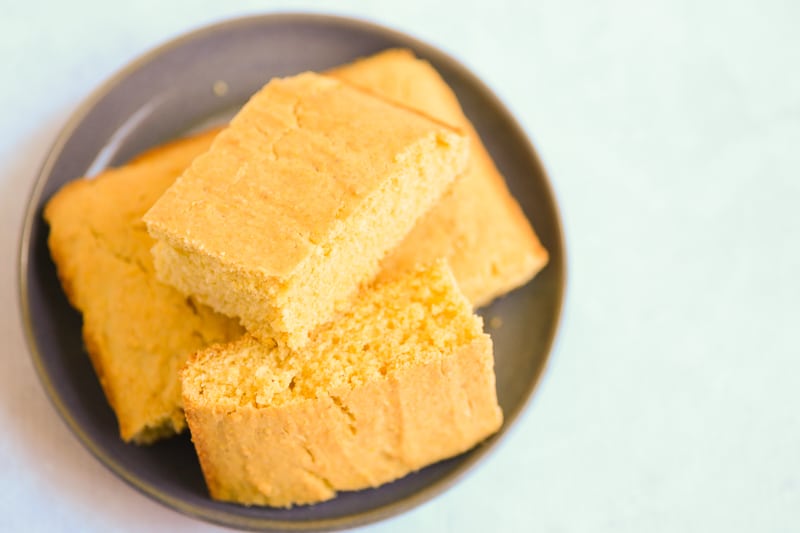 Or maybe you prefer a less sweet and more savory vegan cornbread. That's easy, just lessen the amount of sugar in the recipe and add some diced jalapenos or fresh corn kernels.
And if that sounds good, be sure to check out my Sweet and Spicy Cornbread recipe, too.
Other great add-ins for vegan cornbread are: chopped herbs, chopped scallions, fresh tomatoes, sauteed onions, grated carrots, or any vegan cheese you like.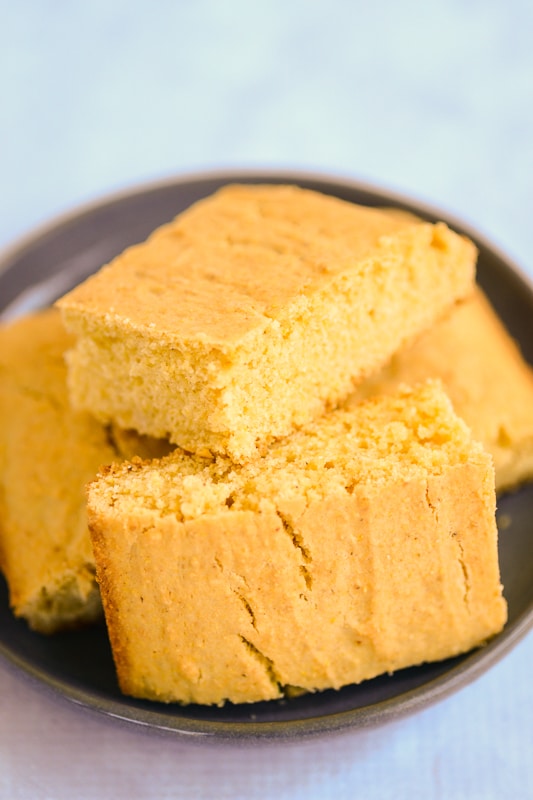 How to Serve Vegan Cornbread
There are so many tasty ways to serve this vegan cornbread!
Of course, it's totally delicious all on its own. And we all know it's a great match for any chili recipe.
It makes for a fun vegan breakfast item with some jam and vegan butter, or a drizzle of maple syrup.
It's even a great side dish to go along with a hearty tomato soup or ginger-garlic soup.
And don't forget to grab a copy of my free vegan cheat sheet too! It's packed with my favorite easy substitutions to help you make just about any recipe vegan!
Recipe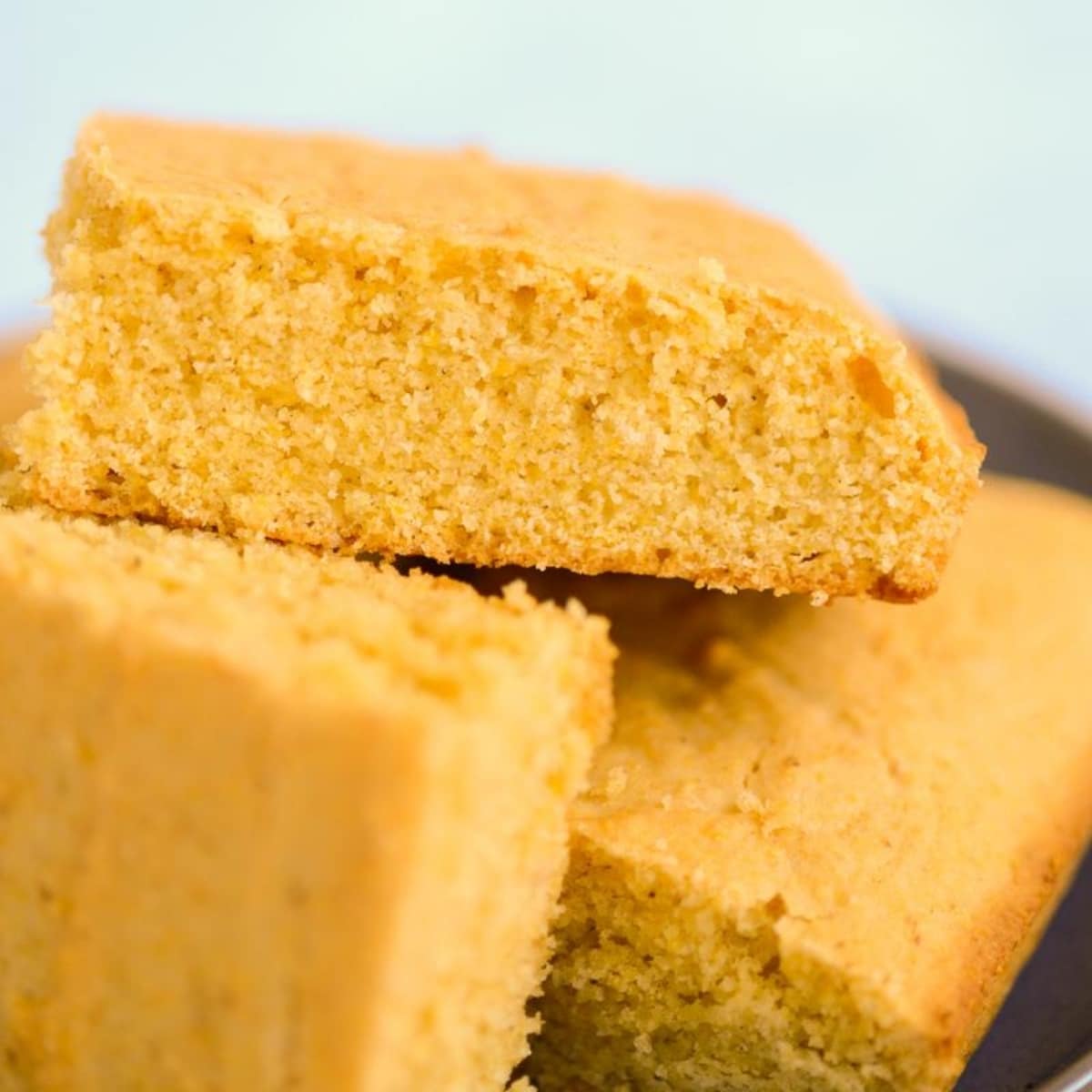 Instructions
Preheat oven to 400 degrees Fahrenheit.

Mix the dry ingredients together in a bowl - cornmeal, flour, sugar, baking powder, and salt.

Add in the melted butter and stir to combine. Slowly add the milk, while mixing to combine into a cohesive batter.

Pour the vegan cornbread batter into a nonstick pan, with parchment paper lining the bottom.

Bake for 20 minutes, or until golden brown.
Nutrition
Calories:
285
kcal
Carbohydrates:
48
g
Protein:
5
g
Fat:
8
g
Saturated Fat:
1
g
Sodium:
64
mg
Potassium:
306
mg
Fiber:
3
g
Sugar:
14
g
Vitamin A:
115
IU
Vitamin C:
2.1
mg
Calcium:
110
mg
Iron:
1.9
mg
Craving more veg-friendly recipes?
Shop our collection of vegetarian and vegan cookbooks, including our new Vegan Thanksgiving and Vegan Christmas cookbooks!