This slow cooker vegan chili is packed with flavor and loaded with protein. Let it cook all day in the crock pot, and it's ready for dinner when you are!
This slow cooker vegan chili is one of my most requested recipes. It's incredibly fast and easy to put together in the morning, and you can have a big pot of homemade vegan chili waiting when you get home from work.
My vegetarian friends love it, but my non-veggie family are equally big fans!
Slow cooker (or crock pot) cooking is one of my favorite tricks for getting through the winter. Days are shorter, and I just don't always feel like cooking when I get home in the evening.
Add a toddler to the mix - and I really need easy solutions for the work week.
For more super easy weeknight recipe ideas, be sure to snag a free copy of my One-Pot Vegan Recipes while you're here!
The trick to this is either getting a slow cooker with a built-in timer. Or if yours doesn't have this feature, you can get an external timer that will work with any standard electrical outlet.
Either one of these options will allow you to set up your slow cooker in the morning, and have it turn on at the right hour during the day.
I always set up my slow cooker vegan chili before I go to work at around 7am. I set the timer to turn on at about 1pm, and it's ready to eat when I get home at 6pm. Amazing!
Now before we get to the recipe, let me tell you about one thing that will make your life a lot easier. Slow cooker liners. Yes, this is a thing.
They are basically giant plastic bags that you put inside your slow cooker. You cook in it, and when you're done, you lift out the whole bag and throw it away. And your pot is clean.
Seriously, these are amazing and completely eliminate the only bad part of slow cooking, which is scrubbing the pot! (No, this is not a sponsored post. I just really like these things.)
Let's make Slow Cooker Vegan Chili!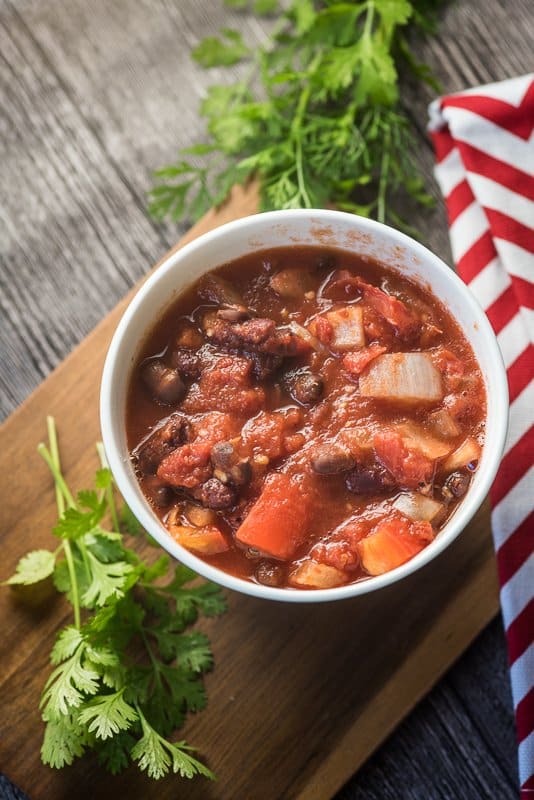 The best part of this recipe is how quick and easy it is to put together. (For more easy recipes - check out these one pot recipes.)
You can use any combination of beans and veggies that you like. I tend to use a mix of black beans and red kidney beans.
For the vegetables, I like red bell peppers, jalapenos, and sweet onions. It's not included in this recipe, but sometimes I throw in some corn kernels or some sliced portobello mushrooms.
Chop up all of the veggies for your slow cooker vegan chili at the beginning. I chop my peppers and onions into 1" squares - you want them to be bite sized.
I chop the jalapeno much smaller so that it can be distributed throughout the chili and doesn't give me an unexpected giant spicy bite! :-0
I like to sautee the vegetables with some chili powder, garlic, salt, and pepper before adding them into my slow cooker. I have found this gives them a sweeter flavor.
But it's not a requirement - you can also just put the veggies into the chili raw, which makes this even faster to prepare.
It takes about four hours in the slow cooker. But leaving it longer won't hurt anything, so there's no rush to get home and turn it off.
I always set my timer to turn off after a set time - say 6pm - just in case something were to happen and I didn't' get home in time.
When it comes time to serve this up, you can get creative. I topped mine with vegan cheddar cheese shreds and plain vegan yogurt.
But of course regular cheddar cheese and sour cream would do, if you are not concerned with making this a vegan recipe.
Other great toppings are cilantro, parsley, or even crushed tortilla chips. get creative!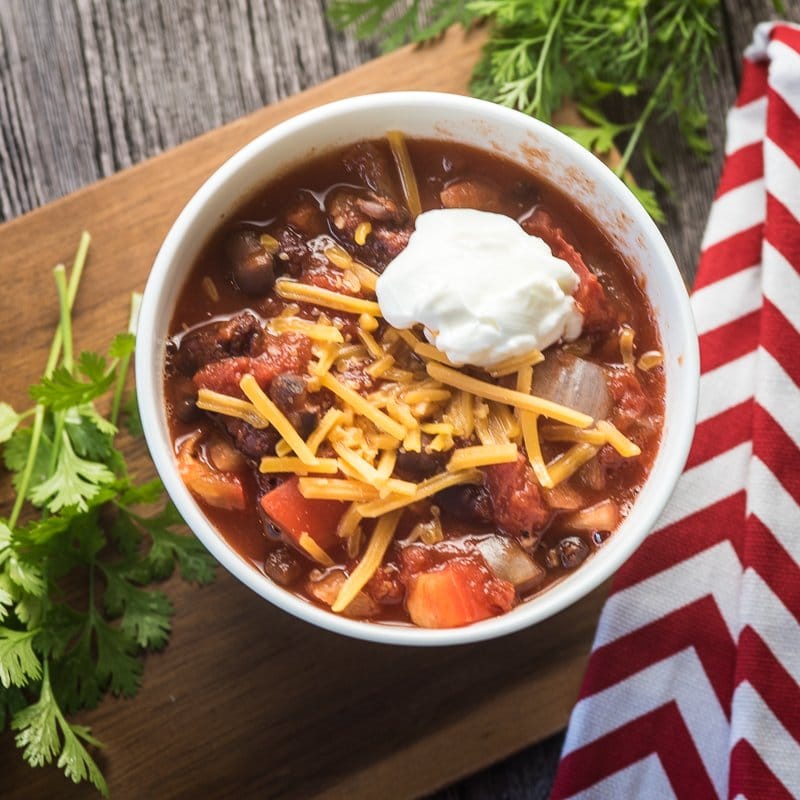 Try serving this chili with some homemade vegan cornbread for a really special treat.
And be sure to try out this mushroom-based vegan chili and this pumpkin chili too!
And for more simple recipe ideas, make sure you snag a free copy of my favorite one-pot vegan recipes!
Recipe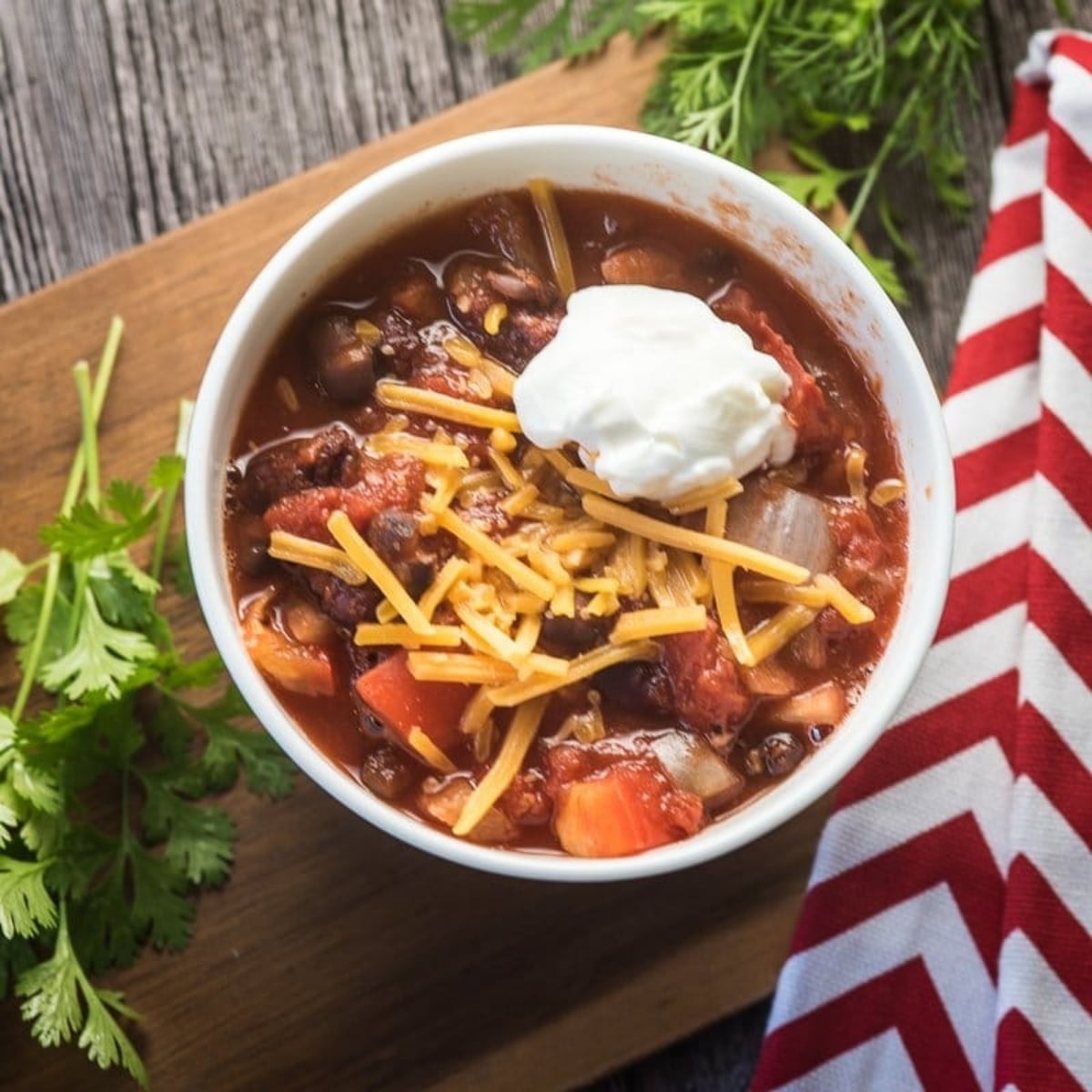 Ingredients
1

onion

peeled and diced

1

red bell pepper

seeded and chopped

1

jalapeno

seeded and diced, optional

1

clove

garlic

peeled and minced

1

tsp

chili powder

15

oz

black beans

canned, drained and rinsed

15

oz

red kidney beans

canned, drained and rinsed

14

oz

diced tomatoes

canned

32

oz

crushed tomatoes

canned
Instructions
Heat a drizzle of olive oil in a large pan, over meduim heat.

Cook onions, bell pepper, and jalapeno for 5-7 minutes, until veggies are softened.

Add garlic and chili powder, and cook for one more minute. Set aside.

In the slow cooker, combine the cooked veggies, crushed tomatoes, diced tomatoes, red kidney beans, and black beans.

Cover and cook on high power in the slow cooker for four hours.

Serve with your favorite toppings. I use vegan cheese shreds and plain dairy free yogurt for my vegan toppings!
Notes
Other great vegan toppings are cilanto, parsley, and crushed tortilla chips.
Nutrition
Calories:
259
kcal
Carbohydrates:
50
g
Protein:
15
g
Fat:
1
g
Sodium:
217
mg
Potassium:
1181
mg
Fiber:
15
g
Sugar:
10
g
Vitamin A:
1180
IU
Vitamin C:
50.5
mg
Calcium:
115
mg
Iron:
6.4
mg
Craving more veg-friendly recipes?
Shop our collection of vegetarian and vegan cookbooks, including our new Vegan Thanksgiving and Vegan Christmas cookbooks!