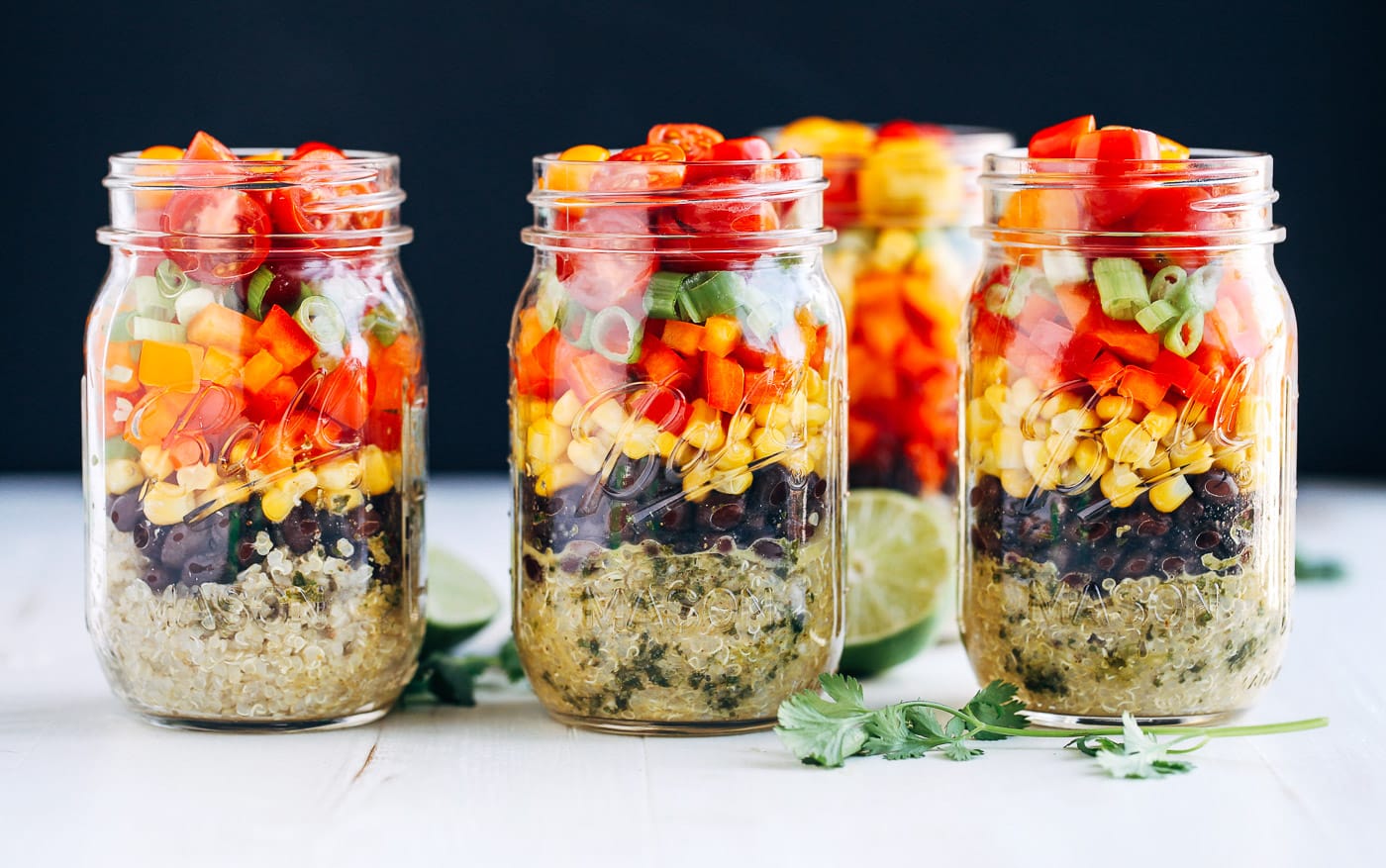 As someone who spent nearly a decade working in the healthcare industry you would think that I always had access to healthy options for lunch, but that wasn't always the case.
In fact, more often than not what was available was actually quite unhealthy.
I remember one of the weekly offerings in the work cafeteria being chicken fried chicken with a side of french fries and a few sad looking green beans.
It didn't take long for me to realize that if I wanted to eat healthy I was going to have to become really good at preparing and packing my own lunch. 
In case you find yourself in a similar situation, we've rounded up 25 mason jar meals for lunch that are perfect for meal prepping in advance.
P.S. And if you're here looking for packable lunches for the kids, be sure to check out my brand new e-book, Healthy Plant Based School Lunches. It's loaded with my best tips for meatless lunches that they'll actually eat!
Butternut Squash and Quinoa Mason Jar Salad // With fall right around the corner, this nourishing salad from Green Evi looks like the perfect way to put that butternut squash to use.
Watermelon, Cucumber and Feta Mason Jar Salads // Watermelon, cucumber and fresh mint make for a light and cool lunch that's great for those lingering warm summer days.
Pho Soup in a Mason Jar // Lunch doesn't get more comforting than this easy pho soup in a jar from Veggie Balance.
Southwestern Quinoa Mason Jar Salads // Full of fiber and protein, these quinoa salads with cilantro lime dressing from Making Thyme for Health are to keep you satisfied until dinner.
Vegetarian Mason Jar Burrito Bowls // Skip Chipotle and save money and calories with these Mason Jar Burrito Bowls from She Likes Food.
Protein Egg and Quinoa Salad Jars // Boiled eggs give these quinoa salad jars from SkinnyTaste an extra boost of protein.
Raw Pad Thai Mason Jar Salad // Fit Living Eats offers a super healthy and raw alternative to pad thai made with nutritious kelp noodles.
Mason Jar Chickpea, Farro and Greens Salad // Transport yourself to the mediterranean for lunch with this Chickpea and Farro Salad marinated in a Greek-inspired dressing from Cookie + Kate.
Homemade Instant Noodles // If you're in the mood for comfort food, these homemade noodles from The Edgy Veg are sure to do the trick.
Deconstructed Sushi in a Jar // Spoon University proves that sushi is for more than just a night out with the girls with this deconstructed salad jar.
Asian Chopped Salad with Sesame Soy Vinaigrette // You can literally eat the rainbow with this colorful Asian Chopped Salad from SkinnyTaste.
Almost Instant Noodle Soup // 99-cent ramen just got a major upgrade thanks to this instant noodle soup in a jar from The Kitchn.
Miso Veggie Soup in a Jar // If you love the funky fermented flavor of miso then you'll go crazy for this miso veggie soup jar from The Muffin Myth.
Red White and Blue Mason Jar Salad // The Cookie Rookie combines the best of summer with this crave worthy berry salad served in a creamy poppyseed vinaigrette.
Wild Rice Mason Jar Salad with Basil Pesto // Wild rice makes this summery salad from My Darling Vegan satisfying and delicious.
Asian Noodle Salad Jars // You'll be craving lunch all day long thanks to these Asian-inspired noodles from Foxes Love Lemons.
Mediterranean Chickpea Salad Jars // Sundried tomatoes gives this Mediterranean salad from The Girl on Bloor a tangy, irresistible flavor.
Superfood Burrito in a Jar // Wake the Wolves combines kale, quinoa and sunflower sprouts for a superfood combo that will keep your energy up all afternoon.
Protein Power Mason Jar Salad // Quinoa, black beans, chickpeas and boiled egg offer up a super dose of protein in this salad from Garden in the Kitchen.
Strawberry Spinach Salad with Strawberry-Lime Vinaigrette // Wholefully packs in iron and vitamin C with these sweet and tangy strawberry spinach salads.
Mason Jar Zucchini Pasta Salad with Avocado Spinach Dressing // Sugar-free Mom offers a low-carb option with this zucchini pasta salad.
Marinated White Bean Salad Jars // A simple marinade gives this white bean salad from Foxes Love Lemons plenty of complex flavor.
Arugula and Watermelon Salad Jars // Getting your greens has never tasted better thanks to this sweet and salty combo from Sweet Peas and Saffron.
More Lunch Ideas
If you love these vegetarian and vegan mason jar meals, here are some more tasty resources: