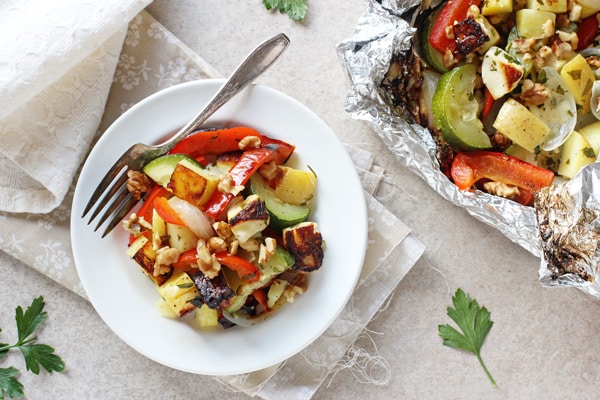 During the summer months we try to use our grill as often as possible. Besides helping to keep the house nice and cool, it is also a chance to spend some time with my husband. I typically handle all our meals but when we grill it becomes a joint effort. I prep, then he is in charge of the actual cooking, since I tend to be a bit of a klutz and have injured myself on more than one occasion!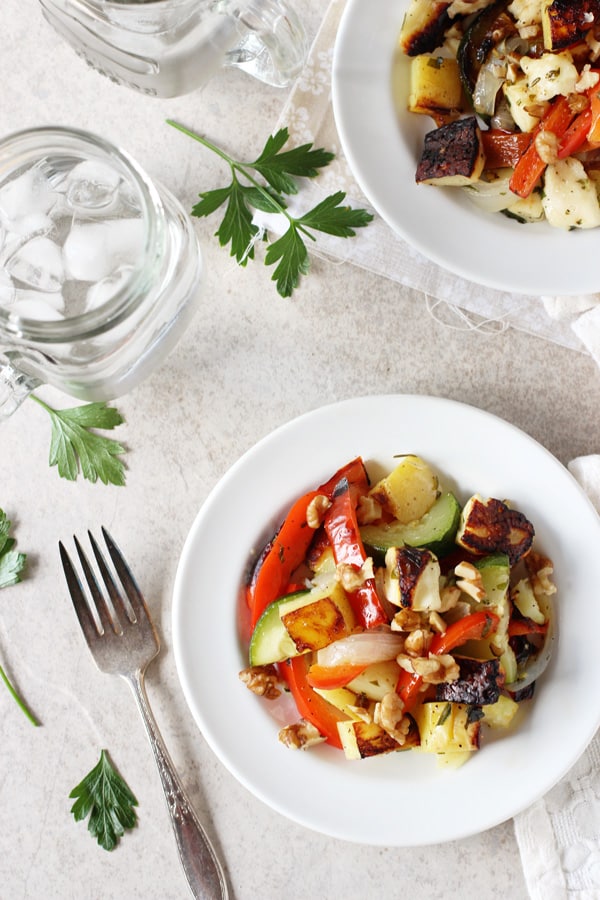 These vegetable and halloumi foil packet dinners have quickly become a go-to in our grilling rotation. On my end, the prep work is incredibly simple. Plenty of fresh veggies, halloumi cheese and fresh herbs are chopped up and tossed together in a large bowl with some olive oil. The mixture is then divided and sealed up tightly in two large foil packets, before being placed directly on a heated grill. Once on the grill, there is nothing more to do. Just relax and wait for dinner to be served! It is a win-win for both of us. Plus, there is virtually no clean up involved—just toss away the foil!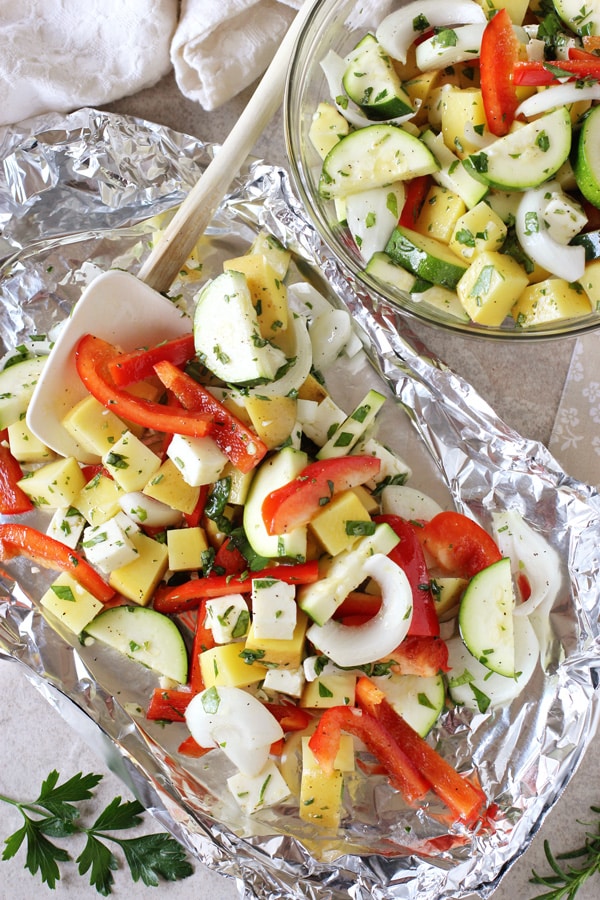 When prepping the veggies for the packets, you want to be sure to slice the onion, zucchini and peppers to about the same size, about just under ½ inch thick, so that they cook nice and even. You can also use different fresh herbs here if you would like; whatever you happen to have on hand is fine.
By cooking the foil packets on the grill over medium-high heat, the veggies and cheese get nice and tender but also form a layer of char on the bottom, which is one of my favorite aspects of grilling. It adds so much flavor! The halloumi is a great addition to these packets, as it stands up incredibly well to the heat and retains its shape, unlike other cheeses.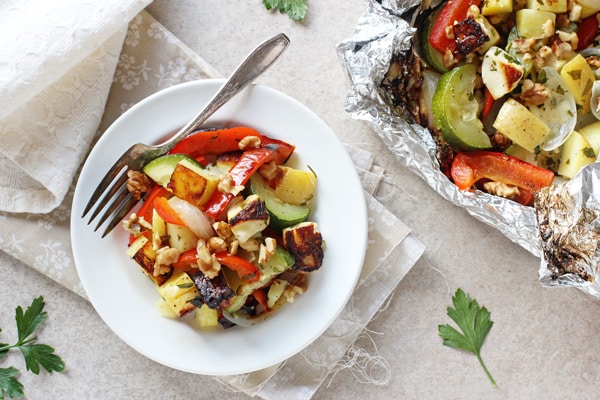 Servings:
3
to 4 servings
Ingredients
8

ounces

halloumi cheese

cut into ½-inch chunks

1

medium onion

sliced

1

medium zucchini

halved lengthwise, then sliced

2

medium red bell peppers

sliced

2

medium yukon potatoes

cut into ¾-inch chunks

3

tablespoons

olive oil

3

tablespoons

minced fresh basil

1

tablespoon

minced fresh parsley

1 ½

tablespoons

minced fresh rosemary

2

large cloves garlic

minced

½

teaspoon

salt

¼

teaspoon

pepper

½

cup

raw walnut halves

chopped
Instructions
Preheat a gas or charcoal grill over medium high heat.

Add the halloumi, onion, zucchini, peppers, potatoes, olive oil, basil, parsley, rosemary, garlic, salt and pepper to a large bowl and mix until well combined.

Cut out 4 (about 18-inch) long rectangles of aluminum foil. Place two of the sheets on a work surface, then top each with an additional piece of foil (so they are double lined).

Divide the vegetable mixture evenly between the foil pieces and spread in a thick layer, leaving a 2- to 3-inch border around the edges. Cut out 2 slightly smaller pieces of foil and place over the veggies. Tightly roll up / pinch together the edges around all sides so the packets are well sealed.

Place the packets directly on the heated grill and cook for 15 to 20 minutes. Carefully open the packets - there will be quite a bit of steam. Sprinkle the tops of the veggies with the walnuts and season with additional salt / pepper to taste if needed.